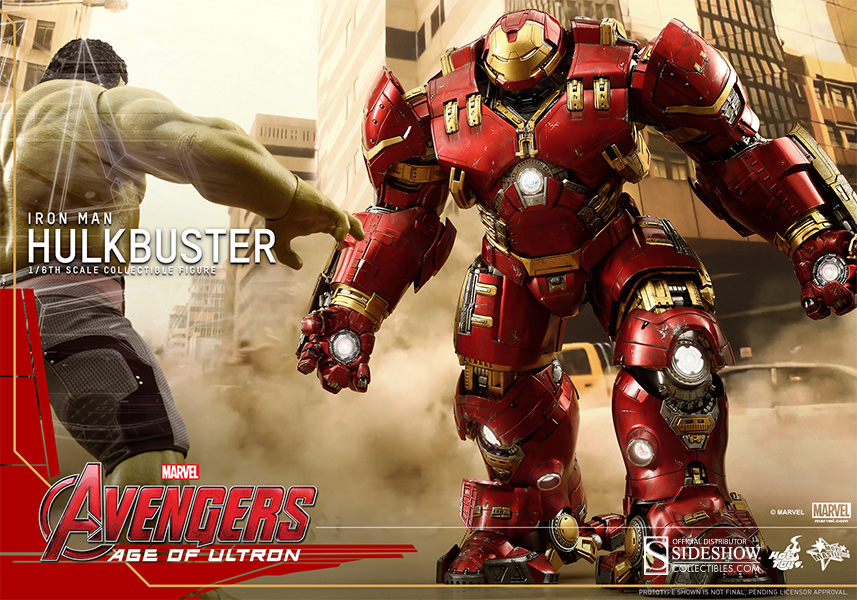 Pre-order for this impressive monster of a fig before Avengers 2 came out.
The Hulkbuster is a complicated design – it has 30 points of articulation, removable parts, has to hide batteries/wiring for 16 LEDs, and it fits an Iron Man Mk XLIII inside of it while remaining posable. It's a bit of a feat of toy engineering.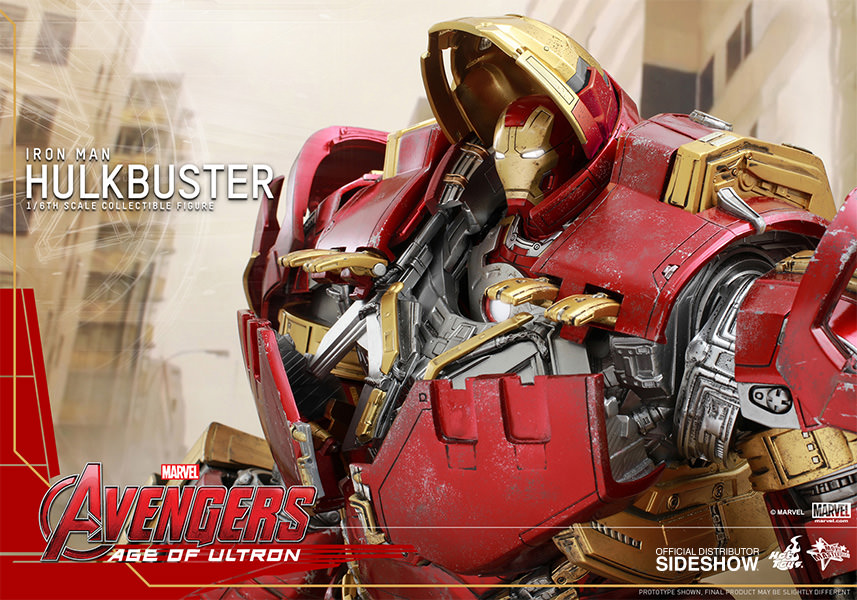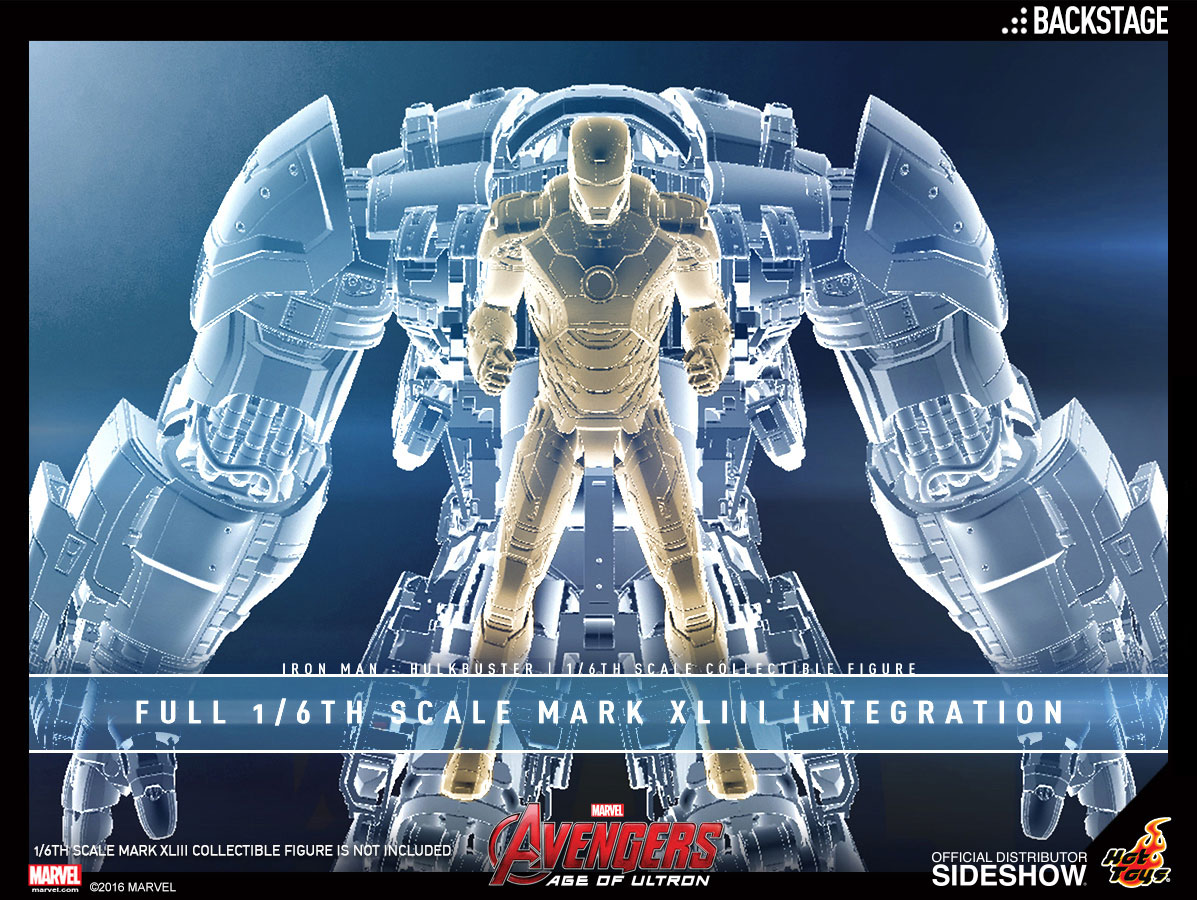 Over 30 points of articulation

Over 16 LED light-up areas in eyes, arc reactor on chest, repulsor palms, back, and legs (white light, battery operated)

Shoulder armors can be opened

Interchangeable battle damaged chest armor plate

Enhanced arm articulations

Articulations on the legs with armored part linkage designs

Improved feet articulations

One (1) pair of removable forearm armors

One (1) pair of hands with movable fingers and light-up repulsors (white light, battery operated)                                     

Authentic and detailed likeness of Hulkbuster in Avengers: Age of Ultron

Approximately 55 cm tall (approximately 21 inches)

Hot Toys' sixth scale Mark XLIII collectible figure (not included) can be put inside the Hulkbuster after removing the included Mark XLIII upper body

Implemented metal joints in various parts of the inner frame

Retracting helmet design so the armor can be displayed in different stages of suiting up

Movie-accurate and highly detailed mechanical gauntlet design

Chest can be opened to reveal the Mark XLIII bust with LED light-up eyes and arc reactor on chest

Metallic red, gold and silver colored painting on armor with weathering effect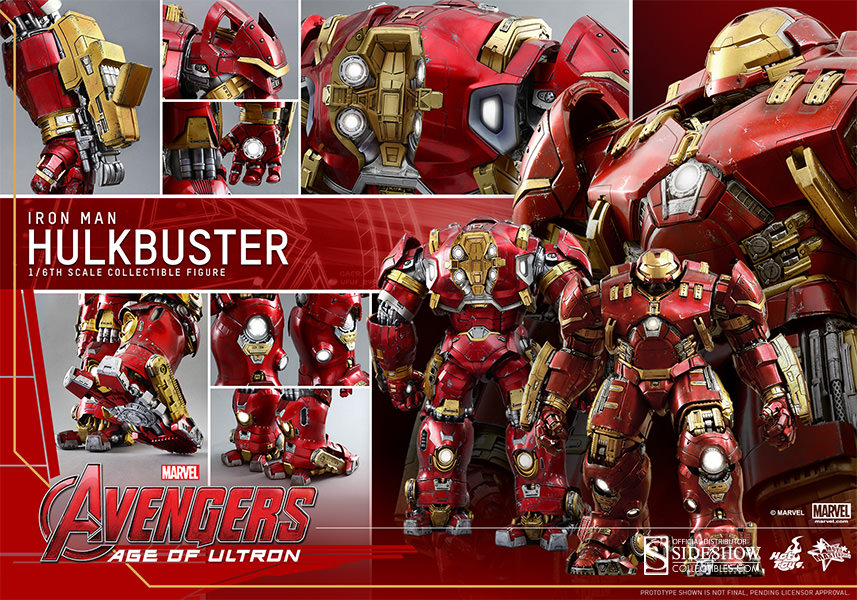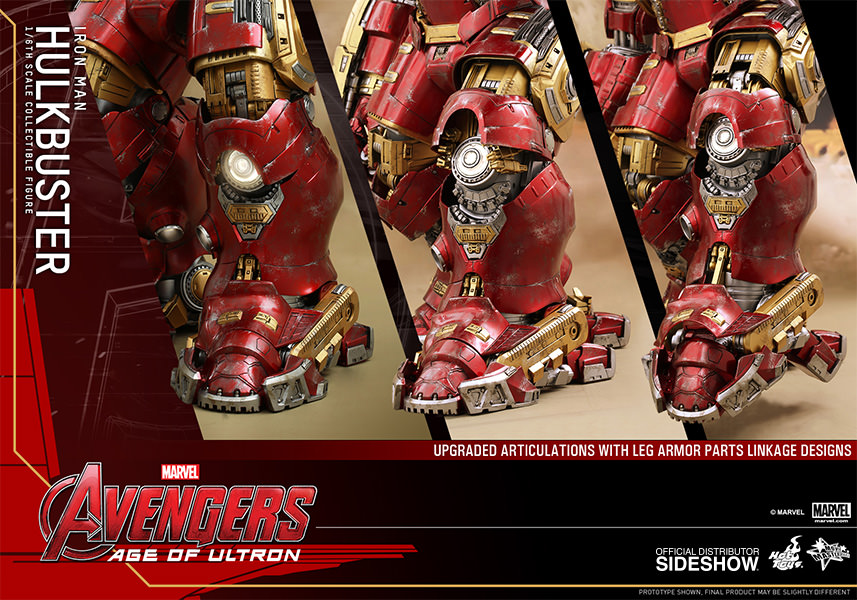 It takes time to get all of that just right. The wait to get a Sideshow or Hot Toys fig can be long – routinely 8 months or more – but 3 years from pre-order to being in collectors' hands is unusual. An announcement on delivery was posted on the manufacturer's Facebook page yesterday:
Today Hot Toys is announcing the 1/6th scale Hulkbuster collectible figure will begin shipping this Fall. Hot Toys' Hulkbuster is a highly sought-after collectible figure that many fans around the world have high hopes for the final product. Keeping that in mind, Hot Toys' production team has spent tremendous effort and dedication to work on the major revamps and made sure we deliver our figure in the greatest quality. The Hulkbuster collectible figure is currently in the final stretch of production, fans can expect an awe-inspiring figure featuring supreme quality and gorgeous detailing as seen in these new photos. With all these incredible upgrades, the Hot Toys Hulkbuster will definitely be a powerful collectible figure to place along with your Iron Man collection. Lastly, we would like to express our deepest gratitude to our dearest fans for your patience and understanding during the waiting period. Please be with us for the upcoming release announcement!
Nice to see a company be transparent about delays – especially when it's to ensure that  a fig that costs over $800 is perfect for their customers.