40K is coming to GenCon, and the tables have turned…intro some cool looking battlefields.
GenCon is only a few weeks away now. And those lucky convention-goers who have signed up for the intricate 40K Tournament being run there by the Cincinnati Arsenal Gaming community will have some fantastic tables to play on. Seriously though, this game sounds amazing:
We are excited to feature our Apocalypse Warhammer 40,000 game in which we generate a story line and do tie-ins with Space Hulk, Deathwatch: Overkill, and Execution Force. It's a very fun take where the story told changes each year with decisions made by the players' actions. One example is being able to push a button in Space Hulk to bomb a section of the Apocalypse battlefield, or fighting through Execution Force to make it accessible to bring survivors onto the battle in Apocalypse. The Deathwatch teams are tasked with taking care of Genestealer Cults until they realise they must get out to warn the Imperium of whatever impending doom they just learned about.
Games that are interconnected like that take a lot of effort to run, but holy cow are they satisfying to play. And if you're going to be a part of this unique gaming opportunity, hers a quick preview of some of the tables you might get to play on. Even if you're not going, these are some great looking boats and perfect for stealing inspiration from.
via Warhammer Community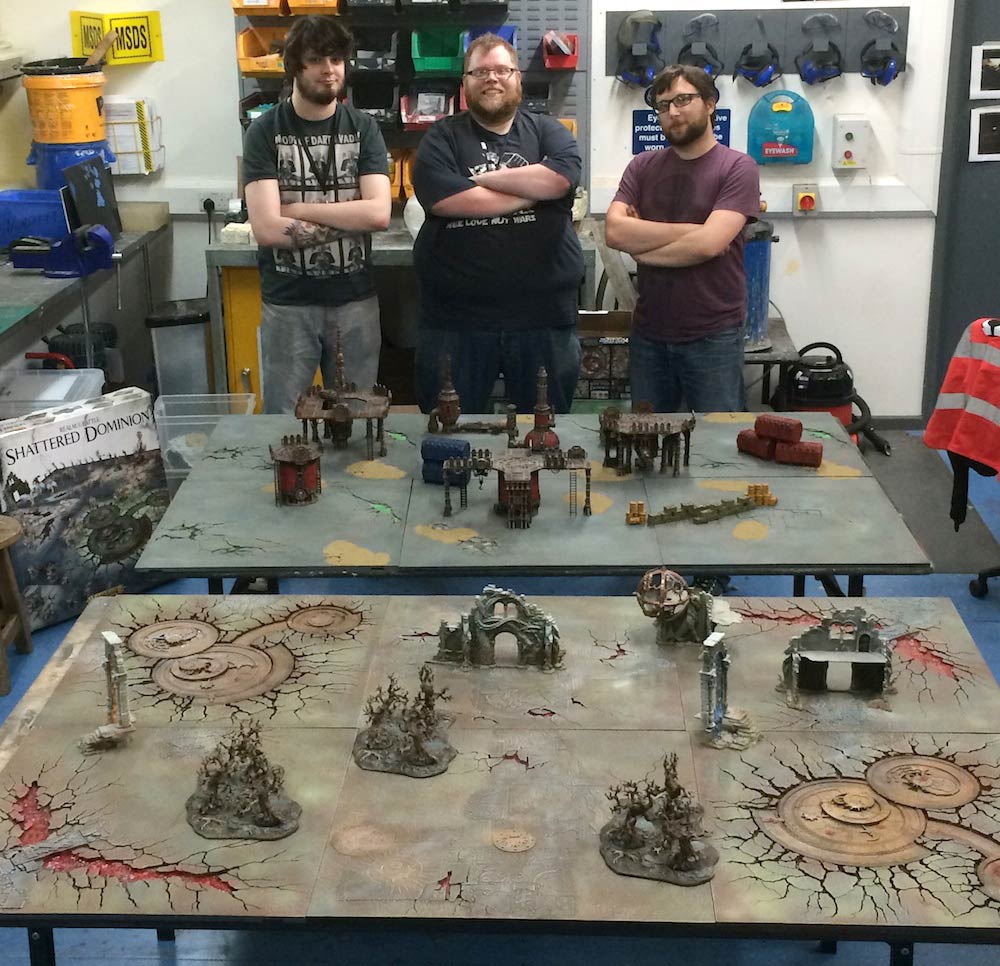 Last weekend, Eddie and Martin from our Community team, with help from Adam and Mike of the Warhammer World scenery team, embarked on a project to paint up 2 full battlefields for Warhammer 40,000 and Warhammer Age of Sigmar in a single day. We were painting them for an event all the way across the Atlantic – for the top tables of two independent tournaments held at the GenCon convention in Indianapolis later this year.
For our boards, we were using Realm of Battle and Shattered Dominion board sections, and for our scenery, we picked a mix of area-effects and tall line of sight blocking terrain. The new Sector Mechanicus sets, in particular, are great for this, as you can build as high as you like – enough to offer cover for even the largest models in the game.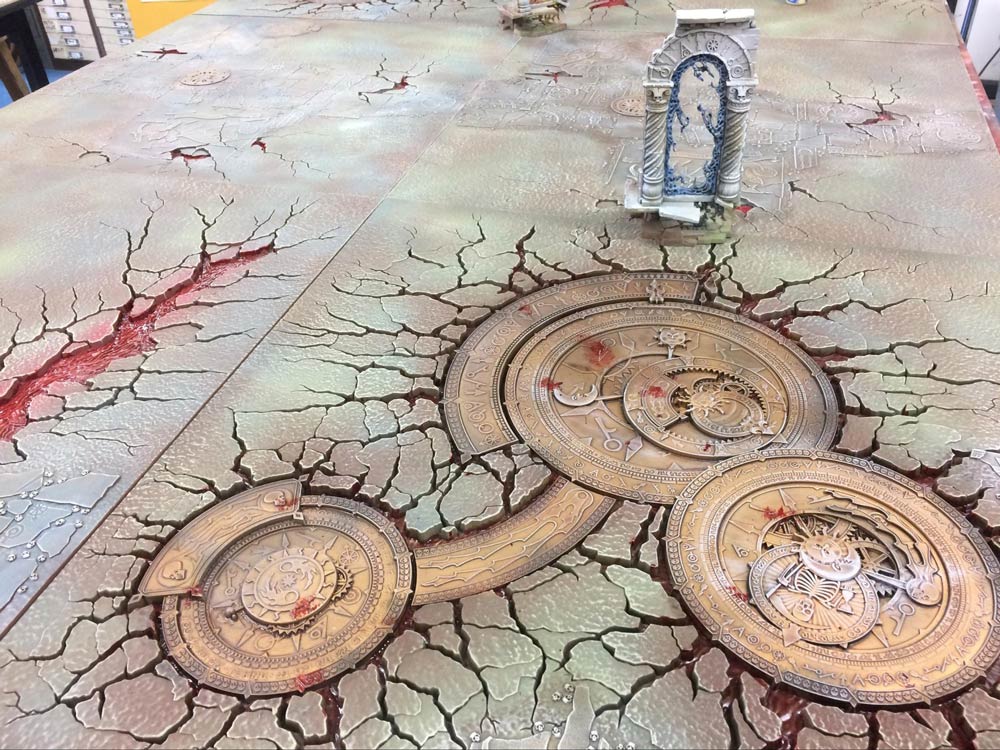 For both boards, Adam first used Citadel spray paints to colour areas of the board, before touching up some sections with the matching base paints and then giving the whole board a unified drybrush. He then went back and added Shades to some specific areas.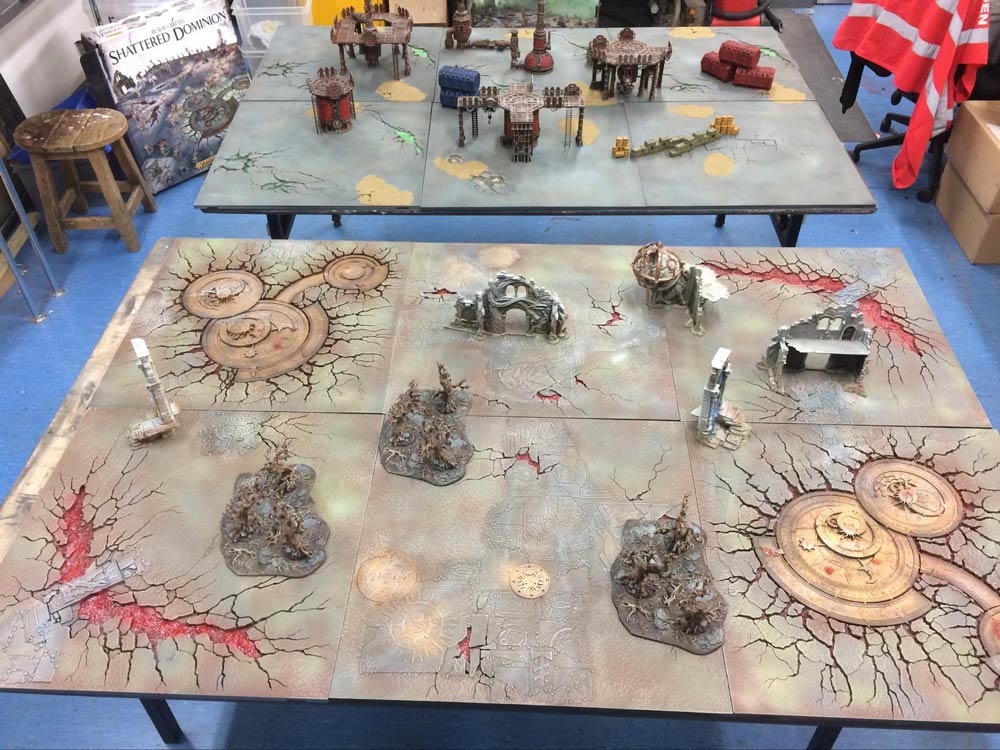 All the stuff you can see on these boards was assembled, sprayed and painted in a single day. For the Age of Sigmar terrain, we went for a sprayed basecoat of Zandri Dust, with a Shade of Agrax Earthshade, followed by successive Zandri Dust and white dry brushes.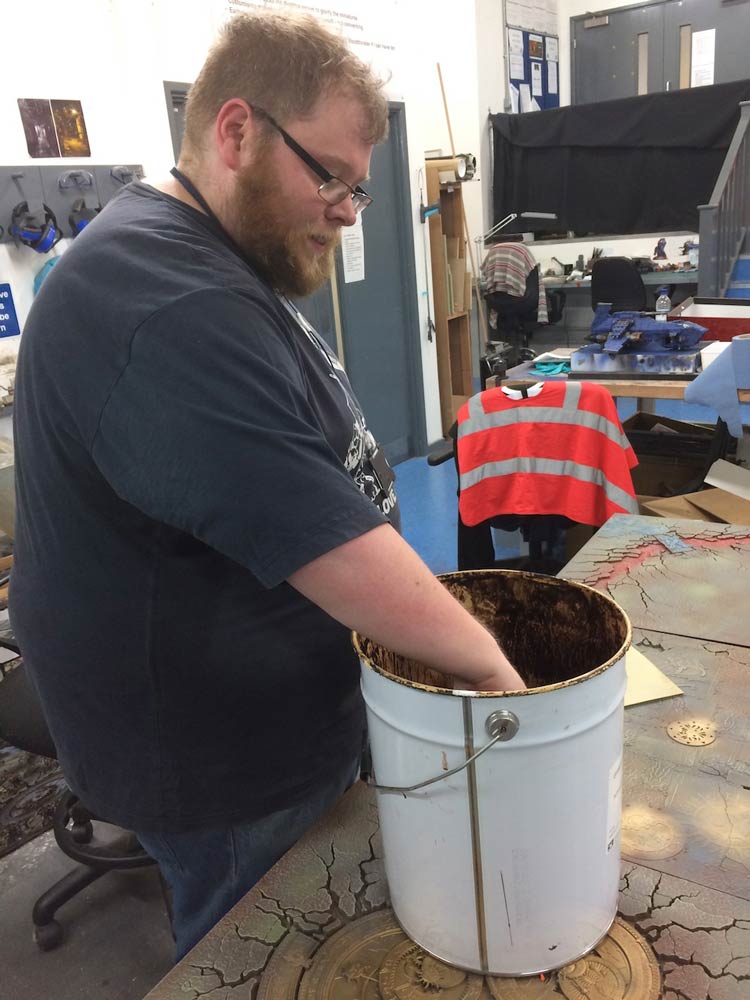 Painting terrain this way is very quick but highly effective. Warhammer World paint so much terrain using this method for their hundreds of gaming boards and display, that they have a dedicated "dipping tub" of Agrax Earthshade.
---
That took them a day or so to build. It just goes to slow what you can accomplish with a little hard work, some time, and a literal bucket of paint.
Of course, that's the Warhammer World team, and making displays like this is practically breakfast for them, but, you can follow along with some of these tips and make yourself some sweet sets of terrain and a board to break out for special occasions. Like Thursdays.
We'll be at GenCon this year as well, which now makes me leary of the bucket of paint they've put near my desk…