GW: July 2017 White Dwarf Overview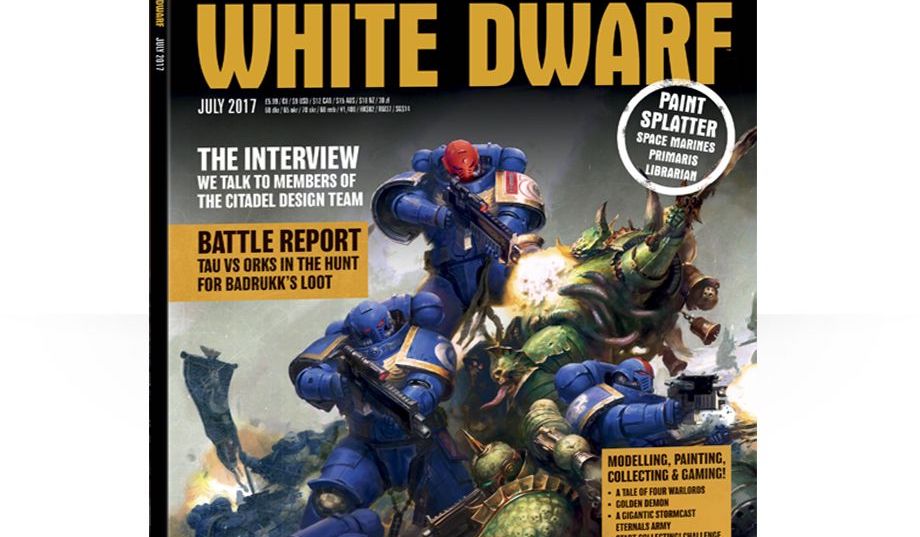 Our July White Dwarf was a little late – but it's here now and we're taking a tour of the contents!
Games Workshop's monthly magazine White Dwarf was having some issues reaching subscribers here in the states. Those seem to have been resolved and we're glad to get our hands on time with the latest issue of White Dwarf!
This issue is packed full of good stuff. Obviously we've got a ton of new looks at the Primaris Marines. But Games Workshop is also getting back into the Tactics Arena with a new series called Tactica Imperialis. I found this to be a good read if for nothing else than showing us a glimpse of how GW things the game should work.
Also, I don't want to discount all the fantastic Hobby info in this month's White Dwarf. Holy Cow! There are some amazing and inspiring conversions and paint jobs in this one – as you would expect when a Golden Daemon is on the line! The Battle Report of Badrukk's Loot was pretty great, too. I always enjoy a good scrum like an Ork Horde vs Tau. No spoilers, but lots of things don't make it to the end of this one…
This month's Blanchitsu was another hit as well. The conversion work and paint jobs are always cool and inspiring. I've got a few ideas I want to try out the next time I sit to work on my small GSC force! And if you're looking for a Nostalgia bomb this month's Temporal Distort is a trip back to Orc & Goblin Hordes from Warhammer Fantasy circa 2011. Plus a return to Armageddon with the Planetary Empires tiles! Overall, this was a pretty solid month of stuff – even if it was a bit late.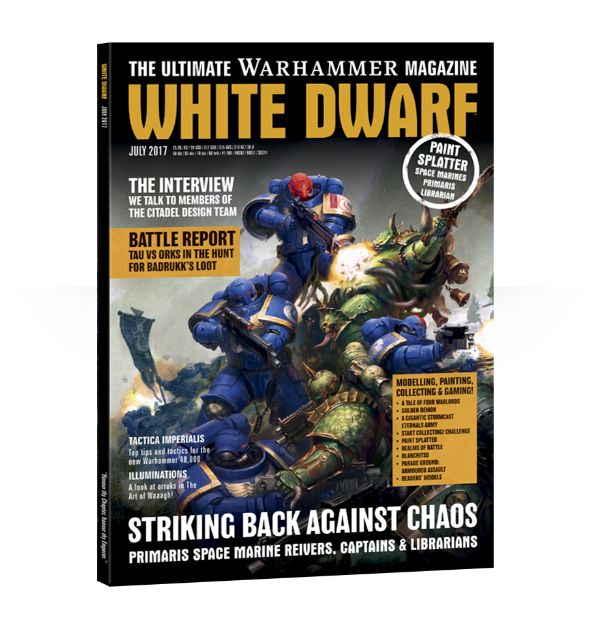 July's White Dwarf is here and with it we delve deeper into the new Warhammer 40,000. We take a look at the two new starter sets – First Strike and Know No Fear – while for those of you already neck deep in the grim darkness of the far future, we've got Tactica Imperialis, where we look at the myriad strategic and tactical possibilities for your armies in the new Warhammer 40,000 (with some top tips from the games designers themselves). On top of that, we've got an in-depth painting guide to the new Primaris Librarian in Paint Splatter, plus a look at getting your Ultramarines and Death Guard ready for battle in no time. Elsewhere, in Creating Legends we speak to six members of the Citadel Miniatures Design Team about designing Citadel miniatures – it really is a must-read interview! On top of all that, we've got James Karch's vast Stormcast Eternals army, Dan Harden and his Orks take on Matt Holland's Tau in this month's Battle Report, A Tale of Four Warlords continues and the warlords play their first games of the new Warhammer 40,000, we've got more from Golden Demon: The Horus Heresy, we delve into Warhammer Skirmish, look at painting gaming tables in Realms of Battle, Blanchitsu, and much, much more besides. Pick up a copy now.
Next Month White Dwarf Hint: Index Astartes! I think we know what that means…
Subscribe to our newsletter!
Get Tabletop, RPG & Pop Culture news delivered directly to your inbox.
Latest News From BoLS: