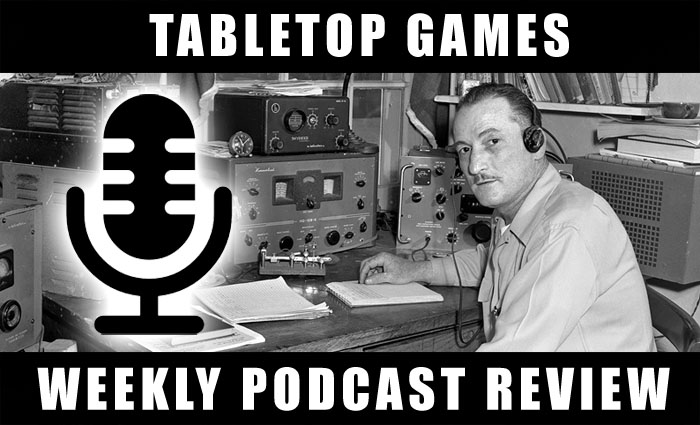 Adam here for another week of tabletop podcast reviews! New 40K, help for Tyranids, & more!
Hey all, Adam here, from TFG Radio, for this week's reviews! This week we see new 40K compared to its older editions, Tyranid help, and talk about the golden rule. So, let's get on with the reviews!
Garagehammer Episode 172 – This episode they take a break from Age of Sigmar coverage to discuss some attitudes that seem to be prevelant in the community currently. They talk about how the tendency to be caustically negative, towards players and Games Workshop, hurts your cause as well as the game, as it could cause GW to close the doors of communication again.
Facing the Grey Tide Episode 52 – This episode they discuss, surprisingly, Tyranids. They talk about some of the cool things that they have, and can do. They also go over some army list ideas that doesn't involve 5 flyrants. If you are a new Tyranid player, or just looking for ideas for your own Tyranid army, then give this a listen.
Battlehosts Episode 44 – The final chapter of their history of 40K involves the latest edition. They discuss the new edition and how different it is from the last edition and some of the older editions.
Age of Sigmar Daily – Nice source for daily Age of Sigmar talk.
Signals from the Frontline – Always a good listen for new and rumors on 40K and other miniature games in the industry.
Also Out This Week
9th Realm Episode 52 (AoS)
Beermachine Episode 53 (Warmachine)
Behind Enemy Lines Episode 38 (General)
Black Sun 7/10/17 (AoS)
Caledonian Deathwatch Radio Episode 47 (40K)
Chain Attack S2 Episode 56 (Warmachine)
Chapter Tactics Episode 35 (40K)
Combosmite Episode 164 (Warmachine)
Crippled Systems Episode 205 (Warmachine)
Eye of Terror Episode 41 (40K)
Fireteam Core Episode 2 (Infinity)
Fully Boosted Episode 47 (Warmachine)
Ghost Army Podcast Episode 26 (FoW)
Heroic Intervention Episode 50 (40K)
Independent Characters Episode 157 (40K)
Lecture Notes From the Breach Episode 19 (Malifaux)
Long War Episode 108 (40K)
Mayacast Episode 141 (Infinity)
Mob Rules Episode 54 (40K)
MoM Episode 317 (Warmachine)
Mortal Realms Episode 16 (AoS)
Mynock Squadron Episode 76 (X-Wing)
Radio Free Isstvan Episode 63 (30K)
Scrumcast Episode 14 (Warmachine)
Scrumcast Episode 15 (Warmachine)
Sons of Heresy: Return of the Great Crusade (30K)
TDH60M Episode 82 (Warmachine)
As always, check out our blog, at TFG Radio, and give the podcast a listen. We talk 40K mainly but delve into other game systems. This week Adam talks about the Boise GT, and the new GW FAQs!
Have a different opinion? Post in the comments below or email me at [email protected] and let me know!