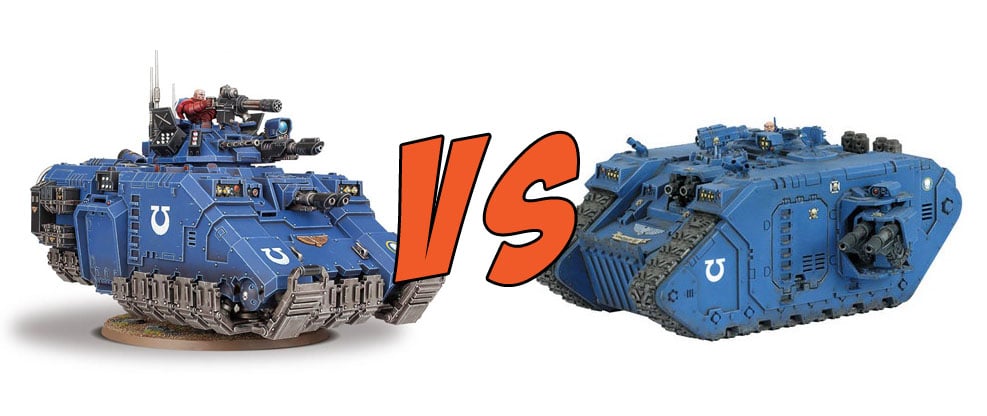 Today let's compare the new Primaris Repulsor and how it stacks up to the classic marine ride.
The Venerable Land Raider
The Land Raider has been with us for a long time. It goes back to Rogue Trader and had been blowing up tanks and ferrying Marines around tabletops for 30 years. While there are a myriad of variants, at this point two are mainly used – the standard Phobos version and the Crusader.

The Standard Land Raider
It's very pricy at 19 Power Level and is as tough as it looks. 16 wounds, T8 and a 2+ save makes it everything a Rhino wants to be when it grows up.  It's a tough target magnet, carries 10 classic marines and gets a lot of high-strength long-range shooting to boot. The new twin weapons rules in 8th increase it to 4 Las-cannon shots a turn and 6 Heavy bolter shots on top.  It's moving 10″ (while it's intact) and Power of the Machine Spirit keeps those guns hitting on a 3+ while rolling. It's a giant breadbox and in 8th may be the best mobile terrain you can get.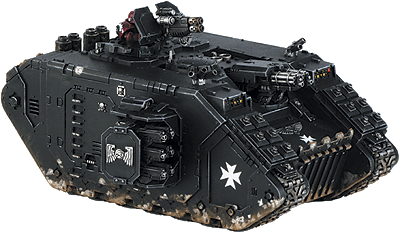 Land Raider Crusader
In the past few editions – the Crusader WAS the default Land Raider. It drops to 17 power level making it a cheaper option. It trades in the quad Las-cannon shots for a pair of Hurricane Bolters, and 6 more leather seats for the dudes inside.  It is just as durable and physically large as the standard design. Power of the Machine Spirit keeps the twin Assault Cannons blazing away away. At close range the Crusader kicks out 40 shots, making it extra spicy with any of the Captain/LT/Guilliman combos to make all that firepower connect. The 16 seats are enough to carry something extra nasty like 8 Termys, 5 Centurions, or 10 standard power armor marines and a big set of Characters to back them up.  On balance I still like it more in 8th with all the support elements available to marines.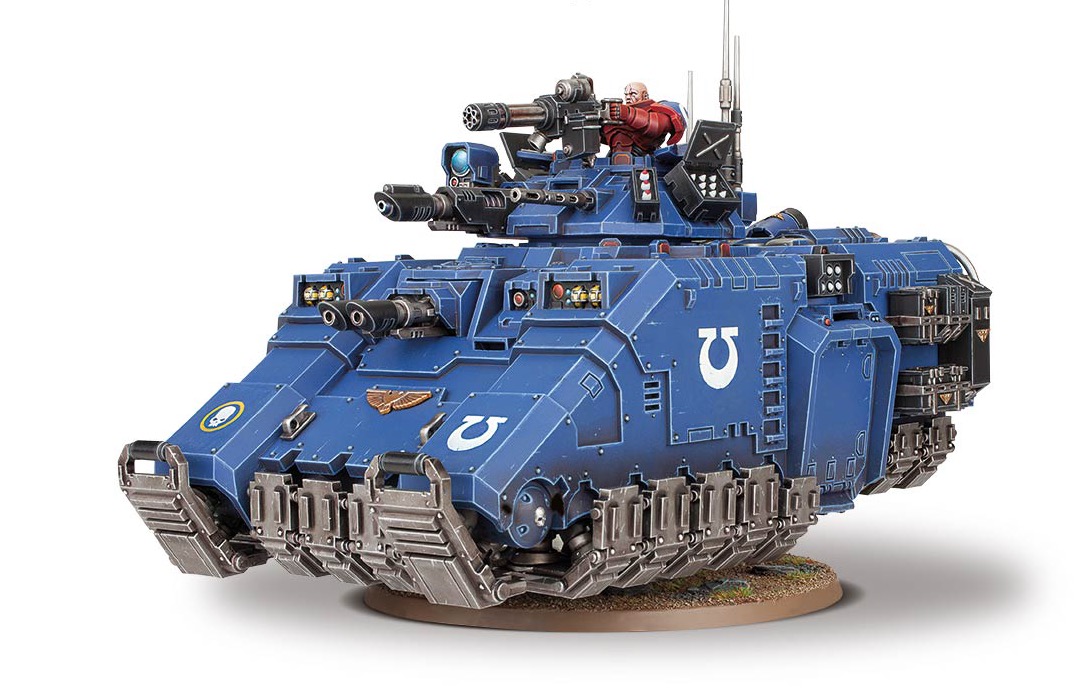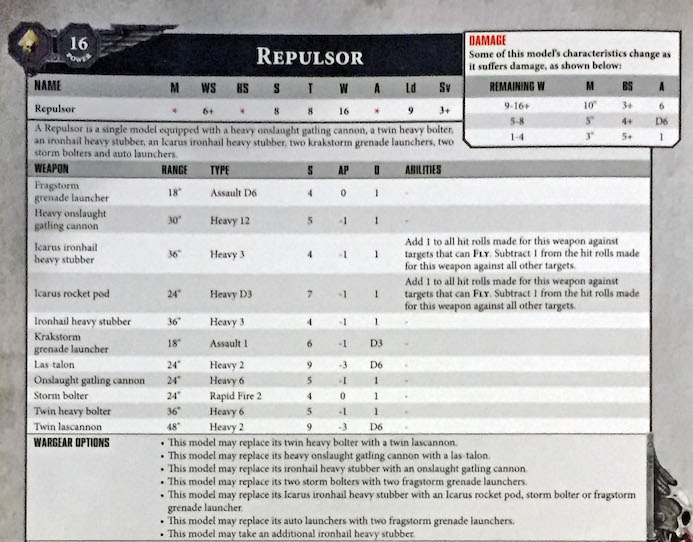 Repulsor
Here we go, the new guy.  This is your only option for transporting your Primaris marines.  It clocks in at 16 Power Level making it a cheaper option, (just barely) than either of the Land Raiders. You get the nice T8, the same 16 wounds and more importantly a weaker 3+ save. It's about the same size as the Land Raider for LoS blocking, but it's up on that flying base, so I'll leave it to your playgroup to decide if you allow shots underneath it.
The big changes are the Repulsor Field, making enemies subtract 2 from charge rolls – NICE! Auto-launchers are smoke launchers that you can use every turn.  It has Power of the Machine Spirit and EIGHT Weapons.  In a trend shared with the Redeptor Dread, the new Primaris vehicles are just dripping with weapons. You can get 35 shots out of the tank at S:5-4, or trade out some of those for higher S:9-7 options like the Las-talon at the expense of volume of fire.
Did we mention the Repulsor has FLY, making it able to leave assault and fire – a trick the Land Raiders can only dream of. It can carry 10 Primaris (ONLY) models in standard armor or 5 in Gravis armor, so anything outside of the jump pack Inceptors can get a ride. With the issues Primaris marines have with mobile long ranged opponents, the Repulsor is your only mobility choice at this time. I'm liking the combo of 8 Helblasters and a Captain+Lt combo inside to disembark lay down the plasma destruction.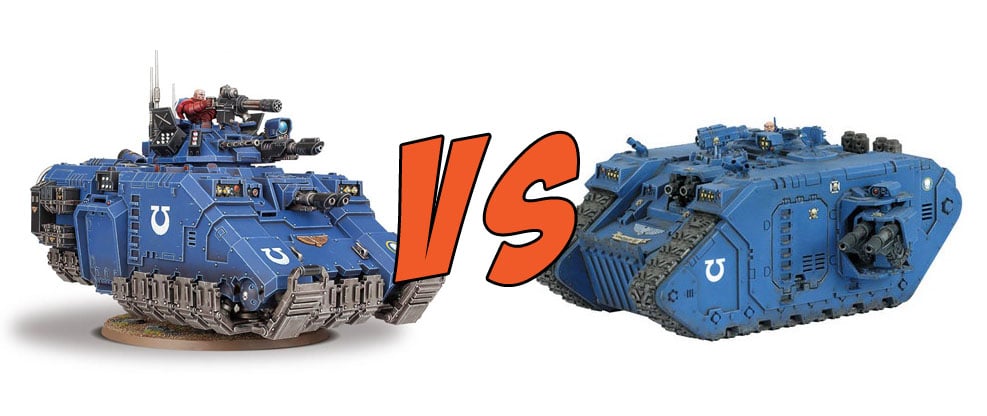 In the Balance
8th is still very early in it's lifespan but I'm think the Repulsor and Land Raider Crusader can still do good work.  The standard Phobos Land Raider is still hampered by it's jack of all trades-master of none problem. It can do anything, but you pay through the nose for that utility and will have a hard time getting to use all of its skills in a single game.
~What do you think?