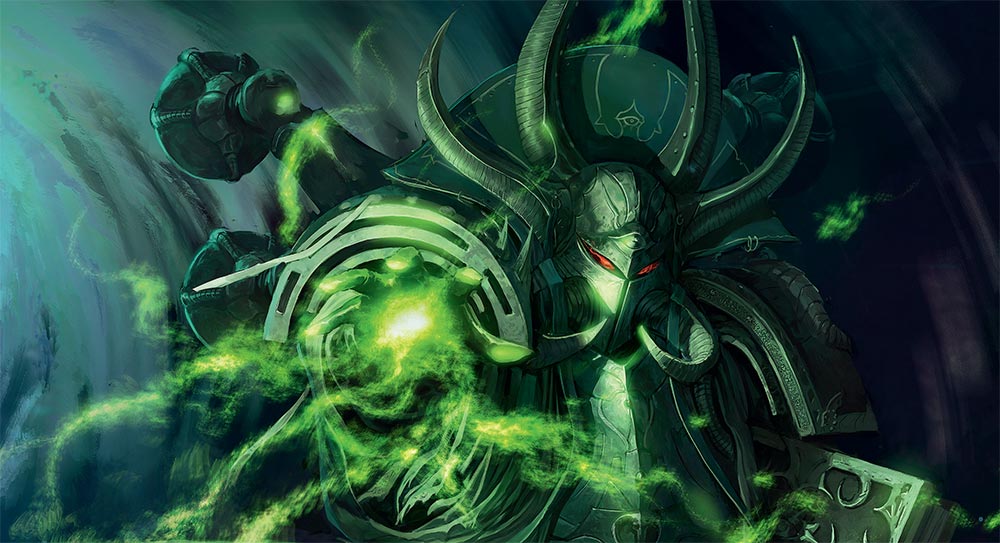 The Dark Hereticus have their own Psychic Disciplines to call on – let's take a look at them and see how they stack-up!
Chaos has some really great powers and also the biggest pool to choose from (so far) depending on your list and how you want to construct them. Now, normally we'd rank them but seeing as how there are 9 powers and their usefulness can vastly change based on the chaos list/faction you've sworn allegiance to, we decided it's best to just talk about each one in order and discuss some interesting things about each one. That said, let's dive in!
Infernal Gaze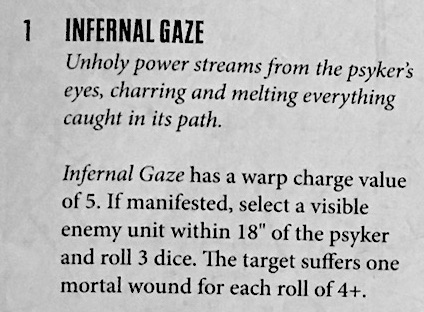 Infernal Gaze is a lot like Smite – only different. Really, it does pretty much the same thing, only you are rolling more dice. It's cheap/easy to cast and it's up to 3 Mortal Wounds. Not much else to say about this one!
Death Hex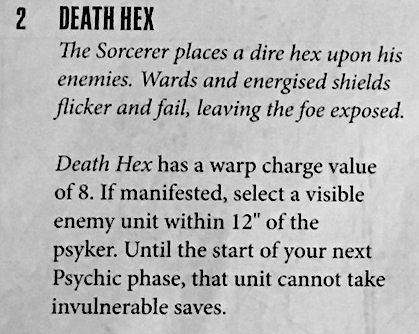 Death Hex can be used for a brutally effective way to take out those pesky units like Assault Terminators with Storm Shields, Thunderwolf Cavalry with Storm Shields, Grey Knights with Sanctuary up, or really anything that you need dead. If they are units that rely on that Invulnerable save (looking at you Genestealers) to survive shooting, then Death Hex is well…deadly! This power might not be high on your list of powers to use – but if you've got a spare slot you might want to keep it in your back-pocket.
Gift of Chaos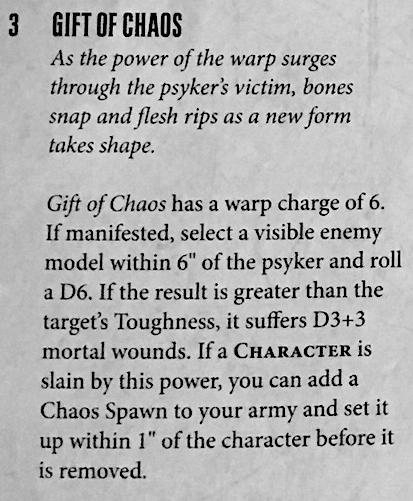 What's better than killing an enemy character? Getting a free Chaos Spawn when you kill an enemy character! Now, this one isn't super effective vs MEQ characters – most of them have a toughness of 4 and you have to roll OVER that (so you need a 5 or 6). Still, it's not too terribly difficult to cast. But this power really shines when you are hitting T3 Characters in armies like Aeldari or Astra Militarum. Having a wild spawn appear in your back line (or front line I suppose) is never pleasant!
Prescience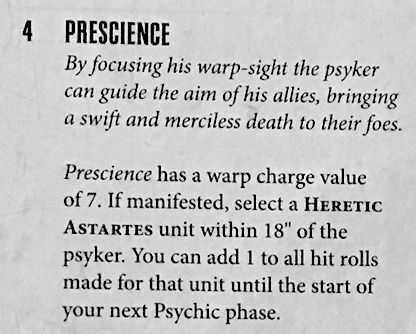 Prescience is up there on my priority cast lists. Adding 1 to all you hit rolls is HUGE. It's not just for shooting, either – that applies to the Fight Phase(s) your unit might be involved in. Toss this on a Pack of Berzerkers and watch them go to WORK! And one last thing – don't forget about your "Death to the False Emperor" ability with this power – those stack! Suddenly all your 5+ are generating extra attacks. If you happen to have a Black Legion Warlord, those attacks are triggering on a 4+ when you're within 6″ of them… Be sure to mix in some re-rolls from other support units like Dark Apostles or Exaulted Champions for added kick!
Diabolic Strength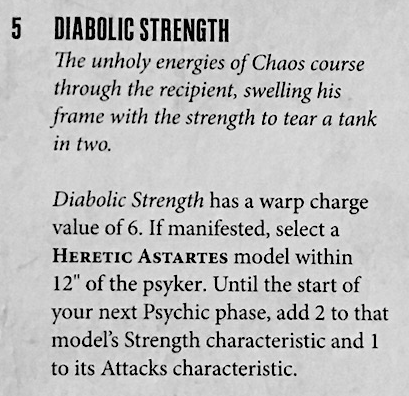 If you can manage to find a way to boost your the target of Diabolic Strength's strength stat even more (like with specific weapons or artifacts) then you're going to have a powerhouse in the fight phase. Oh, and add in that extra attack for kicks!
Warptime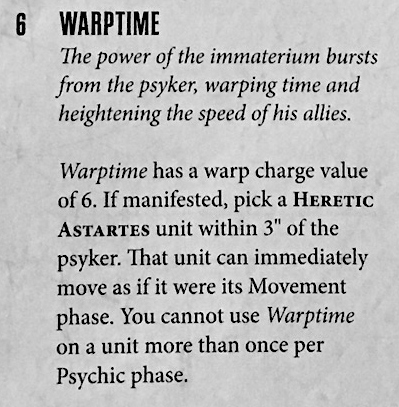 Okay, let's just get this out of the way: Warptime ROCKS! You can use it to get a unit out of a jam, or more importantly, you can use it to get a unit into charge position! Just remember that if you advanced during your turn you can't charge later that turn…unless you're playing Chaos Renegades! Then again, a double move is still a double move! Used on the right unit and you can really surprise your opponent.
Weaver of Fates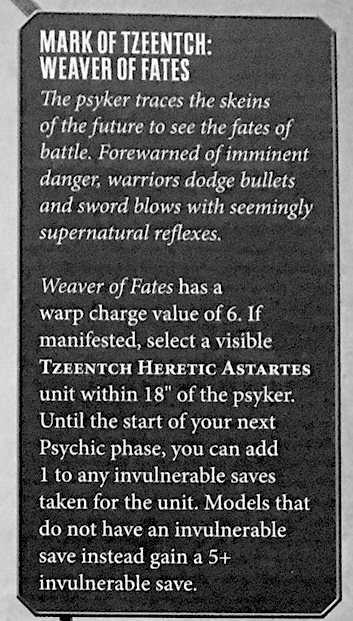 Weaver of Fates is the Tzeentch specific power. It allows you to either improve an invulnerable save by 1 or grant an invulnerable save of 5+ to a unit that doesn't have one. It can be pretty useful for improving your survival rates. It only needs a 6 to go off as well…not too shabby!
Miasma of Pestilience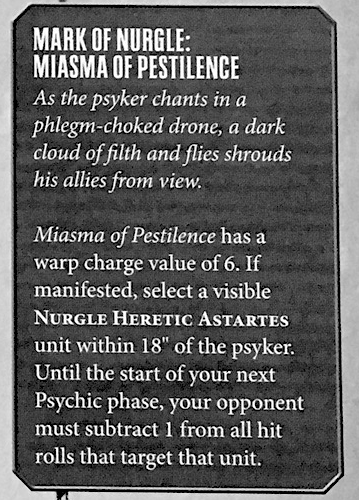 Nurgle's special power is Miasma of Pestilence and it helps to shut down shooting. If you REALLY want to avoid getting hit, combine this with the Alpha Legion trait for some extra shenanigans. Be sure you play U Can't Touch This when your power goes off.
Delightful Agonies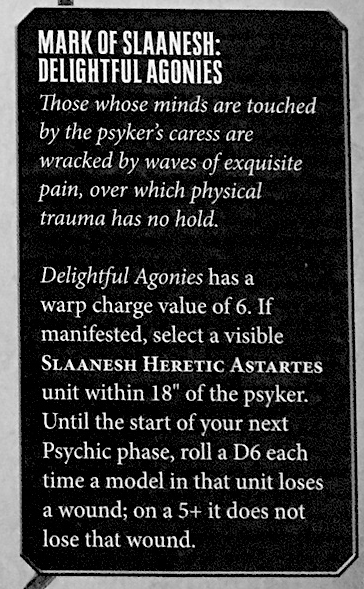 We've all seen how good the new "Feel No Pain" style rules are and Delightful Agonies is just one more way to get that on a unit. It's not something you want to build your list around, but it's a nice safety net when you need it.
Well that's all the Chaos Psychic Powers – Do you have a favorite? Let us know in the comments below!