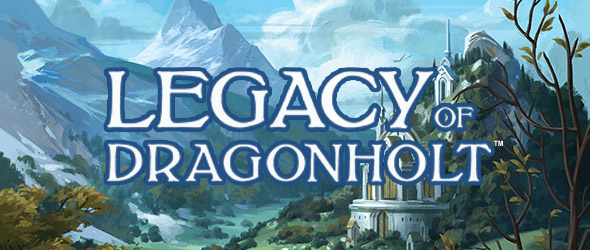 Fantasy Flight Games has a brand new adventure game coming set in the Runebound universe – Legacy of Dragonholt!
The Runebound universe is home to many properties from FFG. Most notably, it's the setting for games such as Runebound, Descent, and the rank-and-fill tabletop battles game Runewars Miniatures Game. Now, it's also home to the first games to use their new Oracle system. Legacy of Dragonholt is a narrative adventure game that will have players exploring the lands of Terrinoth with custom characters in an attempt to solve a mysterious death. Are you up to the challenge?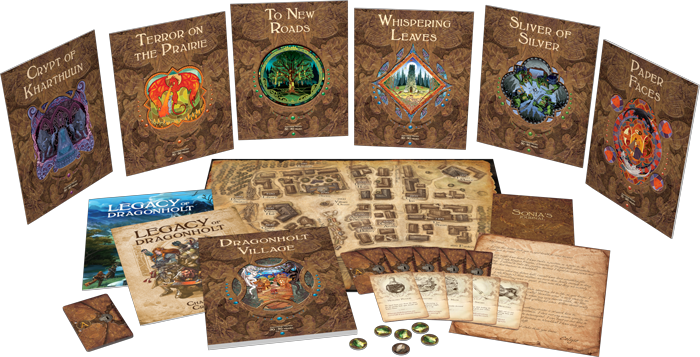 Fantasy Flight Games is pleased to announce a new cooperative narrative game in Legacy of Dragonholt! The first game to use the Oracle system, Legacy of Dragonholt contains six quests set in the Runebound universe that take as many as six daring heroes to the outskirts of Terrinoth. Adventurers build their own stories by making choices that will lead into dark caves and dangerous forests, pit them against cunning bandits and vicious monsters, earn them wealth and fame, and hopefully bring them to foil the plot of an evil overlord.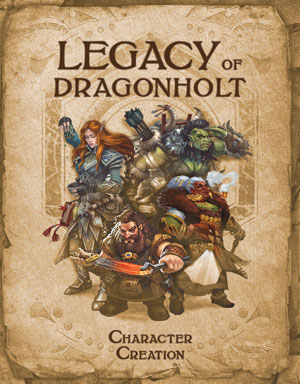 Customize Your Hero
Players start off by creating a hero from one of the six different humanoid races: Humans, Orcs, Dwarves, Elves, Gnomes or Catfolk. Then, using the Character Creation booklet, the players will then get to determine "their training, talents, and tactics (as detailed in a hero's class)…" basically the things that determine how this character would solve situations. These classes include: Apothecary, Bard, Brawler, Knight, Sage, Thief, and Wildlander. Creating a team of Heroes that works well together is going to be key for completing these explorations.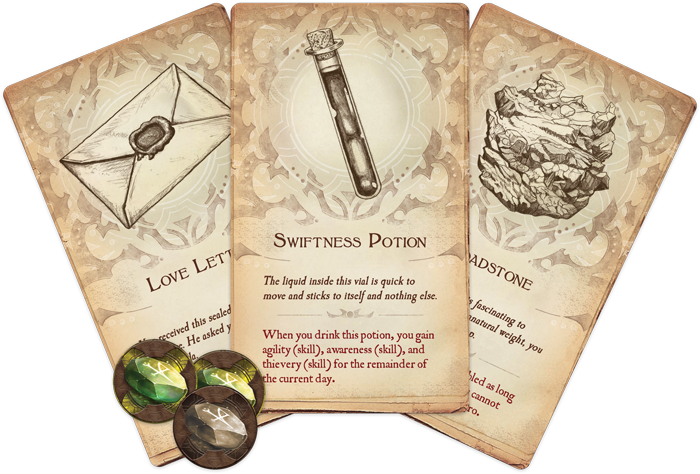 The Oracle System
Not to be confused with the new Genesys RPG System, the Oracle System is a GM-less immersive storytelling roleplaying game. That's right, there is no Game Master to determine how this adventure will unfold – that is up to the players!
"Legacy of Dragonholt presents players with a daunting mystery and series of decisions that effect gameplay. Most of all, it is not about winning or losing, but immersing oneself in a narrative of your own creation, and presenting players with a living and ever-changing unverse."
As the players adventure through these six linked adventures, their choices will have repercussions throughout the land and will determine the outcome of the story. Their choices will determine the order of each quest that appears – this process is designed to happen organically due to the developing narrative and storytelling. This all sounds really different from a typical RPG or Card game.
Players will also be able to gain more experience which in turn can be used to progress their characters. They will gain more stamina, new skills, and more fame. As the characters develop they will become more and more powerful and those changes are recorded on the character sheets. However, when the players get more powerful, the monsters and villains become evermore dangerous and dastardly. Teamwork will be essential if they wish to get to the end and solve the mystery of Dragonholt!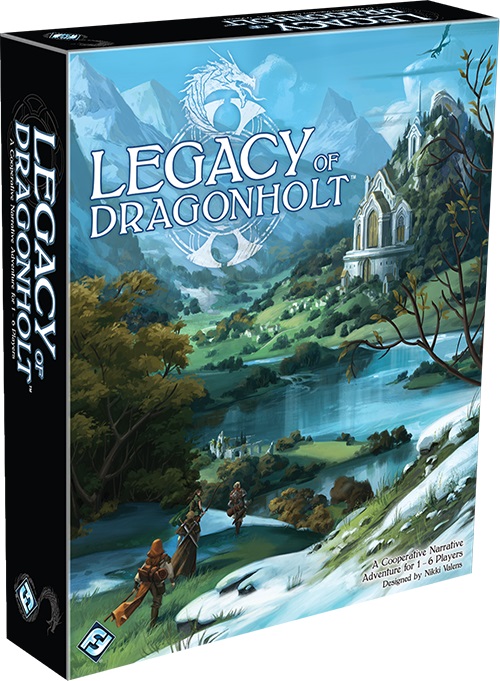 Gather your band of heroes and journey to the edge of the Terrinoth in Legacy of Dragonholt!

The first game to use the Oracle system, Legacy of Dragonholt captures the spirit of a roleplaying game without needing a game master. This narrative game for one to six players allows players to build their own unique hero and embark on six noble quests. Battle goblins, foil the plot of an evil lord, and add a new story to your tale!

Players: 1-6

Game Time: 1+ Hours

Ages: 14+
A Game Masterless Cooperative Roleplaying Narrative Adventure game? Yes please!