Fantasy Flight Games announces a new and improved edition of Twilight Imperium!
Twilight Imperium is an Epic Space Strategy board game from Fantasy Flight Games. It's been around for 20 years and it's getting a 4th edition with updated rules, assets and some big changes ahead!
For two decades, Twilight Imperium has defined the essence of epic in board games. Now, Fantasy Flight Games is proud to announce the next step in the game's tremendous legacy: Twilight Imperium Fourth Edition, a game of galactic conquest in which three to six players take on the role of one of seventeen factions vying for galactic domination through military might, political maneuvering, and economic bargaining.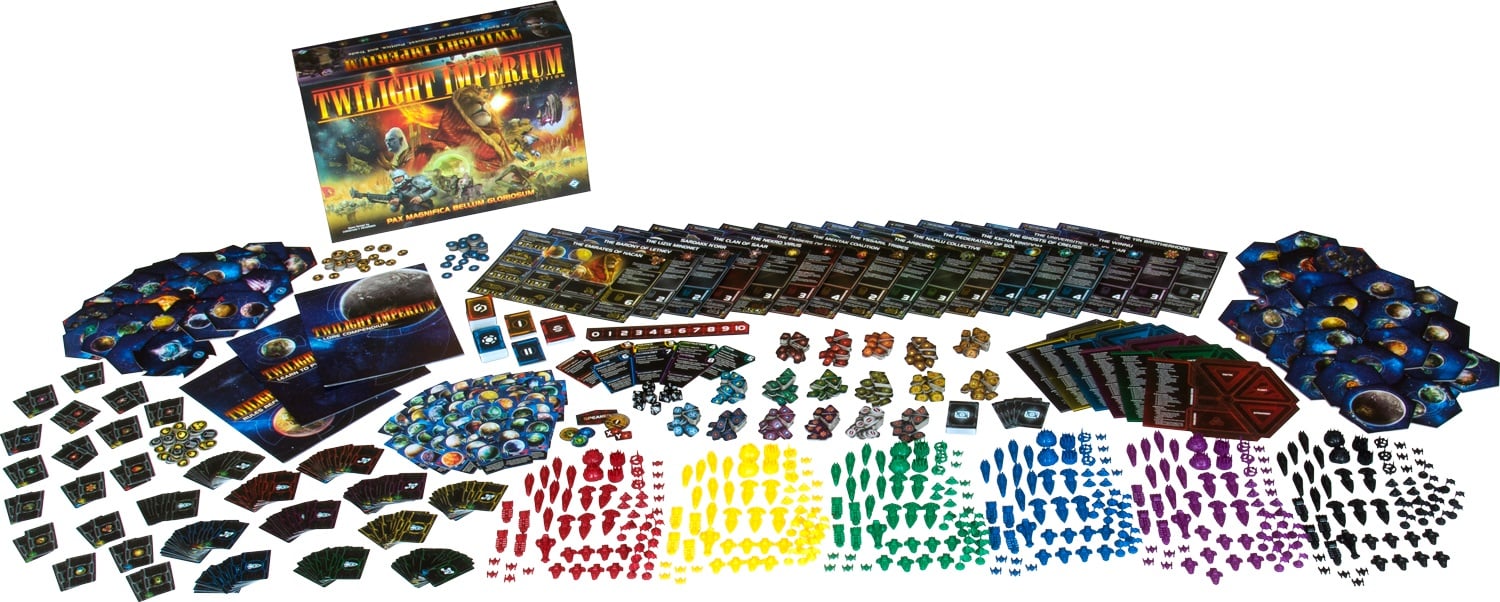 Twilight Imperium is one of my favorite board games of all time – if for nothing else than the sheer size of the game! It's a fantastic game of politics, strategy, trading & negotiation, and of course empire building! It's a game where your alliances can shift and your table-talk matter as much, if not more, than how well you roll the dice.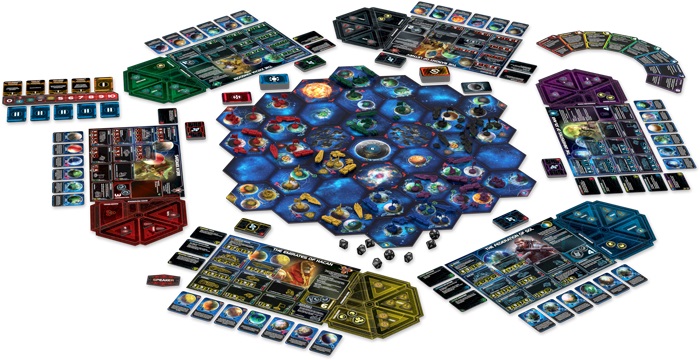 If you've never played Twilight Imperium before, it's a long game – but that's because there is much to do and you must plan carefully if you want to succeed. At it's core, it's a game about getting Victory Points – each player has a set of secret objectives as well as public ones. The first player to achieve 10 Victory Points wins – but the game can also end early if the right cards are drawn…
Earning 10 VPs doesn't sound so hard, does it? Just keep in mind that the scores are available for everyone to see – the closer you get to your goal, the bigger the target is on your back!
Each player assumes the role of an Empire of Space-faring races. Each race is different and has their own special abilities and advantages. Where one race might have excellent fighters, another might be better suited to trade wars – it's all in how you play the game and how you use those advantages to win the ultimate prize!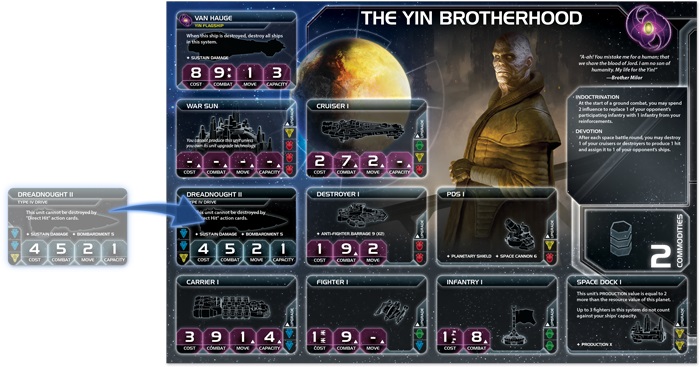 Space fleet combat is kind of a big deal for Twilight Imperium. That's what makes this game sooooo epic. In this new edition, we see the incorporation of some extra ships that were part of the expansions and a streamlined tech-tree that helps you get there faster…

Trade – Trade contracts do not exist in Twilight Imperium Fourth Edition. Instead, commodities are traded between factions who have ships in adjacent systems. Every time the trade strategy card is used, its primary ability allows a faction to "refresh" their commodities. Then, that faction may choose to let any other factions refresh their commodities for free. Other factions may then use trade's secondary ability to spend a token from their strategy pool to refresh their commodities. Commodities do nothing on their own, but become traditional trade goods when given to another faction.

Technology – Twilight Imperium Third Edition featured elaborate tech trees as a pathway to powerful technologies. The process of researching technology has been streamlined, as there are no longer specific technologies that are prerequisites for other advancements in Twilight Imperium Fourth Edition. Instead, certain types of technology are used as prerequisites—a new tech may require three Biotic Technologies, or two Warfare and a Cybernetic Technology, making prerequisites easy to track.

PDS Units and Space Docks – Previously, PDS units and Space Docks were constructed like any other unit, requiring a resource cost and an activation token to place on a planet. Now, PDS Units and Space Docks are created with the Construction strategy card, which allows a player to place either two PDS units on planets you control, or a PDS and a Space Dock on planets you control. The secondary ability allows a player to spend a token from their strategy pool to place a PDS or Space Dock on one of their planets.

Politics – Previously, in Third Edition, the politics phase began with the primary ability of the Politics strategy card. Now the agenda phase occurs at the end of every round after Mecatol Rex has been claimed. Players get to refresh all their planets for the agenda phase, meaning they don't have to split their planets for use between resources and influence. Like Third Edition, agenda cards are used to pass new laws in the galaxy, flipped from the top of the deck. After one law is voted on, a second card is flipped and another round of voting occurs. Planets are refreshed again after the agenda phase ends.

Imperial Strategy Card – Previously, the Imperial strategy card's primary ability allowed for the user to receive two victory points. Now, the card's primary ability allows a player to receive one victory point if they control Mecatol Rex or receive an additional Secret Objective. This Imperial strategy card is more flexible but still provides a pacing element, and can be used as a powerful tool if selected at the right time.
Pre-Order Twilight Imperium for Limited Promotional Offers!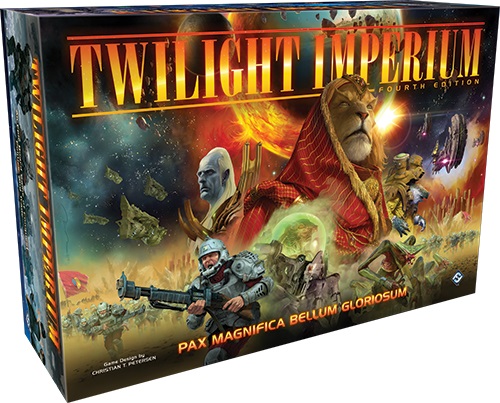 For two decades, Twilight Imperium has thrilled gamers with its grand storytelling and tactical strategy. Now players can explore the next step in the Twilight Imperium Legacy with Twilight Imperium Fourth Edition, an epic game of galactic conquest for three to six players.

Each player takes command of one of seventeen unique civilizations to compete for interstellar supremacy through warfare, trade, uncertain allegiances, and political dominance. Every faction offers a completely different play experience, from the wormhole-hopping Ghosts of Creuss to the Emiratates of Hacan, the masters of trade. All of these races have many paths to victory, but only one will sit upon the throne of Mecatol Rex as the new masters of the galaxy.
Are you ready for the next era of Twilight Imperium?