Chaos Space Marines: Alpha Legion In the Balance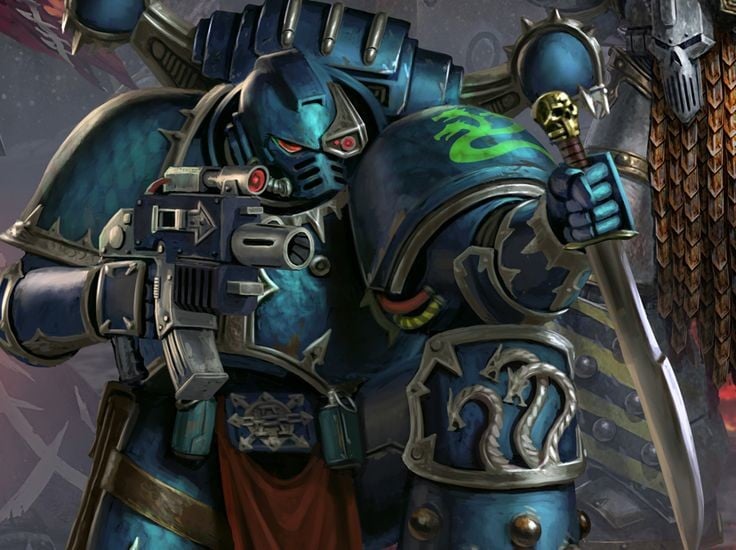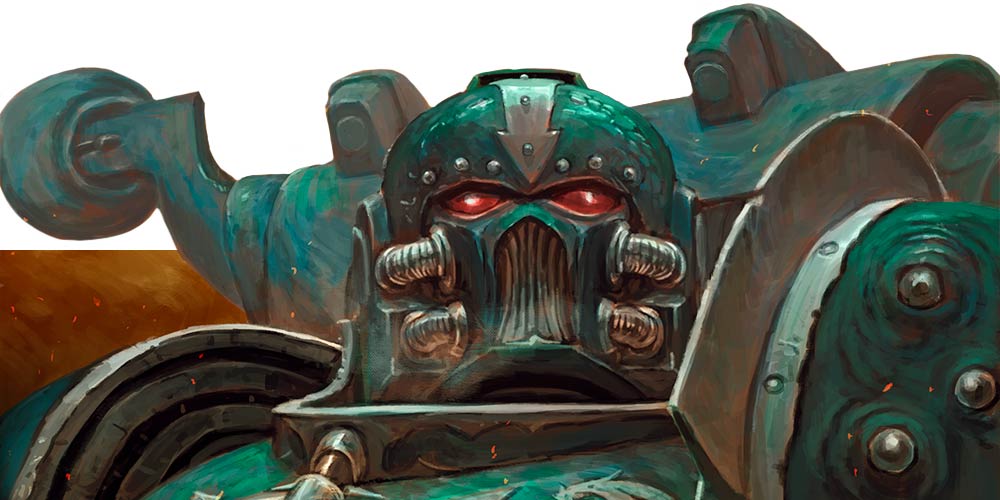 SaltyJohn here to bring you a review of the new 8th edition Chaos Space Marines rules for Alpha Legion. I am Alpharius!
Hello fans of Frontline Gaming and TFGRadio; SaltyJohn  here to bring you a review of the new 8th edition Chaos Space Marines rules for Alpha Legion.
The Alpha Legion, once known as the 20th Legion Astartes in the times of the Great Crusade, is known throughout the Imperium of man as a traitorous Legion of Chaos Space Marines. Numbered among the greatest enemies of the Imperium the Alpha Legion fights a shadow war in the 41st millenium; through out the Imperium of man the schemes and machinations of the Alpha Legion crumble worlds and cities to their goals. Experts in infiltration, and insurgency tactics the Alpha Legion stand out among the Space Marine Legions. When the twin Primarchs Alpharius and Omegon set their super powered Adeptus Astartes to task as terrifying as insurgency and manipulation the already feared Astartes become a completely different type or terror inducing foe. While their true purposes and goals are often shrouded in secrecy and can appear even self contradictory there is no denying the potency of the Alpha Legion when turning the denizens of the Galaxy to their will.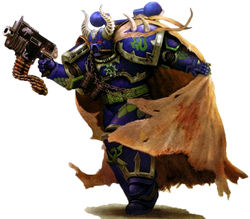 Overview
The Alpha Legion are portrayed in the fluff as experts in infiltration, insurgency, and covert tactics utilizing stealth and the local population to cripple a society before the main force of Astartes come in to clean up, if necessary. The nice thing about the Alpha Legion at the end of 7th edition and again in the new 8th edition Chaos Space Marine codex is that they've been designed to reflect this fluff and still be very effective on the table top. From their Legion traits to their stratagems and the way these all interact with the new and unique unit rules we end up with an army in 40k that is both effective and fluff driven. This particularly rings true for fans of the Dawn of War series, where the Alpha Legion in that PC Real Time Strategy game acted as the Chaos Space Marine force you could play. In 40k terms, if you like being in your opponents face early in the game, recycling units of cultists, and having your Warlord never die, this army may be for you.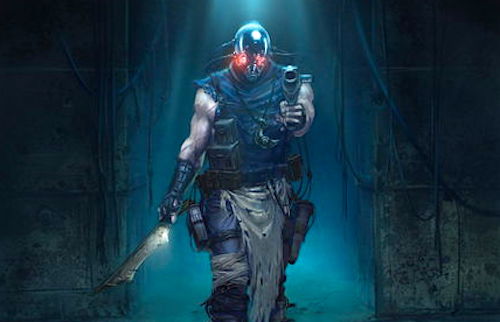 Unique Units:
While the Alpha Legion doesn't have any special units that benefits directly from them being in the Alpha Legion several units stand out as benefiting greatly from their trait and Stratagem. Khorne Berzerkers, Possessed, Cultists, and anything that has long range fire power that will stay 12 inches from the enemy all game.

Special Rules:
Legion Trait: Hidden in Plain Sight. Your opponent must subtract 1 from to hit rolls that target units with this trait if they are more than 12″ away.
Alpha Legion Artifact: The Blade of Hydra. *model with a chainsword only.
Warlord Trait Bonus: In addition to their Warlord Trait, your Warlord has one randomly selected Chaos Space Marine Warlord Trait (see left). If your Warlord is slain, you can immediately select another ALPHA LEGION CHARACTER in your army to take their place and generate a Warlord Trait for them (including this one). If the mission you are playing grants victory points for slaying the enemy Warlord, your opponent will only achieve that objective if all of the ALPHA LEGION CHARACTERS in your army have been slain.
Subscribe to our newsletter!
Get Tabletop, RPG & Pop Culture news delivered directly to your inbox.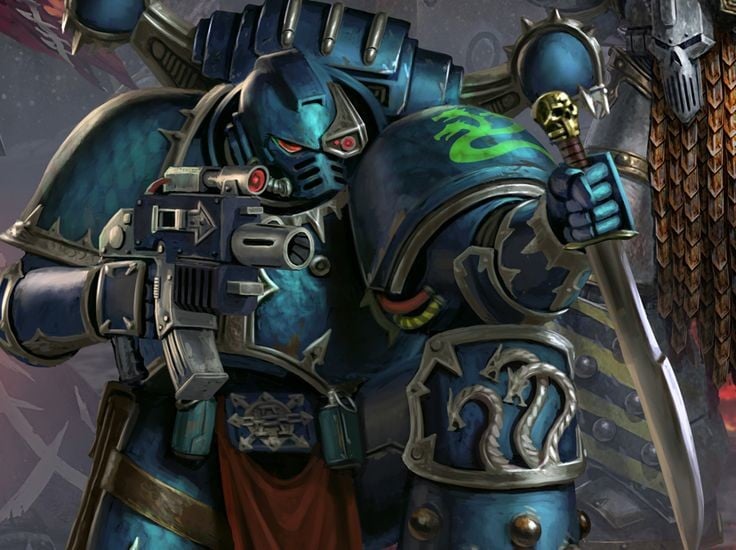 Stratagems:
Alpha Legion Stratagem: You can use this stratagem when you set an Alpha Legion Infantry unit during deployment. You can set up the unit in concealment instead of placing it on the battlefield. At the beginning of the first battle wound but before the first turn begins, the unit emerges from its hiding place- set it up anywhere on the battlefield that is more than 9″ away from any enemy models.
Chaos Space Marines Stratagem: Use this Stratagem at the end of your Movement phase. If you do, pick a unit of Chaos Cultists and remove it from the battlefield. You can then set it up again wholly within 6″ of the edge of the battlefield and more than 9″ from any enemy models, at its full starting strength. (Not an AL stratagem but one I think fits well with their style.)
Tactics:
The first thing that jumps out about the Alpha Legion is their trait. Similar to the Raven Guard Chapter Trait for the loyalist scum of the Imperium we have a really great way to add some resiliency to Alpha Legion units. In 8th edition shooting is king, and the first turn is exceptionally important to many armies. The best way to build lists for 8th are to build lists that excel at going second. One way to do this is extensive use of reserves, another is to take units that are extra hard to kill. With the way the new AP system works, and the massive nerf to cover in 8th the best way to do this is to make sure it's harder for your opponent to even hit your models in the first place so -1 to hit may sound mediocre at first glance if you try it out you'll see how great it really is.
The next great aspect to Alpha Legion is the ability to pay 1 CP during deployment and set up a unit in concealment. This can be done for multiple units so be sure to take detachments that give you enough CPs that you can spend 1-4 before the game and still have some for other stratagems in game. A few units that would really benefit from getting in this close to the enemy are primarily assault based units for some wonderful first turn charges. Khorne Berzerkers, Possessed, even Cultists. Units with shorter range firepower, like Chosen or Havocs with special weapons would benefit from being deployed closer to the enemy as well. A great tactic is infiltrating a big unit of Khorne Berzerkers with a banner, an Exalted Champion and Dark Apostle. For 3 CPs you've just bought yourself a first turn charge, re-rolling the charge distance if need be, that also re-rolls to hits and wounds, thanks to the nearby characters, and that benefits from an extra round of combat. It's brutal.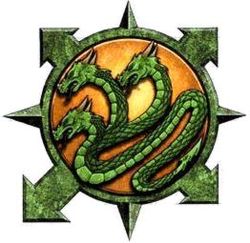 Possessed are a good unit to take in an AL list if you can also fit in a small Battalion of Daemons with Changeling, Herald and 3 units of Brimstone Horrors. Which everyone can fit usually, it's one of the most popular plug and play detachments so far in 8th. A unit of Possessed, 15-20 in size, with Mark of Tzeentch can advance deploy with the stratagem and daisy chain back to be in the Changelings aura for a unit that is now -2 to hit as the Changeling and AL trait stack. If you combine this unit with the Berzerkers from above you have a great one two punch of assaults turn one and then two. It is unlikely the Possessed can get wiped on the first turn so you're almost guaranteed a great second assault wave, if the Apostle and Exalted Champ are still alive their aura effects will be great to use in conjunction with the Possessed as well. If you're going with this build you could even include 1-2 Helbrutes with Mark of Tzeentch and advance them slowly with the Changeling for a -2 to hit them and then charge them in to have a nice third wave of assaults.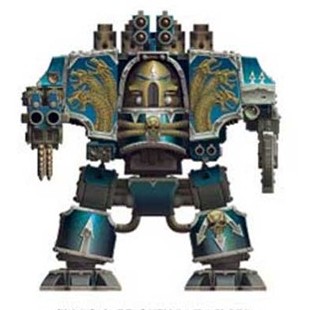 I listed Cultists as being good for an Alpha Legion list. The stratagem that recycles Cultist units and returns them at full strength is insanely powerful on a unit that can be 40 strong and is Objective Secured. If you take a nice sized blob of Cultists and spend a CP to advance deploy them in concealment you've got a cheap unit that is ObSec and hard to remove in a single round of shooting. If the enemy gets close to wiping them you just recycle them. By having a big blob of cultists deployed far beyond your own army you put pressure on your opponent and the objectives before the first rolls of the actual game occur. Putting your opponent on the back foot and giving you a distinct advantage.
The Alpha Legion trait is also good if you plan to run a Havoc gunline, or Obliterator gunline. The -1 to hit on a unit that is almost always going to be more than 12″ from the enemy is a great way to keep that fire base, hopefully over an objective, alive long enough to carry it's weight and put the long range hurt on some important targets. As far as Havocs go the meta on them definitely changed from 7th to 8th. I personally like a mix of 2 Missile Launchers 2 Lascannons per squad and 2-3 squads of them. I like the mix in 8th because you can split fire for every unit these days and by mixing the units I don't have to worry about my opponent focus firing all my Las Cannons out first turn, if he's playing Knights, or focus firing out all the ML if their playing a horde army. The autocannon is, unfortunately, too many point this edition for what it does and Heavy Bolters don't do enough wounds per hit.
Overall the Alpha Legion is a phenominal addition to the game and the Chaos Space Marine codex has clearly shown that the codices this edition will be balanced, powerful, and true to the fluff. Which is a welcome change from past editions where codices might be one of those but never all three.
~How do you rate the Alpha Legion power level in the CSM codex?
And remember, Frontline Gaming sells gaming products at a discount, every day in their webcart!