There's a Necromunda: Underhive battle report in the latest White Dwarf. Pictures have wormed their way onto the internet, now they're here for you.
More Necromunda Underhive, or Necromundahive as I've been calling it, previews for you today. Or is this more of a sneak peek? Or a leak? Whichever terminology you prefer, someone uploaded a bunch of photos to imgur from an early White Dwarf, and now they're out in the wild. For what it's worth though, the game looks amazing–I am eager to play this game. It is a little more complex than the 40K I know and am platonically friends with, but given the scale of the game, I think it holds up fairly well.
Let's take a look.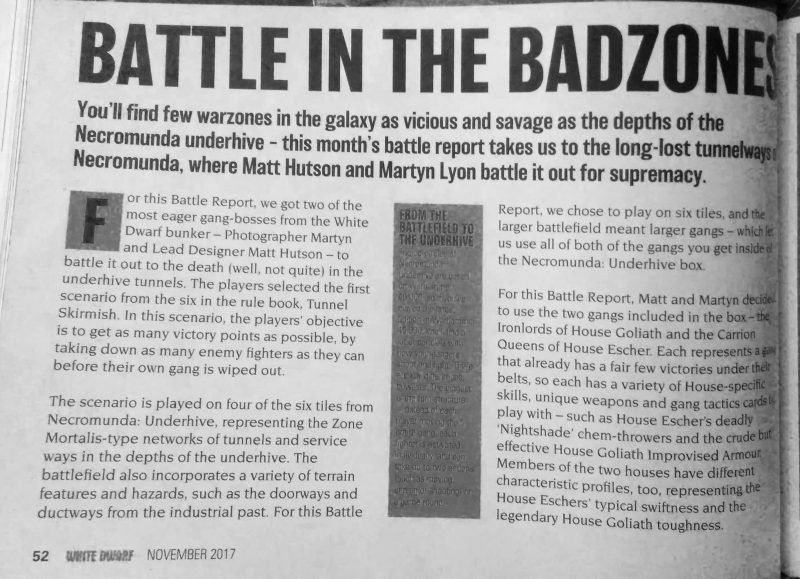 Right off the bat we'll be getting six tiles from the boxed set, which is coming up in the next couple of weeks. They've set up all six of the tiles, so let's take a look at the battle map for this particular scenario, called Hannigan's Sprawl, which of course, has its own fluff, etc.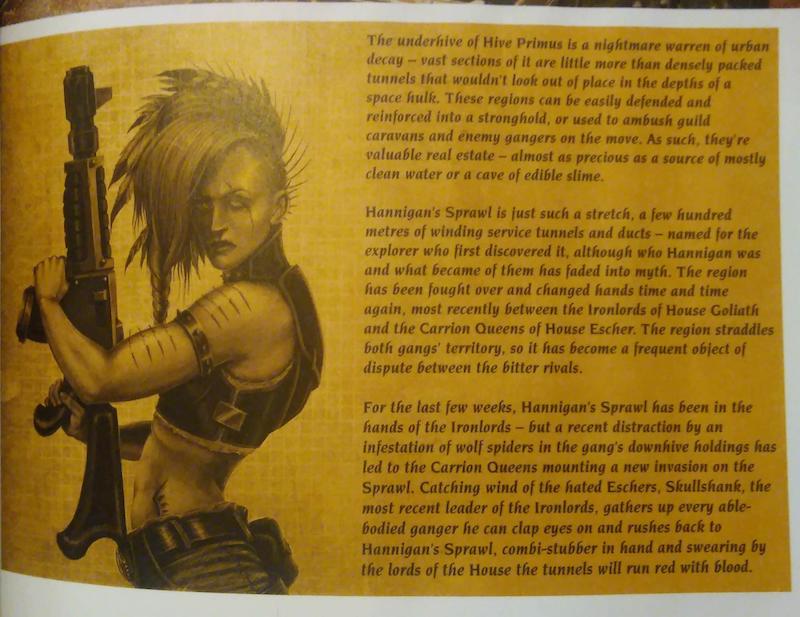 But on to the map.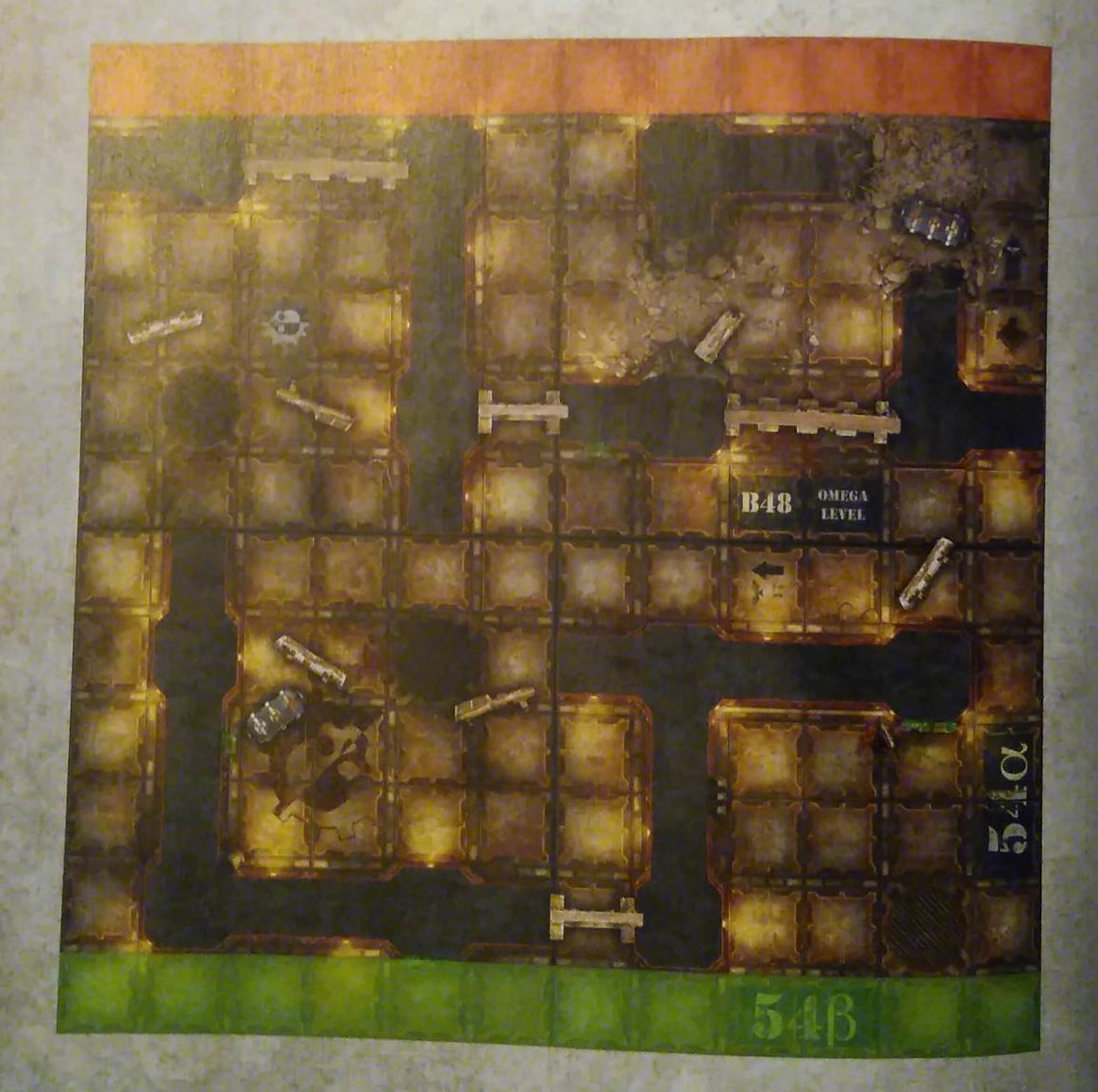 There's the layout of the map using four of the tiles. As you can see, there's some interesting, close quarters/corridors fighting to contend with. And it looks like gaining access via doors is going to be an important thing–also included along with this post are a few examples of army rosters and special abilities. That reminds me, there are a set of special ability cards that each faction has, and you'll employ these at various times to hinder your opponent or help your own forces. House Goliath, for instance, can make makeshift armor, or have one of their active fighters discover a secret tunnel.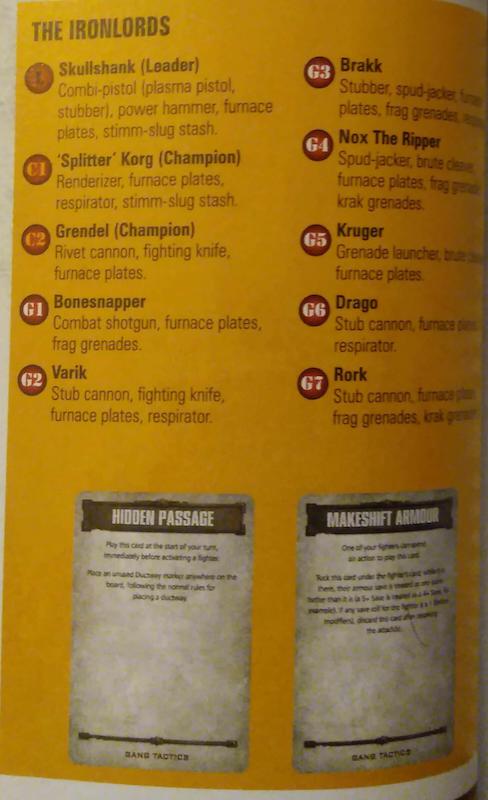 You can also see a look at the roster of House Goliath here. Unsurprisingly, they have a lot of fighters armed with stub cannons, and heavier weapons like grenade launchers, rivet cannons, and something called a Renderizer. But in the bottom you can see the gang tactic cards I'm talking about–use cards like these to give yourself an advantage at a critical moment. House Escher has their own share of tactics as well, though theirs are more centered around line of sight and stealth.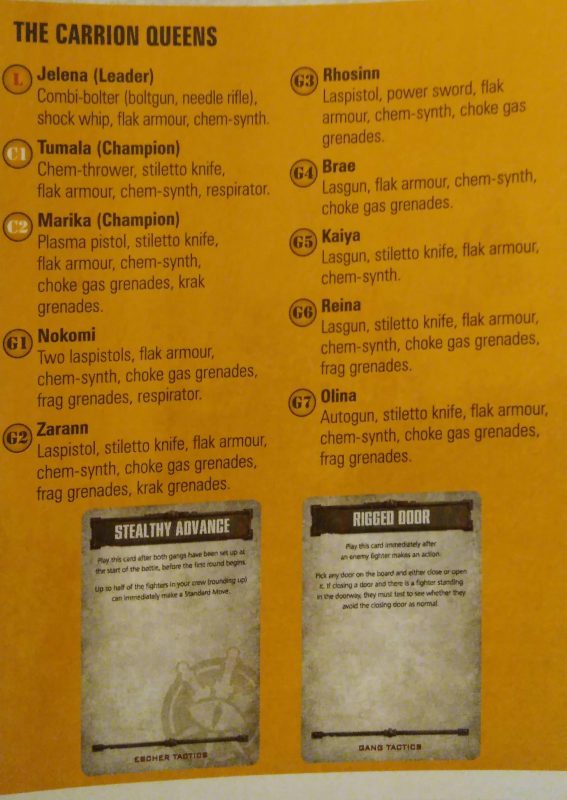 You can see, they're a little more reactive–you can close a door on an enemy moving up to try and take a shot through it, or open one on an enemy who was thinking they were safely concealed.
At any rate, that's a brief overview on Necromunda. It looks like a ton of fun.
We'll be keeping you up to date on more Necromundahive news as it develops.