D&D: Tales from Candlekeep – Tomb of Annihilation Now Available


Tales from Candlekeep – Tomb of Annihilation is out now. Explore Chult, but mind the dinos, zombies, and zombie dinos.
The peninsula of Chult is finally accessible via the digital realm. All you have to do is hop on the ol' Information Superhighway, fire up your modem (we recommend at least 28.8 k) and get ready to surf into Cyberspace where you'll navigate the netscape to the lands of Faerun. And once there it's just a hop, skip, and a jump to the forgotten jungles of Chult, which are littered with forgotten (geo)cities, ancient ruins full of traps, and at least one angel fire.
You can read about it all on my Livejournal, which is still around against all odds. At any rate, Tales from Candlekeep is available now, and is thoroughly modern, despite being littered with the antiquities of forgotten Ubtao. The game itself is based on the Dungeons & Dragons Adventure System board games like Wrath of Ashardalon or the Temple of Elemental Evil Board game–essentially you play one of a set of premade characters and go on a dungeon delve. Only here it looks like they've beefed it up since they've got quests you can solve, special characters, even a procedurally generated map.
Of particular interest are some of the familiar faces–like Artus "I've got the ring of Winter and you don't" Cimber, adventurer extraordinaire, who has been on the run since Storm King's Thunder. This game is a ton of fun, and you can grab it for 15% off between now and the 18th. So check it out!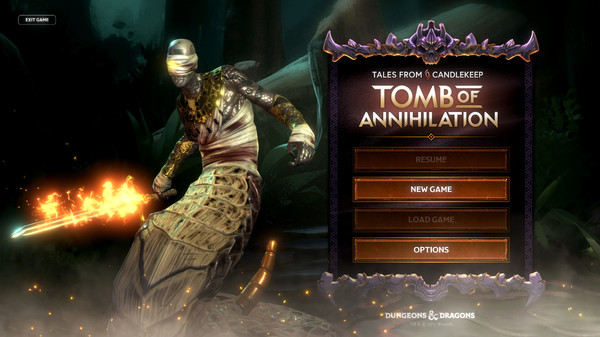 Tales from Candlekeep: Tomb of Annihilation, a turn-based dungeon-crawling game based on the Dungeons & Dragons Adventure System board games.

SETTING

On the deadly peninsula of Chult, an adventuring party must fight their way through dangerous jungles, labyrinths and dungeons to find and reverse the cause of the death curse. Choose to play as one or more of the four adventurers (Artus Cimber, Asharra, Birdsong, and Dragonbait) to face many perilous challenges and deadly foes throughout the quest.
FEATURES

Unique Quests: The procedural map generation allows every quest to remain unique even when replaying them multiple times.
Over 30 Quests: The game features a mix of Main Story quests and Side quests.
A board game experience brought to life: The game highlights most of the features from the popular board game, combined with features unique to the digital version.
Craft your way to Victory: Collect rare crafting materials. Craft powerful weapons and armors to strengthen your heroes.

DETAILS

End Acererak's reign of terror and bring peace to the region of Chult.
Master your heroes' capabilities and hone new strategies.
Explore and fight your way through perilous dungeons and jungles.
Face hordes of monsters and terrible villains.
Craft powerful weapons, armor, and accessories.
Level up and unlock new possibilities.
Find chests filled with treasures and materials.
The Tomb of Annihilation awaits…
Subscribe to our newsletter!
Get Tabletop, RPG & Pop Culture news delivered directly to your inbox.