Warmachine: Cygnar Trenchers Theme Force Is Out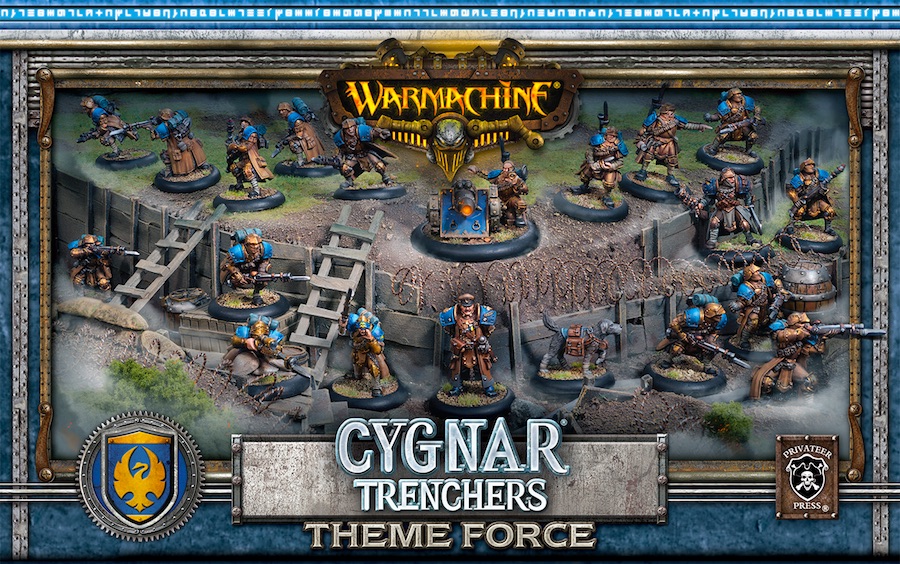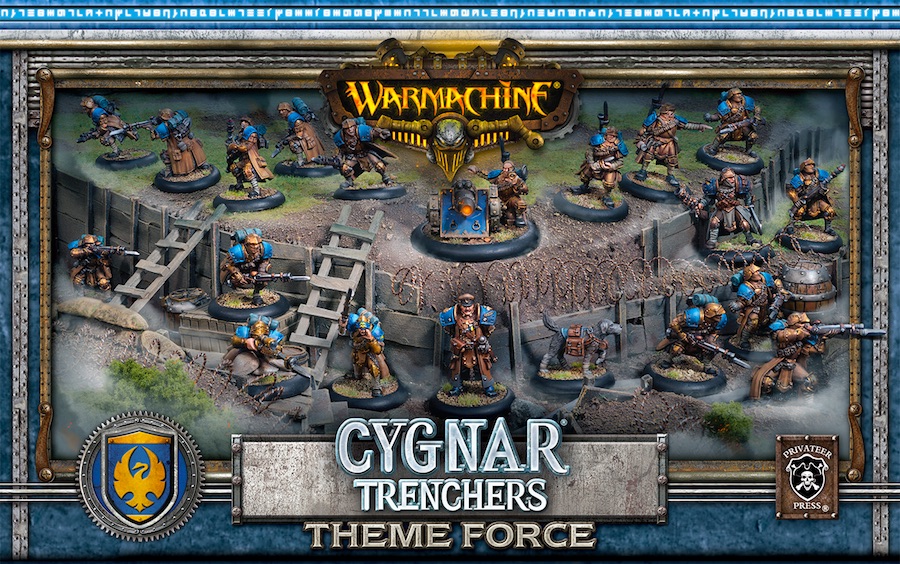 Cygnar's all new Trencher Theme force boxed set is digging in at your local retailer.
via Privateer Press
Bellevue, WA – Privateer Press is releasing its first-ever theme force box for WARMACHINE and HORDES. Theme forces are armies designed around specific military roles and allow players to field a force with a unified aesthetic and rules that are designed to work well together on the tabletop.
The Cygnar Trenchers Theme Force Box is built around the new "Gravediggers" theme force and focuses on the primary infantry of the Cygnar Faction. It features ten new models, including all-new Trencher Long Gunners, Trencher Combat Engineers, and the first playable structure model in WARMACHINE, the Trencher Blockhouse. Additionally, this box features the new solos Commander Anson Hitch and the Patrol Dog. Combined with the currently available Cygnar Battlegroup Starter Box, the theme box allows players to field a complete 35-point Trencher army.
"Like never before, theme forces delve into the iconic military roles of the Factions in WARMACHINE and HORDES," Chief Creative Officer Matt Wilson said. "With a selection of new models augmenting the existing models in each Faction, the theme forces feel like brand-new armies unto themselves, making what was old new again and ensuring the WARMACHINE and HORDES play environment is always fresh and exciting for our existing players as well as for new players joining our community."
The limited-edition Cygnar Trenchers Theme Force Box is available for $109.99 MSRP and contains an eight-page primer booklet that introduces players to the background and rules for the Gravediggers theme force.
Theme forces are being further supported in the all-new No Quarter Prime magazine, which launched in September. Each issue of No Quarter Prime will include an extensive feature article covering in depth the history and combat methods of the theme force releasing around the same time. Each of these articles will also include the theme force's rules, all-new scenarios, and game-modifying terrain rules inspired by the theme, plus a squad list allowing players to play the theme in Privateer's upcoming Company of Iron skirmish game, also releasing in October.
The new Trencher models and theme force box are available now from Privateer Press and local game stores.
 Once More unto the Breach!The trenchers of Cygnar are among the most tenacious soldiers ever to take the battlefields of the Iron Kingdoms. The first into the fight and the last to leave it, the soldiers of the Trencher Corps form the vanguard of Cygnar's army, holding ground against all odds on behalf of their comrades in arms. Any enemy who tries to assault their fortified positions faces a force of tough-as-nails troopers ready to cut them down with rifles, bayonets, and even the blades of their shovels.
Metal, Resin, Plastic
Model Count: 20
Release Date: October 11, 2017
Subscribe to our newsletter!
Get Tabletop, RPG & Pop Culture news delivered directly to your inbox.
This box contains:
• 8-Page Trencher Primer
• Commander Anson Hitch character Solo
• Patrol Dog Weapon Attachment
• Trencher Cannon Crew unit (3)
• 2 Trencher Infantry Rifle Grenadier Weapon Attachments
• Trencher Infantry Officer & Sniper Command Attachment
• Trencher Infantry Unit (10)
• Trencher Master Gunner Solo
For added fun, combine this box with the Cygnar battlegroup box to build a complete 35-point Trencher army.
~Dig in soldier!