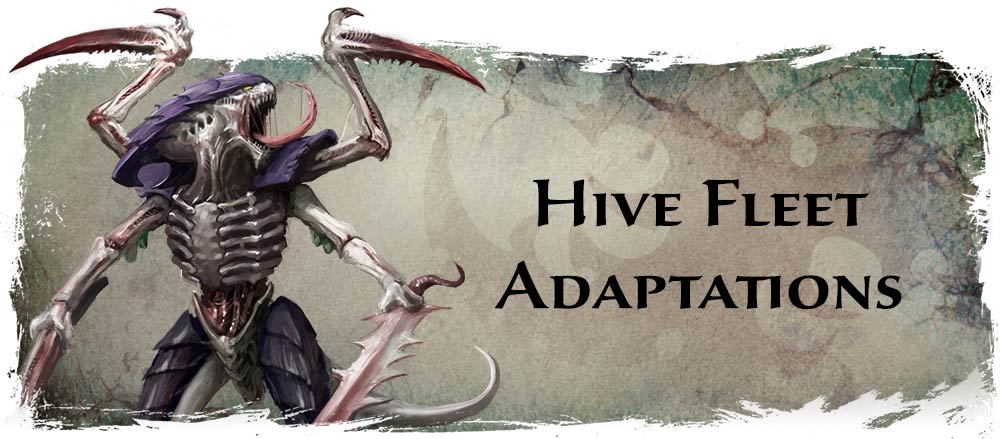 The Tyranid Hive's Adaptations are wide and varied – Here is how we think they stacked up!
With seven new Hive Fleet adaptations to choose from it's a lot to chew on. We've been mulling this over and we've come up with our ranks from Worst (7) to Best (1). Now, a couple of caveats:
We're only looking at the Adaptations and trying not to include combos or other Hive Fleet Specific abilities. We are looking at how they work with general principles in the Tyranid Army (Big Bugs vs Little bugs as an example).
We actually think they are ALL really viable. For the first time in a long time, you can build different Tyranid lists and actually have something that caters to your playstyle – so we're keeping these really high level and not getting to granular. For example, Kronos is ranked MUCH higher if you decided to focus on only shooty, long range Tyranids – so we tried not to do that and keep this list generic.
Now, let's dive in to the digestion pools and …Oh wait, no! That's a terrible analogy! Let's just get started.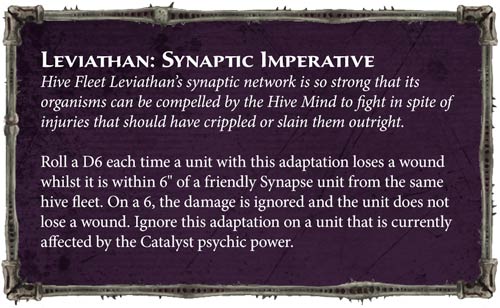 Well someone had to be last place and Leviathan, you're it. The big reason is because it's very conditional. If the range was simply "within Synapse" then it would be pretty amazing as it just makes your whole army (pretty much) 16% tougher. However, because you have to be within 6″ of friendly Synapse unit it's kind of a let down. Still, your Big HQ's are going to get the benefit – but that's what Catalyst is for anyways.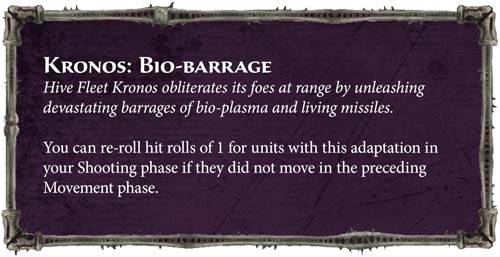 I can make a shooty Nid army and on paper this one got me pretty excited. Then I remember for most of my big, deadly shooting attacks I need to be within 18″ for them to really do their thing. I guess if you wanted to build an army of all Tyrannofexes and Exocrines then you could really take advantage of this one – but if you want to move up and shoot then this one is counter-intuitive to those plans.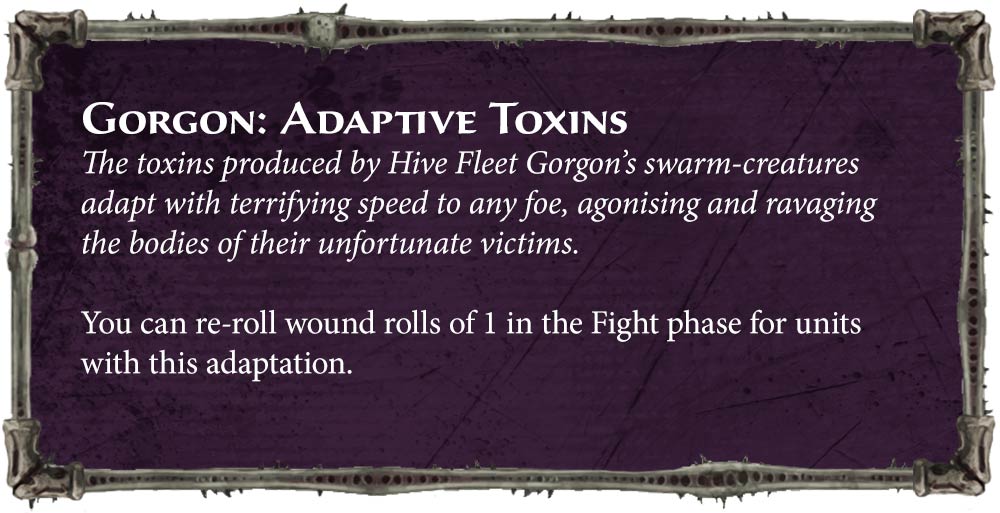 Gorgon's ability isn't bad at all – it's just that the others are better. Re-rolling 1's to wound in the Fight phase is really powerful because nothing is worse than finally getting across the board, hitting with a ton of attacks and then completely whiffing on the wound rolls. This really does help to even out that curve. At the same time, it's just re-rolling 1s to wound. It would be TOO good if it was re-roll all failed to-wound rolls. But because there was technically something better, we had to rank it at #5.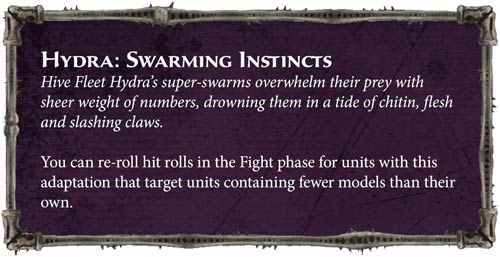 Honestly, we went back and forth between Hyrda and Gorgon's adaptations because while re-rolling ALL failed hit rolls in the Fight phase is strong, you DO have the condition that you have to outnumber your victim target unit. That means you're really susceptible to a bad round of Overwatch or battles of attrition. You might start with a 20 man Hormagant squad, but by the time they make it into combat, if there are only 10 of them I hope you have a back-up plan. It also doesn't help the Big-Bugs in combat at all. So maybe we should have swapped Gorgon and Hydra…Nope. I've gone to far and can't delete it or edit it later.

Re-roll failed charge rolls for all your Behemoth units. YES. This is fantastic! I think if you really wanted to maximize this one, you'd build an army around 'Podding stuff in with Spores or using the Trygon to tunnel in with extra units. The only reason this isn't higher is because you have to re-roll all the dice – you can't just pick one or both. But that's what Command Points are for!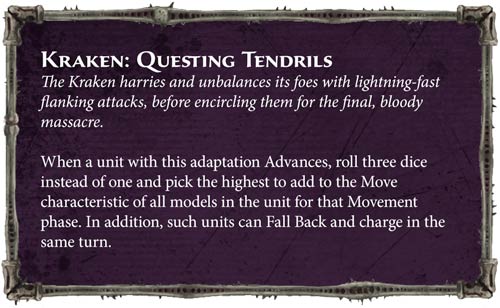 Kraken comes in at #2 – the first part of the ability is good and all. Roll 3 dice, pick the highest for an advance is cool. But really it's that Fall Back and charge in the same turn that rocks! That means for those battles of attrition, you're going to get to charge (and strike first) or get your other charging bonuses. The down side (and the reason it's not #1) is because you're still subject to Overwatch when you charge back in.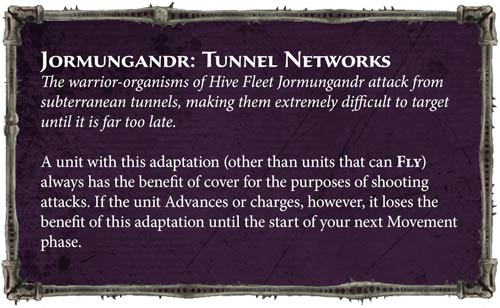 Jormungandr comes out at #1 for the simple reason that it's AMAZING. Look – Carnifexes with a +2 save, T7, 8 wounds, and a -1 to be shot are going to come plowing at you. That's a fact and I hope you're ready to deal with it. They might be close combat, they might bring the dakka. I don't know for sure, but I do know that the -1 to be hit is going to add up as well as the +2 save will assist with the Anti-tank rounds. Or what about the Tyrants who can march up with that +2 save as well. On the flip side, it makes your Gaunts actually GET a meaningful save. You can combo that with Venomthropes for the little guys to get that -1 to be shot as well. Do you really want to waste shots at the little guys or are you going to waste shots on the big guys. There are no good choices for your opponent and that's why Jormungandr is #1.
It's also the most fun to say. "Release the Kraken" comes in a close second.
What do you think of our rankings? Agree? Disagree? Let us know how you stack them in the comments below!