Bushido: Painting the Blood Brothers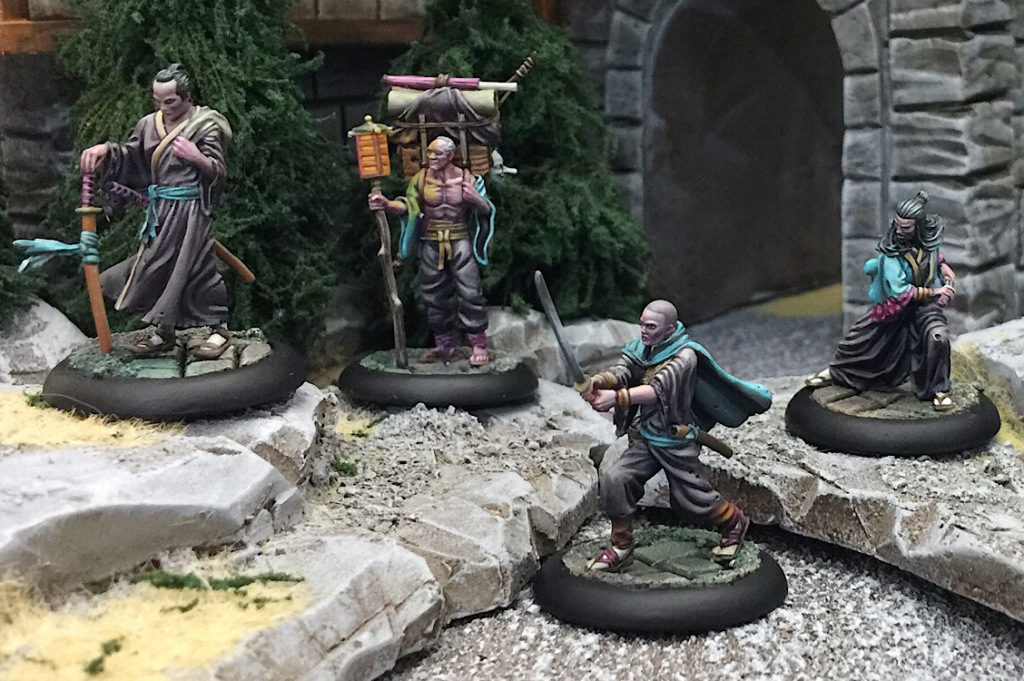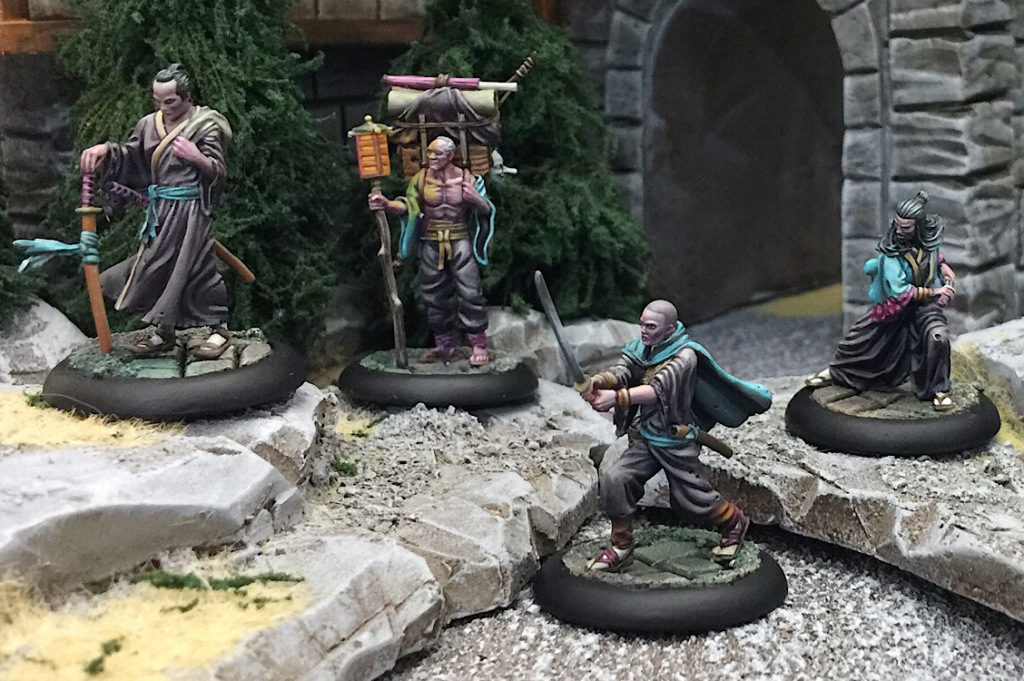 Follow along as GentleBen runs through these WiP shots taken while painting Shuohuang.
I struggled with the right color scheme to paint these guys at first so there are some kinda major changes that happen between the shots. I settled on giving just a few areas some very bright intense contrasting colors while leaving the rest of them rather gray. The gray is also actually rich with color with a good deal of magenta blended into the base black. The resulting warm purplish base coat is then highlighted with Hammerfall Khaki. This color has a slight yellow tint to creating a surprisingly saturated feel to these more drab parts. I'm pleased with the overall result. I didn't spend anywhere close to as long on these four as I did on my Ito Clan but I think they ended up with a very distinct look that is different from anything else I've painted. Let's look at the process.
One more thing, because it always comes up. These models are from a game set in the Jwar Isles: a mythological land based on historic and mythological Japan. The Blood Brothers are outsiders to Jwar, and thus have names based on real life Chinese names rather than Japanese names. So no, GCT Studios didn't goof and give Samurai Chinese names. It was an intentional choice to reflect the fact that they are not natives of the games setting.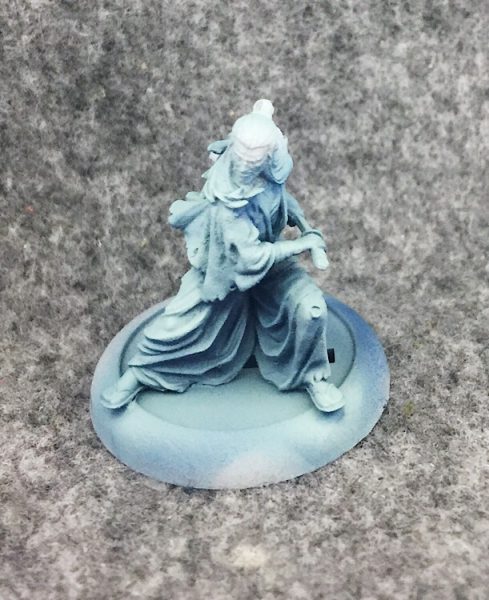 I began this model with some xenithal airbrush highlighting. I started with Kantor Blue, which made it through the airbrush fairly well with a little reducer. Then I mixed a large amount of Screaming Skull into the blue for the highlight.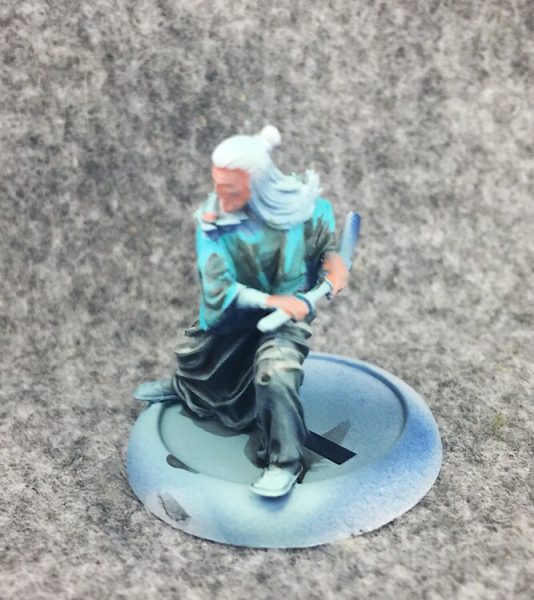 I had barely begun step 2 when I was already changing up the base colors. I decided to darken up the pants drastically, washing them with Nuln Oil mixed with some Drakenhof Nightshade. At this point I was thinking I'd have them more blue-toned than what I ended up with later. I also started the upper Kimono with some P3 Arcane Blue shaded with P3 Umbral Umber. For the face I went with the color mix I've been using for all my Bushido models: P3 Beaten Purple and Bloodstone mixed with some Menoth White Highlight.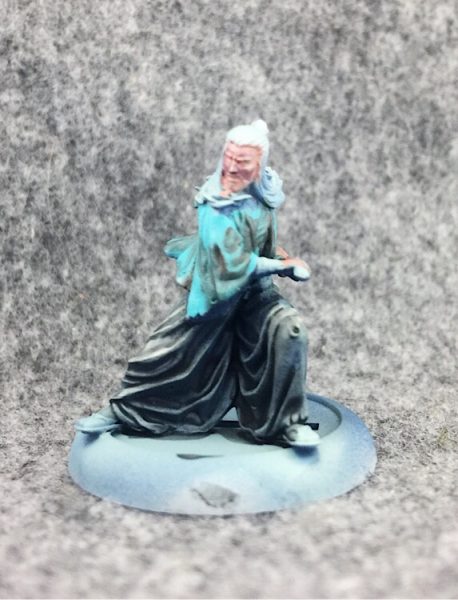 I began increasing the highlights on the pants with some Hammerfall Khaki. I also added some shading to the face with more of the Bloodstone/ Beaten Purple mix and some highlights as well by blending in more of the Menoth White Highlight.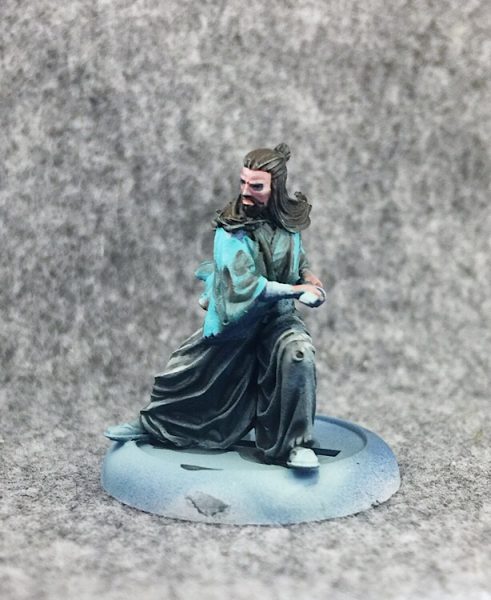 Despite still having quite a bit of work to do left on the face, I started on just the basecoat of the hair and beard. Blocking out the skin areas in this way helps me get a better feel for what it will look like when complete.
Subscribe to our newsletter!
Get Tabletop, RPG & Pop Culture news delivered directly to your inbox.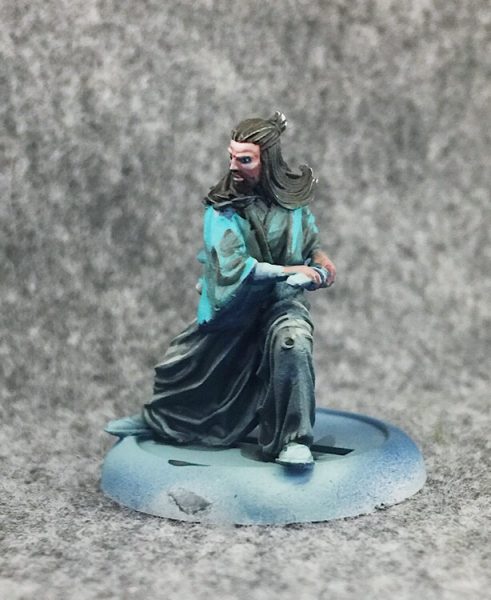 I added the eyes, trying hard to leave a blue ring around them. The goal here was to make him look tired, but I think I may not have emphasized it enough.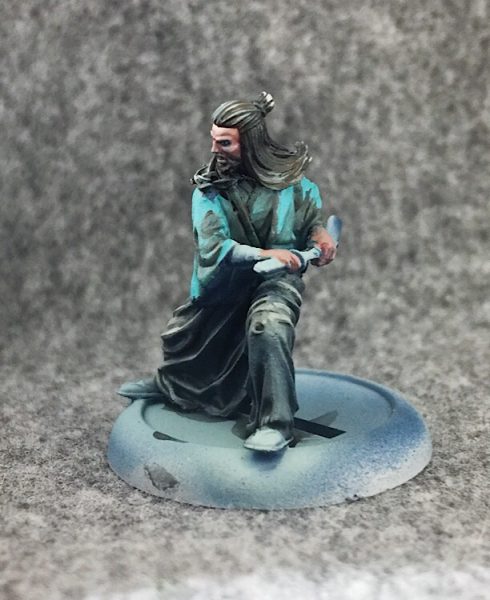 Next I add a few highlights to the hair. I start with lines of Underbelly Blue mixed with the warm red basecoat, then add some lines of pure Underbelly blue closer to the Apex of the head.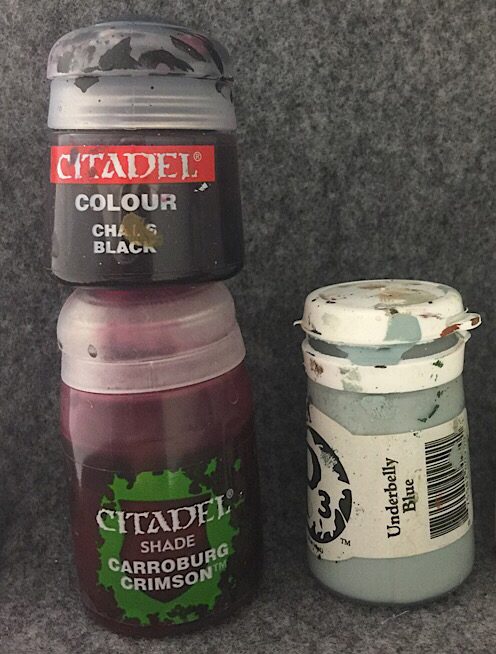 These are the colors I used on the hair. The Red Ink is used to tone the black. I always tone black with a little bit of color – usually black or green – to give it some contrast to the color used to highlight it.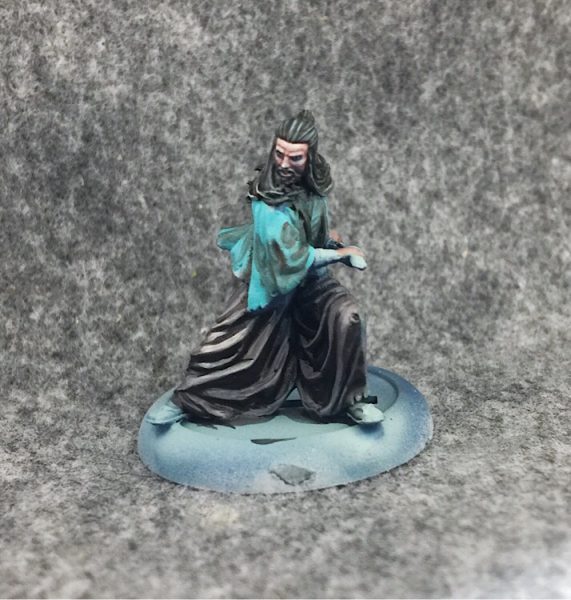 A slightly thinned wash of Nuln Oil evens out the hair highlights nicely and tones the contrast down to something a bit more natural. This was also when it ocurred to me if Shuohuang's upper Kimono was going to be a cool blue, his lower Kimono might look nicer with a warm tone.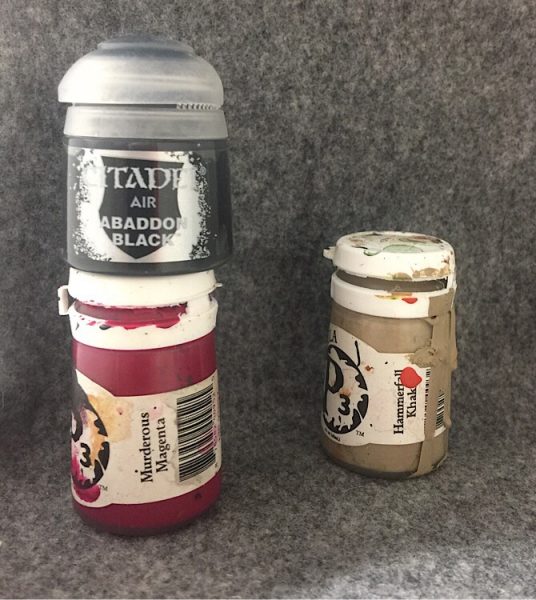 I mixed a lot of P3 Murderous Magenta into some Abaddon Black for the basecoat, then highlighted it with increasing amounts of Hammerfall Khaki. In a few places I added in some Menoth White Highlight to really lighten it up. Don't use Airbrush Abaddon Black though. I grabbed the wrong pot for this picture.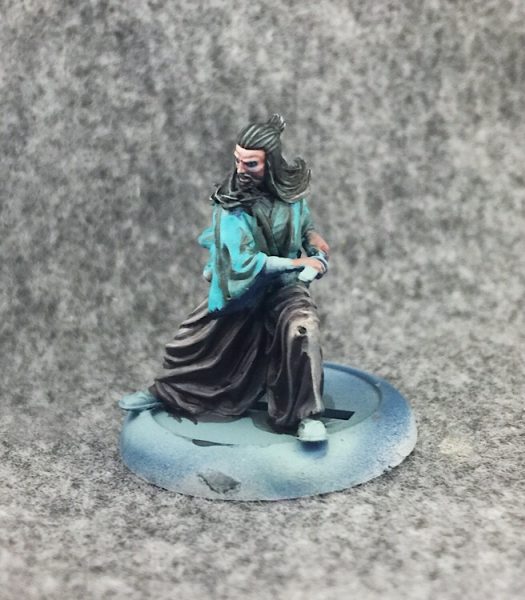 In this final step I'm paying some attention to his upper Kimono again, just trying to pick out some of the raised areas with Arcane Blue. I have also gone back into the pants blending even more Murderous Magenta into the black to try to warm it up even more. It still wasn't enough however, so I ended up warming them up even more later.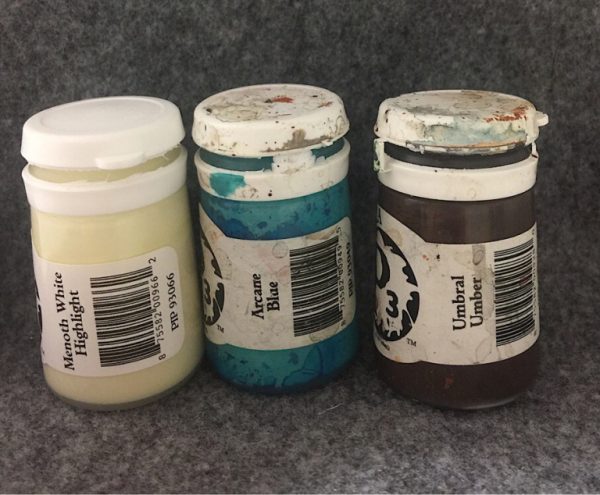 Here are those colors since I forgot to show them yesterday.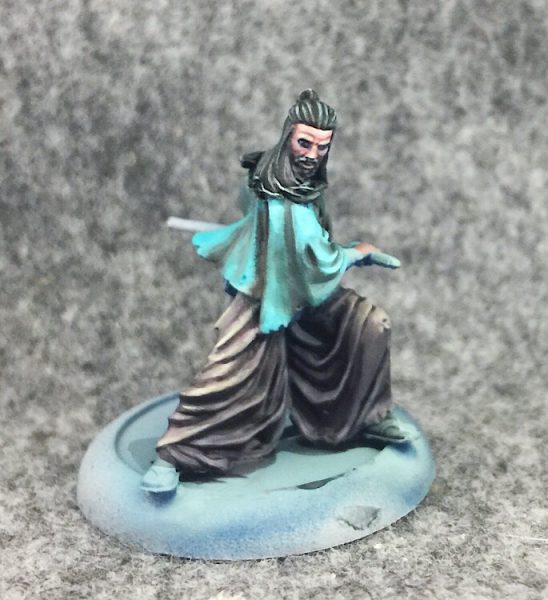 Here I made the finishing touches to Shuohuang's kimono and pants. I didn't clean up the kimono too much since I wanted it to appear a bit dirty. These guys are on the run and it's probably not too often that they can stop and wash their clothes or buy new ones.
I also finally finished off the pants. It wasn't until this stage that I really felt I had the right balance between a warm purple in the "black" and nice yellowish highlights with the Hammerfall and Menoth White Highlight. I like how it feels saturated without being overly colorful. Too many bright colors would have felt off theme for this lot.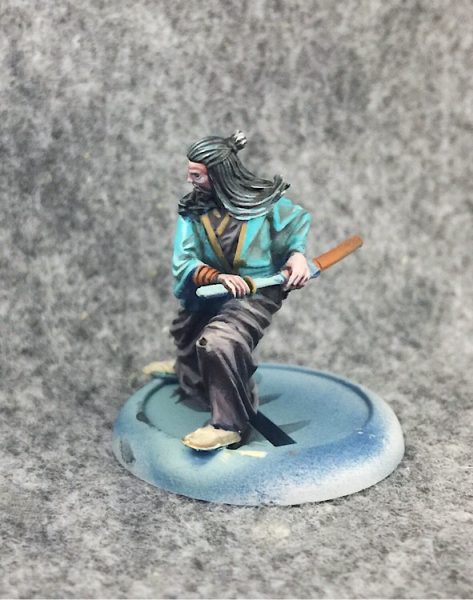 Of course there was still a lot of work to do. All the little parts I had left probably only account for about 10% of the surface area here, but often it's these same little details that will take half the time of the project. In this case it was closer to a third.
The wrist guards and sword sheath were painted with GW Skrag Brown. The kimono Trim was GW's Ungor Flesh mixed with a bit of P3 Battledress Green. The feet were painted withP3 Hammerfall Khaki and highlighted with Menoth White Highlight.
Additionally I went back to the hair giving some strands thin lines of pure Underbelly Blue highlights, followed by a very short streak of Menoth White Highlight in the middle. The lower strands felt a lot harder to get right than the upper area on the scalp itself.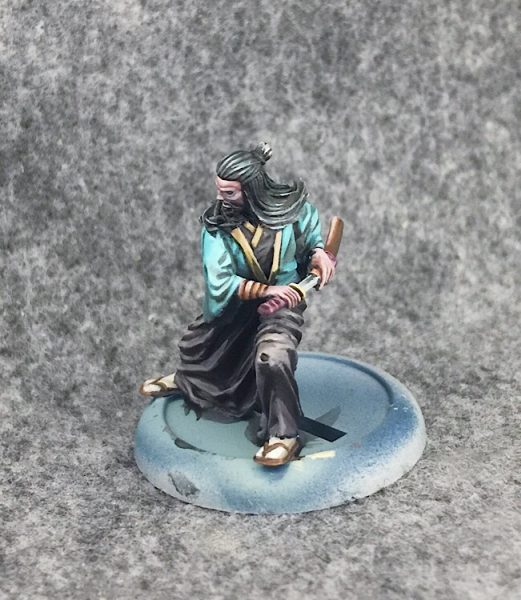 I shaded the Skrag Brown leather with a green-toned black made by adding some  Biel Tan Green shade into some Abaddon Black. It is highlighted with Menoth White Highlight. I used the same brown to finish off the sandals.
I also began to work on the wrap of the sword hilt. A basecoat of Murderous Magenta is shaded with the same Green toned black, then highlighted, of course, with Menoth White Highlight.
I added some highlights to the kimono trim by blending some Menoth White Highlight into the base color. The shadow is Coal Black mixed with a little more of the green toned black.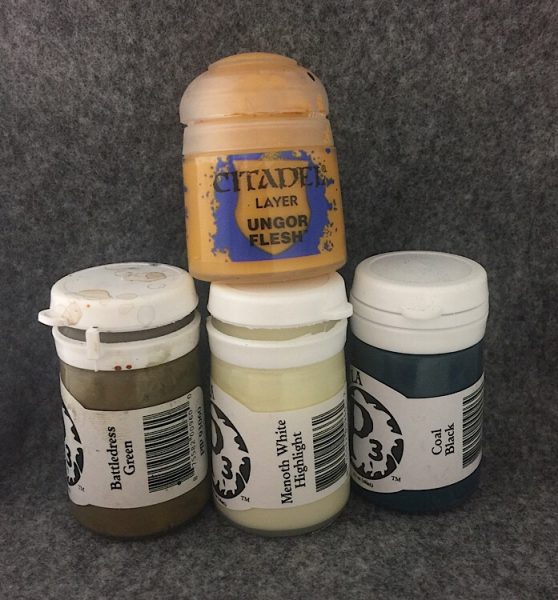 The colors on the kimono trim are some I use frequently if I want a brass metal kind of feel. Here they are – minus the black. For this kimono they create kind of a desaturated antique gold feel that I think works well.
Then there's the little bit of blade showing…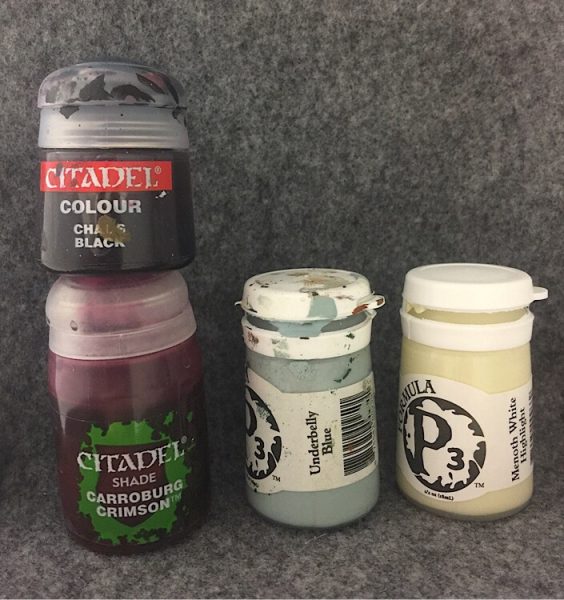 I painted a gradient across the blade starting with underbelly blue in the middle blended into Menoth White Highlight at the base, and shaded with a warm toned black mixed from the two colors above. Hey… that pot must be fairly old since they started calling it Abaddon Black now. The thin sliver of blade on the sword is painted pure Menoth White Highlight since that extra jolt of brightness should hopefully draw the eye to it.
Note that these are the same colors used for the hair. This isn't as odd as it sounds since metal and hair both have that sheen to them. The important thing is the ratios of highlight to shadow. The hair is going to be mostly black, with highlights only in a few specific places. The steel on the other hand uses the midtones much more, and has a broader gradient across it's surface.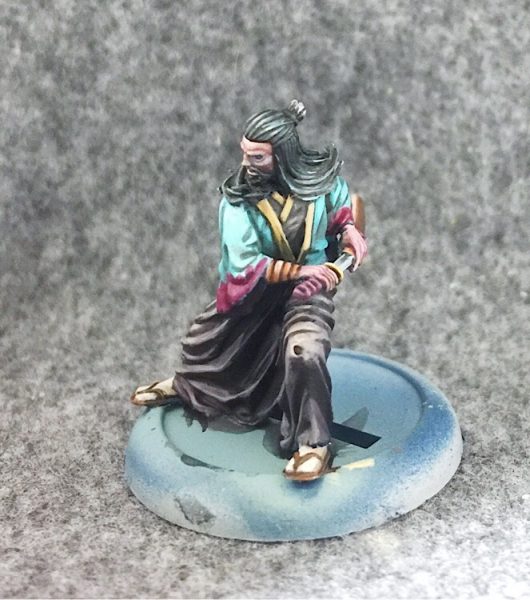 I told myself I wouldn't do any freehand on these guys since I wanted to play with them and not spend forever on them. Oh well… maybe just a little bit of freehand. I tried to create some shapes that would appear vaguely appropriate without being anything precise I would need to really take some time with. Magenta blobs? Yeah that could work. I had to start with a basecoat of Cadian Fleshtone since Murderous Magenta is a very translucent color that would require multiple coats.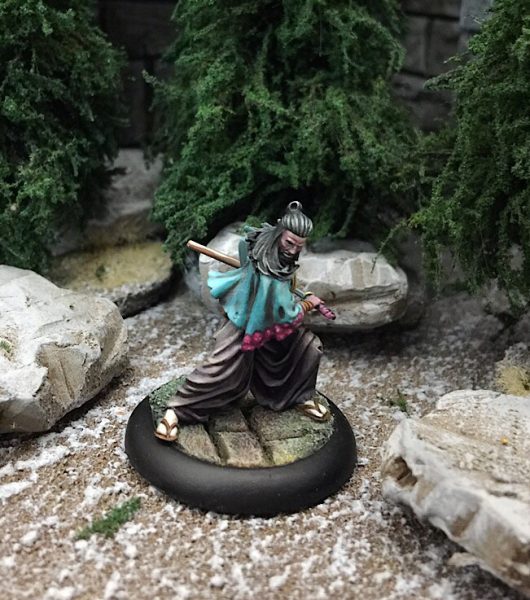 I outlined circles in the magenta with some of the same magenta with just a little bit of black mixed in. Then each circle got three tiny dots of Cadian Fleshtone in the center. All in all, the four Blood Brothers took up a few weeknights and most of a Saturday. About the same amount of time per model as my Ro-kan force, and significantly less time than my Ito.
Finished Blood Brothers
Check out all four of the finished Blood Brothers.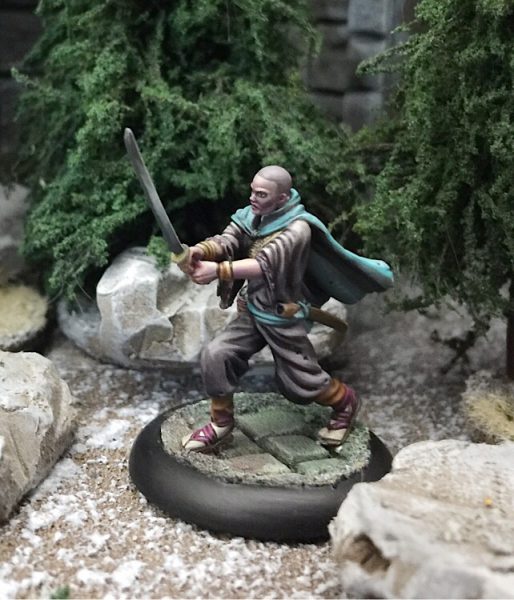 Shenzhiqi is up first.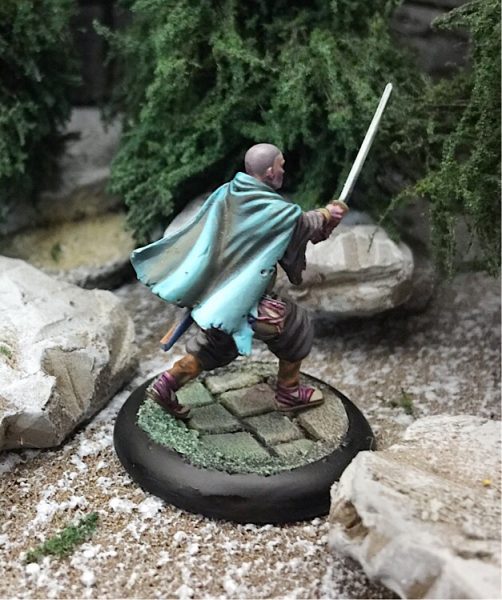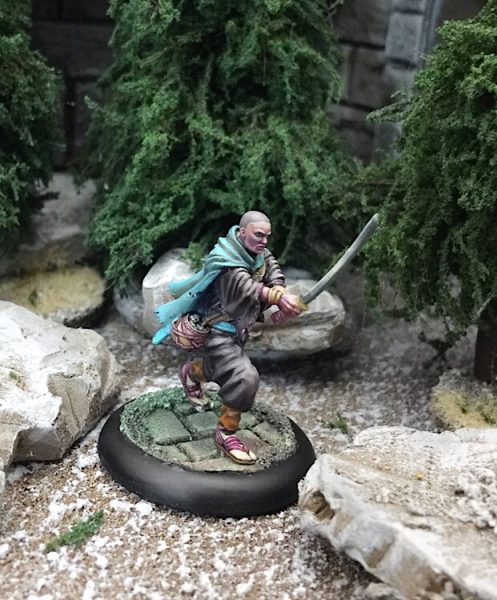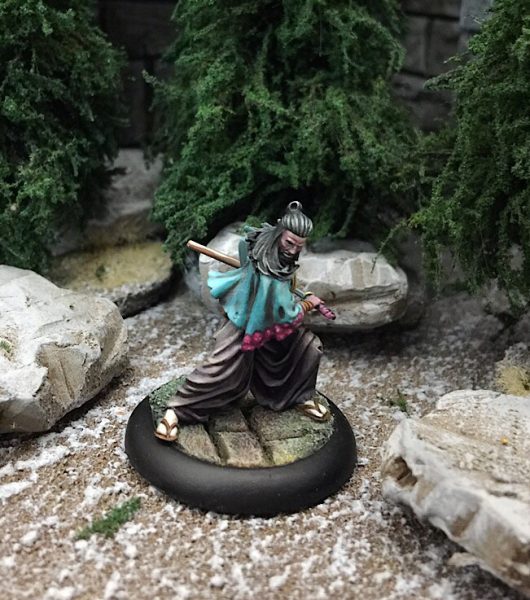 Shuohuang again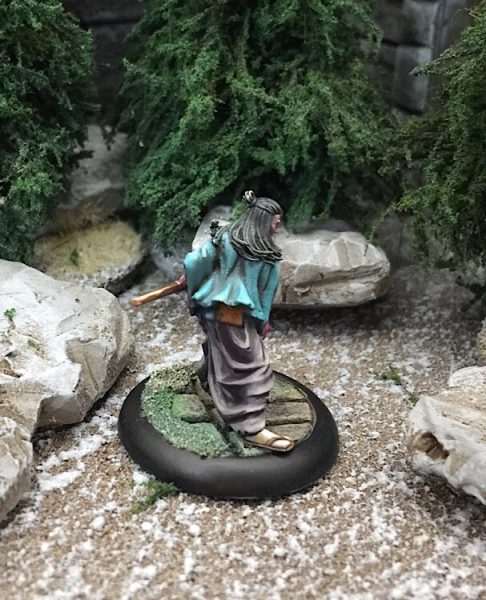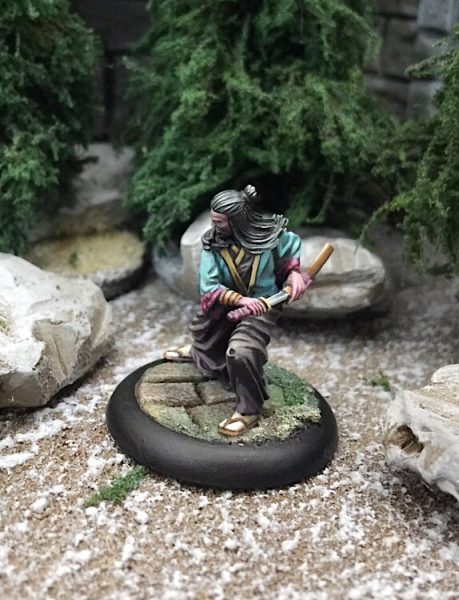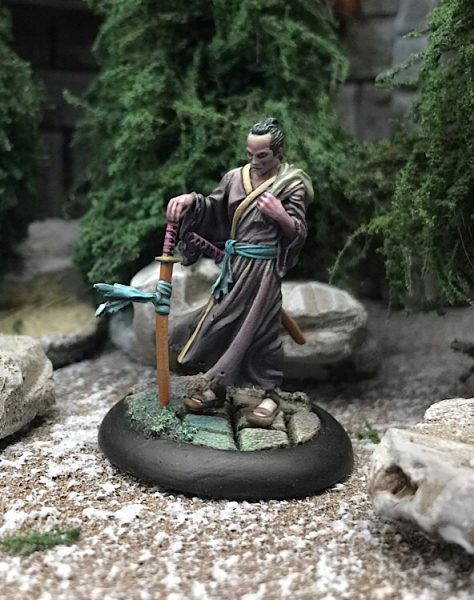 Ying-Jian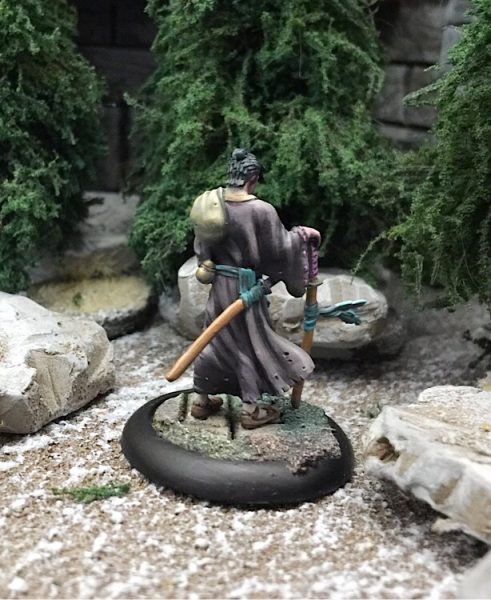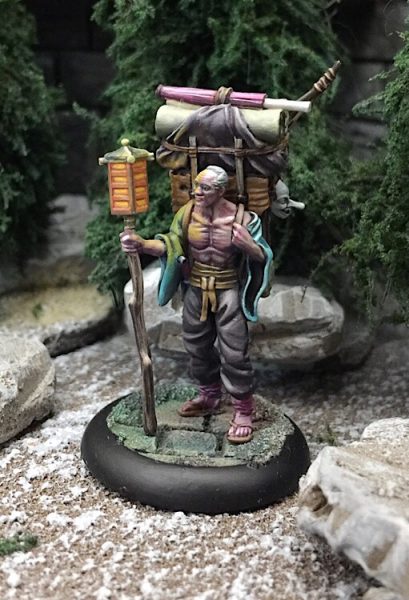 I think Baichi is my favorite – the model and the paintjob. Sure he's not as cool as a samurai, but look at all those little details. Unfortunately the OSL on the lantern appears very dull in the pucture. I wasn't trying to make it too intense, and liked the end result, but it seems so diminished in these pics. Oh well, still pleased with him overall.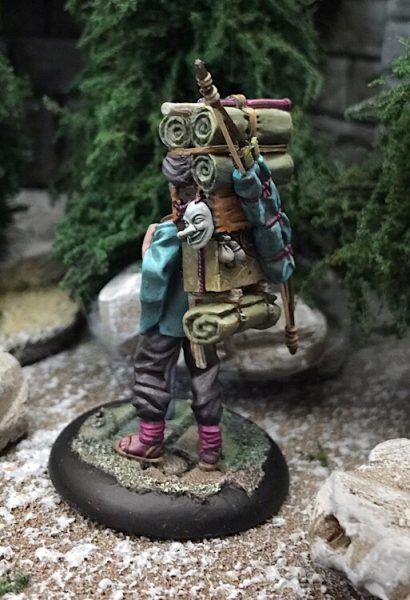 This article first appeared on my own blog toomini. Follow it to get a look at these articles before they show up on BoLS. There are also a lot of great painting articles there that haven't made it here yet!
~Hope you enjoyed the pictures! Do we have any Bushido fans out there today?