Starfinder Back in Stock at Paizo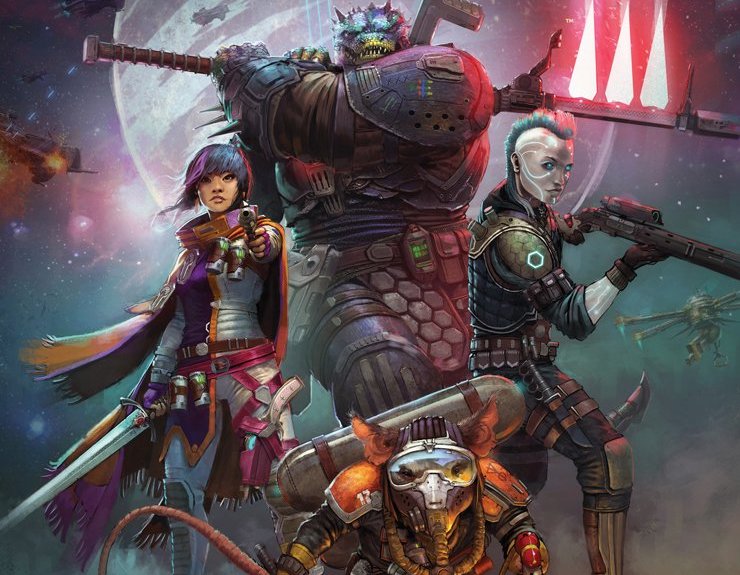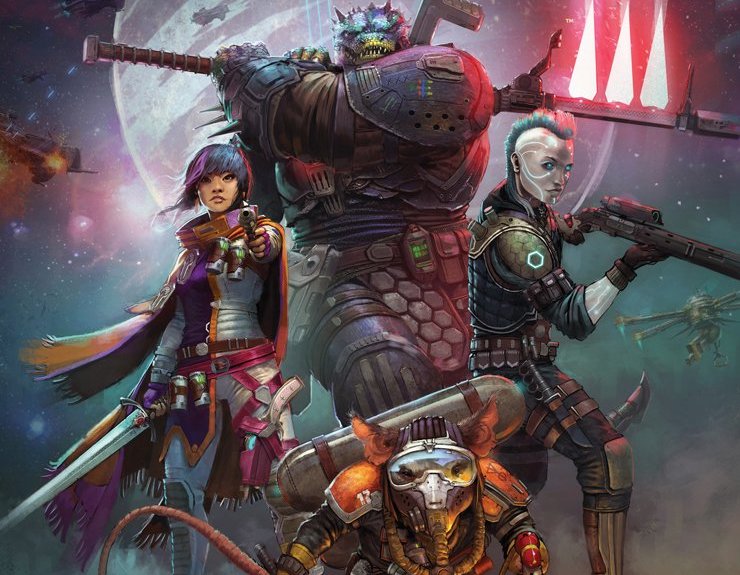 Starfinder's back on the menu!
When Starfinder launched earlier this year, it quickly sold out–it didn't make it a day at GenCon, it flew off the shelves in stores and off the virtual cybershelves of the Internet. Meaning that, if you didn't get your hands on a copy during the initial release, they may have been hard to come by.
Well, all of the launch products are back in stock. So you can once again secure a copy of the core book, the alien archive, the Incident at Absalim Station, and so on–everything you need to dive right into Starfinder.
via Paizo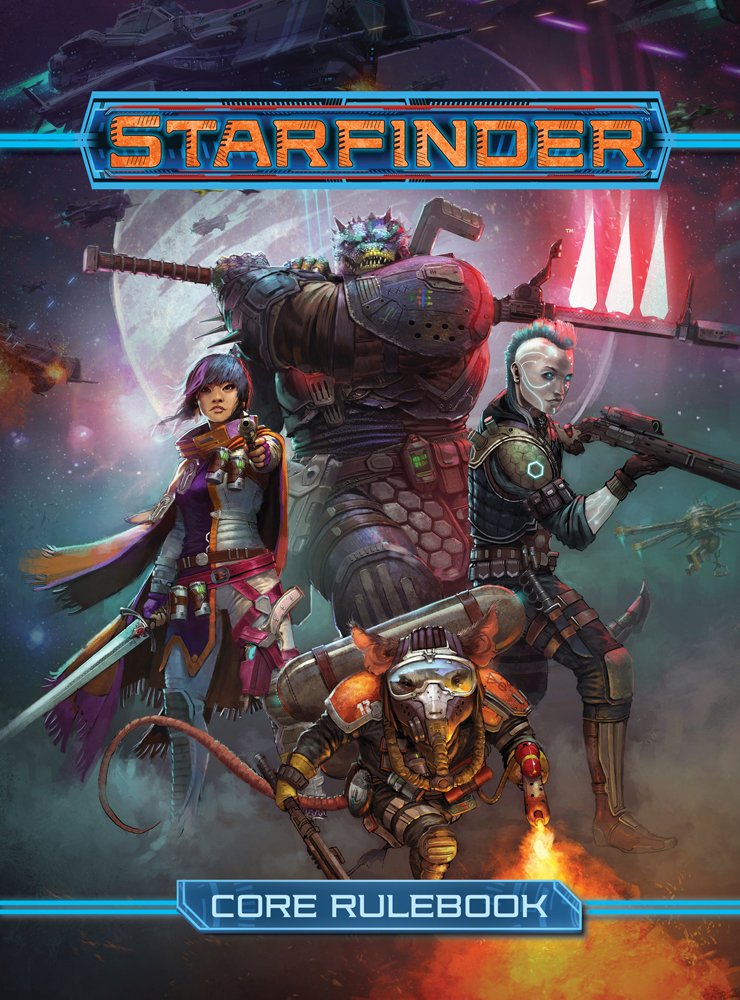 Blast off into a galaxy of adventure with the Starfinder Roleplaying Game! Step into your powered armor and grab your magic-infused laser rifle as you investigate the mysteries of a weird universe with your bold starship crew. Will you delve for lost artifacts in the ruins of alien temples? Strap on rune-enhanced armor and a laser rifle to battle undead empires in fleets of bone ships, or defend colonists from a swarm of ravenous monsters? Maybe you'll hack into the mainframe of a god-run corporation, or search the stars for clues to the secret history of the universe or brand new planets to explore. Whether you're making first contact with new cultures on uncharted worlds or fighting to survive in the neon-lit back alleys of Absalom Station, you and your team will need all your wits, combat skill, and magic to make it through. But most of all, you'll need each other.
This massive 528-page hardcover rulebook is the essential centerpiece of the Starfinder Roleplaying Game, with rules for character creation, magic, gear, and more—everything you need to play Starfinder as either a player or Game Master! The next great adventure in science-fantasy roleplaying takes off here, and the Starfinder Core Rulebook is your ticket to a lifetime of adventure amid the stars!
Inside this book, you'll find:
All of the rules you need to play or run a game of Starfinder.
Seven character classes, from the elite soldier and stealthy operative to the physics-hacking technomancer and mind-bending mystic.
Character races both new and classic, from androids, insectile shirrens, ratlike ysoki, and reptilian vesk to the dwarves and elves of the distant future.
An in-depth exploration of the Starfinder setting, including its planets, gods, factions, and threats.
Hundreds of weapons, spells, technological gadgets, magic items, and other options to outfit any character.
Complete rules for starships, including customization and starship combat.
Rules and tips on using Pathfinder RPG content with Starfinder.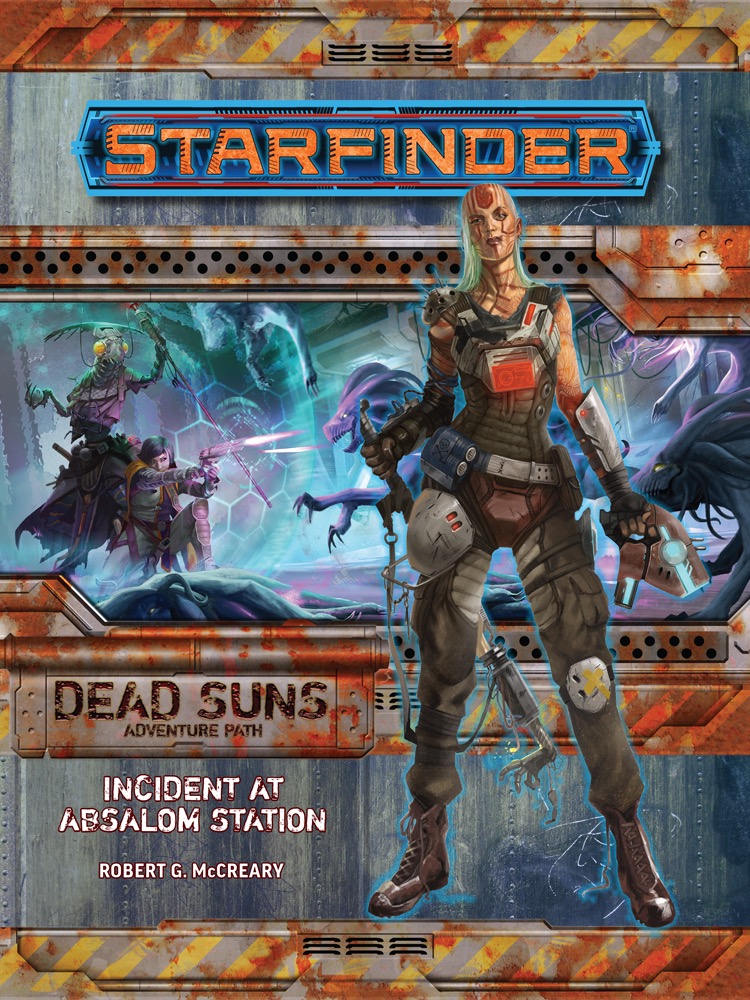 A Ship Without a Crew
When a brutal gang war breaks out on a docking bay in Absalom Station, the player characters are recruited by the Starfinder Society to investigate the unexpected bloodshed. Delving into the station's seedy Spike neighborhoods, the heroes confront the gangs and discover that both were paid to start the riot and that the true conflict is between two rival mining companies battling over a new arrival in orbit around the station: a mysteriously deserted ship and the strange asteroid it recovered from the Drift. To head off further violence, the heroes are asked to investigate the ship and discover what happened to its crew, as well as the nature of the asteroid it tows. But what the players find there will set in motion events that could threaten the entirety of the Pact Worlds and change the face of the galaxy forever…
Subscribe to our newsletter!
Get Tabletop, RPG & Pop Culture news delivered directly to your inbox.
This volume of Starfinder Adventure Path launches the Dead Suns Adventure Path and includes:
"Incident at Absalom Station," a Starfinder adventure for 1st-level characters, by Robert G. McCreary.
A gazetteer of Absalom Station, by James L. Sutter.
Magical relics inspired by the lost planet Golarion, by Owen K.C. Stephens.
An archive of new alien creatures, by Jason Keeley and Robert G. McCreary.
Statistics and deck plans for a new starship designed just for the player characters, plus details on a new planet in the Codex of Worlds, by Robert G. McCreary.
Or, if you have those, you can pre-order Alien Archive, the monster manual of the future, or the upcoming sething book, Pact Worlds.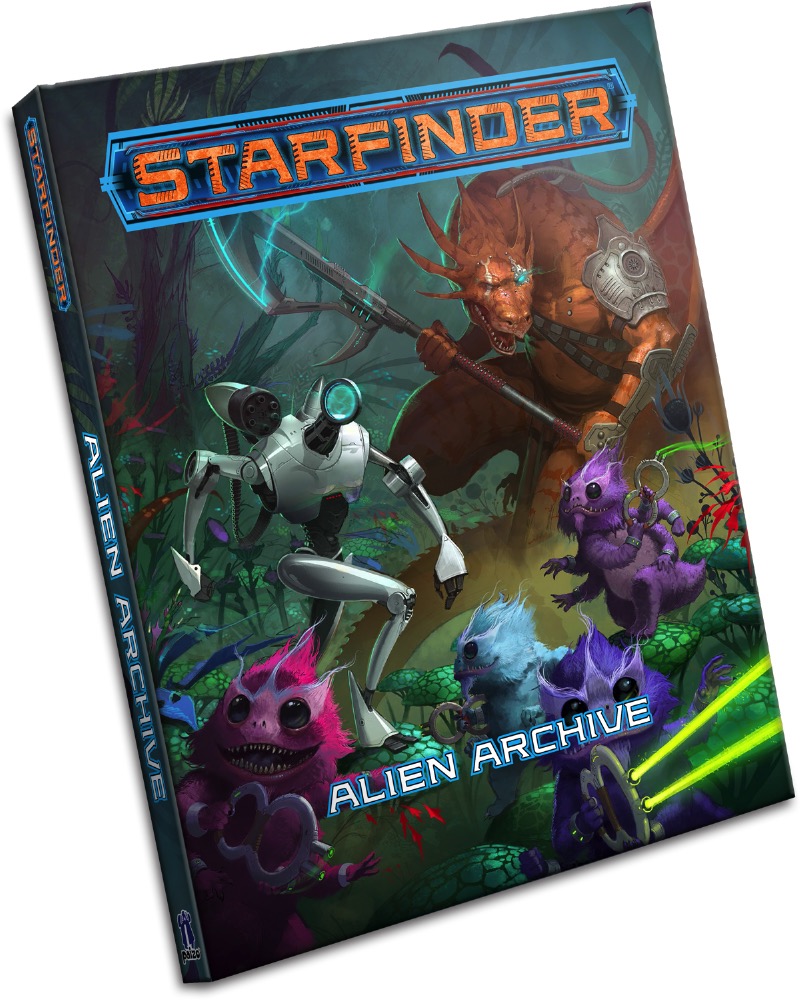 Battle or befriend more than 80 bizarre life forms in this 160-page hardcover creature collection for the Starfinder Roleplaying Game! Every new world and space station comes with its own dangers, from strange new cultures to robotic killing machines to alien predators ready to devour unwary spacefarers. Inside this book, you'll find rules and ecologies for creatures from across the known worlds, plus alien equipment and more.

A robust system for creating your own creatures ensures that your parties never be without weird new aliens to fight or trade with, and racial rules for many of the new organisms let you be the alien, making Alien Archive not just a collection of creatures to kill, but a fascinating menu of creatures to be! Want to play a hyperevolved floating brain? A mighty dragonkin? A silicon-based crystalline slug? Explore the limits of your galaxy and your game with Starfinder RPG Alien Archive!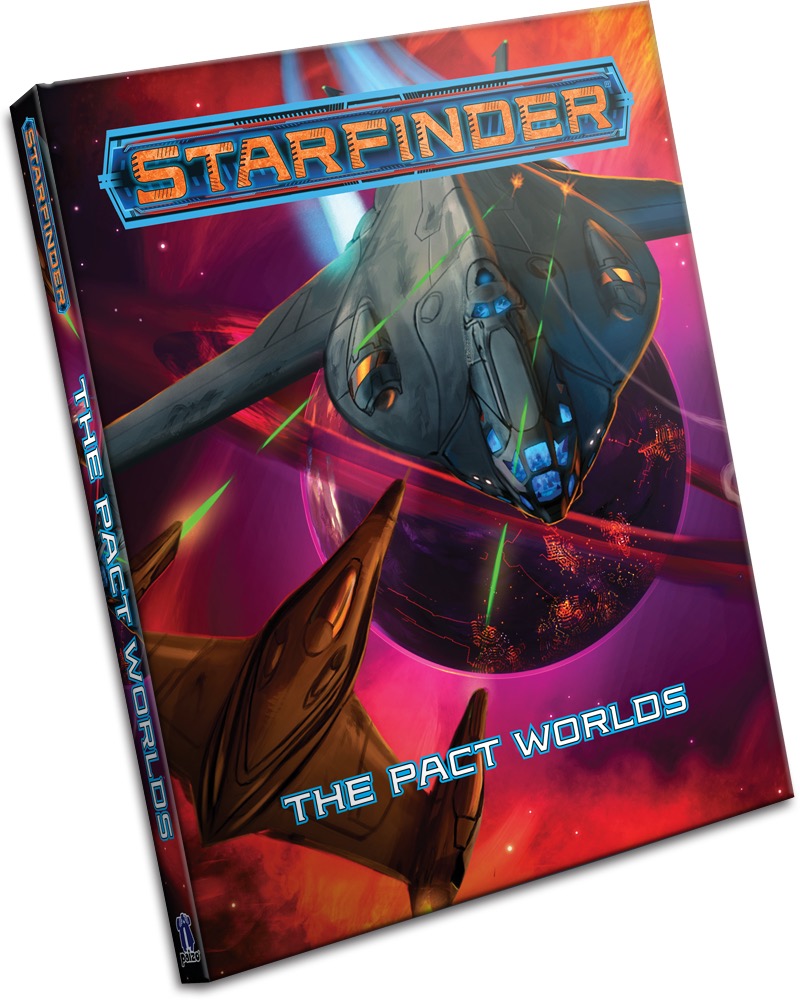 The Pact Worlds are the beating heart of the Starfinder campaign setting, a solar system full of citizens both familiar and bizarre. From the cosmopolitan corridors of Absalom Station to the carnivorous jungles of Castrovel or the floating cloud-cities of the gas giant Bretheda, this hardcover rulebook is your guide to Starfinder's core worlds and civilizations, and the perfect place to launch any adventure.
Inside, you'll find:
In-depth gazetteers of the system's 14 major worlds, from high-tech Verces and the draconic empires of Triaxus to the necromantic wastleands of Eox or magical bubble cities floating on the surface of the sun. Each gazetteer features a detailed world map, residents and cultures, settlements and adventure locations, a unique theme to customize characters from that world, and more.
New playable alien races, from undead Eoxians to Castrovellian plant-people.
New starships, from the living vessels of the Xenowardens to sinister Hellknight dreadnoughts.
A codex of themed NPC stat blocks to help Game Masters create vivid encounters.
New archetypes for every class, including the Star Knight, Skyfire Centurion, and Divine Champion.
Tons of new weapons, armors, spells, feats, magic items, technological gadgets, and more to help outfit your adventurers.
How long it stays restocked is anyone's guess.