Tabletop Spotlight: The White Box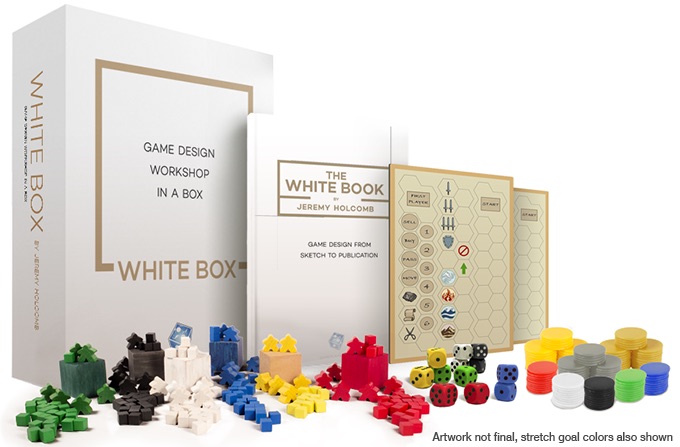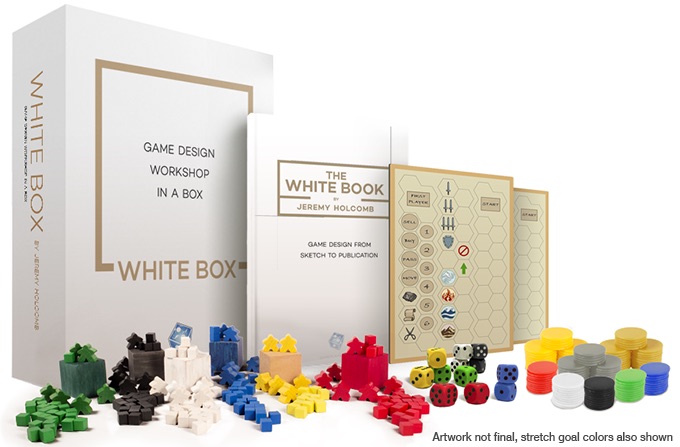 Have you ever saw a board game and said "I think I could have made that?" The White Box is your chance to prove it!
Here at BoLS I've personally reviewed/unboxed more than a few games in my time. I can honestly say this is the most unique product we've ever had the pleasure of unboxing with our Friends at Dragon's Lair Comics and Fantasy. Why? Because it's not a game but a workshop on how to design your own game from start to finish – and beyond. This is the White Box:
The White Box has a simple premise – everyone has a game inside of them. This goal of this product is to help those aspiring game designers out there prototype their game, work out the kinks, and even to get your game published. It's actually a pretty lofty goal! But I think if you're the type of person who's actually legitimately interested in game design, then you should check this product out.
Component wise, it's got a TON of stuff to work with. There are 6 sets of meeples, counters, dice, coins/tokens and a bunch of extra counters/tokens that you can use. They are all good quality and aren't going to break or wear out on your first play through. At the same time, they are kind of plain – but that's the point. You're going to be using these to represent whatever you need them to. They might be orcs and goblins in one game or they could be space ships and planets in another – It's your game and these are the generic pieces you'll need to bring it to life.
Aside from the components, this box also contains a book of essays about Game Design. I did some checking and you can actually purchase the essays online via DriveThruRPG right HERE. Here is their blurb about it:
The White Box Essays contains 25 essays on board and card game design, production, publishing, and marketing. It's for aspiring professionals, creative young people, and literally anyone who's ever wanted to build their own game.
The book of essays is $7.99 and I think it's an invaluable tool for anyone who's serious about creating a game. It covers a pretty broad range of topics from story vs mechanics, how to use randomness, to how to publish your game and even how to network at conventions. I think these are all pretty important topics that aspiring game designers should study – even if you don't agree with them 100%, it's all valuable information to read and study.
Overall, The White Box is a pretty unique, informative and useful tool box to help folks create their own games. The components are solid and will help you get your ideas on the tabletop and playing. The essay book is easily worth the price of admission and has lots of good info to read. If you have ever want to make your own game or know someone who does get them this product. Who knows – they might be the next Steve Jackson Games or Christian Petersen of FFG! Plus, I'm going to run out of game to review so please go make some more!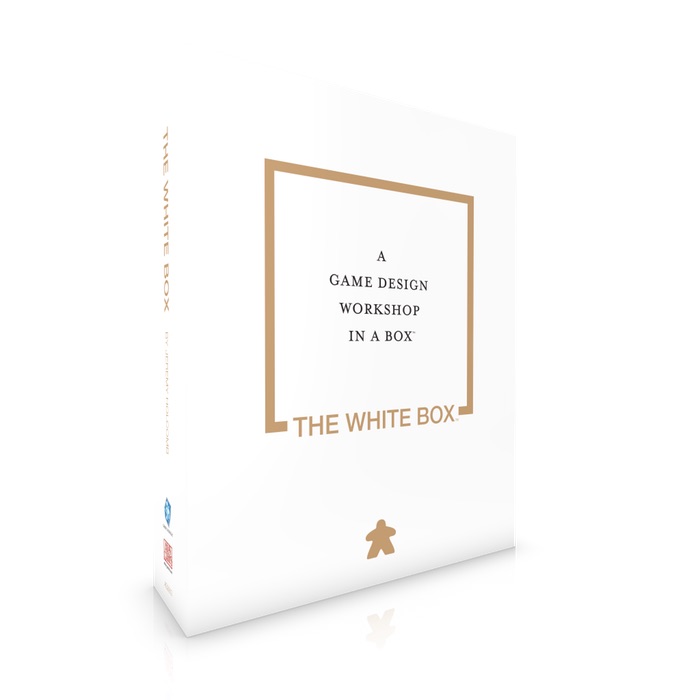 Subscribe to our newsletter!
Get Tabletop, RPG & Pop Culture news delivered directly to your inbox.
Almost everyone who's ever played a game has had an idea for how to make it better. To tweak it, improve it, or even build something new from its miniatures, cards, cubes, and concepts.

We think making games is awesome. We believe it's one of the most challenging, fun, rewarding things you can do. If you've ever thought about making a game of your own, we want to help.

We made The White Box for you.
Give it a shot! You might not make a hit game, but you'll end up with a new respect for anyone who ever has.