GW: Pre-Orders January 20 "Pricing & Links"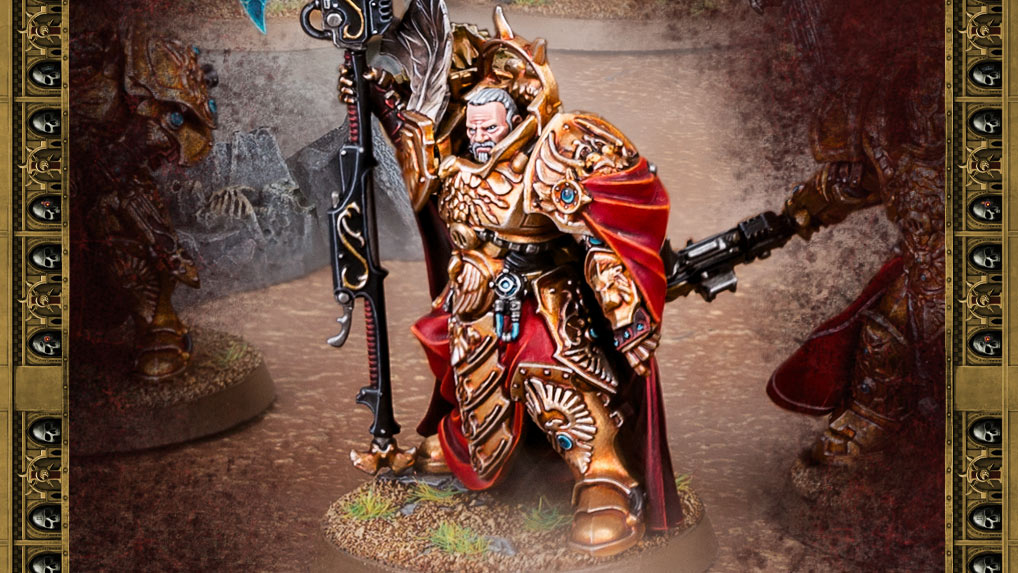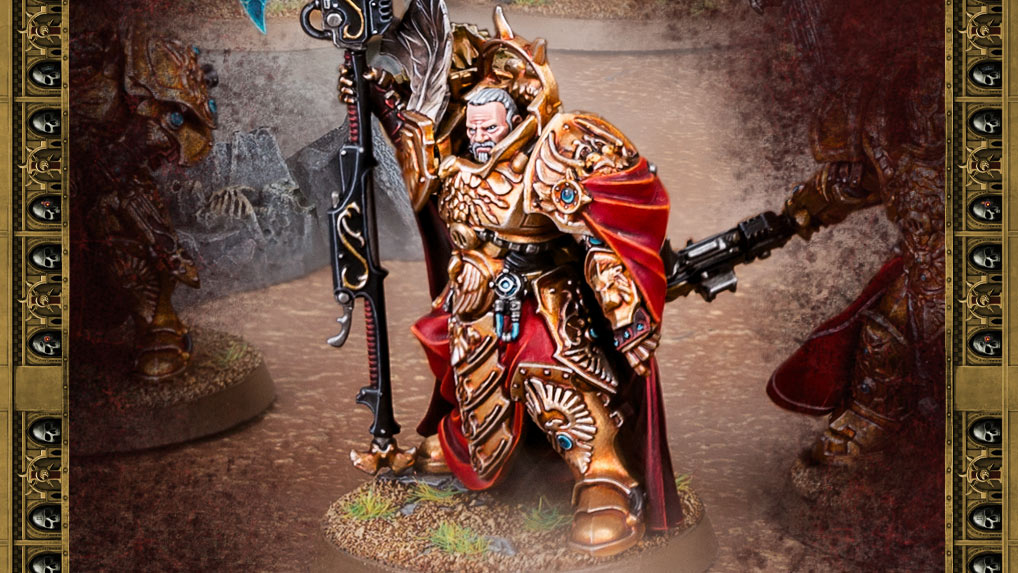 The Custodes are here this weekend for your Pre-Order convenience!
via Games Workshop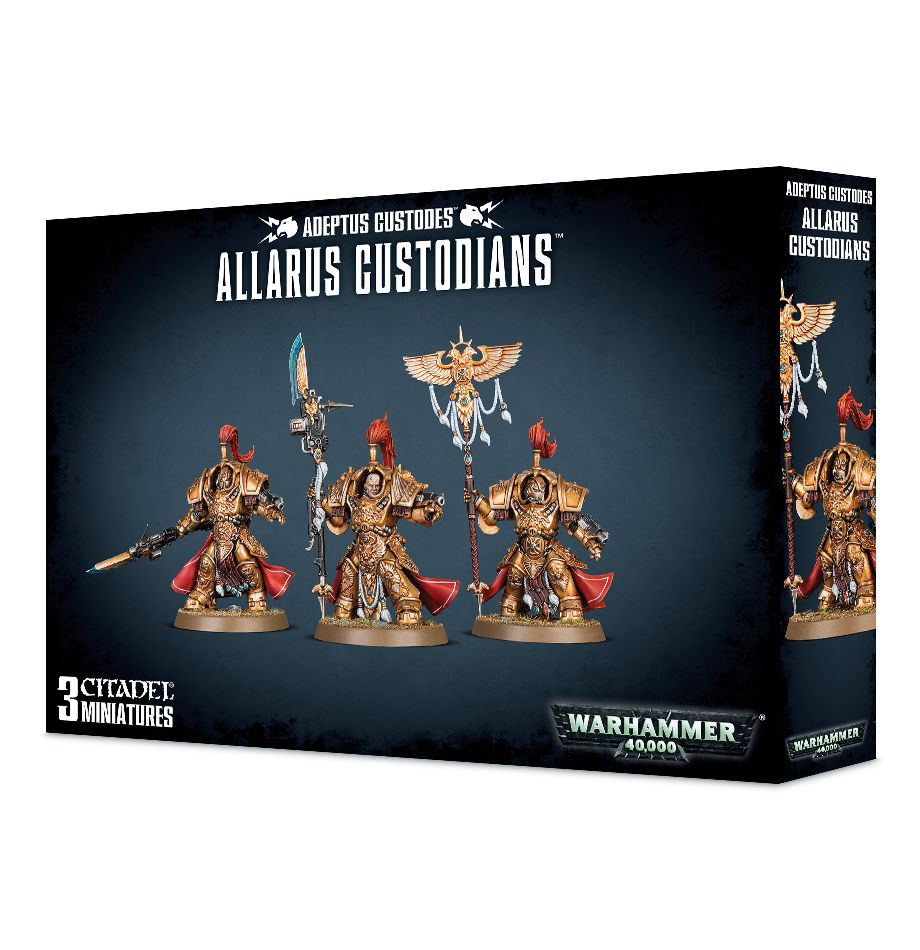 The Allarus Custodians deploy with sudden fury to tear the throat from the enemy army. Where a strongpoint must be cracked wide open, a traitor warship boarded or a foul demagogue slain even as he stands amidst his dedicated bodyguards, there are the Allarus Custodians unleashed. These warriors wear suits of Allarus Terminator plate, expertly crafted armour whose worth can be measured in worlds. Their weapons, too, are formidable, guardian spears twice the height of a man, or castellan axes that can lop the head from an Ork psyker with a single blow. Allarus Custodians eliminate key targets, sow anarchy and confusion through unsuspecting forces and completely destabilise the foe's formations.
This multi-part plastic kit contains the components necessary to assemble a 3-model squad of Allarus Custodians. Each is clad in spectacular, expertly-crafted Allarus Terminator armour – this is covered in finely sculpted sigils of the Emperor, with Imperial eagles, lightning bolts, gemstones and filigree covering every surface. They are armed as standard with with castellan axe and wrist-mounted balistus grenade launcher – each model can replace the axe with a guardian spear, as 3 are included. 4 misericordia daggers are also in the kit, 1 of which is a special variant for a Shield-Captain. 3 helmets and 3 bare heads are included, with 4 helmet plumes.
You have the option to assemble 1 model as a Shield-Captain, using the specific shoulder pads, thigh plates, helmet plume and misericordia supplied, and 1 model can be assembled as a Vexilus Praetor, using the ornate vexilla in the kit.
This kit comes as 73 components, and is supplied with 3 Citadel 40mm Round bases.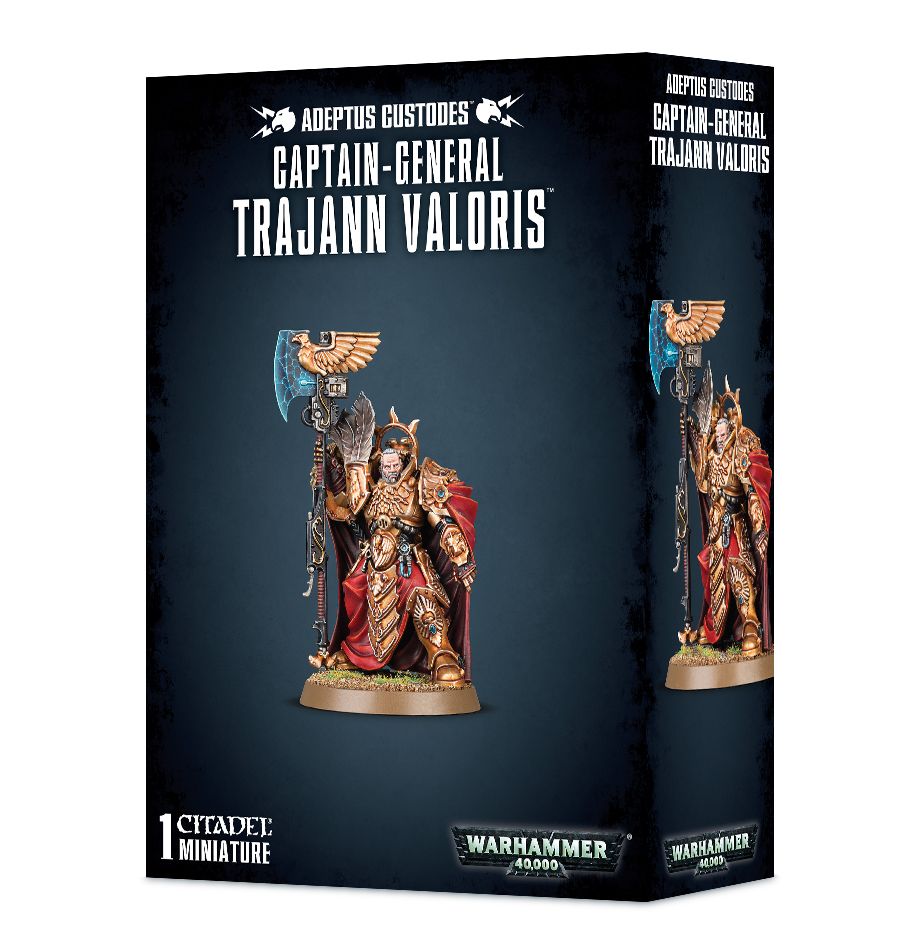 The office of Captain-General is one of the most powerful military appointments in the Imperium. It confers full responsibility for the overall defence of the Sol System, Terra, the Imperial Palace and, ultimately, the Golden Throne and the Emperor himself. Many claim that Trajann Valoris is the greatest warrior to hold the title of Captain-General since the Emperor strode the stars, having proven himself to be dynamic and effective; qualities that make him ideally suite to lead in this age of unprecedented aggression.
This multi-part plastic kit contains the components necessary to assemble Captain-General Trajann Valoris. His armour is elaborate and eye-catching even amongst his Custodes brothers – he wears the Castellan Plate, an ancient suit of powered armour that incorporates a heraldic tilting plate adorned with an eagle's head emblem and large feathers. This includes a striking cloak made from the hide of a lion, woven through with adamantine thread – the lion's head and front paws are draped dramatically over his right shoulder. An auramite halo frames his scowling face, and the whole suit is covered in the kind of ornate, sculpted details that set the Adeptus Custodes apart from other Imperial warriors – eagles, gemstones and filigree litter every surface. His main weapon held in his right hand is the Watcher's Axe, an enormous polearm which incorporates a ferocious master-crafted bolt weapon known as the Eagle's Scream; he also carries a misericordia and an ancient relic on his belt known as the Moment Shackle.
This kit comes as 19 components, and is supplied with a Citadel 40mm Round base.
Subscribe to our newsletter!
Get Tabletop, RPG & Pop Culture news delivered directly to your inbox.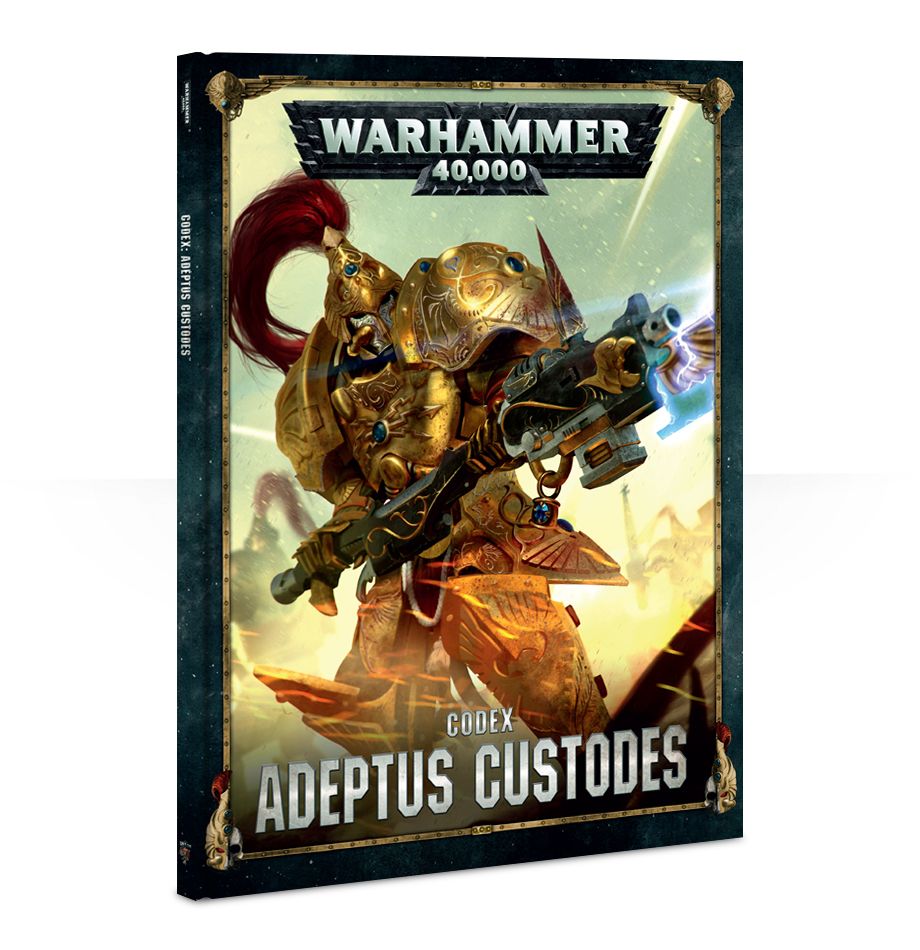 The Adeptus Custodes are the Emperor's personal guard. For ten thousand years they have stood sentinel over the Master of Mankind and defended the gates of his palace. Yet now the Emperor's blades are unsheathed. Biochemically fashioned from infancy to function as supreme tacticians, combatants and bodyguards, they are death incarnate to those who oppose the Emperor's will. Each Custodian is sublimely skilled, their talents and abilities to the Space Marines what those transhuman warriors are to unaugmented Imperial soldiery. The Ten Thousand walk the stars in numbers not seen since the Great Crusade, and woe betide those who stand in their way.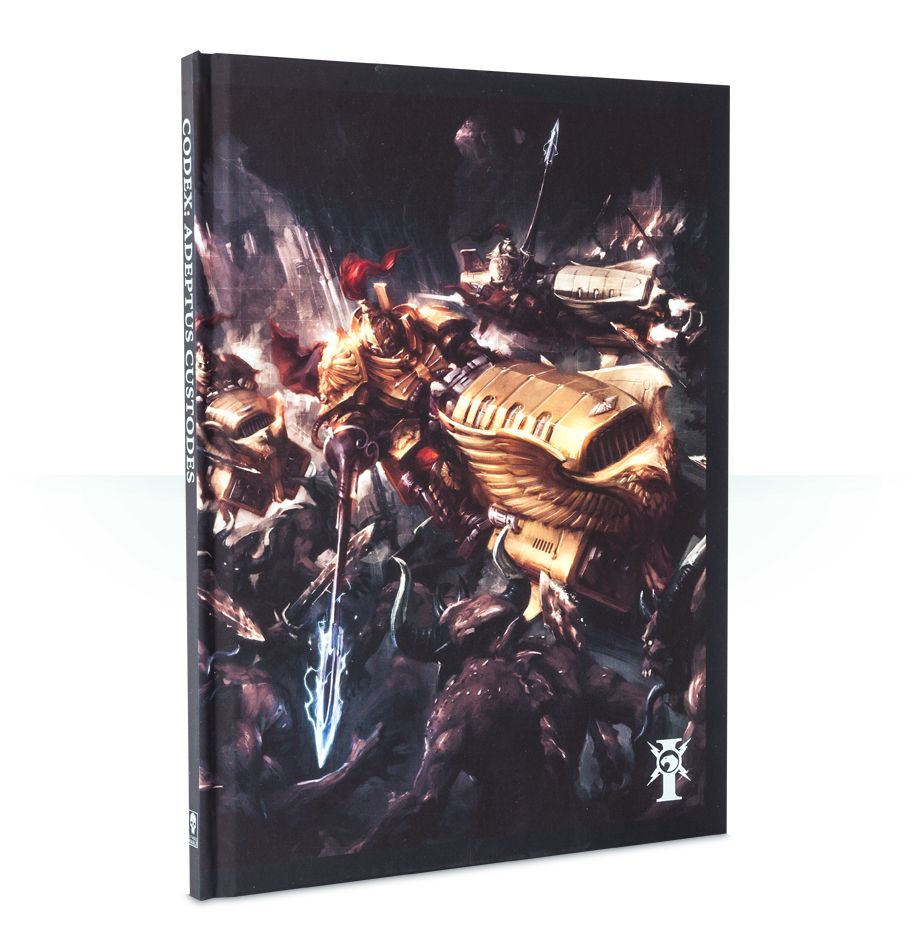 Available while stocks last, this Collector's Edition of Codex: Adeptus Custodes is complete and unabridged, and features a soft touch cover with new artwork on the front and back, black page edges, a black ribbon marker and the original Codex cover art on the first page.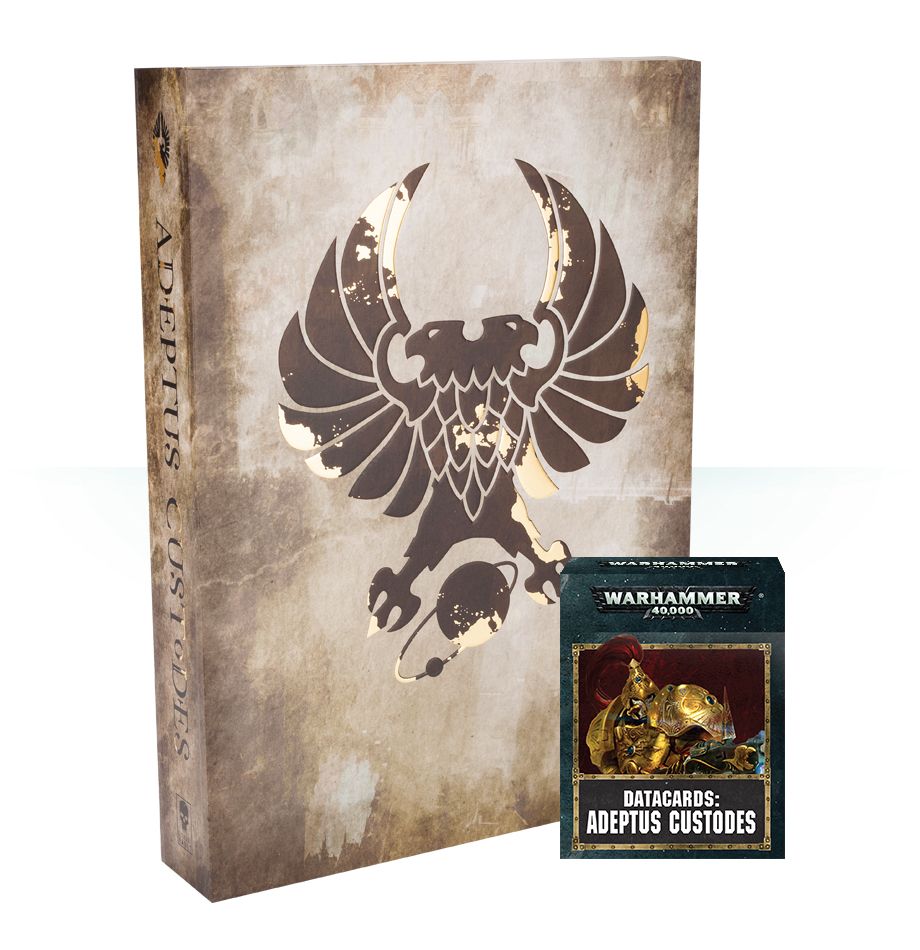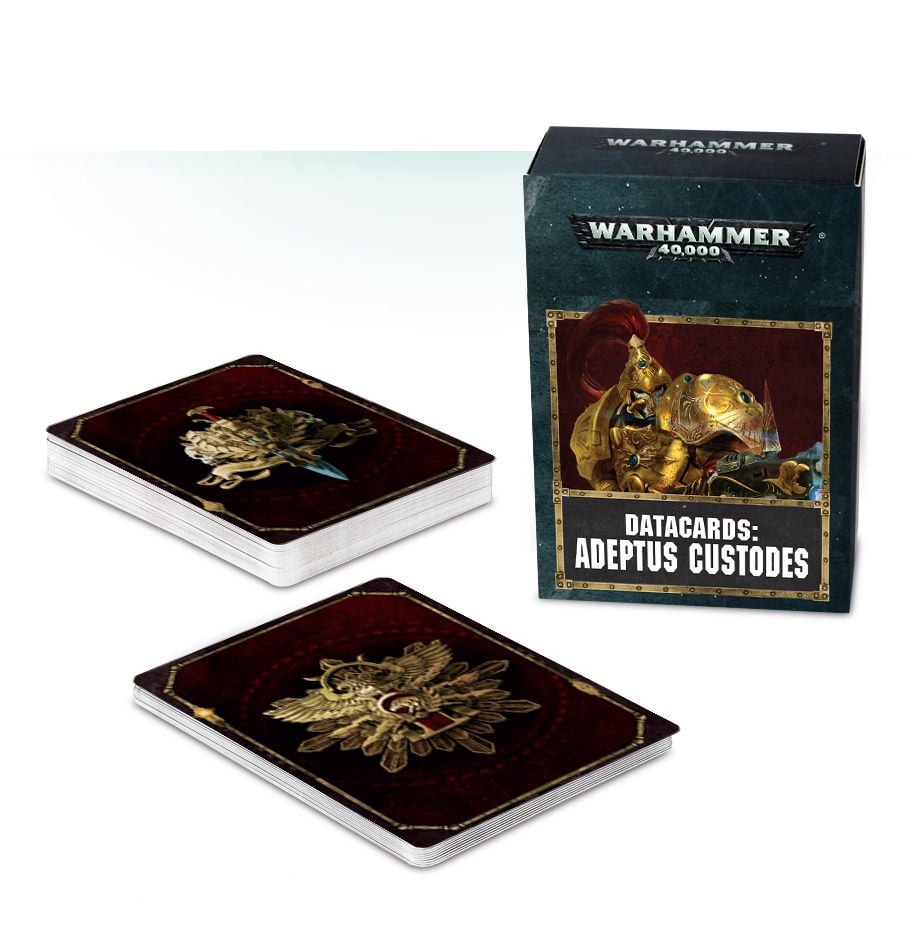 Designed to make it easier to keep track of Tactical Objectives, and Stratagems in games of Warhammer 40,000, this set of 66 cards – each featuring artwork on the reverse – is an indispensable tool in the arsenal of any Adeptus Custodes gamer. Included:
– 27 Stratagems available to any Battle-forged Adeptus Custodes army as found in Codex: Adeptus Custodes, along with 3 Stratagems – Command Re-roll, Counter-Offensive and Insane Bravery – from the Warhammer 40,000 rules, available to any army;
– 36 Tactical Objectives, including the 6 specific Objectives from Codex: Adeptus Custodes.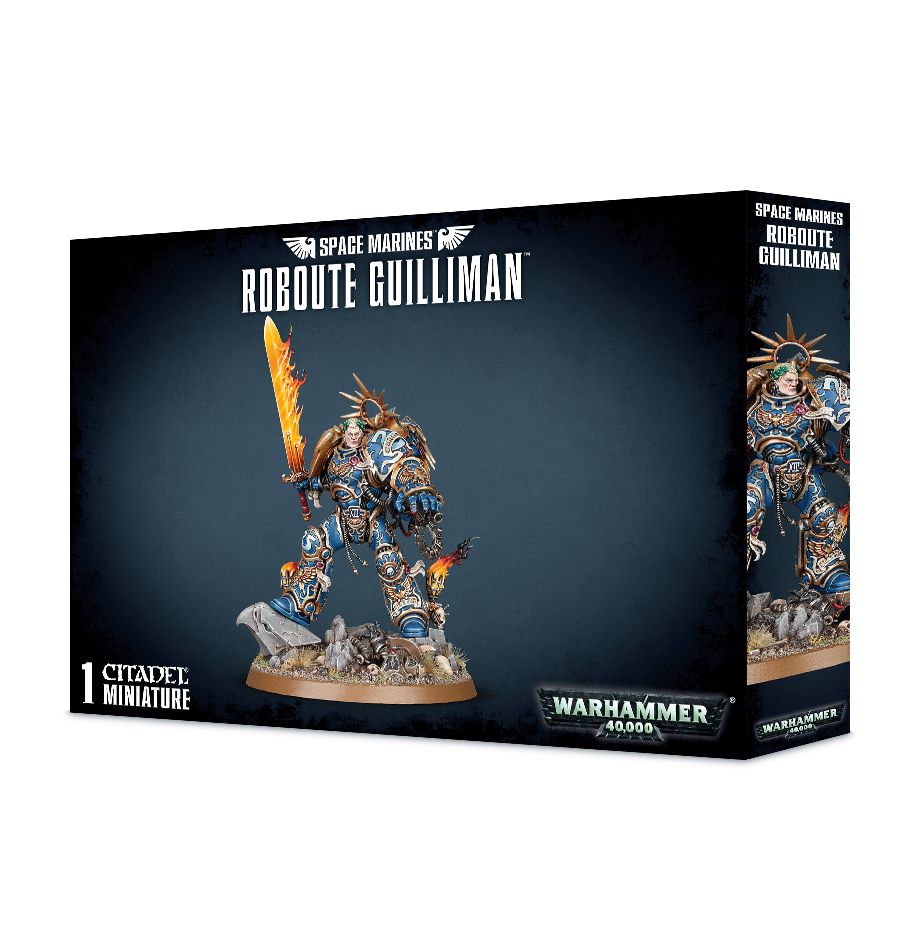 Strategist. Hero. Avenging Son. Roboute Guilliman is the Primarch of the Ultramarines, Lord of Ultramar, and a peerless leader of men. Resurrected by the Adeptus Mechanicus and the Ynnari, he seeks to muster the strength of the Imperium and drive back the minions of the Dark Gods. Towering over even the heroic battle-brothers of his Chapter, Guilliman storms to war with a thunderous scowl. He clutches the burning sword of the Emperor, and wears the Hand of Dominion, with which he can tear apart tanks and crush his foes with ease. Yet it is the Primarch's strategic brilliance that is his greatest weapon, dooming enemies to defeat before the battle has even begun.
This multi-part plastic kit contains the components necessary to assemble Roboute Guilliman, Primarch of the Ultramarines. An impressively-sized model, standing head and shoulders above the Primaris Space Marines, he is a riot of detail – the Armour of Fate that encases his body is covered in beautiful, ornate filigree patterns on every part of the armour, with sculpted aquilæ, purity seals, skulls and Ultramarine Chapter icons on every surface. His winged backpack features an Adeptus Mechanicus maker's plate and glorious iron halo, with many cables and hoses attaching it to the weaponry it feeds. The Emperor's Sword, held in his right hand, is a huge blade that burns with righteous fury (and fire), while the Hand of Dominion, the enormous gauntlet on his left, is also capable of unleashing hails of armour piercing gunfire. You have the choice to model Guilliman with his head bare, or with an especially aggressive-looking helmet – both options feature a wreath.
This model comes as 44 components, and is supplied with a 60mm Round sculpted base depicting Guilliman standing astride a broken Imperial eagle, flanked by 2 burning torches.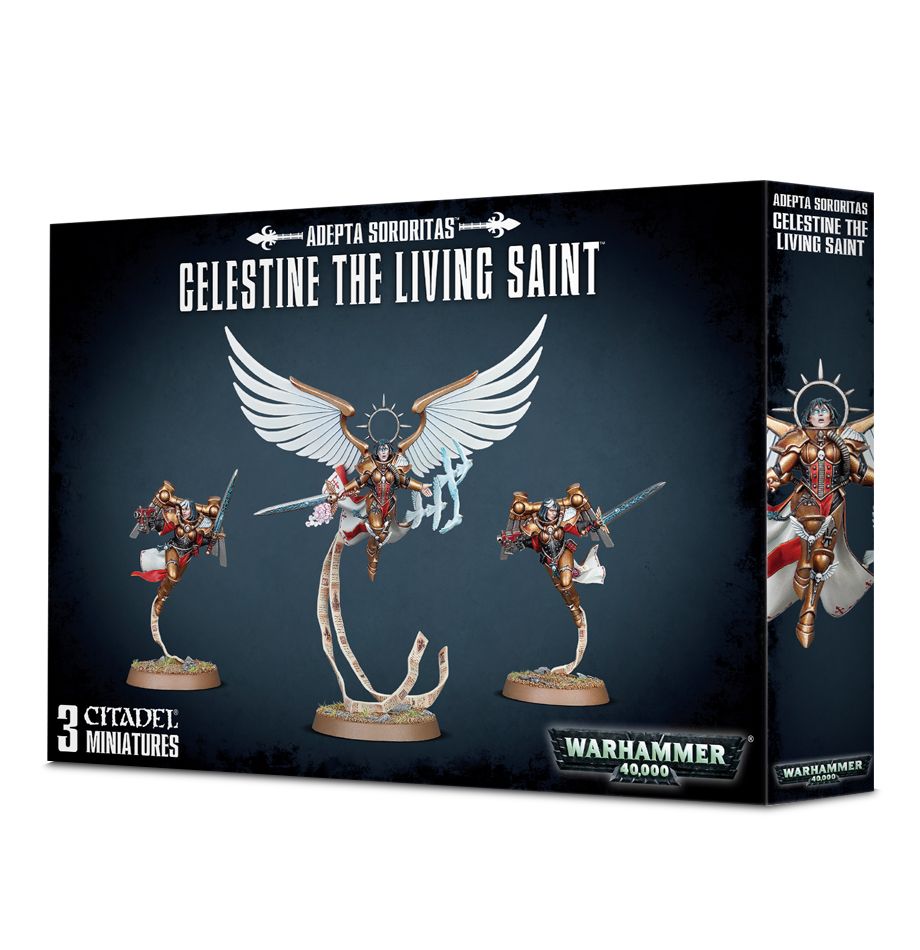 Wings spread wide, halo blazing and Ardent Blade in hand, Saint Celestine is a living embodiment of the God-Emperor's might. She shines like a star amid the smoke and fumes of the battlefield, radiating holy light. The faithful are filled with strength and courage by presence, even as the heretics recoil in terror. With a gesture, the Living Saint calls down fires of retribution from on high, or infuses injured allies with healing energies. The Geminae Superia, Sisters Genevieve and Eleanor, would lay down their lives to protect the blessed saint from harm.
This multi-part plastic kit contains the components necessary to assemble Celestine, the Living Saint, and her 2 accompanying Geminae Superia. She wears the Armour of St. Katherine, a set of glorious golden plate replete with holy icons and sculpted symbols. The model is held aloft from the base by a scripture that attaches to her billowing cloak – even this detail is dwarfed by the enormous wings that span out from her backpack, with a spiked iron halo above her enraptured face. The sparking Ardent Blade in her right hand blossoms with roses, even as a brace of doves is released on her left. She is accompanied by the Geminae Superia, wearing similar armour (with smaller wingspans) and aggressively wielding bolt pistols and power swords.
This kit comes as 46 components, and is supplied with 3 Citadel 32mm Round bases.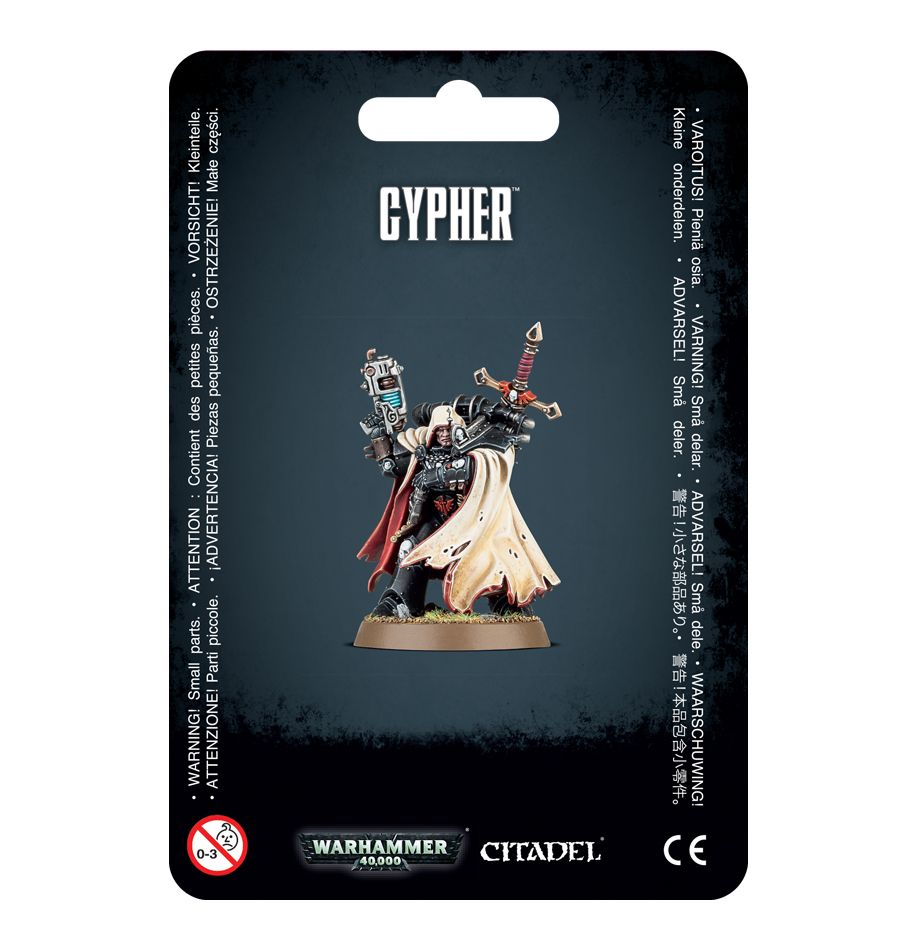 There is one whom the Masters of the Dark Angels seek above all others. He is a being wrapped in shadow, an entity whose motives and methods are an enigma; even the name by which he is known alludes to concealment – though whether it is a metaphor or yet another conundrum is unknown. He is Cypher, and to the Dark Angels, he is nothing less than their most hated foe.
This multi-part plastic kit contains the components necessary to assemble Cypher, Lord of the Fallen. He is bedecked in archaic, makeshift gear – as a renegade, with no Chapter to call his own, Cypher makes the best of whatever gear he can gather together. His backpack has been refitted countless times over the centuries, and his armour is a mix of various patterns. He's armed with a bolt pistol, and a plasma pistol incorporating an external heat dissipator. His cowl and cloak are certainly well-used, with holes and tears everywhere – but the standout is the enormous sword he carries on his back. This may or may not be the fabled Lion Sword, and if it is, Cypher's unknowable intentions become even more interesting…
This kit comes as 8 components, and is supplied with a Citadel 32mm Round base.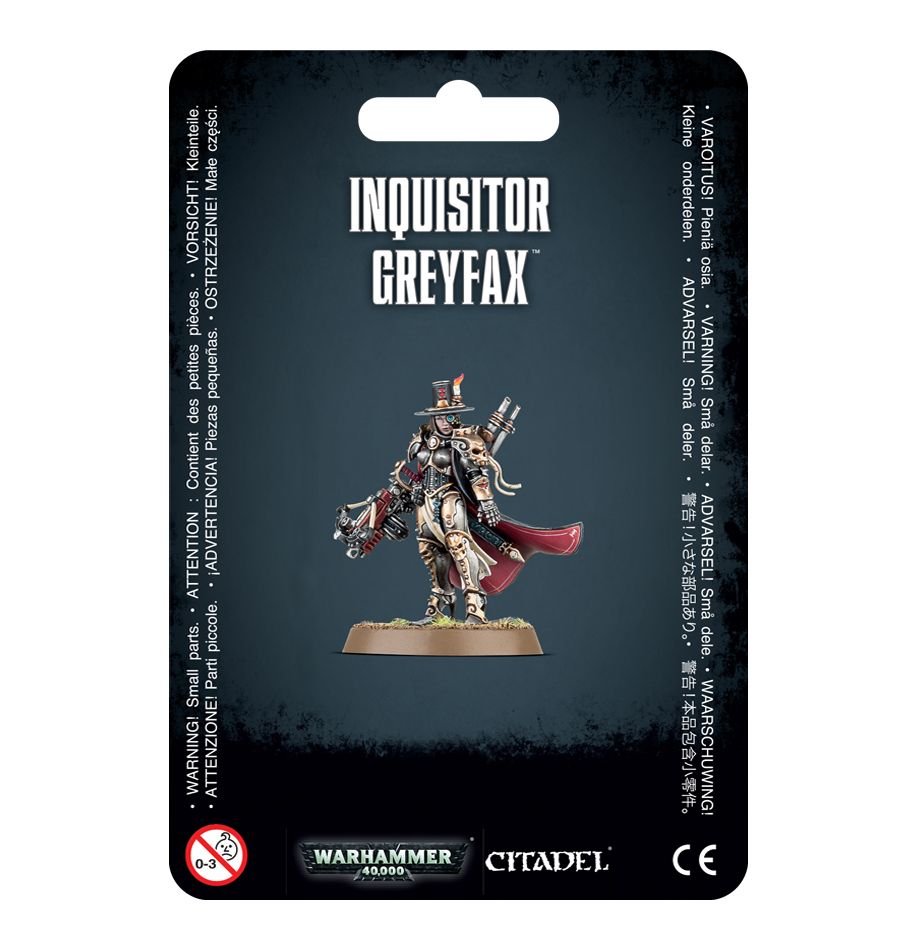 Utterly uncompromising, devoid of mercy or remorse, Inquisitor Greyfax acts as the self-appointed executioner of any she names heretic. She is a psyker of some power – a fact that has led more than one of her peers to brand her as a dangerous radical – and her abilities allow her to detect any lie. This talent allows her to hunt with impunity, knowing that those she condemns have already damned themselves with their tainted thoughts. Inquisitor Greyfax is able to weaponise her hatred of Chaos, projecting it as a crippling pall of fear that forces her victims to their knees.
This multi-part plastic kit contains the components necessary to assemble Inquisitor Greyfax. An incredibly imposing figure, she is clad head to toe in master-crafted power armour, which is covered in details – Inquisitorial sigils, skulls and ornate seals all feature heavily. She holds a master-crafted condemnor boltgun in her right hand, which couples the iconic might of the imperial bolter with a secondary launcher that fires blessed silver stakes – truly a powerful weapon against Chaos. A large master-crafted power sword is visible beneath the her cloak, which billows beneath a backpack covered in dials and exhausts. The model is topped off by a wide-brimmed hat which on some models might seem ostentatious, but is entirely appropriate framing the face of Greyfax, which features the Psyocculum – the Eye of the Emperor.
This kit comes as 13 components, and is supplied with a Citadel 40mm Round base.
The Emperor's Golden Boys & a bevvy of the Imperium's mightiest Heroes are now up for Pre-Order!