GW: Write For Black Library



Think you've got what it takes to write for AoS/40K? Time to prove it!
Games Workshop has announced that Black Library is accepting open submissions right now. All it takes is a one-paragraph summary and a 500 word sample. Want to learn more? Check it out:
via Warhammer Community

"For the past 20 years, the Black Library has been bringing the Warhammer universes to life – from the grim darkness of the 41st Millennium, through the Underhives of Necromunda to the sprawling realms of the Age of Sigmar and the savage sports fields of Blood Bowl.

We have seen empires rise, kingdoms fall, heroes corrupted, saviours fulfil their destinies and worlds ended.

As part of this celebration, we're bringing back a classic title from the Black Library archives – Inferno!

Released between 1997 and 2004, Inferno! was our bi-monthly magazine packed full of comics, short stories and artwork. Plus, it's where many of our established authors published their first stories for Black Library before going on to greatness.

We're giving Inferno! a new lease of life as a collection of short stories, penned by new authors and old, and showcasing the best works from across our many universes.

We are looking for talented writers to be a part of this new anthology and celebrate this incredible milestone for Black Library.

We are looking for exciting and dynamic characters who drive an absorbing plot that captures the grim darkness and unique tone of our universes. As Inferno! has always delivered the very best from across all of our settings, we are encouraging stories set in Warhammer Age of Sigmar, Warhammer 40,000, Blood Bowl and Necromunda!"

Subscribe to our newsletter!

Get Tabletop, RPG & Pop Culture news delivered directly to your inbox.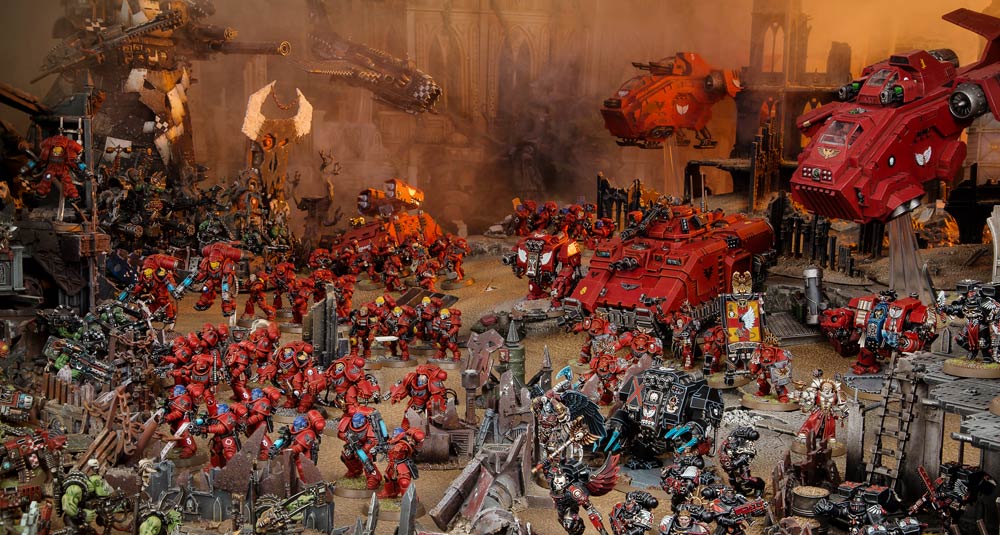 If you're interested in a shot at becoming a writer for Black Library, check out the specifics HERE. The submission process is ridiculously simple and the even have a list of the types of stories they are interested in:
Heist
Detective/Police Procedural
Adventure
Mystery
Ghost/Paranormal/Horror
War

So for all you folks that think AoS doesn't have enough lore or that 40k's narrative needs to step it up, it's time to put your fingers where your keyboard is and do something about it. I think I might even be time I finish my story about galactic conquest from the Tyranid Point of View. Here's a sample:
NOM NOM NOM NOM NOM

NOM NOM NOM NOM NOM NOM NOM

NOM NOM NOM NOM NOM
It's chilling, right?
Do you have an story you want to tell in one of Games Workshop's universes? Tell them about it!