Marketwatch: GW's 2017-18 Half-Year Financials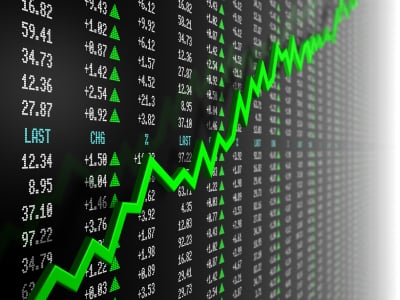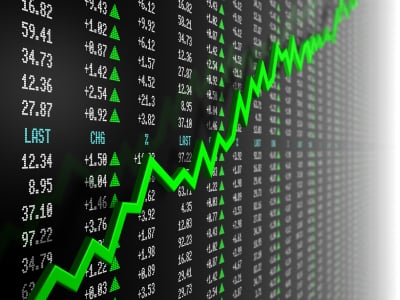 The Half-Year numbers are in and things are looking rosy for Games Workshop.
Games Workshop's latest numbers are looking solid. Keep in mind this Half-Yearly report covers their fiscal year and not the standard year (that's why it ends at November 26th, 2017).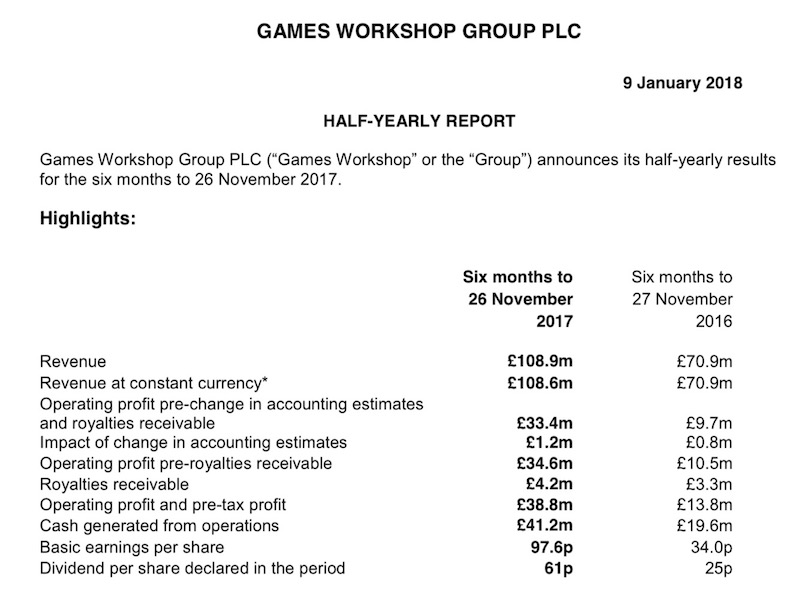 via GW Investor Relations
Kevin Rountree, CEO of Games Workshop:
"Our business and our Warhammer Hobby are in great shape.

We are pleased to report record sales and profit levels in the period. It is encouraging that sales and profit growth continue across all regions and channels. Given the high levels of operational gearing and our relentless management of our costs, our improving sales performance has translated into record profit and cash levels.

Our sales for the month of December have also shown good growth trends."
Top Level Numbers (2017 vs 2016)
Revenue: +53%
Operating Profit (Pre-exceptional item & royalties): +229%
Operating Profit: +181%
Earnings Per Share: +187%
Sales Channel Reports (Revenue):
(Constant Currency Numbers)
Retail: +34%
Trade Sales: +64%
Mail-order (web store): +71%
Subscribe to our newsletter!
Get Tabletop, RPG & Pop Culture news delivered directly to your inbox.
—–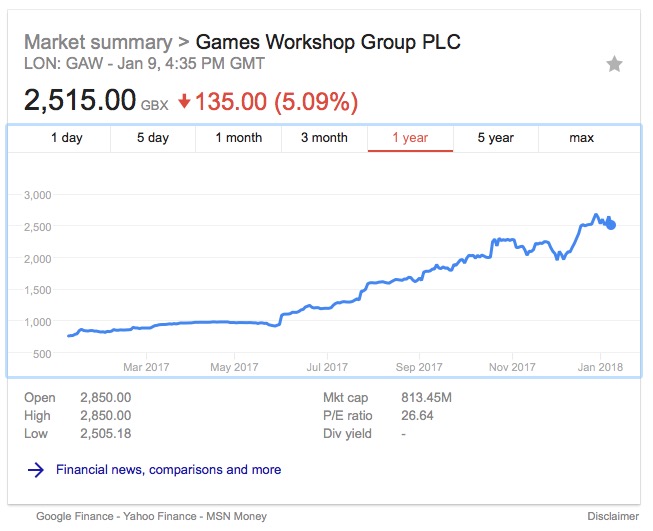 Just comparing this report to the Annual Report from 2016-17 you can see the optimism reflected in the chairman's report.
A new edition for your hallmark game is always a shot in the arm. 40k's 8th Edition was a HUGE gamble – but one that has paid off handsomely. The quality of miniatures is still top of the industry and we don't want to forget about the huge strides they have made as a company to reach out to the fan base. Finally we can't forget all those value bundle deals they have been putting out (Start Collecting & Battle Force Boxes). It sounds like Games Workshop is roaring ahead.
Have fun with this one – and remember NO CHAIRS – be nice!