RPG: The Dying World of Barsoom Needs Heroes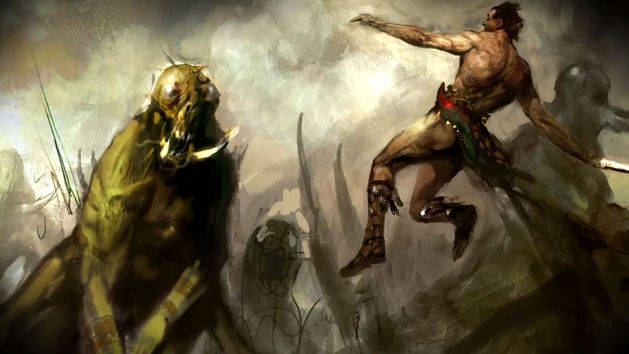 John Carter of Mars is a setting rife with adventure, now you can bring the pulp stories of Barsoom to a tabletop near you.
Modiphius is bringing the world of Edgar Rice Burrough's John Carter of Mars–so, Mars–to your tabletop thanks to Kickstarter. That's right, the pulpy, sword-and-planet adventures that take you through the dying world of Barsoom, full of Martian princes and princesses, lush alien landscapes, ferocious beasts, irksome betrayals, and then some.
The team behind the game definitely knows what makes the Barsoom Saga tick–looking through their Kickstarter, you'll find the same sort of retro-sci-fi concepts making their way into the game. Players can take the roles of duelists, Beastmasters, assassins, even heroes from Earth–the whole thing feels a little more savage. Which, incidentally, one of the stretch goals (that they have already reached) is aa conversion kit for Modiphius' own Conan game.
What's interesting about this Kickstarter is that it's mostly done. They've got the book in Layout, so much of the waiting is kind of already taken care of–probably due in part to the fact that they're propping this up on their Momentum system, which you can see on display in Star Trek Adventures and the Mutant Chronicles. So far the Kickstarter is wildly successful, coming in at almost $130,000 of their asked for ~$27,000. And with that they've unlocked some incredible stretch goals, including a beautiful leather-bound Collector's edition, miniature packs, and more. Check out the Kickstarter below.
via Modiphius
With scarcely a parting glance I turned my eyes again toward Mars, lifted my hands toward his lurid rays, and waited…" – John Carter, Gods of Mars
John Carter of Mars – Adventures on The Dying World of Barsoom is a planetary romance tabletop role-playing game. We've created it under license and with the cooperation of the estate of Edgar Rice Burroughs, author of the original Barsoom novels. We've also had guidance of Scott Tracy Griffin one of the leading scholars of his works to ensure utmost authenticity. Using a pulp-action inspired narrative variant of Modiphius' 2d20 system, Momentum, John Carter of Mars allows players to take the role of various adventurers and heroes as they travel, battle, and romance their way across the wondrous and dangerous world known to its natives as Barsoom. Play as John Carter, the princess Dejah Thoris or the fearsome Thark warrior Tars Tarkas – or create your own new heroes from a wide variety of options.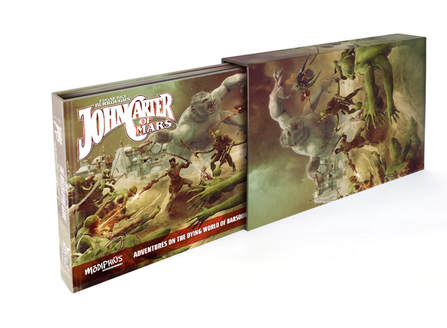 The main focus on the core book, which is already fully written and going through the layout book. They have headed into this Kickstarter prepared to deliver the goods–with plans for the digital documents (for the core book) to go out to backers before the book goes to print. In the core book, you'll find:
An overview of Burroughs' Barsoom and its peoples, perfect to introduce new players to the wondrous world of John Carter of Mars.
Detailed chapters on technology, creatures, and various cultures.
A new skill-less Talent focused narrative variation of the 2d20 system called Momentum, including a step-by-step character generation system designed to create heroes from a variety of backgrounds and concepts.
Choose a wide variety of characters such as a dashing Red Martian duelist, a brilliant First Born scientist, a savage Beastmaster, a courageous airship officer, a disciplined assassin, or even Earthborn characters, so players can follow in the bounding footsteps of John Carter himself!
A detailed Narrator's section with information on how to run genre-and-setting appropriate games and campaigns, including information about the great secrets of Barsoom.
Three eras of play based on the adventures of John Carter himself. Play during the early days of Dotar Sojat, adventure during the time when Carter was a Prince of Helium and in the years after when he was believed dead, or fight alongside Carter and his allies during the later Jeddak of Jeddaks era.
An introductory adventure, the Mind Merchants of Mars, to get players and Narrators started on their adventures.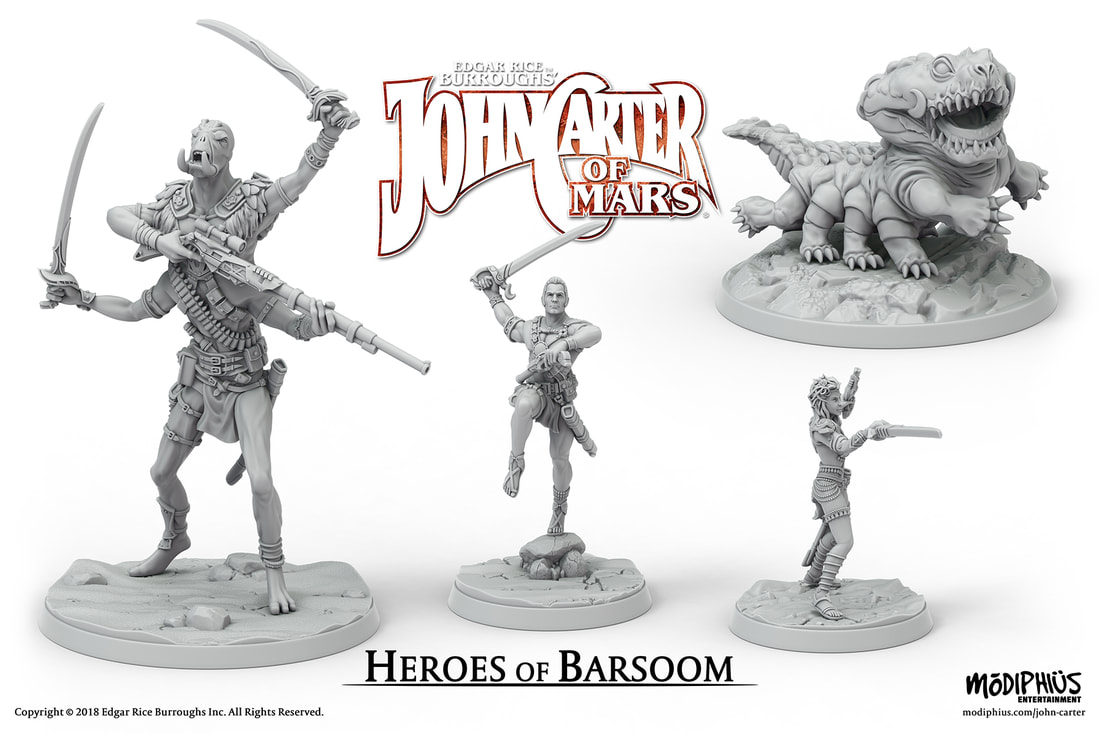 The John Carter of Mars Kickstarter is going to offer you many ways (and prices) to explore Barsoom and help us fund the stunning range of products – from a simple PDF of the core book, to the print and PDF of the book to a collectors slip case or starter set including a set of some beautiful Helium dice and an epic Gamesmaster Screen. The book is being laid out in stunning landscape format which allows us to create extra long landscape artworks bringing Barsoom to life in vivid detail. Produced in our European print house which is renowned for it's excellent hardback binding quality we can assure you of a truly beautiful book to last the ages. The Collectors slip case is designed in portrait format so you can store your book upright if desired.
Subscribe to our newsletter!
Get Tabletop, RPG & Pop Culture news delivered directly to your inbox.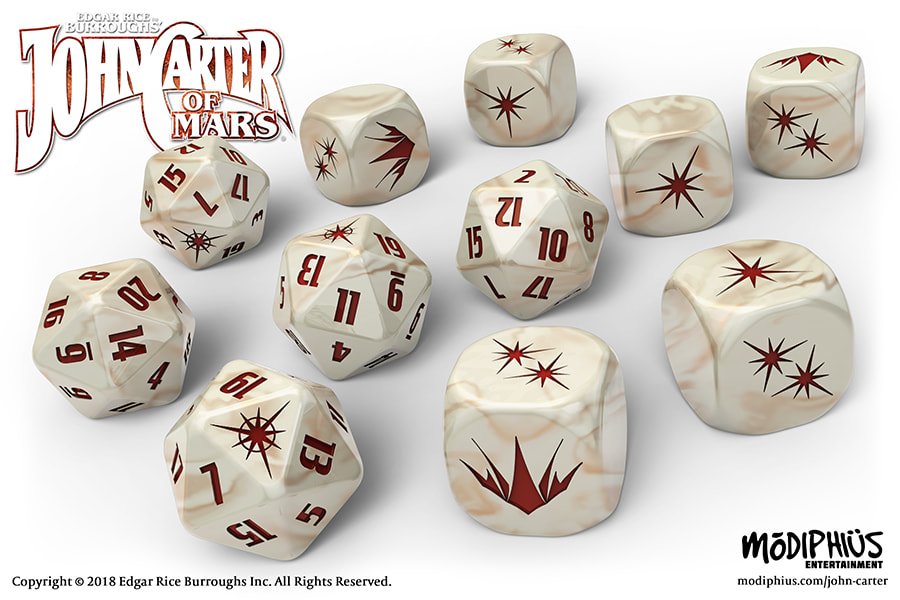 We're also working with an artisan in Spain who will be creating a very limited edition bespoke, handmade real leather bound version of the core book for those who want the ultimate  memories of Barsoom. It will feature engraved metal corners, martian red page edges, a metal closure and the icon for the Jeddak of Jeddaks impressed in to the cover in gold. Add to that an A1 (841 x 594mm) engraved and aged real leather map of Barsoom will complete a truly deluxe experience. ​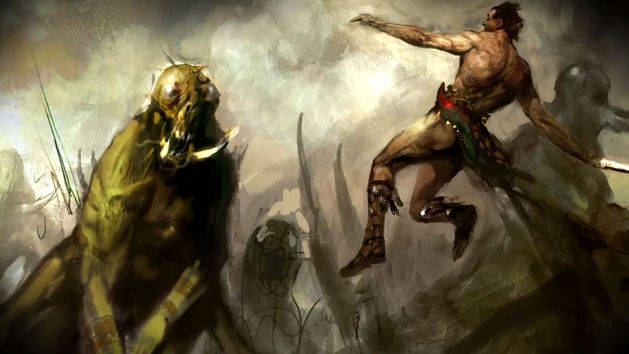 The Momentum system is a streamlined version of the 2d20 system used in other games such as Conan, Infinity, Mutant Chronicles and Star Trek Adventures.  It focuses entirely on the abilities of the characters you play by allowing characters to build talents out of whole cloth and eschewing granular details that just aren't important in describing the ultra-competent characters of Barsoom.
"As I gazed upon it I felt a spell of overpowering fascination – it was Mars, the god of war, and for me, the fighting man, it had always held the power of irresistible enchantment." – John Carter, Princess of Mars