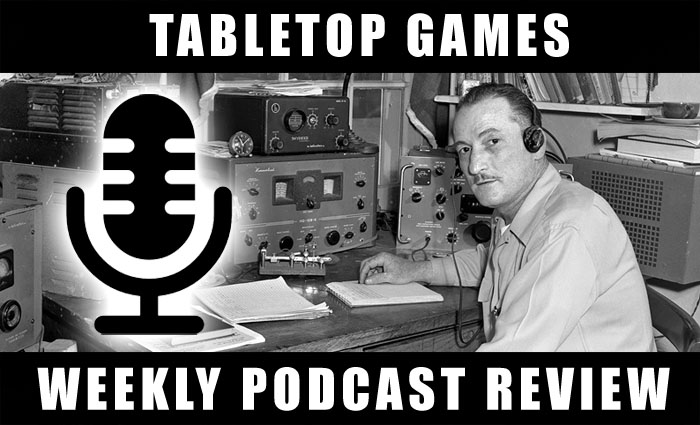 Hey everyone, Adam here for another week of tabletop podcast reviews! A few more 2017 recaps, Las Vegas Open, codex talk & more!
Hey all, Adam here, from TFG Radio, for this week's reviews! Still not seeing too much from podcasts to start the year but as we head into the Las Vegas Open, and dive into the new year, I'm sure it will pick up again. This week we are still seeing talk about the year in review, a look at the latest codexes, the upcoming Las Vegas Open, a change in format for one podcast, and more! So, let's get on with the reviews!
Garagehammer Episode 184 – This episode sees the return of the Garagegamer format, where they discuss non-Games Workshop subjects. This episode Dave and his wife bring you the long awaited, and twice recorded, Gen Con episode. They talk about their experience at Gen Con 2017, along with how they plan to tackle next year's. A nice listen if you have never been to the event.
Chapter Tactics Episode 51 – To start off the new year, Pablo has not one, but three new rotating co-hosts. So welcome, Geoff Robinson, Val Heffelfinger, and Sean Morgan to the show.
Age of Sigmar Daily – Nice source for daily Age of Sigmar talk
Signals from the Frontline – Always a good listen for new and rumors on 40K
Also Out This Week
Allies of Convenience Mini-Episode 5 (40K)
Battle Brothers of the GCWA Episode 6 (40K)
Chain Attack S2 Episode 82 (Warmachine)
Combat Phase Episode 226 (40K/AoS)
Combo Smite Episode 180 (Warmachine)
Crippled Systems Episode 224 (Warmachine)
Facehammer Episode 49 (AoS)
Facing the Grey Tide Episode 62 (40K)
Forge the Narrative Episode 222 (40K)
Fully Boosted Episode 66 (Warmachine)
Fully Boosted Episode 67 (Warmachine)
Fully Boosted Episode 68 (Warmachine)
Honest Wargamer (AoS/40K)
Inches & Cubes Season 2 Episode 1 (40K)
Long War Episode 133 (40K)
Mob Rules Episode 67 (40K)
Mayacast Episode 164 (Infinity)
Mynock Squadron Episode 101 (X-Wing)
Preferred Enemies Episode 165 (40K)
Radio Free Isstvan Episode 86  (30K)
Signs and Portents Episode 1 (Warmachine)
T3 Ambush Episode 5 (AoS)
Veteran Gamer Reenlisted Episode 23 (40K)
As always, check out our blog, at TFG Radio, and give the podcast a listen. We talk 40K mainly but delve into other game systems. This week we have Danny, John, and Adam. That's three of the six 40K judges for this year's Las Vegas Open! They talk about a Space Wolves list, the possible death of rules abuse by players, and go over what happens when you concede, or are tabled, when playing the Las Vegas Open 40K Champions missions.
Have a different opinion or did I miss one of your favorite podcasts? Post in the comments below or email me at [email protected] and let me know!