Tabletop Spotlight: End of the World – Alien Invasion



How would you survive the End of the World? Find out in this RPG from FFG.
Quick. The world is ending. Can you survive? Like not your character, but you? Because that's who you'll be playing in the game. Character creation is pretty unique in this game. You talk to your friends and figure out your stats. Your inventory is the stuff you have in your pockets, or close at hand whenever the game begins. Once you have all that sorted out–the world is in peril and you've got to see if you can sink or swim at The End of the World.
But beyond the conceit of playing yourself, there's still a lot to the game. It offers a variety of story formats and a couple of different takes on conflict resolution. The main draw though is that it's you and your friends just trying to make the best of a bad situation. It's incredibly compelling. So grab your friends, grab the book, take care of Phil, get Liz, then wait for the whole thing to blow over.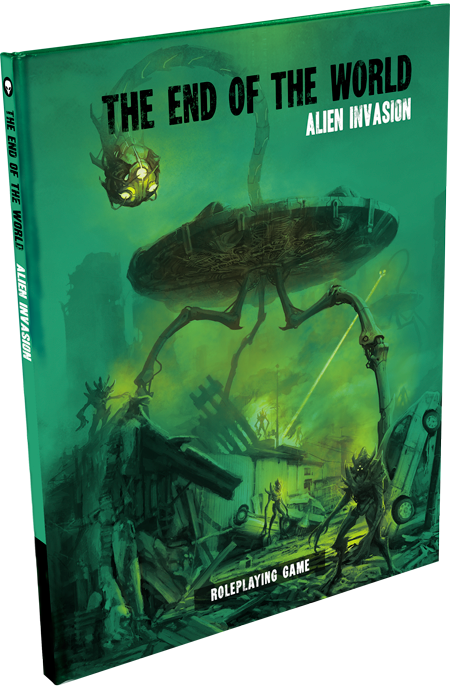 Earth has come under attack from extraterrestrial lifeforms! Mars may attack our civilization with a devastating invasion, or the aliens that live far beneath our oceans may enact a plan to flood the entire world. You may discover that your neighbors have been secretly replaced by alien copies, or that Earth is ruled by an Illuminati society of reptilian aliens. You may even do battle with massive alien ants that seek to transform the world into a colony.

Countless adventures await in the five scenarios included in Alien Invasion, the third book in The End of the World line. Orginally designed by Álvaro Loman and José M. Rey, this roleplaying game features an elegant, narrative ruleset that keeps the focus on the story. What's more, this book offers you the unique chance to play as yourself in the midst of the apocalypse, fighting for survival in your own hometown. A unique scenario structure makes Alien Invasion perfect for playing a single session or a far-reaching campaign. Make first contact and prepare for an alien invasion!
What now, Winchester?
Subscribe to our newsletter!
Get Tabletop, RPG & Pop Culture news delivered directly to your inbox.