Corvus Belli: New Infinity Minis, and Aristeia Stars for March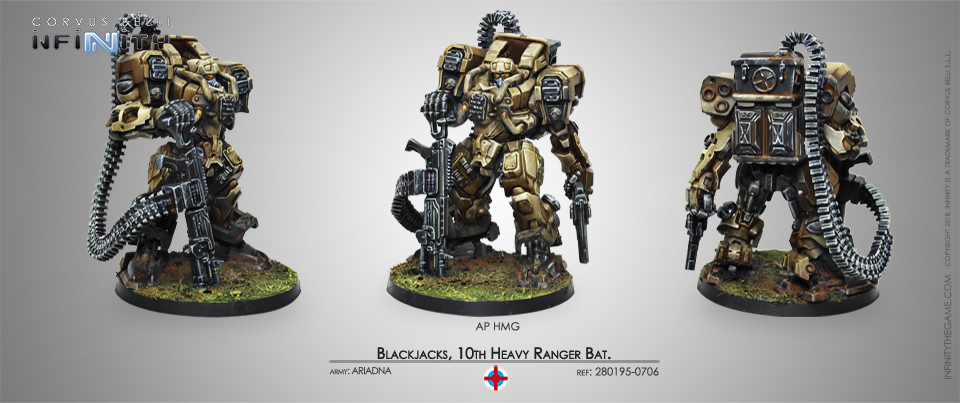 March is bring new minis for 5 major factions in Infinity -and some Aresteia goodies to boot.
Here's the latest for the Human Sphere:

ARMY: YU JING SHIKAMI (CONTENDER)
BLISTER: 1 MINIATURE

MSRP: $16.99 
The Shikami are the destructive demons of traditional Japanese folklore, and these technological ninjas are not far behind. Thanks to their enhanced light armor and superb martial arts skills, they are capable of incredible feats.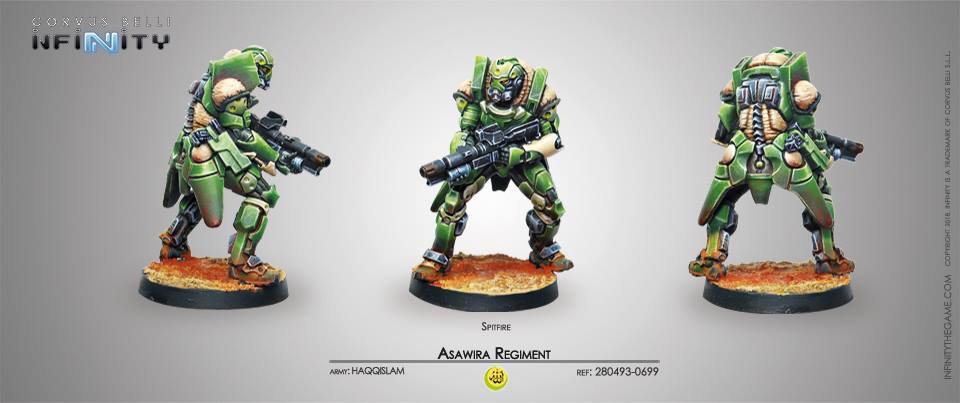 ARMY: HAQQISLAM ASAWIRA REGIMENT (SPITFIRE)
BLISTER: 1 MINIATURE

MSRP: $16.99
The Asawira Regiment is a formidable attack unit in the service of Haqqislam. The Asawira have the best light-weight powered armor on the market, equipped with advanced aiming and target acquisition devices, and the most effective auto-medical systems.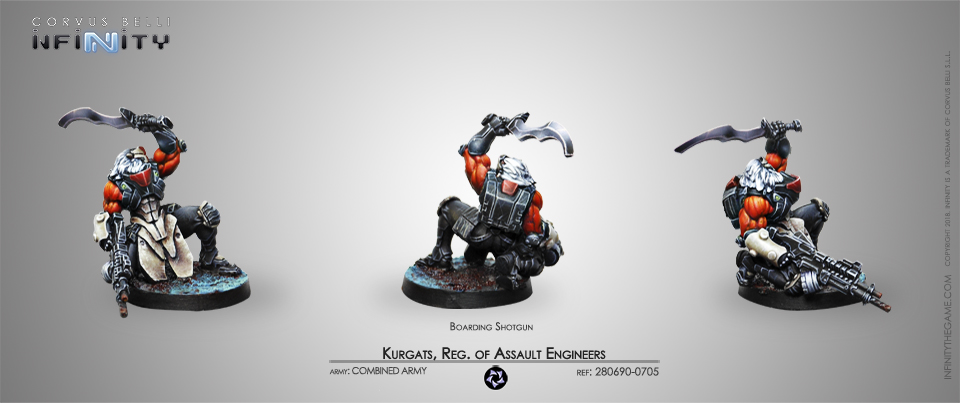 ARMY: COMBINED ARMY KURGAT, REG. OF ASSAULT ENGINEERS (BOARDING SHOTGUN)
BLISTER: 1 MINIATURE

MSRP: $14.49
Kurgats are the highest rank of Morat assault engineers. They comprise a combat unit with expertise in shock techniques and their sole mission is attacking and destroying any fortified position that could stop the advance of Morat forces.

ARMY: ARIADNA BLACKJACKS, 10TH HEAVY RANGER BAT. (AP HMG)
BOX: 1 MINIATURE

MSRP: $39.49 
The Blackjacks are not only one of the toughest and most resilient units of the USARF, but also one of the most lethal because of their firepower. If they are known as "The Winning Hand", it's because their deployment in the AO always means a sure victory without concessions to the enemy.

ARMY: ARIADNA / COMBINED ARMY DIRE FOES MISSION PACK 7: CANDY CLOUD
BOX: 3 MINIATURES

MSRP: $42.99 
Candy Double, the great star of Maya and famous investigator, has find out the Combined Army's plan to alter the Dark Mist technology released on the planet Dawn, turning these clouds of visual interference into a deadly weapon. It's time to stop the lethal clouds and Candy Double too, because the star must not reveal the EI's plan, to avoid spreading panic throughout the Human Sphere.

ARMY: PANOCEANIA SVALARHEIMA NISSES
BLISTER: 2 MINIATURES

MSRP: $20.49
This repackaging will trigger the cancellation of the products that compose them.

SOLDIERS OF FORTUNE
BOX: 4 MINIATURES
MSRP: $36.49
The cunning mercenary leader Hannibal, along with his impressive bodyguard Valkyrie, the unpredictable Maasai hacker Laxmee, and the incorrigible masked fighter known as Señor Massacre, make up an elite team to participate in the most exciting and, above all, lucrative spectacle of the entire Human Sphere: Aristeia!

30MM BASES
BLISTER: 10 BASES

MSRP: $4.25
Pack of ten 30mm bases. Designed exclusively for the Aristeia! miniatures. The best choice to adapt your Infinity miniatures like Miyamoto Mushashi, Señor Massacre or Major Lunah and use them for the greatest show of the Human Sphere.
~ Nice Blackjacks – really impressed with those!