Dark Age: Painting a Skarrd Tribal Father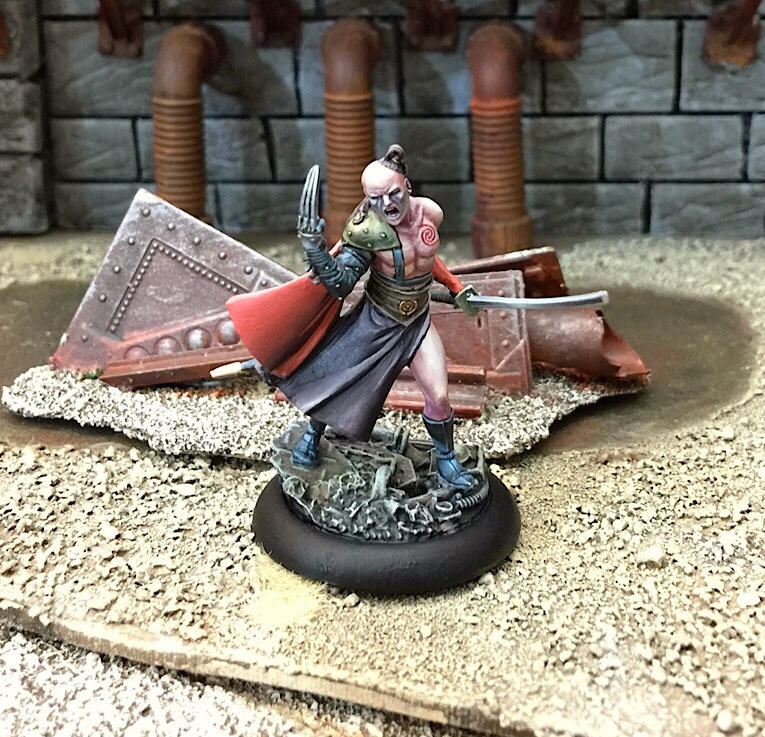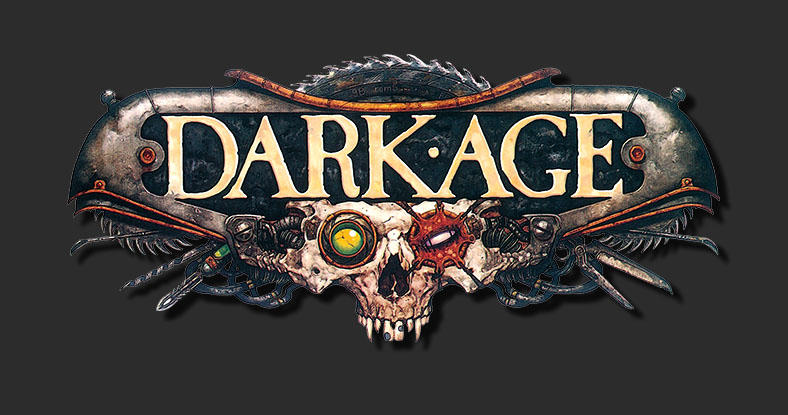 GentleBen is back with a new step by step painting article featuring Skarrd Tribal Father from Dark Age.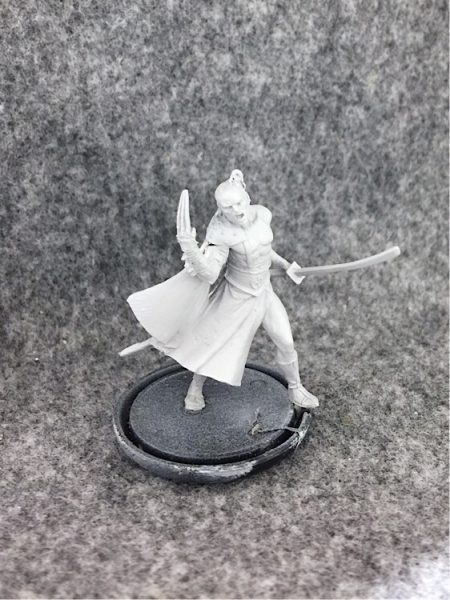 While I already did several painting articles on a Skarrd Buzzblade, this models is definitely distinct enough to warrant his own feature. Very few elements are painted the same between this guy and the other Skarrd models.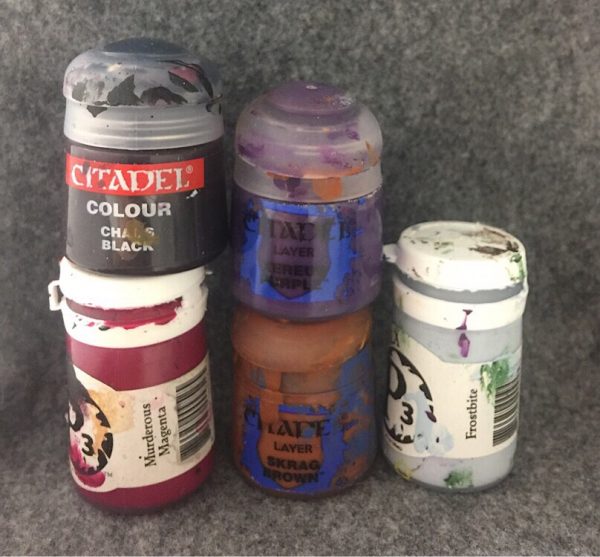 Let's start with a collection of all the paints I used for his skin. Note that there are no off-the-shelf skin tones in the mix.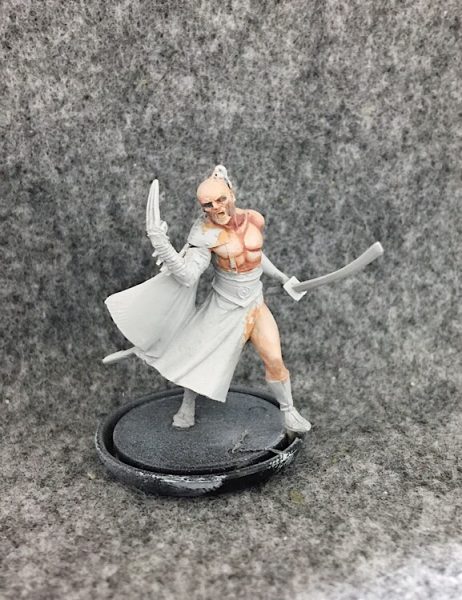 The initial base coat is similar to the one I've been using on my Bushido models. Since my local store is no longer keeping P3 paint in stock regularly I've subbed out the Beaten Purple and Bloodstone for Skrag Brown and Xereus Purple. It seems to work just as well.
This base mix is highlighted with increasing amounts of the Frostbite. The base colors really seem to take a lot of the blue tone out of it. This means the guy is not quite as pale as I'd intended but I was nonetheless pleased with the end result.
I'm trying to add sunken looking cheeks and eyes to the face with extra dark shading of a mix of Murderous Magenta and and Abaddon Black. Nothing GW makes can replace that Murderous Magenta so I special order it.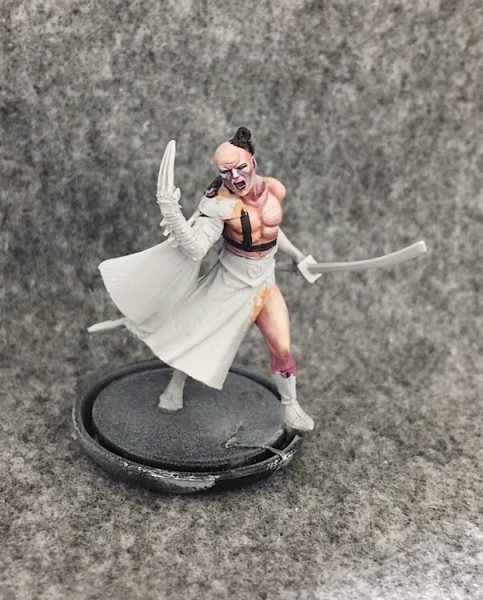 Here I'm cleaning things up and adding a bit of that same magenta into the areas around the neck and knees. I toned down the black of the cheeks some and added some P3 Exile Blue around the eyes. I also started off on the leather with Abaddon Black with just a bit of Carroburg Crimson ink mixed in.
Subscribe to our newsletter!
Get Tabletop, RPG & Pop Culture news delivered directly to your inbox.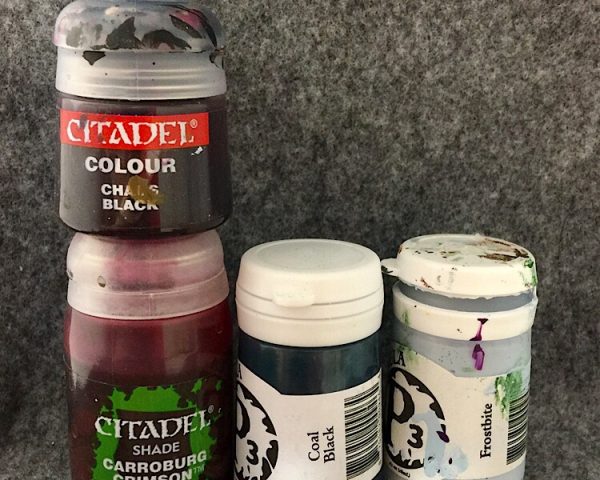 Here are the colors used on the black leather.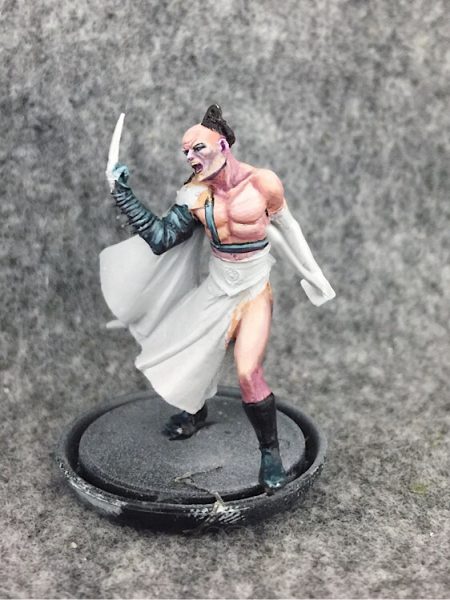 Feeling like the skin was mostly done I moved on to the leather, adding highlights to it with Coal Black, then continuing to blend it even lighter with Frostbite.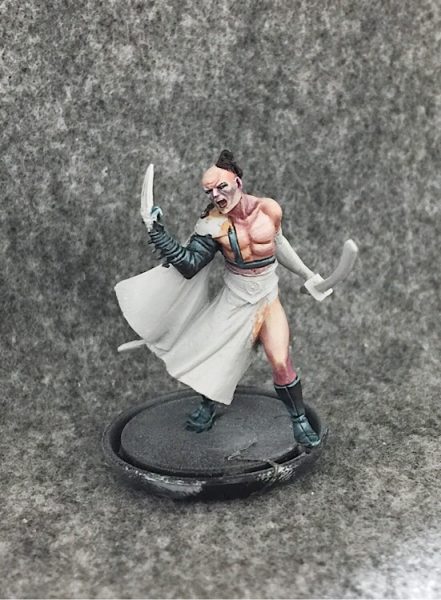 Here I've just cleaned things up a little more, subduing the highlights somewhat so it feels more like black – less like blue.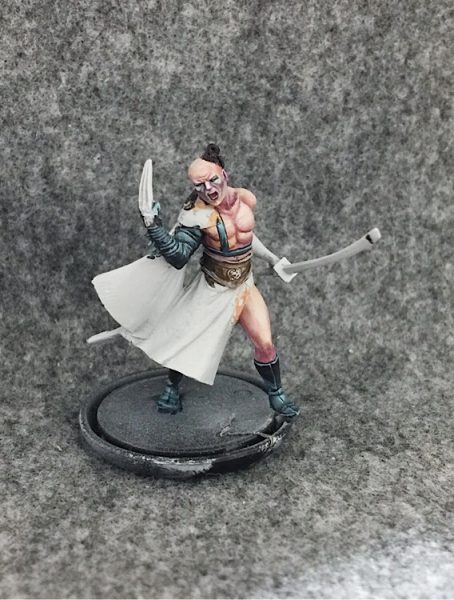 Next I moved on to his manly girdle. It will also be leather although it will be brown leather so I can add a little variation. I start with a basecoat of Umbral Umber which I shade with a mix of Abaddon Black and Green Ink, and highlight with Ryn Flesh.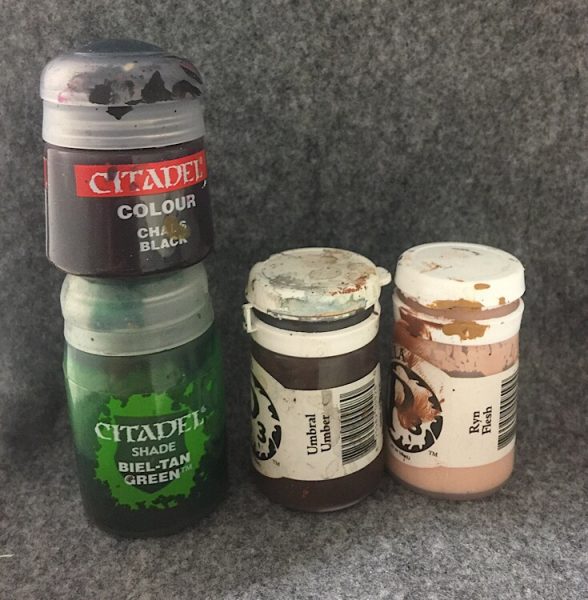 Here are those colors.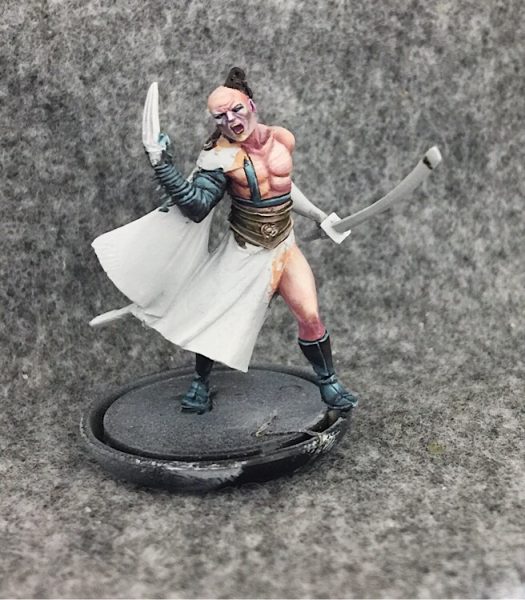 The next step is just to clean it up a little more.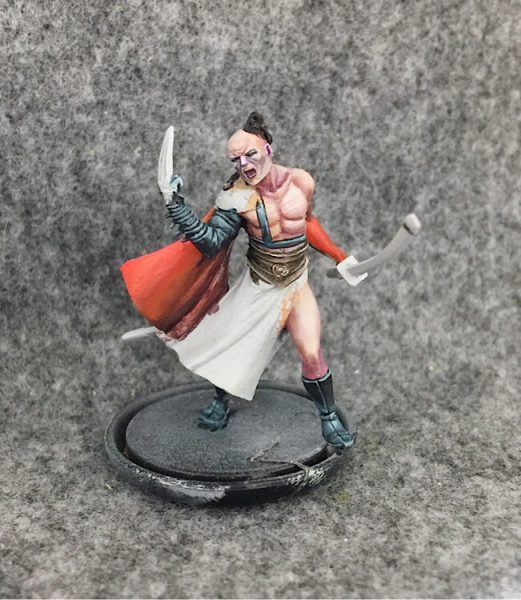 The next step for this model is his fancy little half cloak. Having recently begun experimenting with GW paints again, there was one color I was particularly enjoying: Wild Rider Red. The first time I used it was in the Harpies' hair (the Tribal Father was the last model from this set I painted fwiw), and I immediately wanted to use it again. That was a good enough reason to use it for his cloak. I suppose it makes him look a bit like Blood Cult but I guess I'm ok with that.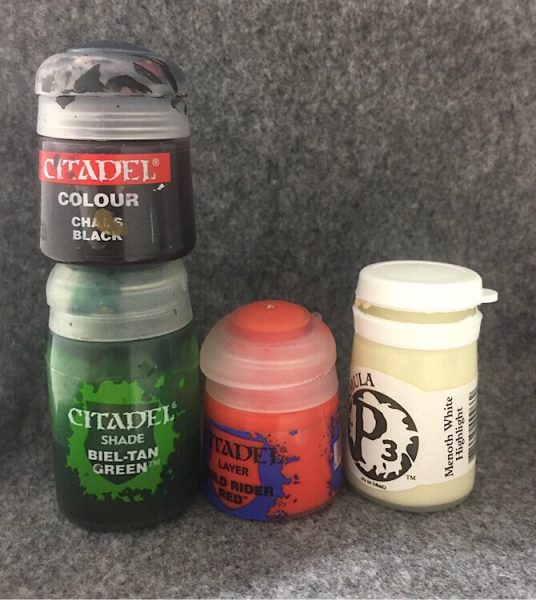 Here's the color breakdown for the cloak. The base color is black with a good bit of green ink added to create a little bit of color contrast and make the green really pop. The Menoth White Highlight is used sparingly and only blended in. No pure Menoth White Highlight is used on the red.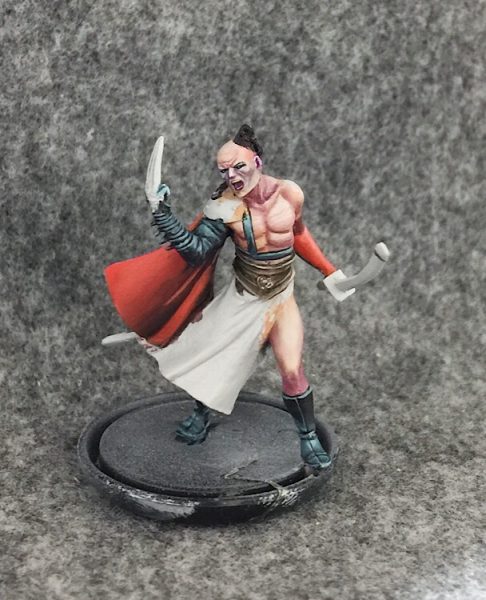 Here I've just cleaned it up some more after the first coat had dried. Red paint is notorious for being difficult to work with but this seemed to be a little easier to use than most.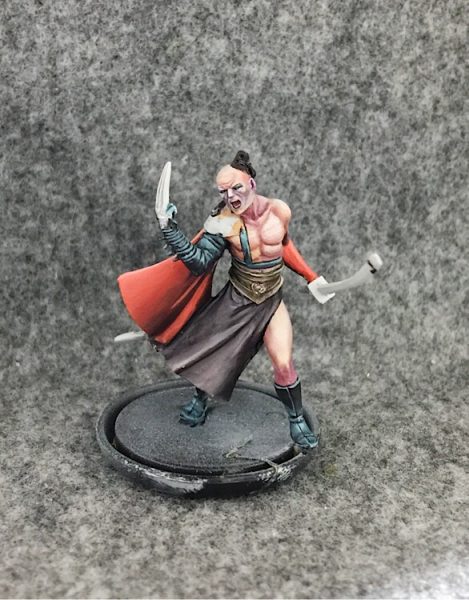 In this last shot I begin to blend in very small amounts of the white. It's really only noticeable along the edge of the cloak. I also began on his black skirt. I'm using the same technique here that I did for my Blood Brothers since I really liked how it turned out there.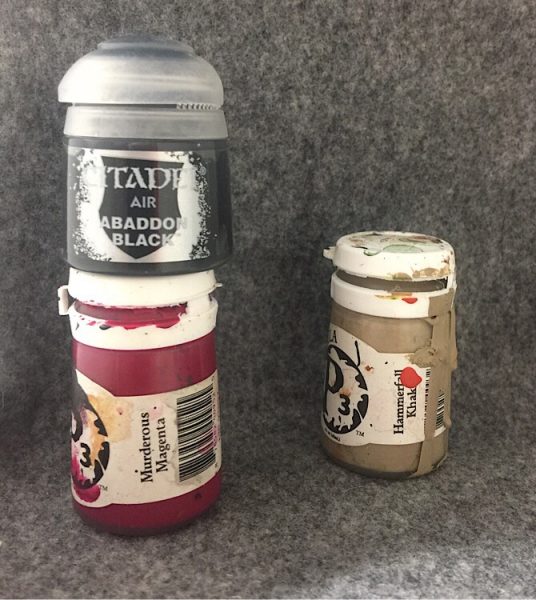 Here are the colors. The base is Abaddon Black mixed with Murderous Magenta for a nice warm black. I accidentally put airbrush black in the shot though. Just use regular black. Then the highlights are Hammerfall Khaki.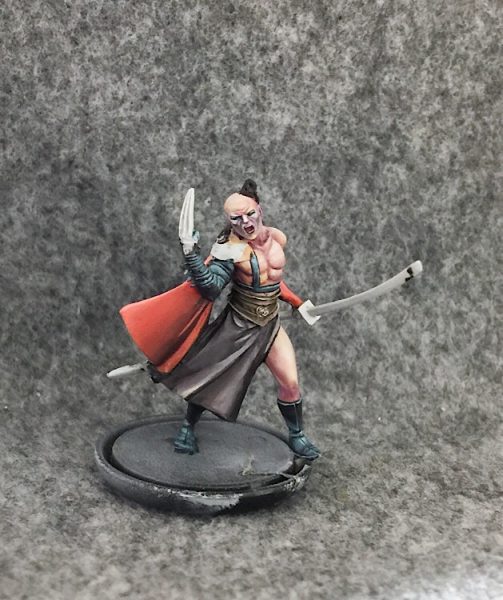 Here I've just cleaned it up some more.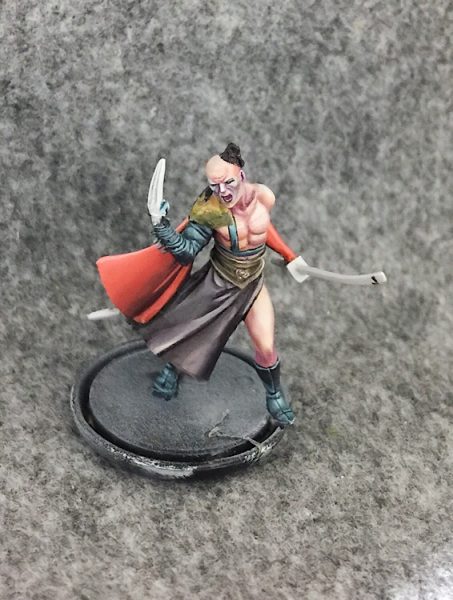 And then after a little more wet blending it looks even nicer and smoother. I also started on his shoulderpad here. I thought a nice greenish bronze would make some good contrasts for all the warm reddish tones.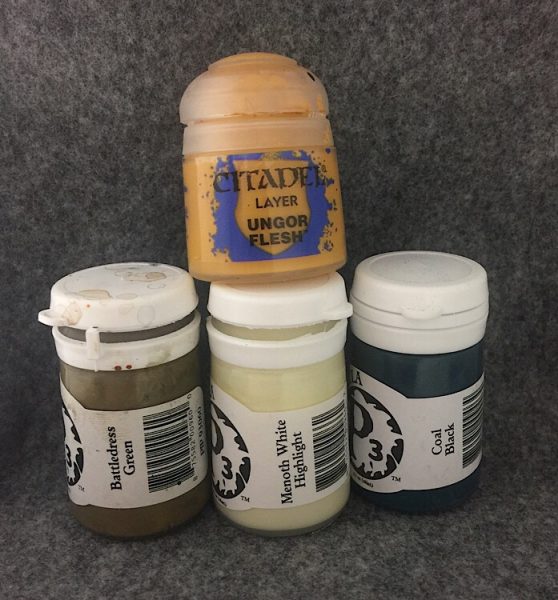 Here is my standard NMM bronze mix. Battledress is used as the basecoat. It's highlighted with increasing amounts of Ungor Flesh followed by Menoth White Highlight. The Coal Black is used to shade.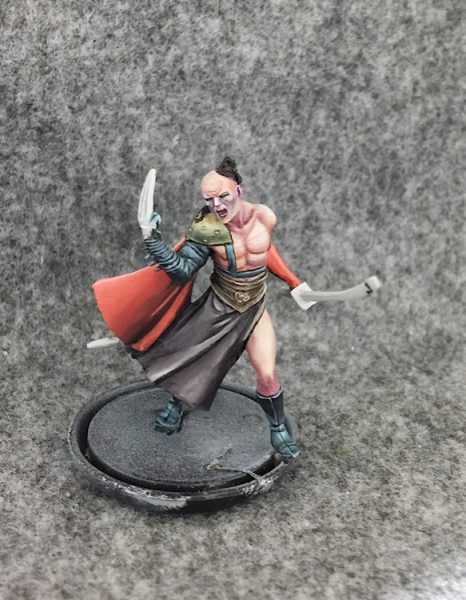 Here is the shoulderpad cleaned up a little more. I didn't use any pure Ungor Flesh. It's always mixed with at least a little Battledress Greensince I wanted to preserve the greenish tint.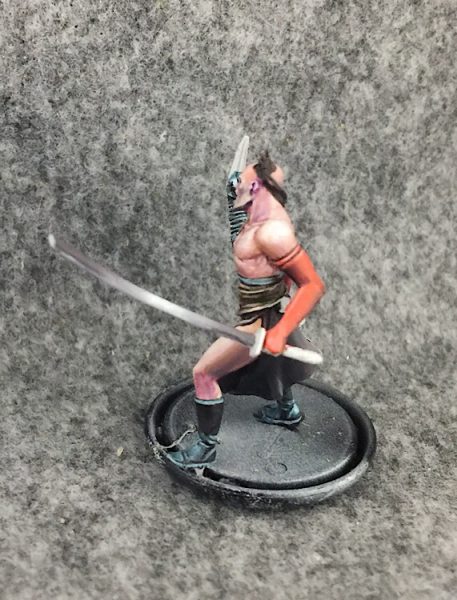 The next step was to begin on the steel sword and claws.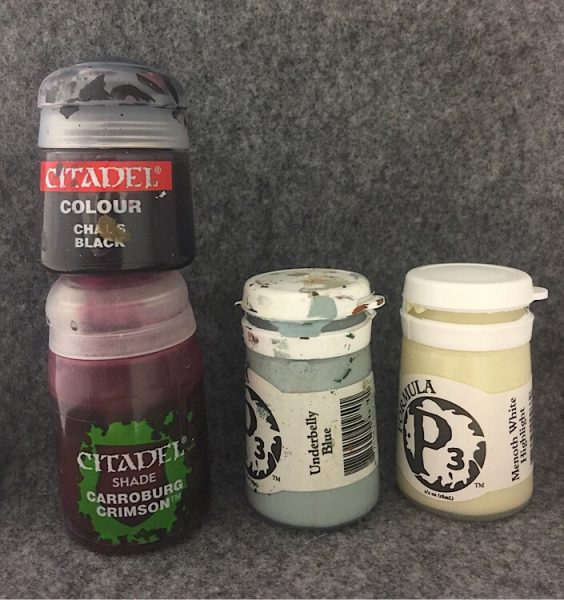 Here is the color breakdown. I begin with a thin line of the Menoth White Highlight which is blended outward into Underbelly Blue, then into a warm black mixed from the black and crimson ink.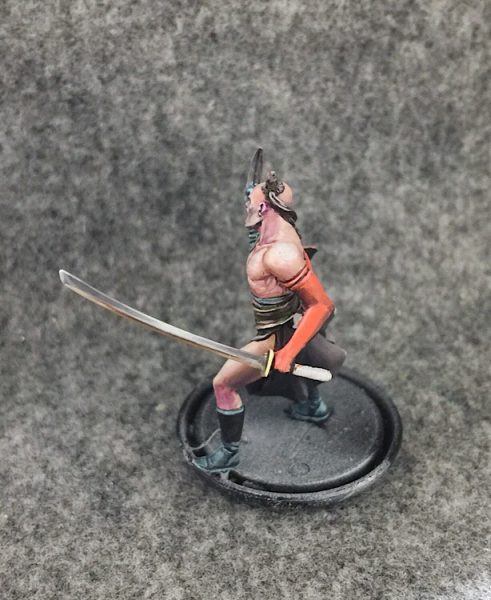 I add a thin line of Underbelly Blue down the top of the sword. Towards the center of the sword and at the outermost tip, I use Menoth White Highlight to try to further the illusion of reflection. The blade is painted with the black mix, then given a line along the bottom with Hammerfall Khaki to represent light reflected from the ground.
I actually used the same colors on his topknot while I had them out.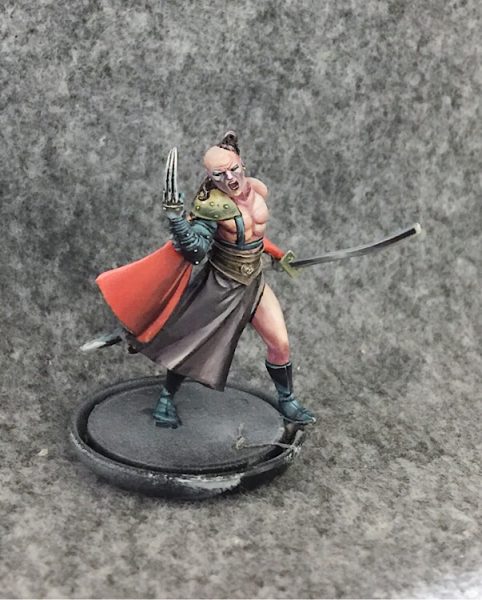 The claws are painted up with the same palette. Notice the little notches at their base. I'm not sure what they're supposed to be but they're definitely intentional and are an interesting little touch.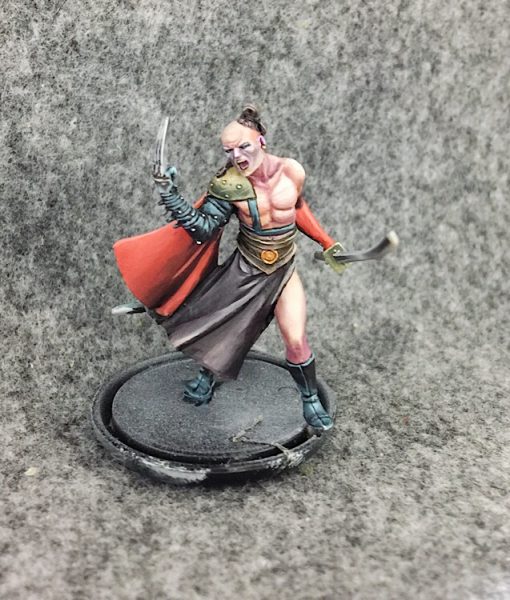 The last step is the little belt… buckle? I guess it's really more decorative. I don't think it keeps his belt up. Anyway, since I've gone through most of the other metal colors I figured why not gold for this. I started with Ungor Flesh and washed over that with some thinned out Skrag Brown.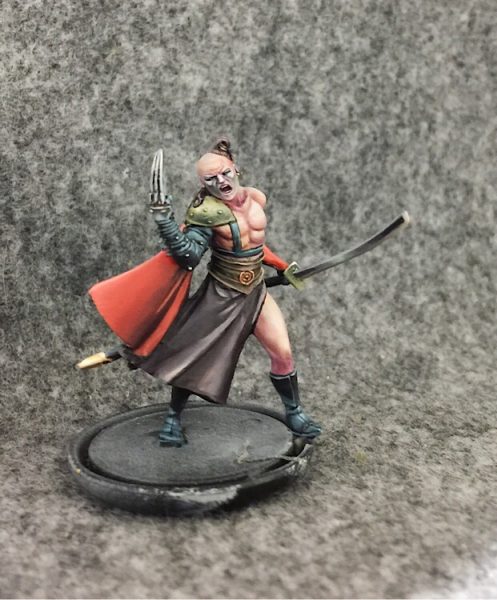 I added some Xereus Purple to the Skrag Brown and gently lined it into the recesses to darken them up a bit more. Then I added some more highlights by mixing some Menoth White Highlight into the Ungor Flesh.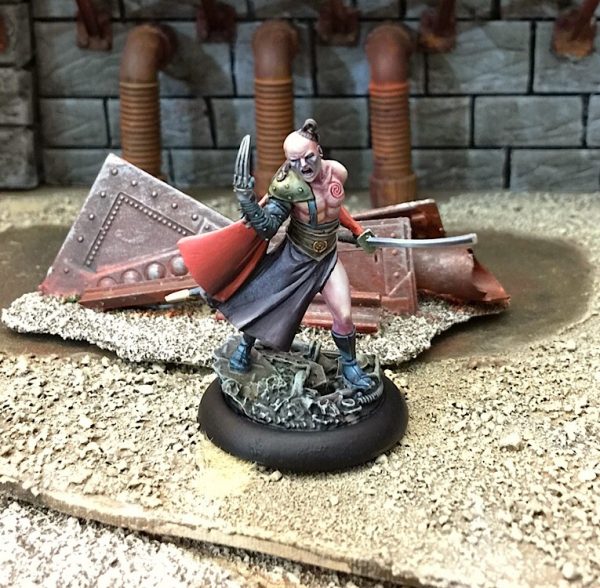 There were only two remaining steps. I used the gold palette for the topknot ring since I realized I had neglected until now. Then I gave him one of those trademark Skarrd spirals on his chest.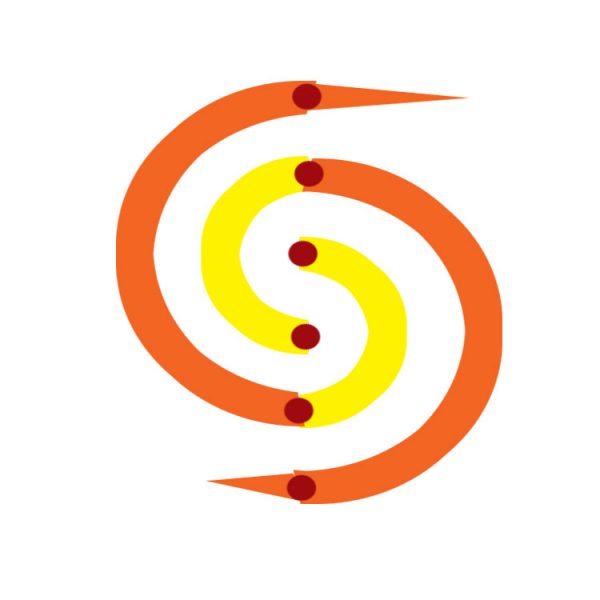 This kind of shows how I did the spiral. I started with the six dark red dots to make sure everything would be spaced evenly. Next I did the two yellow arcs, then the two orange arcs to finish it off. The colors in this diagram are only there to help you follow the steps. I just used Sanguine highlight for the actual painted spiral. Planning out freehand details like this is really important – at least for me.  It's so easy to get the scale or proportions wrong. If this happens, and you're painting freehand over an area you've already spent some time on you'll be stuck fixing not only the freehand but also the area beneath.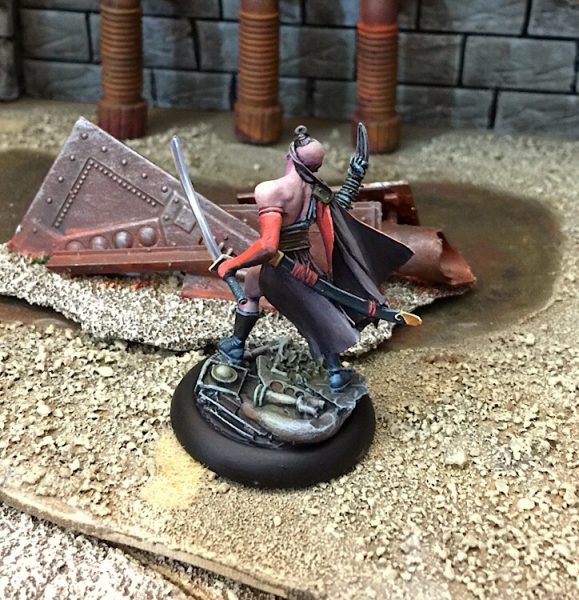 Here's a look at his back.
If you want to learn more about Dark Age you can check out the game's homepage, or ask to join Samaria Reborn: an active Facebook group where the biggest fans of Dark Age go to talk about their favorite game.
This article first appeared on my own blog toomini. Follow it to get a look at these articles before they show up on BoLS. There are also a lot of great painting articles there that haven't made it here yet! I have articles for Dark Age, Ogre, Bushido, Arena Rex, and yes even 40k!
~ What do you guys think of Dark Age? Has anyone else picked up the Skarrd?