Star Wars: Legion Launch Weekend Ramp-Up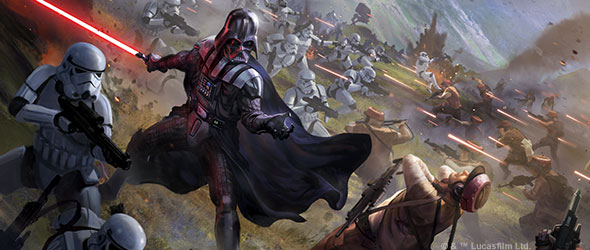 We're still weeks away from the Legion launch and Fantasy Flight Games is revving-up the Hype-Train!
Star Wars: Legion Launch Weekend is March 22nd-25th. If you haven't marked your calendars you probably should and prepare to dive into this new game from FFG. Now, we've gotten to play it quite a bit on our Twitch Channel and even have some Preview Games HERE (Game 1, Part 1), HERE (Games 1, Part 2), and HERE (Game 2). But come March 22nd, you'll have a chance to get some games in for yourself!
"Scheduled from March 22nd – 25th, and with activities running all weekend long, the Launch Weekend offers you and your friends a great chance to pick up your Core Set and dive into it alongside other enthusiastic players. Assemble your models, paint a figure or two, and fight your first battles. Participate in any or all of three distinct activites—a Step-by-Step Build & Play, Challenge Duels, and a Painting Contest."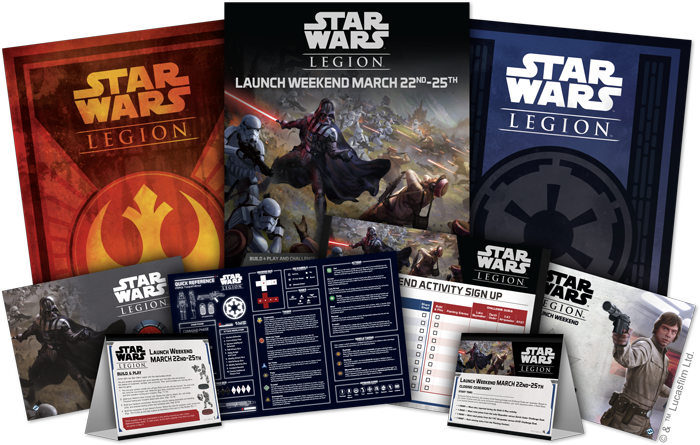 So what are the three "big events" going on? Let's break them down:
Step-by-Step Build & Play: This is pretty self explanatory. You're going to be opening your Core Set, checking out everything inside and then putting it all together. What's cool about this part is you'll get to familiarize yourself with all the componets and learn as a group. Plus FFG has some handy Learn to Play Rules which you can download now as well as an excellent Rules Reference sheet that is also available.
Challenge Duels: Once you've got your initial feel for the game and some models built, it's time to throw down! With the Challenge Duels, players will get to take on each other with some small scale skirmishes:
Luke Skywalker and six Rebel Troopers versus Darth Vader and six Imperial Stormtroopers
A T-47 Airspeeder and six Rebel Troopers versus an AT-ST and six Imperial Stormtroopers
Players can play both sides of the duels and record the results to the organizer. There will be special scoring that goes along with these missions. Each trooper is worth 1 point and each commander/vehicle is worth two points for each wound/point of damage dealt! Whoever ends up as the most successful player by points will get a commemorative art print!
Painting Contest: Also pretty self explanatory, this one will allow hobbyists to participate and show off their own set of skills. Participating retailers will have some time set aside to show off all the painted armies. If you want to participate, there are lots of ways to win as there are multiple fields to win in:
"Best painted Commander, Corps, Support, and Heavy."

Subscribe to our newsletter!

Get Tabletop, RPG & Pop Culture news delivered directly to your inbox.
Claim Your Prize
There is one last event that will happen at participating stores. At the end of the weekend, once everything is over, the event organizer will tally the results and the winning faction will get to claim the store as part of their faction!
March 22nd-25th is going to be an action packed Star Wars: Legion Weekend – are you planning on getting involved?