Arkham Horror Novellas To Dive Into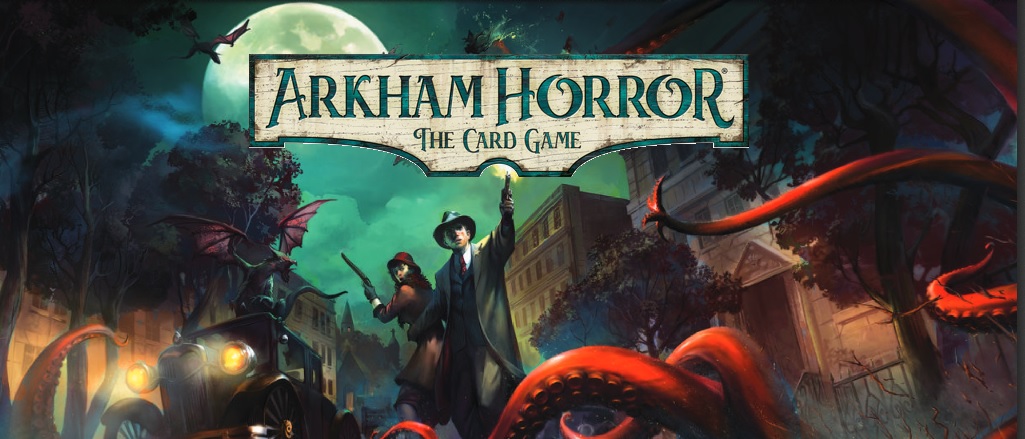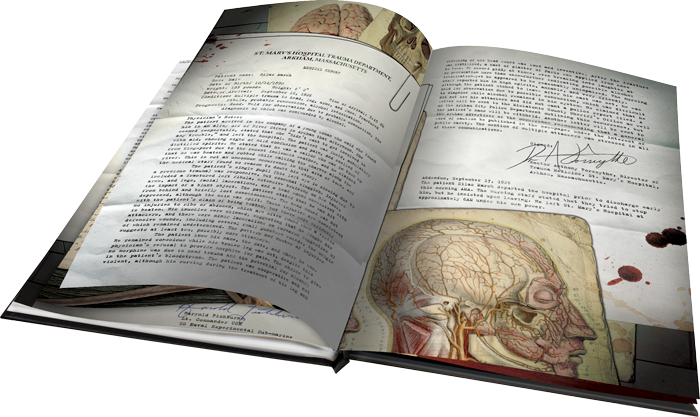 Fantasy Flight Games is expanding their Arkham Horror Files universe with some great Lovecraftian Fiction.
I'm a huge fan of the Arkham Horror series. I had a surprise Christmas gift with the Investigators or Arkham and I really got into the lore side of things after reading it. I also picked up Ire of the Void, at first because I wanted the cards – but then I actually read the book and I was hooked. Its a solid story set in the Arkham Horror Files IP that FFG is shaping. I really can't get enough of these books which is why I wanted to point folks in the direction of a few more that are out/on the way.
via Fantasy Flight Games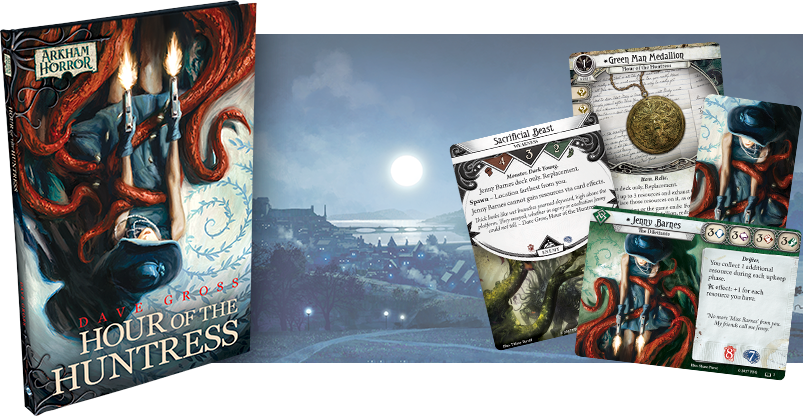 Over the course of 109 action-packed pages, Hour of the Huntress follows beloved investigator Jenny Barnes as she searches frantically for her missing sister—only to uncover some of the darkest secrets hidden in the shadows of Arkham, Massachusetts. Written by Dave Gross, this Arkham Horror novella offers new insight into one of the best loved characters from the Arkham Horror Files universe. You'll first meet Jenny on the train as she returns from Paris to learn why her sister stopped writing, but it won't be long before you'll see her delving ever deeper into layers upon layers of mystery, arming herself with her signature pistols, and disarming others with her incisive wit and charm.

Additionally, the hardbound version of Hour of the Huntress features a full-color insert of sixteen-pages that draw you deeper into Jenny's investigations with—excerpts from old letters, journals, and forbidden tomes. And it comes with five new cards for Arkham Horror: The Card Game—alternate art versions of the Jenny Barnes investigator and mini cards, a rules card, and two optional signature cards that provide you new ways to incorporate Jenny into your Arkham LCG® adventures.
This one is currently out of stock after a second printing – it was the first one in this new line of Novellas from FFG. Jenny Barnes has always been a fan favorite so I'm not shocked at the success this book has had. If you see a copy of this, I recommend you grab it while you can…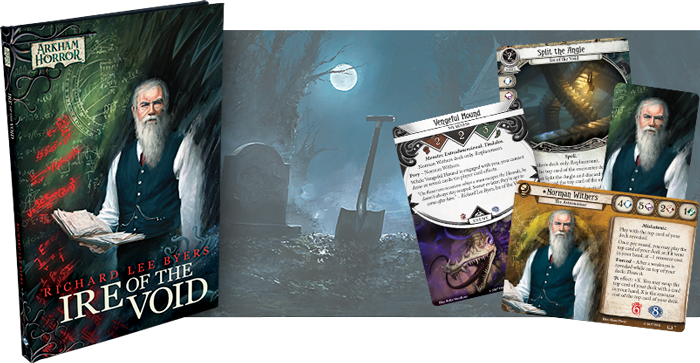 Take on the creatures that dwell between worlds in Ire of the Void! In this thrilling novella by Richard Lee Byers, astronomer and Miskatonic University professor Norman Withers seeks to restore his reputation among Arkham's academic elite after doubt of his claim of observing the disappearance of six stars. With the help of a visiting physicist, Withers investigates a series of scientific conundrums that lead to his comrade's disappearance into the void between worlds, and now both men are hunted by the vengeful hounds that reside there.

Take on the role of the investigator yourself with detailed full-color inserts of Norman Withers' gathered evidence, complete with the astronomer's notes. In addition to a hardcover copy of the book, Ire of the Void includes four promotional cards to allow readers to build a deck for Norman Withers in Arkham Horror: The Card Game. With new tools and obstacles to enhance your investigations, you will be prepared to take on the forces of darkness like never before!
Ire of the Void follows the story of Norman Withers, a professor at the Miskatonic University who has gone a little mad on his academic journey. With his reputation damaged, he spends most days lecturing to a handful of students who aren't exactly riveted by class. That all changes when another scientist visits and has Professor Withers looking at angles very differently…I read this one and I highly recommend it! Unfortunately, it's currently out of stock. Here's hoping for a reprint soon.
Subscribe to our newsletter!
Get Tabletop, RPG & Pop Culture news delivered directly to your inbox.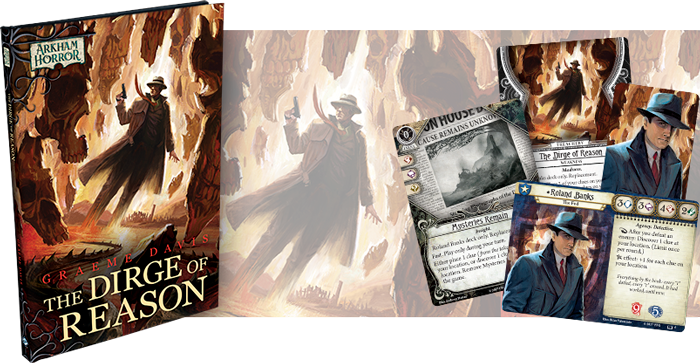 The Dirge of Reason is an Arkham Horror novella by Graeme Davis that throws you headfirst into the roaring twenties where tragedy has struck the small town of Arkham, Massachusetts. During an apparent freak accident, the entire New England Virtuosi Orchestra perished and federal agent Roland Banks has been sent all the way from Washington D.C. to investigate. The official report reads, "Explosion, cause unknown." The house looks like a howitzer shell hit it, but nobody knows why and the local authorities weren't encouraged to look very hard. Could it have been bootleggers? A mob hit? Or something more sinister, something unnatural?

Now, you can aide Roland Banks with his investigation. Within the pages of The Dirge of Reason, you will find full-color inserts of the agent's case notes as well as all the evidence at his disposal, including letters, newspaper clippings, and official reports. The hardcover novella also comes with four exclusive cards for Arkham Horror: The Card Game, including an alternate art version of Roland Banks, that enable players to build a distinct deck for the federal agent based on his experiences within the story.
Another fan favorite, Roland Banks is your typical by-the-book FBI investor. He calmly applies logic and reason to help solve crimes and catch criminals. Unfortunately his latest case has brought him to Arkham, Massachusetts where the laws of the universe seem to break down around here. I'm waiting on my copy of this one and I can wait to see how this straight-laced Fed grapples with the un-reality of the situation he's found himself in.
Journey to the mysterious Dreamlands in To Fight the Black Wind! This Arkham Horror novella by Jennifer Brozek invites readers for a visit to Arkham Sanatorium where psychologist Carolyn Fern is searching for the cause of a patient's terrible nightmares that leave her both mentally and physically scarred. With detailed, full-color inserts of Dr. Fern's case notes, readers take on the role of investigator themselves to find a way to help the young patient before the terrors of her dreams infect the waking world. The mind is powerful tool, but knowledge is dangerous.

In addition to a hardcover copy of the novella, To Fight the Black Wind includes four exclusive cards to add Carolyn Fern as an investigator in Arkham Horror: The Card Game. These cards allow readers to build a deck for Carolyn Fern, complete with a signature asset and weakness, and mark her first appearance in the game. With these new implements to build your investigations in the Arkham Horror Files universe, you are prepared to defend your patient and discover what it takes To Fight the Black Wind!
Dr. Fern is a psychologist with the Arkham Sanatorium. That right there should make you perk-up a bit. Why? Because in Arkham the "crazies" might be the only folks who can actually see what's really going on. One of her patient's is having terrible nightmares that are starting to creep into the real world. The mind's eye, the subconcious, and the dreamworld all collide in this novella. It's currently up for pre-order and if this book follows suit like the previous ones, it's going to be a quick seller.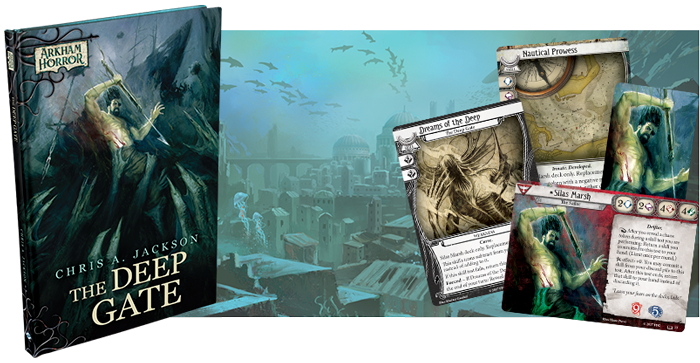 Discover what secrets have been drowned in Devil Reef in The Deep Gate! This Arkham Horror novella by Chris A. Jackson takes readers on a voyage up the Miskatonic River running through Arkham and the along the coasts of fear-shadowed Innsmouth where sailor Silas Marsh seeks answers about the nightmares that have plagued him since his parents' death. Including full-color inserts of the evidence that Silas has at his disposal, this thrilling novella invites readers to step into the role of investigators searching for answers alongside Silas. But be wary- each answer you uncover brings you closer to the dangers that lurk just beneath the waves.

In addition to a hardcover copy of the novella, The Deep Gate includes four exclusive cards for Arkham Horror: The Card Game which allow players to add Silas Marsh to their team of investigators, marking his first appearance in the game. These cards enable players to build a deck for Silas Marsh, complete with a signature asset and weakness. With these new implements to expand your investigations in the Arkham Horror Files universe, you are ready to set sail and confront the evils that arise from The Deep Gate!
If you've read the H.P. Lovecraft story "The Shadow Over Innsmouth" then the name 'Marsh' might be a tipoff about the history of the protagonist of this book. Silas Marsh has been a lifelong sailor on the seven seas. But he's been haunted by nightmares and he cannot ignore them any more. Something is calling him home, back to Innsmouth and he is looking for answers. Will the answers he seeks stop his nightmares or will they bring those nightmares to life? This book is also currently available for Pre-order.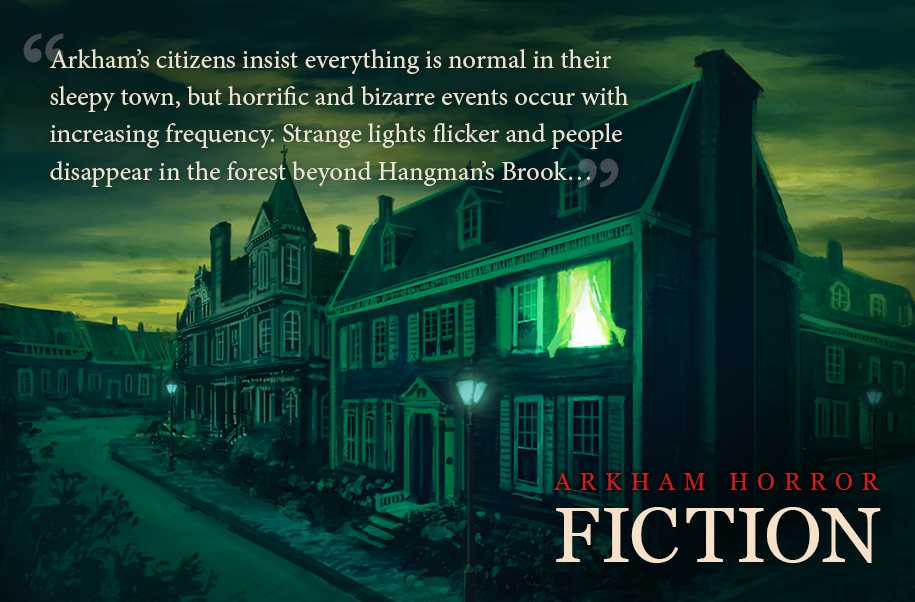 Fantasy Flight Games also has a few more books that are available if you're wanting some stories that have a bit more meat than a 100ish page Novella. You can check out the Dark Waters Trilogy (written by Graham McNeil) and the Lords of Nightmares Trilogy (written by both Alan Bligh and John French) HERE. There are also some stand alone novels as well.
Are you ready to take a step toward madness and learn it's dark secrets? Which Arkham Horror Files stories have you read?