Games Workshop's weekend pre-orders are available! Get ready for an invasion from all over with the Van Saars for Necromunda, Isharann Heroes for Idoneth Deepkin, and the Doom Lords for Blood Bowl!
via Games Workshop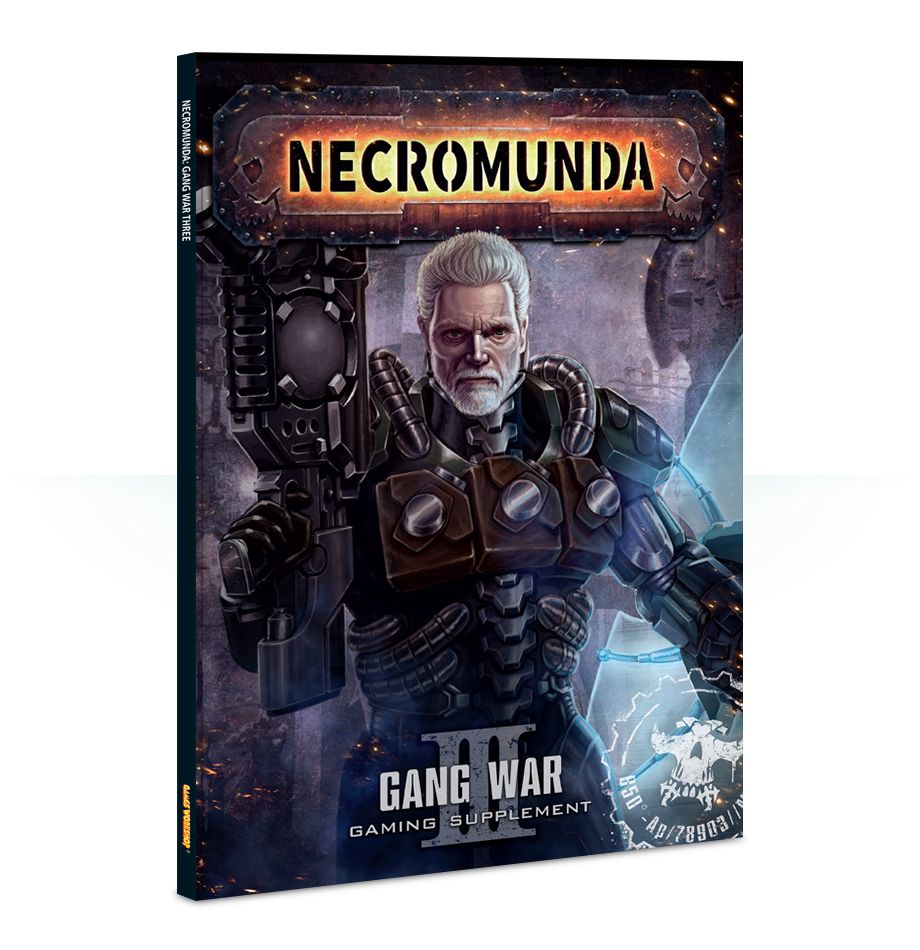 The rules included with the Necromunda: Underhive boxed game cover battles between Houses Escher and Goliath – these are not the only Houses vying for supremacy of the underhives. Necromunda: Gang War 3 introduces House Van Saar; the technological powerhouse of Necromunda, creators of the finest weapons and armour of all Houses, whose power is built around a dark secret. Along with this, the book introduces Brutes – a new type of hanger-on – and rules for expanding the role of the Arbitrator in your games of Turf War.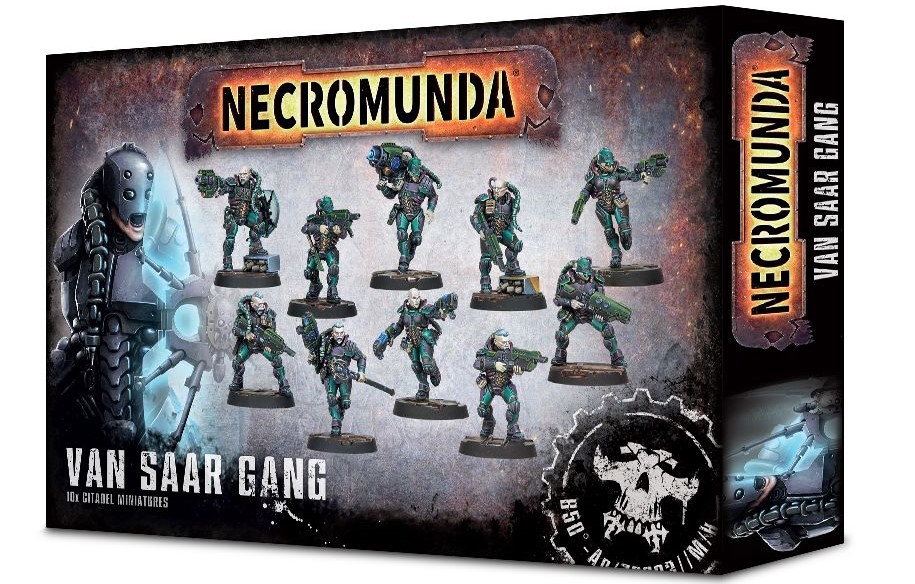 House Van Saar is the technological powerhouse of Necromunda, its artisans and armourers creating the finest weapons and wargear of all the clans. Their staggering power, however, is built around a dark secret – flaws in their understanding of technology that bathe them in radiation and slowly kill them from within.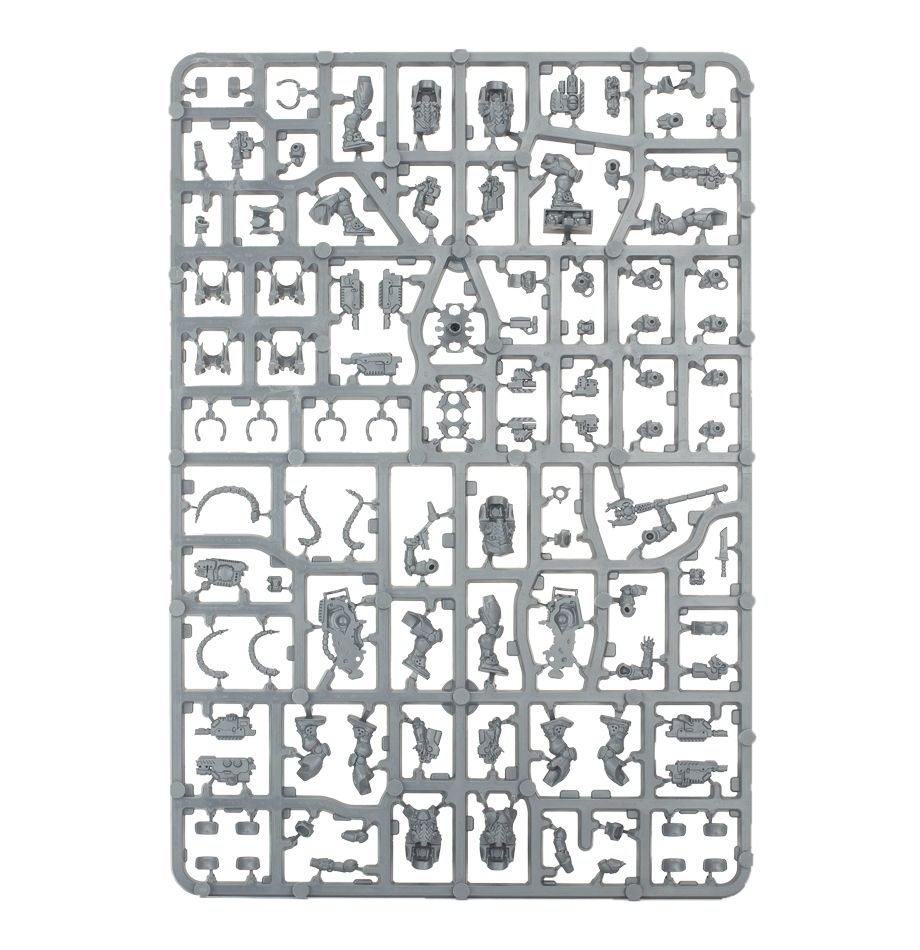 Assemble a Van Saar gang to use in games of Necromunda: Underhive with this set of 10 plastic miniatures. They've been designed to provide you with a huge amount of variety and options in assembly, meaning every gang can be unique. Included:
– 2 each of 5 body designs, each wearing armoured bodygloves, which can be assembled in 2 recommended ways:
– Body 1 can be armed with a lasgun and power knife, or a suppression laser
– Body 2 can be armed with a plasma gun and shock stave, or a rad cannon;
– Body 3 can be armed with a lascarbine or a lasgun
– Body 4 can be armed with a combi weapon (lasgun/melta) and Hrystrar pattern energy shield, or a lasgun
– Body 5 can be armed with 2 plasma pistols, or 2 laspistols;
– 20 heads – 12 bare, 8 helmeted – which can be attached to any body you wish;
– 10 pairs of shoulder pads;
– A selection of grenades, pouches and equipment for adding detail to the miniatures.
Supplied with 10 25mm Round bases, which feature sculpted textures that match the game board's aesthetic.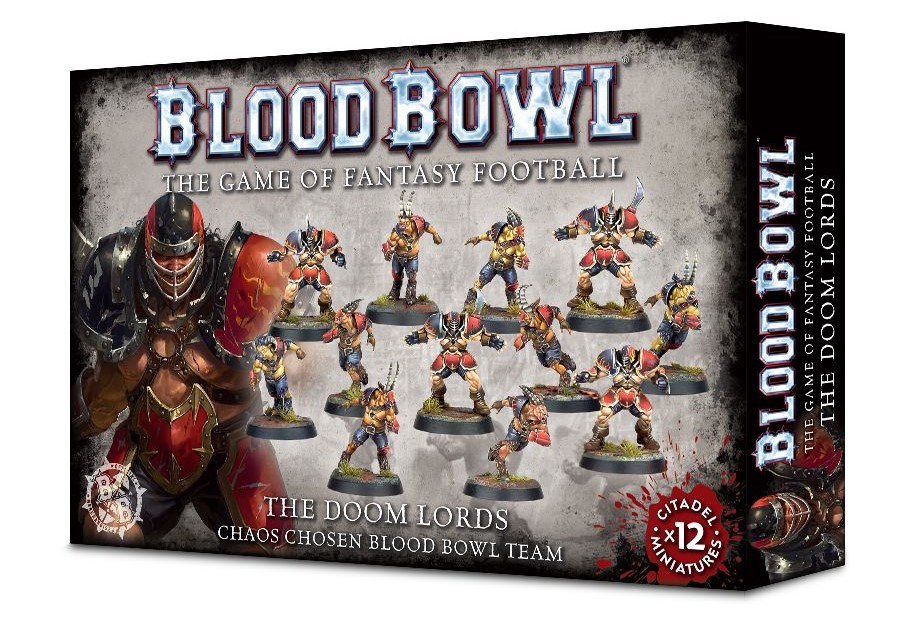 The exact identity of the owner of the Doom Lords is unknown – he is referred to commonly as 'The Overfiend'. When establishing his team, the Overfiend cut no corners. He hired the best coach money could buy and equipped him with the best assistants, entered into numerous dark pacts with various daemonic entities and searched long and hard for the best players who could be coerced into joining him. Those who refused soon learned that the Overfiend has a very literal interpretation of the term 'headhunting'…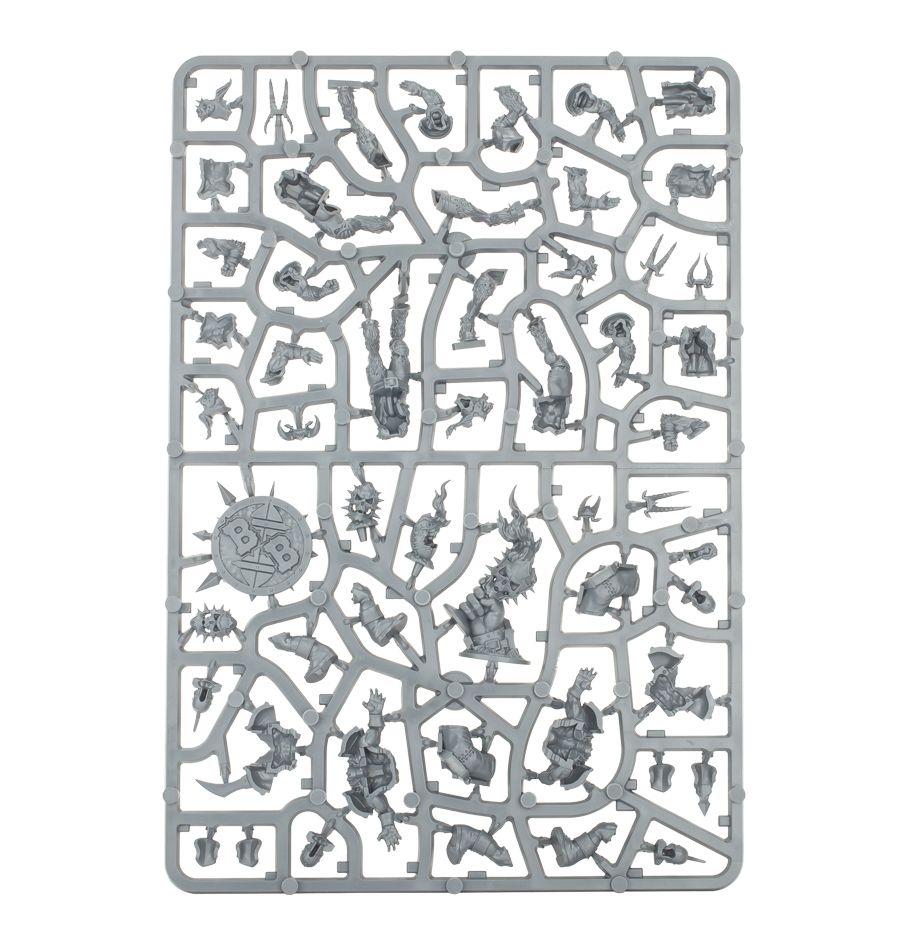 This multi-part plastic kit contains the components needed to assemble The Doom Lords, a Chaos Chosen Blood Bowl team. The team consists of 4 Chaos Blockers and 8 Beastmen – each Beastman's head is interchangeable, meaning your team can represent a unique fielding of horned aberrations! The Blockers' heads are interchangeable amongst themselves, too.
There are a host of extras in the kit – 2 turn markers, 2 double-sided score coins in the shape of Chaos stars and 6 balls – 2 each of a flaming ball, a skull ball and another skull ball, these lacking pegs. Supplied with 12 32mm Blood Bowl bases, a 1,000,000 GP roster and an Chaos transfer sheet.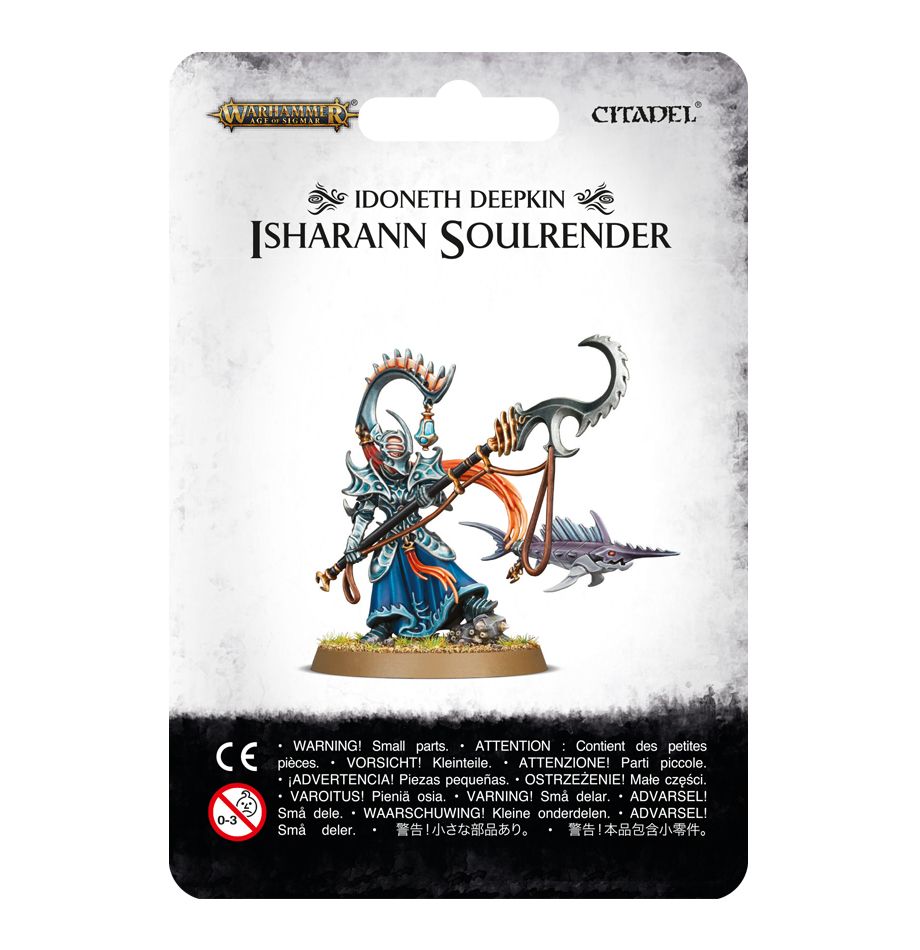 The Soulrenders are unusual amongst the Isharann, for they are trained alongside the Akhelians, and are well accustomed to acting at the forefront of battle. Upon each Soulrender's helm dangles a lurelight, its strange glow attracting and absorbing souls. Armed with a hooked polearm known as a talúnhook, Soulrenders fight alongside the Namarti, replenishing their subordinates' ranks even as they reap spirit-stuff. A rope-catch attached to the talúnhook is ideal for snaring foes that attempt to flee, and each Soulrender employs a Rakerdart, a bond-beast that glides at its master's feet, ready to stab prey with its sharp bill to ensure none can escape.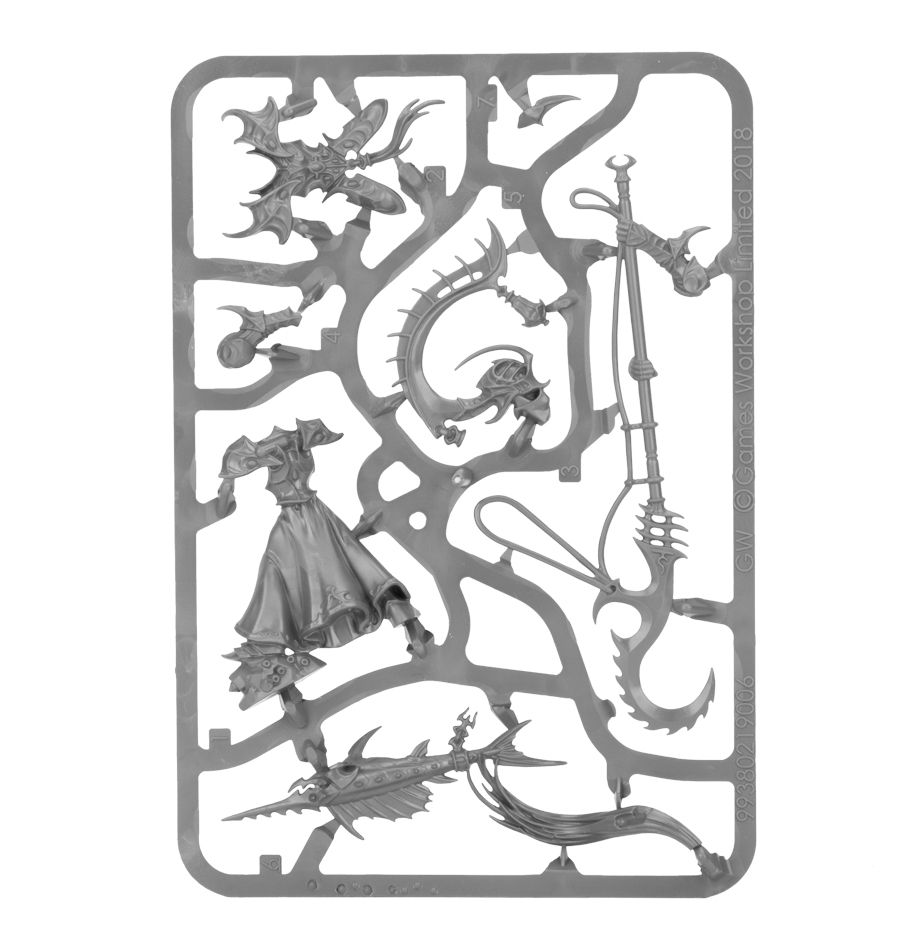 This multi-part plastic kit contains the components necessary to assemble an Isharann Soulrender. Far more heavily armoured than the Namarti he fights alongside, this model is clad in thick metal plate, with enormous shoulder pads in the shape of nets giving the model a particularly aggressive silhouette. The lower half is covered by a large robe featuring embroidered waves, from under which his heavy boots peek – his left foot is standing on a barnacle-encrusted rock, which decorates the base. His helmet is a standout feature – partially closed, a large metal structure looms out and over the top of his head, ending with the lurelight he uses to attract the soulstuff that fuels his kin. His talúnhook is massive – longer than he is tall – and ends in a wicked serrated blade, curving into an evil-looking hook, with its rope-catch dangling beneath. The Rakerdart that accompanies him is clearly a creature accustomed to combat, with plates running the length of its body and a large spike providing offensive weaponry.
This kit comes as 7 components, and is supplied with a Citadel 32mm Round base.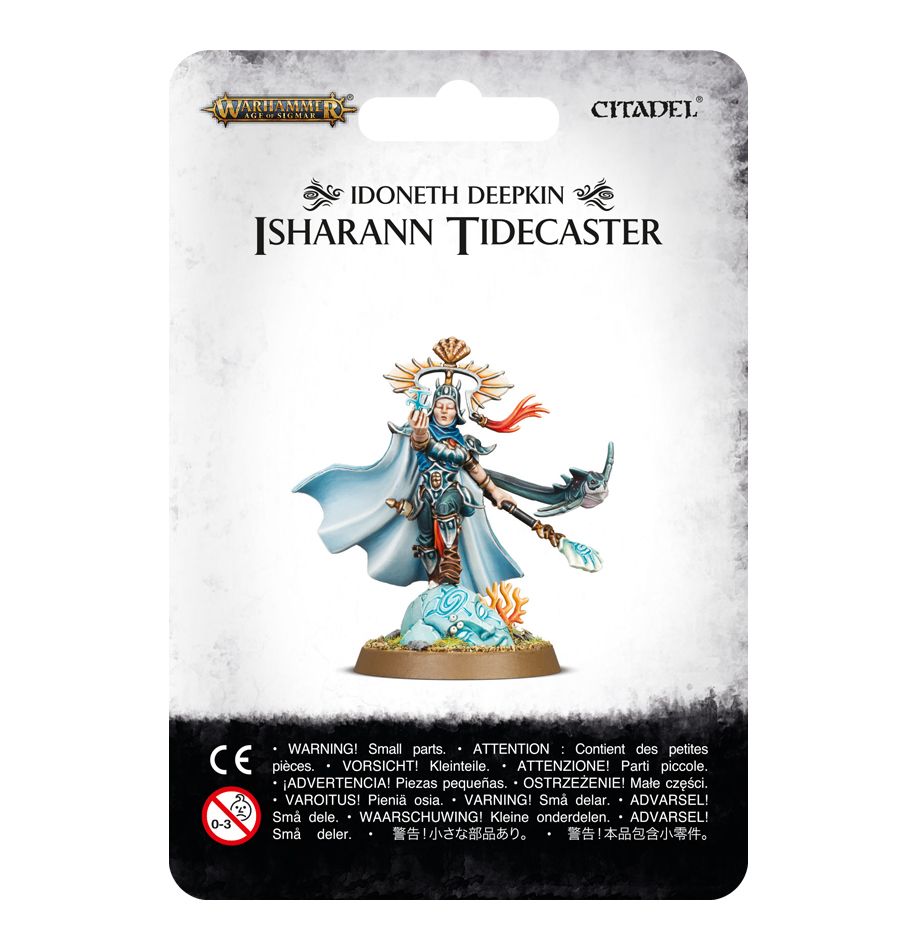 It is the Tidecasters who conjure the phantasmal sea that allows aelf and aquatic beast to move and breathe as if they were in their own natural environment. They are able to conjure spells from the repressed anguish of the Idoneth, the curse that echoes still from their ancestors' torture within Slaanesh. Such magics take the form of crushing waves of despair, black pits of hopelessness or raging maelstroms of horror that shatter the minds of the foe, leaving them open to attacks from the Namarti and Akhelians. So potent are these enchantments that some victims believe themselves to be trapped underwater, causing them to drown in their own fear and sorrow.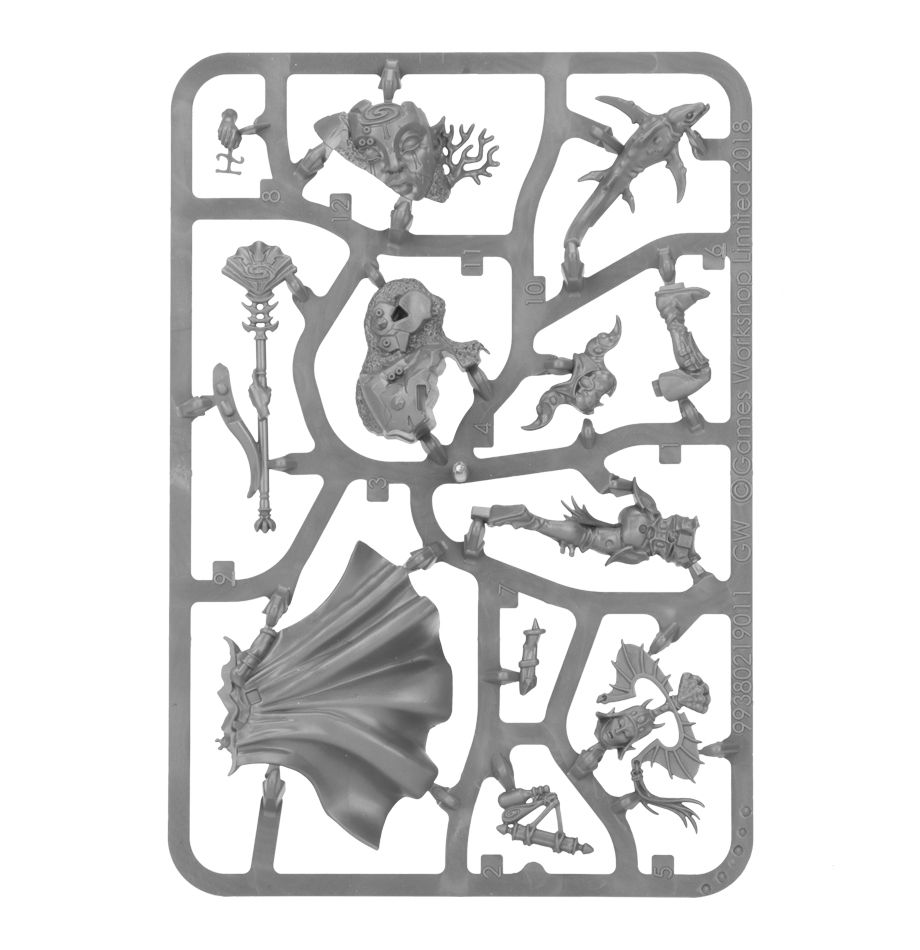 This multi-part plastic kit contains the components necessary to assemble an Isharann Tidecaster. Standing atop a large, fallen aelven ruin (the head of a statue, featuring a carved ruin on the forehead), she is posed very much in the manner of a wizard summoning something dark – her eyes are closed, and she clutches a rune in her right hand (the aelven rune for water in fact, an indication of the phantasmal seas she controls). She is clad in metal plate armour, with spiked shoulder pads holding the large cloak that billows behind her. Above her head is a finned crest attached to her helmet, with a shell at the centre. Denoting her wizardly status further is a scroll case and a set of potion bottles that hang from her hip. She is armed with a pelagic staff, and is accompanied a spirit guardian which swims around her, keeping her from harm.
This kit comes as 12 components, and is supplied with a Citadel 32mm Round base.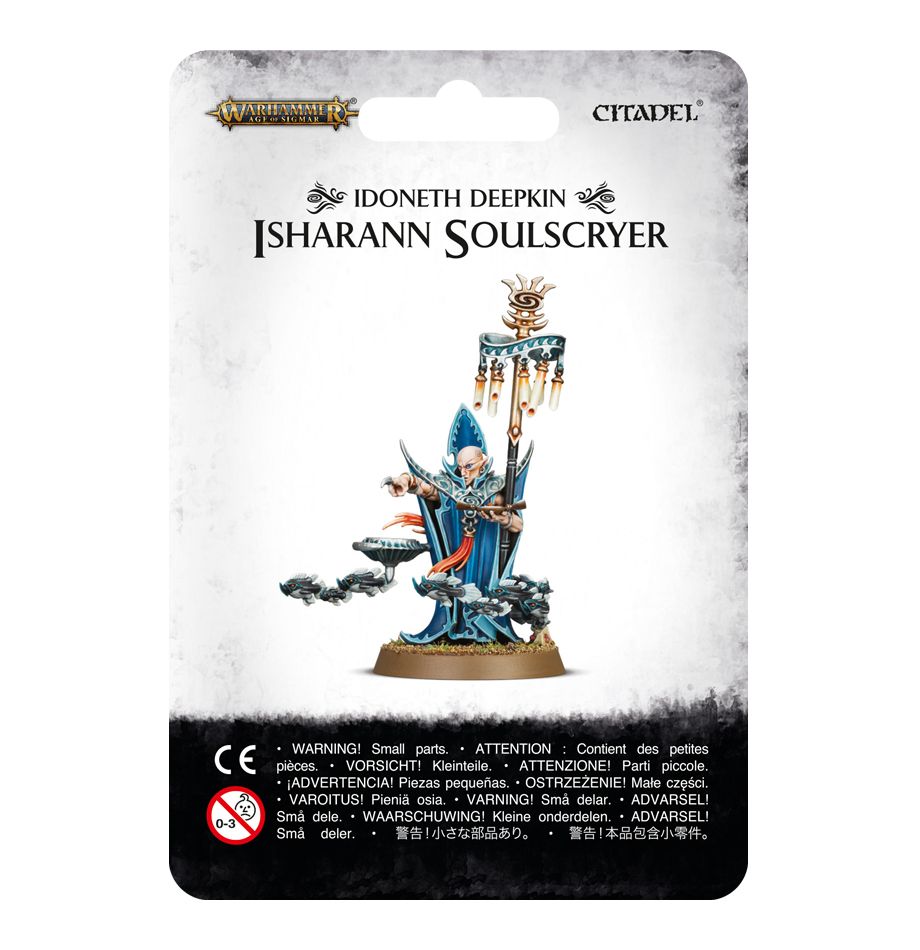 With their cyfar compasses and dowserchimes, the Soulscryers can map the dark corners of a being's soul as well as those of the mortal realms, marking them out as navigators and priests among the Idoneth. Whether their quest leads towards spirit-plunder or along new paths of the whirlways, the Soulscryers divine the way. In addition, the Soulscryers can single out a battlefield's richest quarry, illuminating them as a prime target. In combat, they arm themselves with finger-claws made from razor-sharp Allopex teeth. They are also accompanied by Scryfish shoals, etherfish that help point the way and vigorously attack foes with the spikes jutting from their jaws.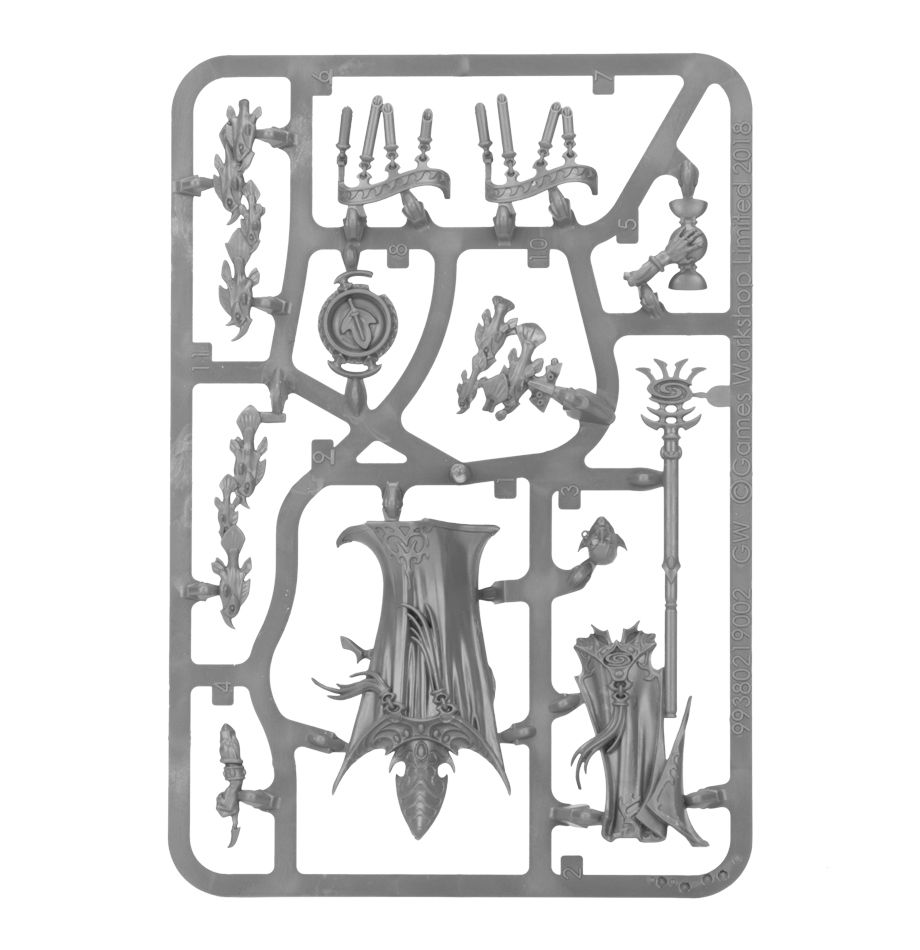 This multi-part plastic kit contains the components necessary to assemble an Isharann Soulscryer. Clad in ornate robes, with a large collar and headpiece that make his priestly origins and role clear, he is a purposeful-looking miniature. His robes are held together by a large set of metal shoulder pads, which also protect his back, curving up into 2 points covered in carved Idoneth symbols. His head is shaved and his ears pierced – adding to the personal decorations are bands of metal on his arms. With him he carries a cyfar compass, a large bowl-shaped item attached to his cloak, and his dowerchimes; these hang from a large pole held in his left arm, and extend far above him, ending in an ornate Idoneth rune. 9 Scryfish swarm around his legs, following the direction his clawed right hand points.
This kit comes as 11 components, and is supplied with a Citadel 32mm Round base.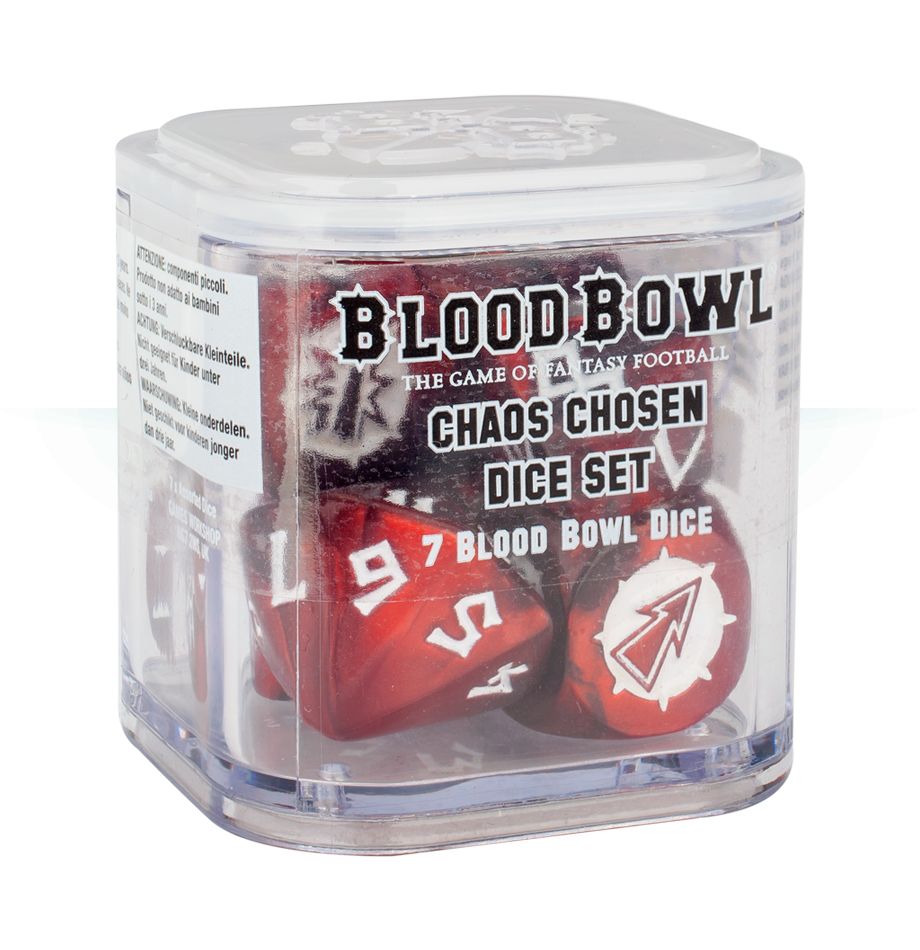 The perfect companion to your Chaos Chosen Blood Bowl team, this set of handsome dice in red with black swirls, featuring white dots (with a Chaos Chosen symbol in place of the 6) includes:
3 Blood Bowl Block dice
2 6-sided dice
1 8-sided die
1 16-sided die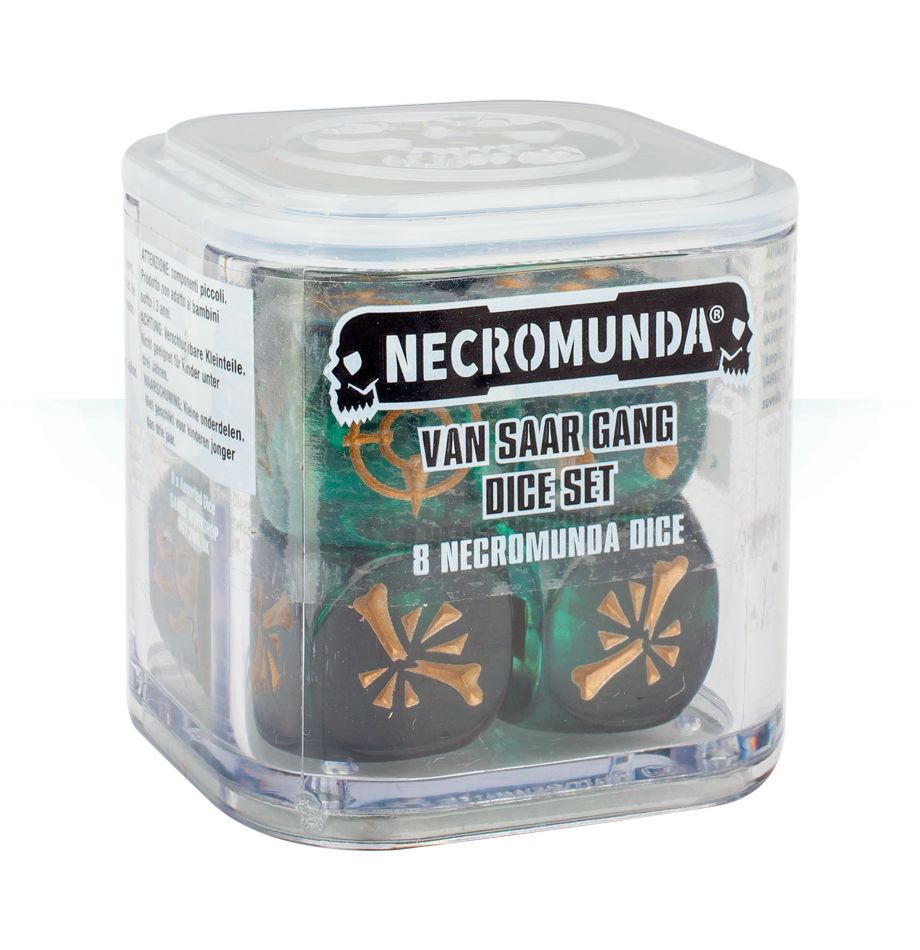 Designed to match the Van Saar Gang from Necromunda: Underhive, this set of 8 16mm dice are coloured in a clear green/blue, with bronze numbers and icons. The set includes all the dice you need to play Necromunda:
– 3 D6, featuring the Van Saar House's crest on the 6;
– 2 Necromunda Ammo Dice, with ammo check marker;
– 2 Necromunda Injury Dice, with results ranging from light injury, flesh wound and death;
– 1 Necromunda Scatter Die.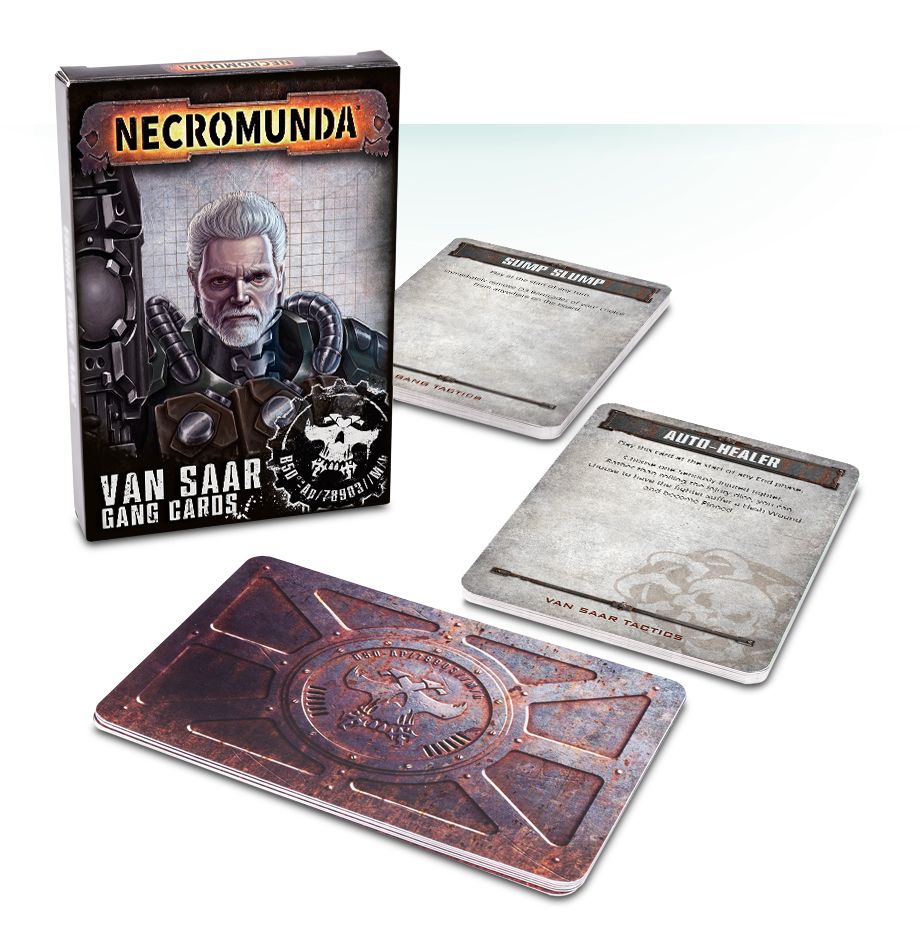 Necromunda: Underhive contains a number of Tactics cards, which can be used to represent the myriad tricks and schemes employed by the gangs. Expand your games of Necromunda: Underhive – whichever gang you play – with this set of 26 extra cards. Included:
– 12 Van Saar Tactics cards, which are for the exclusive use of the Van Saar gang;
– 8 Gang Tactics cards, which can be used by any gang in Necromunda: Underhive;
– 6 blank Fighter cards – perfect for the Champions and Leaders in your gang deck, these have been stamped with the House Van Saar crest.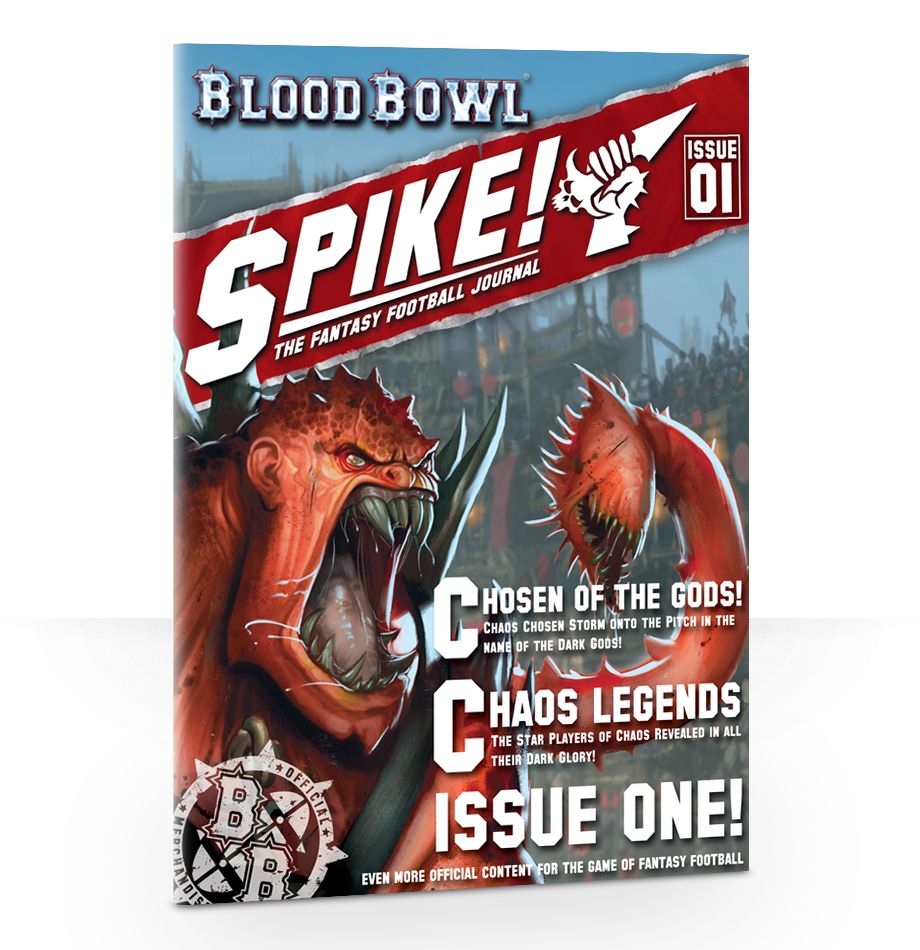 Guest edited by the Head Coach of the Nordland Raiders, Johan T. Mad, this is the very first issue of Spike! Journal. Covering the Chaos Chosen, with a veritable host of brand-new content for Blood Bowl, this is sure to be a must-have for every player – not just Chaos. Contained in the 36-page magazine:
– The Chosen of Chaos!: detail and background on one of the most violent and entertaining teams to ever grace the pitch – the Chaos Chosen. Includes descriptions of their player roles, some of the most notorious teams, a team roster and 10 (count 'em!) Star Players;
– Magical Moments – rules for adding wizards to any Blood Bowl team, includes using wizards as inducements, available for purchase during the pre-game sequence of league play and Exhibition Matches, along with costs and abilities for Chaos Sorcerers and Hireling Sports-Wizards. Also included are rules for frogs – wizards are more than capable of turning your players into one…;
– An in-depth profile of Lord Borak the Despoiler, considered the greatest player to ever take to the pitch in the service of the Dark Gods – including his in-game cost, stats and skills, should you be brave enough to retain his services;
– Star Player Spotlight: Gobbler Grimlich – a profile of this mutant toad who can play for Chaos Chosen, Chaos Renegades, and Underworld Denizens teams, including his in-game cost, stats and skills;
– Star Player Spotlight: Scylla Anfingrimm, Champion of Khorne – a profile of the favoured of Khorne who can play for Chaos Chosen and Norse teams, including his in-game cost, stats and skills;
– Star Player Spotlight: Grashnak Blackhoof – a profile of the great black bull who can play for Chaos, Chaos Dwarf and Nurgle teams, including his in-game cost, stats and skills;
– An introduction to coaching Chaos Chosen, penned by infamous Sports Mortician Paulus von Geggster – providing vital hints and tips to set you on the road to glory, this walks you through tactics and setups, with advice on advancing your team as you progress through the leagues;
– Ace Skaven reporter Hackspit Quillchewer chats with famed sports arcanist Rudy Chitterlings about the strained relationship between the Chaos gods and blessed Nuffle;
– Mighty Blow!: Tales of sporting glory from the career of all-time star player Bob Bifford, presented as an all-new comic strip drawn by the legendary Blood Bowl illustrator Pete Knifton, and written by official Spike! Journal sports-scribe Nick Kyme.