GW: New Pre-Orders For The Deepkin's Wave One "Pricing & Links"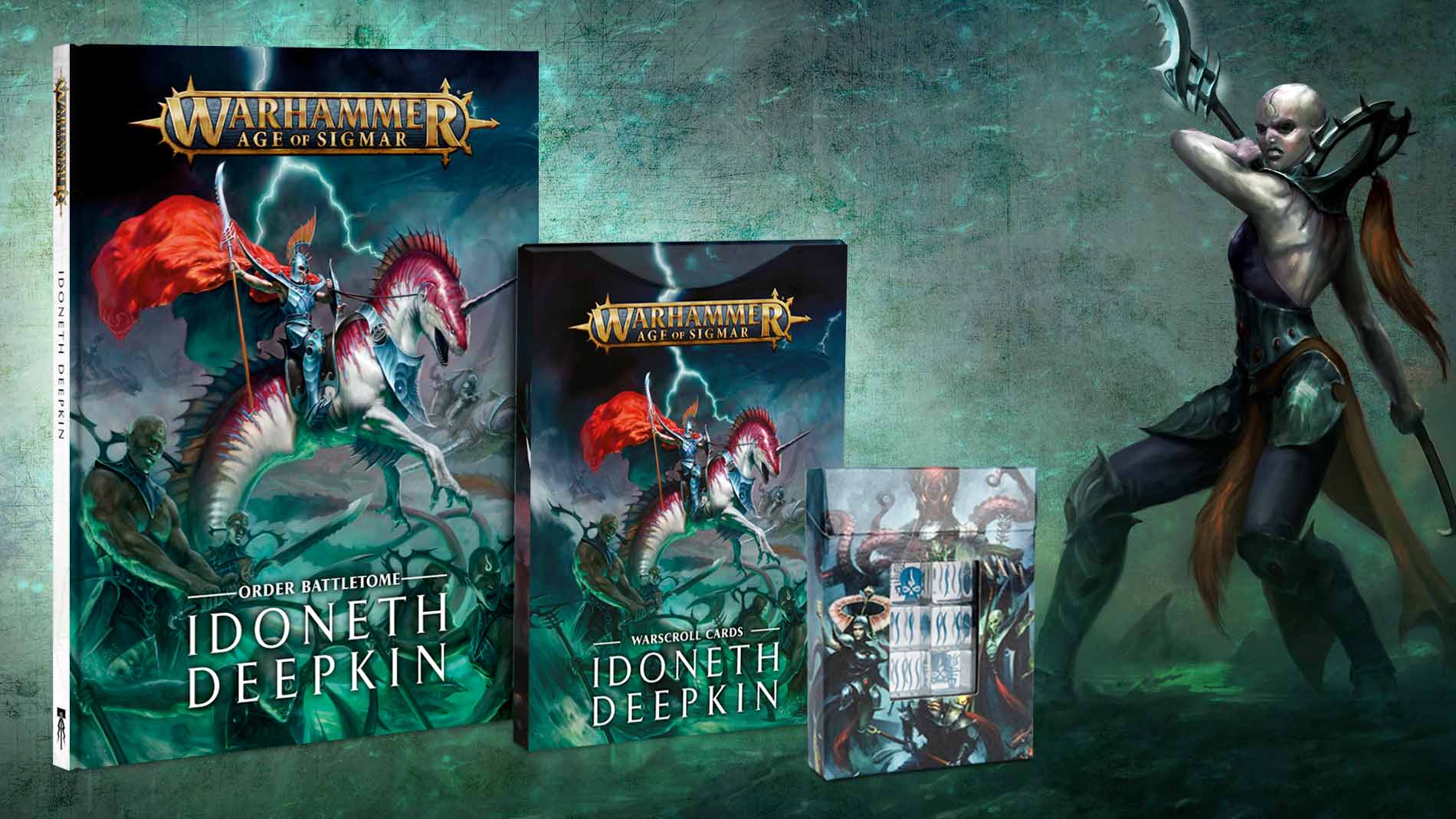 The Idoneth Deepkin Pre-Orders are now live – come take a look at the first wave making a splash right now!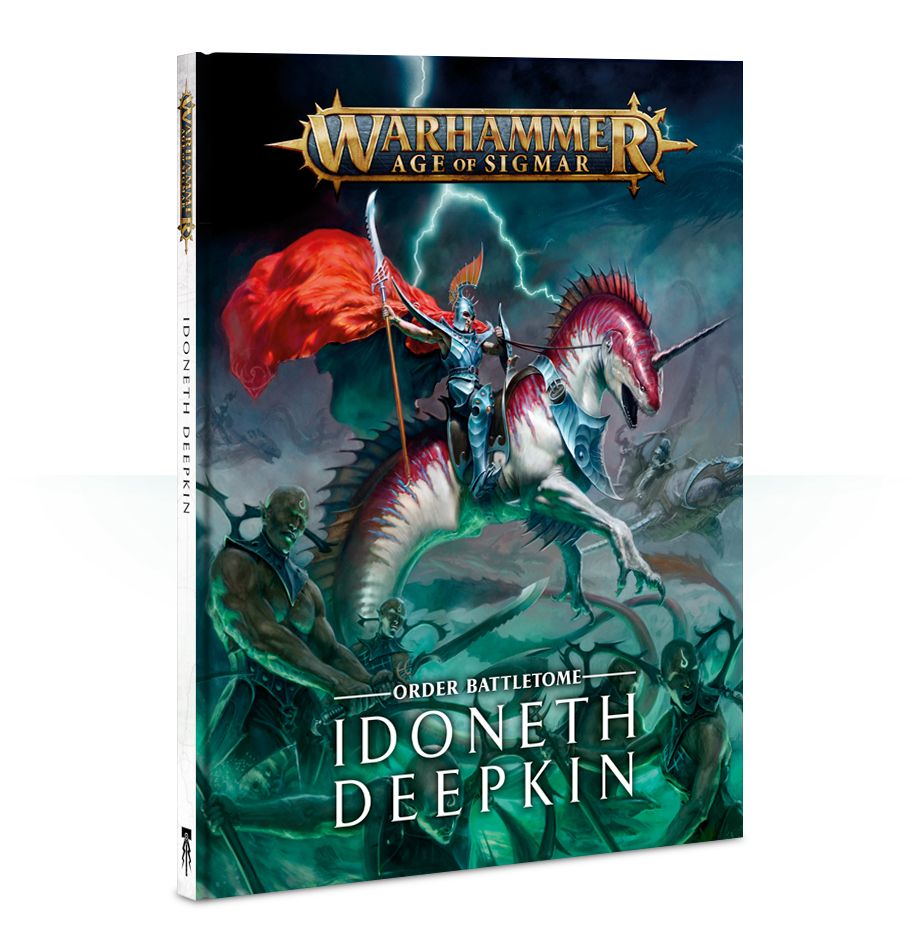 From out of blackness they come, emerging from the depths of the realms' seas upon a surging tide of magic. These merciless raiders do not seek merely to slaughter or enslave, however, for they are the Idoneth Deepkin – they have come to take their victims' very souls. They bring with them the magic of their kingdoms, an ethersea of roiling currents and crushing pressures. In their passing, the Idoneth leave ruin, death and sleepers that will never awaken – victims whose souls have been stolen. Retreating beneath the waves, the Idoneth return to the utter isolation of the depths.
In the 136-page hardback Battletome: Idoneth Deepkin, you'll find:
– A Strange Genesis: the origins of the Idoneth Deepkin, the aelven raiders who lurk in the deepest oceans, avoiding the predations of Slaanesh and the dismal fate that hangs over their entire race;
– The Great Emptiness: the story of the manner in which Idoneth Deepkin scrabble for survival – their offspring mostly born soulless, they raid above land to steal souls and keep themselves from extinction;
– The Deep Places: the secluded strongholds amongst the fathomless depths which the Idoneth Deepkin call home, and the expansion of their submerged cities;
– The Idoneth Deepkin At War: how this race fights, and the signs that their armies are about to rise, along with descriptions of their bond-beasts;
– Underwater Empires: a timeline of significant events and battles in their history, from the Age of Myth to the Age of Sigmar – and the stirring of Slaanesh;
– Descriptions of the Idoneth Enclaves, with an overview of their caste system and in-depth details of their military structure;
– A guide to the Whirlways, realmgate routes from which the Idoneth Deepkin launch their raids;
– Explanation and background of each character and unit available to an Idoneth Deepkin army;
– A showcase of beautifully-painted Citadel miniatures, with an example army and comprehensive painting advice from the experts, including stage by stage examples of painting skin, blades, sea detritus and creatures, scales, and helmet crests. Along with this are colour schemes and guides to painting 6 named Enclaves: Ionrach, Dhom-Hain, Fuethán, Mor'phann, Nautilar, and Briomdar.
Rules
All the rules you need in order to get your Idoneth Deepkin army ready for the gaming table are here:
– 14 Warscrolls, covering every miniature in the Idoneth Deepkin faction, including a Warscroll for the Gloomtide Shipwreck scenery piece;
– Allegiance Abilities representing the Idoneth Deepkin's methods of war – including Command Traits, a Tides of Death table which introduces new abilities in each round, and 4 different types of Artefacts of Power;
– Lore of the Deeps: a selection of spells usable by Idoneth Deepkin wizards;
– Abilities, Warscroll Battalion rules, magic and Command Traits for the following 6 Enclaves: Ionrach, Dhom-Hain, Fuethán, Mor'phann, Nautilar, and Briomdar;
– 3 Battleplans , including objectives for both sides, deployment map, special rules and victory conditions;
– Idoneth Deepkin tactics: advice on advanced tactics that suit this army's play style;
– Rules for creating an Idoneth Deepkin warband to use in a Path to Glory campaign, including a Followers Rewards Table, a Champion Rewards Table and a Path to Glory Battleplan;
– 6 Warscroll Battalions conferring advantages for fielding certain combinations of models;
– Pitched Battle Profiles for all units featured in this Battletome, including unit sizes, points values and battlefield roles.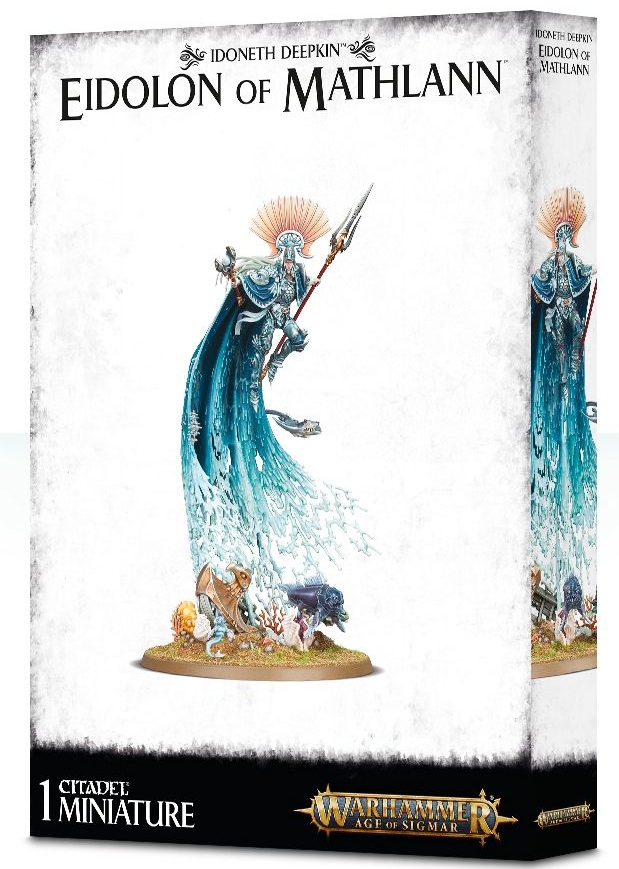 Aspect of the Storm or Aspect of the Sea
Idolised echoes of a bygone era, the Eidolons of Mathlann are summoned to life in times of dire need. These are no divine avatars, however, but collective manifestations of the ancestral souls of the Idoneth Deepkin, spirits of vengeance wrapped in the image of a lost aelven god. Eidolons are formed from the combined energies of the souls that can be roused from an enclave's chorrileum – a living coral reef, storing the essence of expired Idoneth. When an Eidolon is summoned in the aspect of the storm, it appears swelling like a tidal wave before crashing into the foe. Here is the power of the sea as destroyer, anger pent up so long its release is unstoppable.
This multi-part plastic kit contains the components necessary to assemble an Eidolon of Mathlann, in his form as an Aspect of the Storm. He comes armed with a fuathar – a spear of repressed fury – and a crulhook; the former is a long, barbed spear held in the Eidolon's left hand, while the latter is a set of serrated blades attached to his right arm by a strong chain. His armour resembles a set of scales, topped of by a closed-face helm and enormous crest which resembles a spiked net. The most striking feature of both Eidolon models which can be built from this kit is definitely the cloak – representing the unimaginable power of the seas, it is styled as a cascading torrent of ocean water. There are plenty of detailed basing options included, with corals, sea creatures and other detritus from beneath the waves included – you'll have a lot of spares left over to decorate other Idoneth miniatures. As well as this, an ethereal Stormshoal fights alongside the Eidolonn.
Subscribe to our newsletter!
Get Tabletop, RPG & Pop Culture news delivered directly to your inbox.
This kit comes as 51 components, and is supplied with a Citadel 100mm Round base. This kit can alternatively be used to assemble an Eidolon of Mathlan – Aspect of the Sea.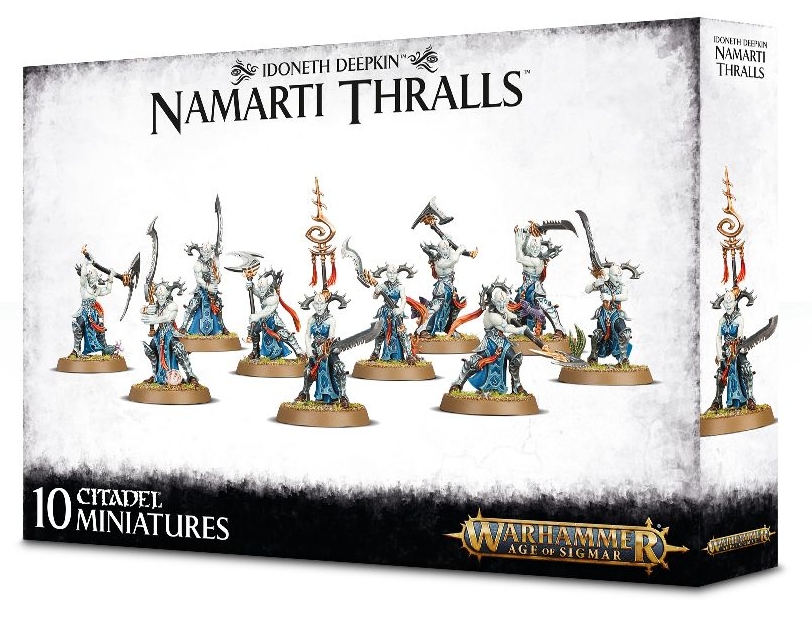 Like all aelves, Namarti Thralls possess a physical grace that to other races appears supernatural. The Thralls march to war for the Idoneth as the main body of their infantry, and it is their task to engage and hold the enemy in place. In battle the Namarti fight with an array of weapons known as lanmari – two-handed swords, great scythe-axes or pole-axes of intricate design. The weight and reach of such weapons are useful when driving off the enormous sea creatures that bedevil the Idoneth enclaves, while their broad blades are suited to scything through the teeming swarms of predatory fish that seek to prey upon the aelves.
This multi-part plastic kit contains the components necessary to assemble 10 Namarti Thralls. Clad in less-ornate armour than their commanders and superiors, as befits their withering souls and disposable nature, they still cut impressive figures – each is powerful and muscular. There are 11 heads in the kit, which can be placed on whichever models you wish; each is hairless and blind, with blank, empty sockets where eyes should be. 10 elaborate neck crests are included, which curve upward and behind their heads, giving the impression of spiked horns. There's plenty of choice in their weapons – each wields a two-handed lanmari, as follows: 4 can take a choice of glaive or sword, 3 have a choice of axe or sword, 2 carry swords and 1 carries an axe. There is an option for an icon bearer – they have a specific head, and a large mathlann slave rune which forms part of their neck crest. As an added bit of detail the kit comes with 6 pieces of scenery and fish for the bases, which can be added to any model you like..
This kit comes as 90 components, and is supplied with 10 Citadel 32mm Round bases.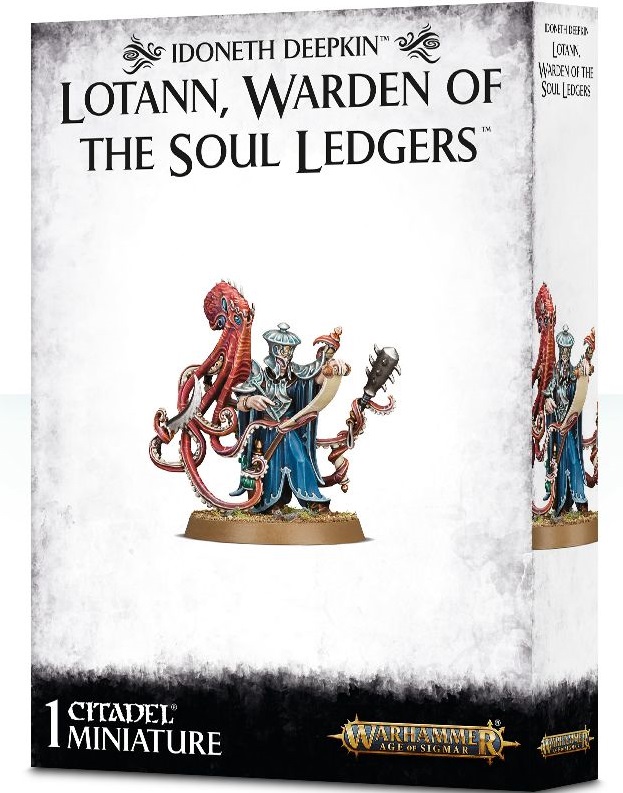 Gifted with the spirit-sight and keen analytical minds, the Soul Wardens keep a tally of interred souls, tending to them and calculating how many are needed for certain tasks. Ordinarily they do not accompany the phalanxes to war, but there is one exception – Lotann of the Ionrach. Such is Lotann's obsessive commitment to his duty, his willpower stains the ethersea, a presence that inspires the Idoneth to fight with heightened zeal. His highly intelligent multi-limbed Ochtar familiar aids him in his task of scribing his catalogue of souls, by keeping aggressors at bay with a serrated blade and spiked cudgel.
This multi-part plastic kit contains the components necessary to assemble Lotann, Warden of the Soul Ledgers. Hardly concerned with the violence and melee going on all around him, Lotann is utterly absorbed in the Catalogue of Souls – an enormous parchment scroll clutched in his left hand, on which he tallies the Idoneth's captured souls. He uses a bone quill to do so – on occasion, he'll use this to stab an encroaching enemy, but for the most part his defense is left to his Ochtar familiar. This is a large, octopus-like creature which looms over Lotann's right shoulder, brandishing a cudgel, a serrated blade and even thoughtfully carrying a spare scroll, should the tally of souls grow too large to count.
Lotan, Warden of the Soul Ledgers comes as 8 components, and is supplied with a Citadel 40mm Round base.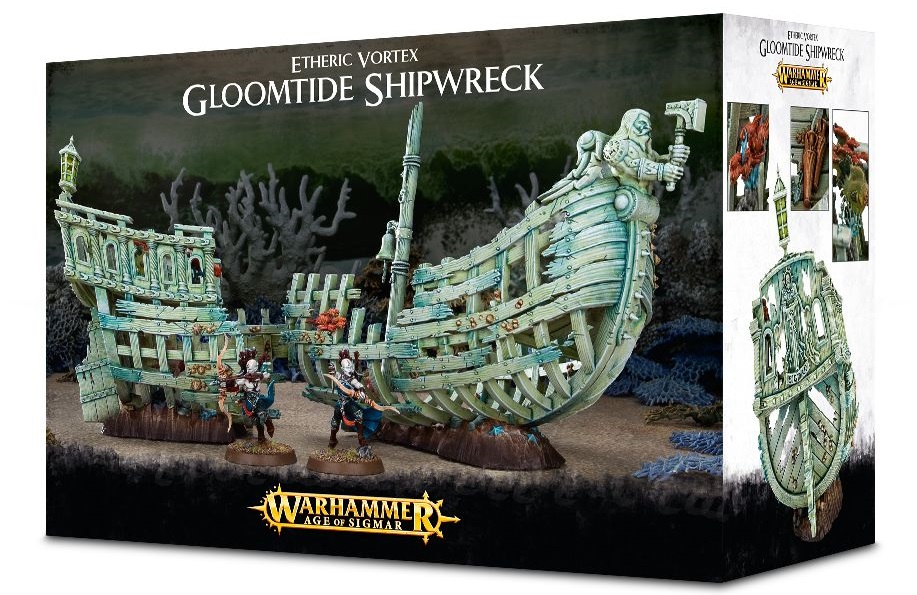 When the Idoneth Deepkin go to war, they bring their supernatural sea with them. Ethereal creatures, fish and corals flicker into existence, while features of the seabed manifest themselves eerily on the battlefield. Barnacle-encrusted shipwrecks become havens for aquatic creatures, and shoals of etherfish dart out to protect the Idoneth Deepkin or assail any foes who draw near.
This multi-part plastic kit contains the components necessary to assemble a Gloomtide Shipwreck. This is an Etheric Vortex scenery piece, which models with the Idoneth Deepkin allegiance have access to. The Shipwreck itself is a sea-dessicated hull, the skeleton of some long-forgotten vessel now home to barnacles, coral and creatures sympathetic to the Idoneth. The model is in 2 pieces, which can be placed separately on the battlefield, or together to form one wrecked hull – each section is encrusted with barnacles, littered with bones and trinkets, and feature ship details such as a broken sextant, a ruined rudder, a lantern and a ship's bell. Alluding to the wreck's former life, there are plenty of Sigmarite details, with a figurehead holding a hammer, a twin-tailed comet on the mast and a plaque at the rear. Also included are 6 shoals of sea creatures – these can be added to the wreck as you please, though make excellent additions to the base of any Idoneth Deepkin miniature.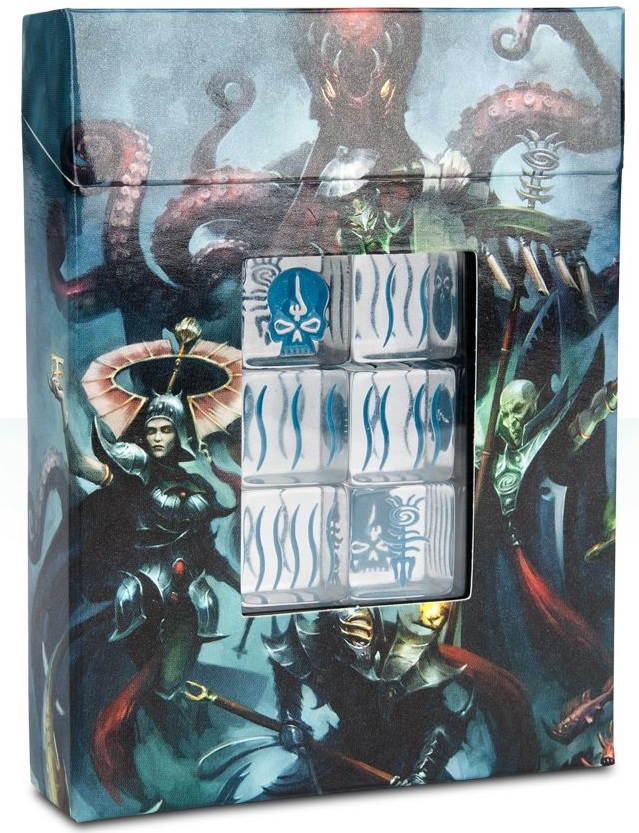 This is a set of 20 6-sided 16mm dice in a translucent blue representing the vastness and depth of the ocean from which the Idoneth Deepkin hail. Each features an Idoneth icon in place of the 6 and a skull in place of the 1, with waves on the faces in place of pips.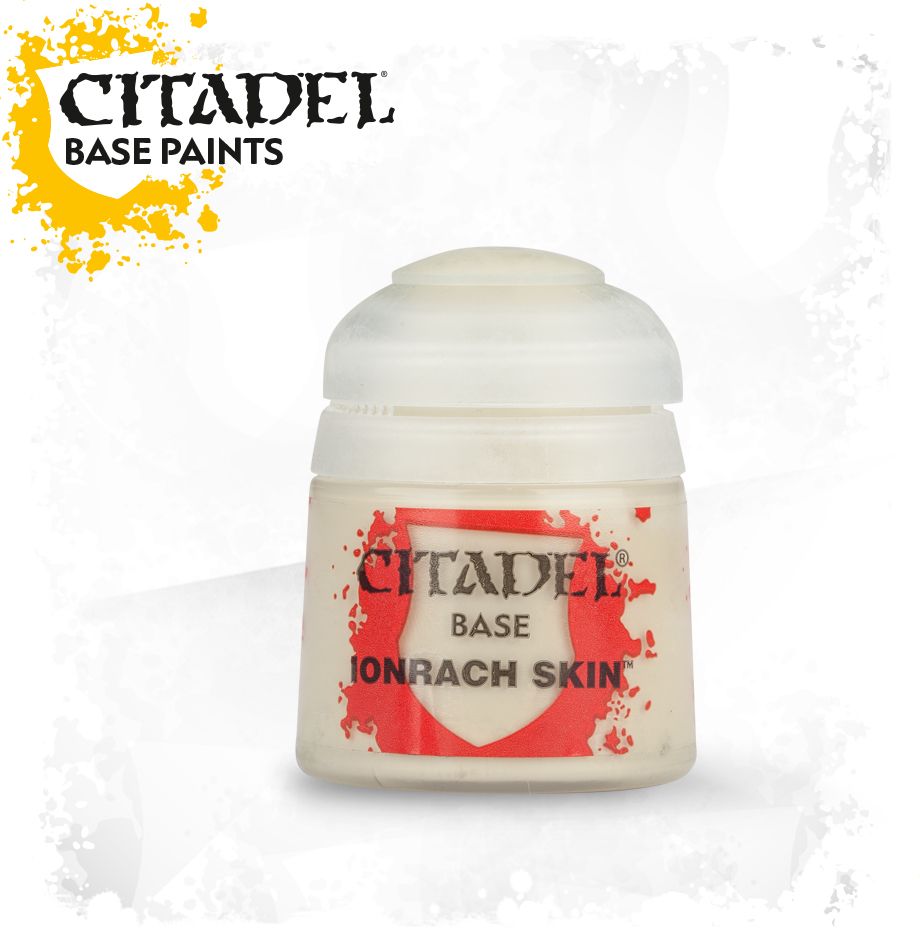 Citadel Base paints are high quality acrylic paints specially formulated for basecoating your Citadel miniatures quickly and easily. They are designed to give a smooth matte finish over black or white undercoats with a single layer.
All of our paints are non-toxic, water-based acrylic that are designed for use on plastic, metal, and resin Citadel miniatures. One pot contains 12ml of base paint.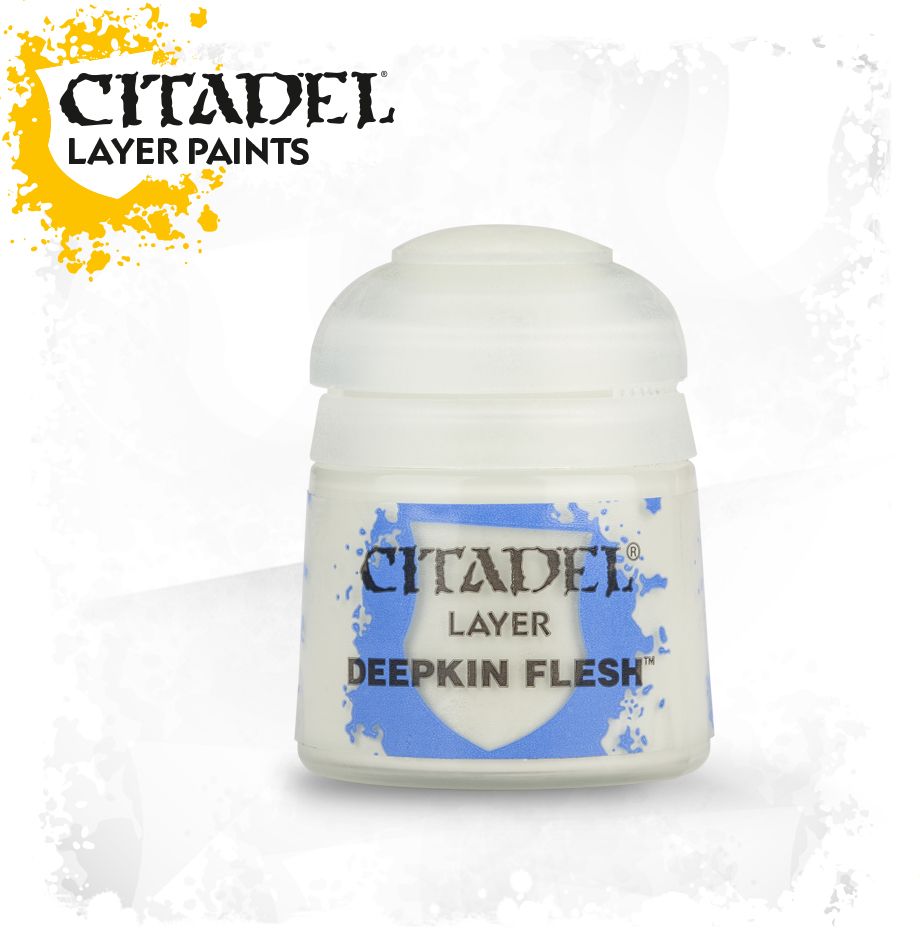 Citadel Layer paints are high quality acrylic paints that provide you with a huge range of colours and tones to choose from when you paint your miniatures. They are designed to be used straight over Citadel Base paints (and each other) without any mixing. By using several layers you can create a rich, natural finish on your models that looks fantastic on the battlefield.
All of our paints are non-toxic, water-based acrylic that are designed for use on plastic, metal, and resin Citadel miniatures. One pot contains 12ml of layer paint.
New Paints?! Oh and a bunch of new Deepkin stuff too?! It's going to be a good hobby weekend next week…