REVIEW: Kromlech Tabletop Scenics – Skargruk Line – Strongpoint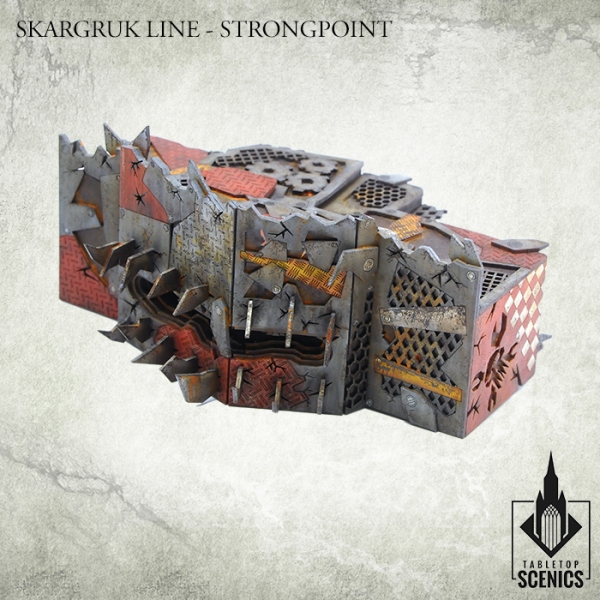 Kromlech Tabletop Scenics – Skargruk Line – Strongpoint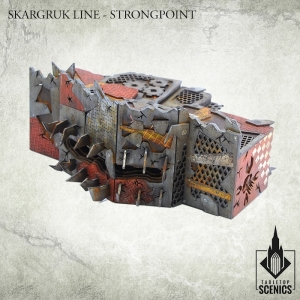 ---
My brother and I picked up three sets of Shadow Wars and I painted up all the terrain.  We ended up not playing as much as we liked so the terrain just sat for a while.  We decided to sell it and I used my portion to buy a load of terrain from Kromlech with their new line of Tabletop Scenic kits.  I've always wanted an Ork village table but never taken the time to build it.  This was a nice short cut to get things moving.
I wasn't too sure about it because my experience with HDF/MDH terrain has been hit or miss in the past.  However, based on my past experience with Kromlech and their high level of quality I decided to go ahead and take the plunge.  I've had some HDF/MDF terrain that were horrendously difficult to remove from the sheet.  This was cut amazingly well.  Each piece easily popped out and required minimal clean up; some light sanding to smooth out the edges and it was good to go.
As you can see above the level of detail is very impressive.  Each piece has rivets, diamond plate, grating, cracks, and panel outlines all burned into the HDF.  Another problem I've had with HDF/MDF pieces in the past is the seams where the panels join together are unsightly and ruin the aesthetic of the model.  With the Komlech Tabletop Scenic kits all the joins are covered in panels so you end up with a nice clean good looking model.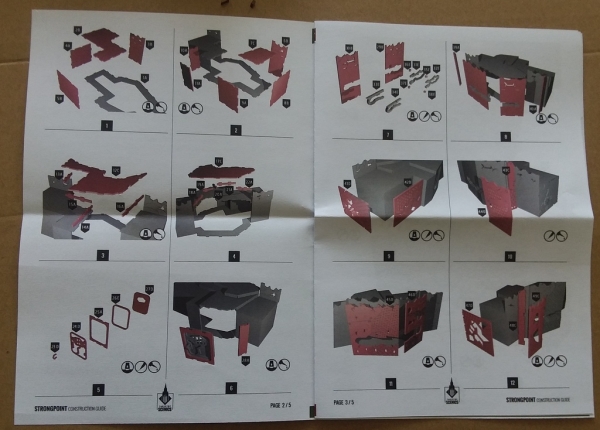 I was pretty impressed with the instructions as well.  They are clear and give you a step by step process to follow to assemble your building.  New parts for the step are marked in Red to make it easy to follow.  I did find one or two mistakes but they were very minor and easy to get past.  Since this initial build I have been making notes as I build them and sending the corrects to Kromlech.  Hopefully they can get the corrections in the next printing.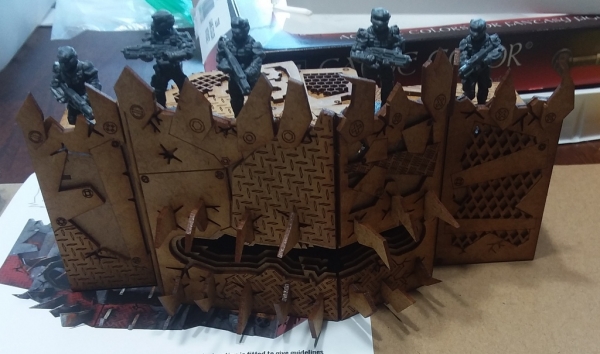 Here's my finished Skargruk Line – Strongpoint,  I am very happy with the purchase.  The multiple layers of HDF give the model depth and the details are fantastic.  It's a good size too; Dimensions: Height 7.5 cm Width 16.5 cm Depth 11.5 cm.  The models are there simply for scale.  Below are a couple of other pics to give you a sense of the detail and scale.
I especially like the doors.  They are made from several layers of HDF.  The stairs are a nice touch as well.  As you can see you could easily have a 10 man/ork unit standing up top or inside.  I've got several more ork structure from Kromlech to assemble and paint so there will be more articles in the near future.  Next up is the Dakka Bunker…
Subscribe to our newsletter!
Get Tabletop, RPG & Pop Culture news delivered directly to your inbox.