Tabletop Podcast Review: April 29th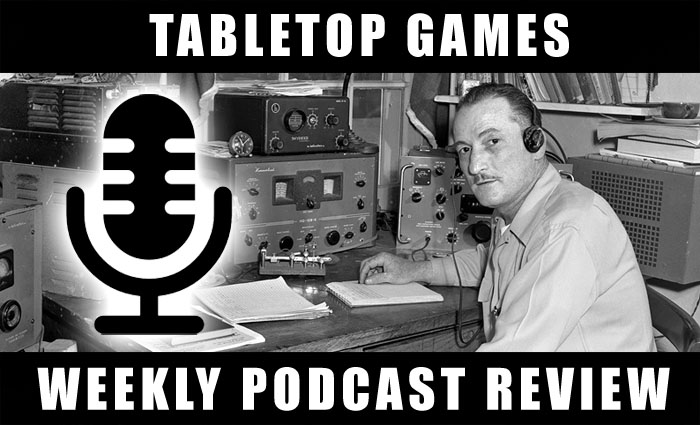 Adam here for another week of tabletop podcast reviews! We continue with FAQ reactions, abhumans & more!
Hey all, Adam here, from TFG Radio, for this week's reviews! Still a lot of talk about the 40K FAQ, two different views on the new Deepkin battletome, and more! So, let's get on with the reviews!
Masters of the Forge Episode 113 – This is part two of their look into the abhumans in the 40k universe. They also talk extensively about the squats in 40K and even go over a squat codex, written by Adam, and how you could use it for your games of 40K. Good listen, along with part 1, especially for discovering those races that we may not of thought as abhuman to begin with.
Facehammer Episode 53 – This episode the show takes a look at the competitiveness of the new Idoneth Deepkin battletome. They look at the units, stats and possible combos that could be created with the new book and how to build a competitive army. If you are looking to start this army, and don't know where to being,  then give this a listen.
Mortal Realms Episode 23 – On the flip side, if you're more interested in the story aspect of the army, then this is the episode for you. They concentrate on the fluff side and try to glean as much information as possible about the Deepkin world in this book. A good episode for the fluff bunnies out there.
Signals from the Frontline – Always a good listen for new and rumors on 40K. This week, especially, they discuss how Las Vegas Open went for them and talk about some of the issues that occurred.
Also Out This Week
Adeptus Terra Episode 44 (40K)
Age of Darkness Episode 74 (30K)
Age of the Hammer Episode 35 (AoS)
Battle Brothers of the GCWA Episode 9 (40K)
Battle Driven Season 3 Episode 3 (Warmachine)
Beast Coast Episode 2 (40K)
Subscribe to our newsletter!
Get Tabletop, RPG & Pop Culture news delivered directly to your inbox.
Best General Episode 25 (40K)
Caledonian Deathwatch Radio Episode 63 (40K)
Canhammer Episode 130 (40K)
Chain Attack Season 2 Episode 96 (Warmachine)
Chain Attack Season 2 Episode 97 (Warmachine)
Chapter Tactics Episode 63 (40K)
Combat Phase Episode 240 (AoS/40K)
Come the Apocalypse Episode 16 (40K)
Crippled Systems Episode 234 (Warmachine)
Dark Guidance Episode 37 (Warmachine)
Exterminatus Episode 35 (40K)
Fear the Swan Episode 4 (Warmachine)
Flying Monkeys Episode 25 (40K)
Forge the Narrative Episode 235 (40K)
Fully Boosted Episode 79 (Warmachine)
Honest Wargamer (AoS/40K)
Inches & Cubes Season 2 Episode 16 (40K)
Long War Episode 146 (40K)
Mayacast Episode 178 (Infinity)
Meta Episode 9 (Warmachine)
MoM Podcast Episode 340 (Warmachine)
Mynock Squadron Episode 116 (X-Wing)
ngc40K Episode 38 (40K)
Ohiohammer Episode 251 (KoW)
Ohiohammer Episode 252 (KoW)
Preferred Enemies Episode 172 (40K)
Pro Painted Episode 11 (AoS Hobby)
Radio Free Istvaan Episode 100 (30K)
Roll to Seize Episode 46 (40K)
Rolling Bad Episode 44 (AoS)
Signs & Portents Episode 9 (Warmachine)
Tactical Tips Episode 8 (Warmachine)
TDH60M Episode 106 (Warmachine)
Triumvirate Episode 7 (40K)
Veteran Gamers Reenlisted Episode 38  (40K)
Veteran Gamers Reenlisted Broadside Bash Day 2  (40K)
As always, check out our blog, at TFG Radio, and give the podcast a listen. We talk 40K mainly but delve into other game systems.  This week Adam, John, and Danny come together to talk about the big FAQ release. They go over some of the standouts of the FAQ, and talk about how it affects different armies, the meta, and new questions that have sprung up. Give it a listen!
Have a different opinion? Post in the comments below or email me at [email protected] and let me know!