Austin has a thriving 40k community that caters to tournament players and casual players alike. The Austin Kill Team Krew caught my attention – they ran a narrative, escalation campaign that encouraged participants to experiment with lists and get new models on the table.
I got a chance to talk some of the crew members after the campaign wrapped up – with an apoc sized mega battle – about why they enjoy playing narrative games, what their favorite moments were, and some tips on how to create a narrative campaign for your gaming group.
Monji Osso wrote the campaign book, that combines Shadow War: Armageddon and  rules from 8th, with input from the Krew. Everyone's armies are included in the story. He created detailed maps, and background for Armageddon that takes inspiration from 40k Lore. Also included are special character creation templates, rewards for points earned by each side of the struggle, and campaign specific stratagems.
Taking time to create a narrative with depth can really bring games to life for everyone involved. Pair that with inviting the community participate in its creation and you have a great foundation for a campaign.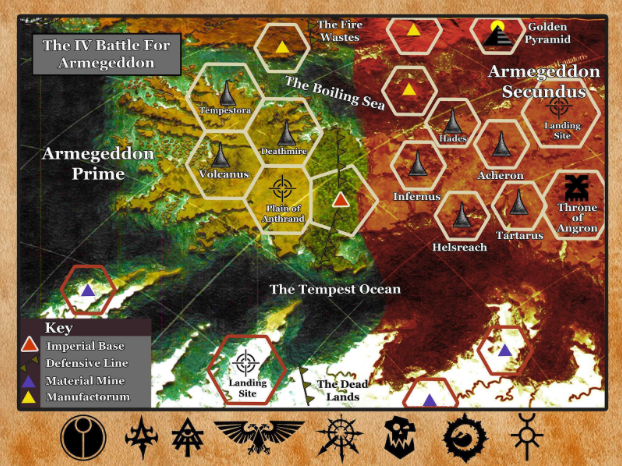 This was an escalation campaign that encouraged participants to check projects off their to-do lists in order to field new units. The first thing Jeff G. played BA and Custodes. When asked about what he liked about participating in the campaign the first thing he said was "fun because we got to see the armies start small and we grew over the period of the campaign." Peter Berardi went for Charcaradon Astra Space Marines because they had been on his to-do list for a long time – the campaign helped motivate him to get them tabletop ready. Monjoni started with his Shadow War: Armageddon Orks and was able to build 120 models, including a Stompa, to use in his games.
While not everything that hit the table was painted, everyone made a big dent in their to-do lists and got a lot of models out of piles of unbuilt kits in boxes.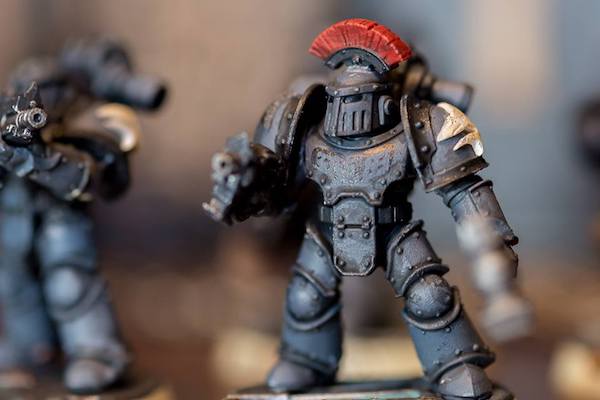 Charcaradon by Peter Berardi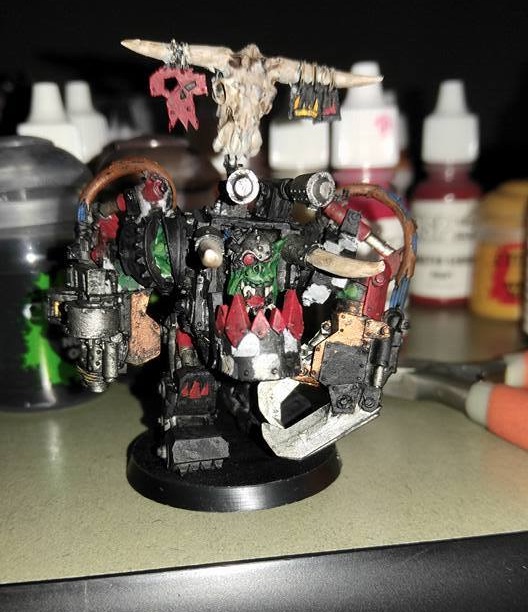 Ghazghkull Mag Uruk Thraka by Monji Osso
All of them had favorite moments in their games, even if they were on the losing side…
Jeff: "One of the best games I had was the first post Codex Custodes drop against Monji's Orks. Was great to watch the Green tide break against the bastion that is 2+/4+ Custodes Stats. Then his Weird Boyz got a psychic phase and that game turned south quick…Was nice to see the Strs and Weaknesses of my new army on display in the same game. Also Monji is always fun to play against."
Monji: "Unfortunately the Orks suffered for a while until we hit the 2000 point level of the campaign, where Ghazghkull and a battery of Weirdboyz was able to join my standard Boyz-heavy list. This led to an incredible game against the Adeptus Custodes where two squads of Custodes held the line by funneling the Boyz into a narrow terrain field leading to a very 300-like scene of three Custodes just slaughtering Boyz by the bucket load!"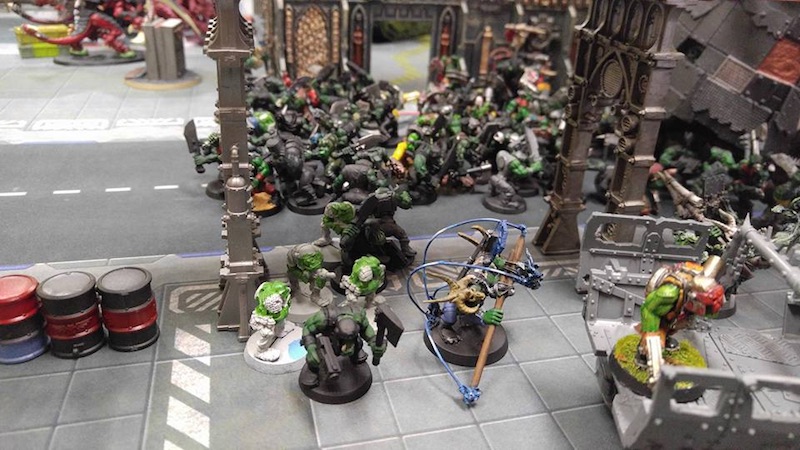 Photo by Monji Osso
Peter: "[In the final mega battle] during turn 2 for the Chaos team our reserve forces arrived at the Ash Wastes and outflanked a large xenos force. The Tau and Tyranids were caught between an enormous poxwalker hoard led by Typhes and several other Death Guard characters on one side and a renegade Baneblade on the other. The poxwalkers moved in close in preparation for a devastating assault while the Baneblade opened fire in order to grow the poxwalkers numbers. Unfortunately, the firepower was too overwhelming and left nearly nothing left for the Death Guard to engage, although there were an extra 20 to 30 added to their hoard." 
The Krew even did some Warhound perspective live streaming during their final mega battle…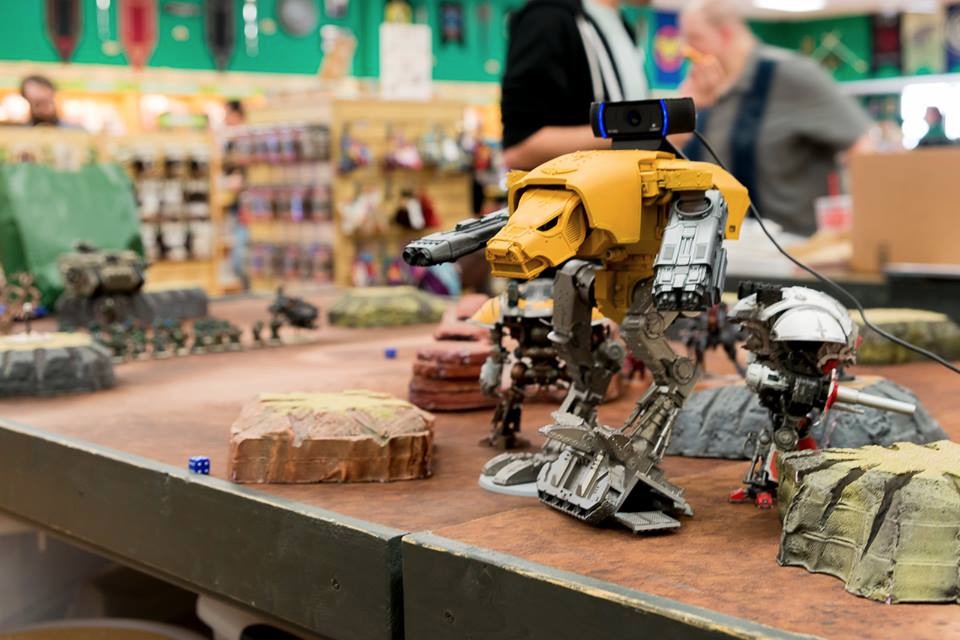 Photo by Peter Berardi
As someone that watched the narrative from the outside, it is always fun to see players be creative with their games. Those that dig into the fluff behind their armies to create stories for them – be it in a campaign, a themed list, or a custom paint scheme – are an important part of this hobby. While tournaments may play a bigger role in shaping meta because of their visibility,  they're not the only way to play this game.
What are your suggestions for folks wanting to run a campaign with their gaming group?