Goatboy's 40K Thoughts: DeathWatch A Go Go!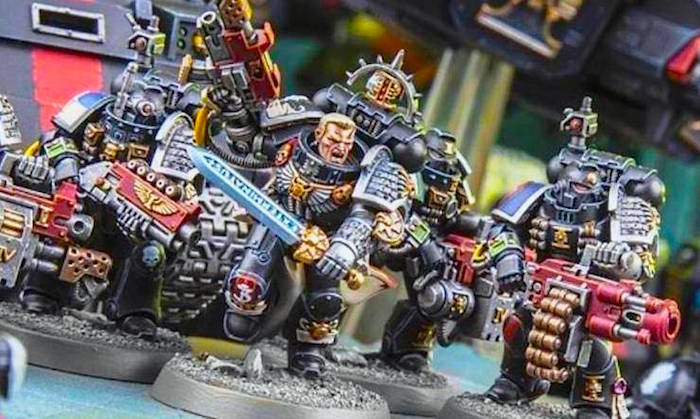 Goatboy here.  The newest codex out is the Deathwatch.  Doesn't it feel like we were just talking about them – like a little bit over a year ago?
Wow, how time flies as editions go from 8 to 8.5.  Enough about that – let's look at some basic thoughts on the Deathwatch book and how I would build an army of these guys.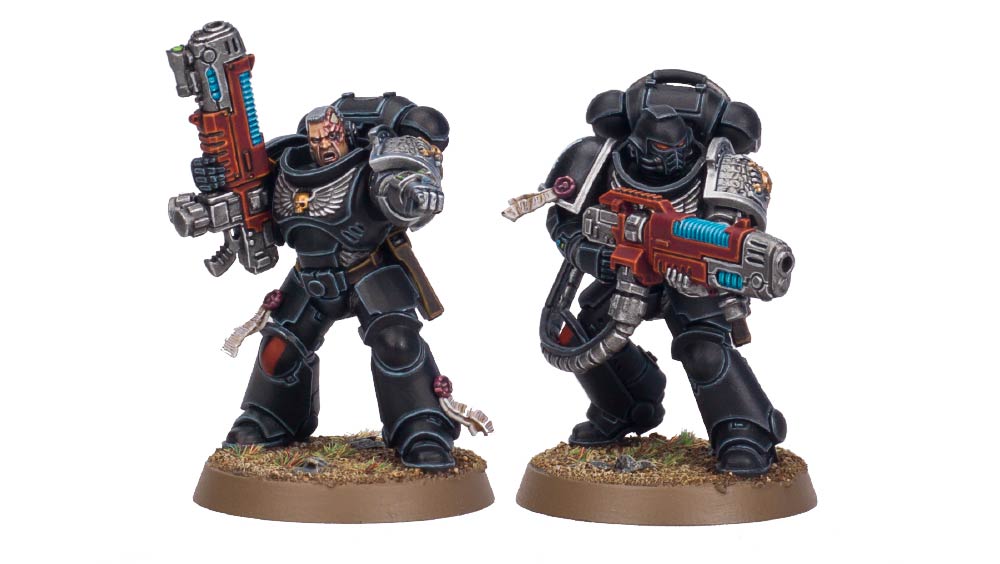 First of all – the book is for those people who wanted to play Primaris Marines but didn't want to paint them blue.  Is it as amazing as having the Grand Daddy of the Primaris Marines running your army?  Enh maybe?  I think it is probably one of the best ways to run these larger than life-sized Marines as you can create some exciting units based on utilizing the power of the Kill Team.   In fact, that is the best thing form this book – creating these interesting units that are built to shoot the heck out of you.
I like seeing the Special Ammunition show up for the Intercessors.  It gives them a nice boost and makes the bolter weapon profile feel like all the stories I have read about.  How many of these Horus Heresy books have the tried and true bolter busting through some armor, taking names, and being this feared weapon?  When was the last time you were scared of the bolter?  Sure maybe on the golden bikes of doom but in reality the Bolter just feels kind of basic.  This upgrade the Death Watch have does help it out.  Heck, the Storm Bolter looks downright frightening when it throws out four shots that wound on a 2+.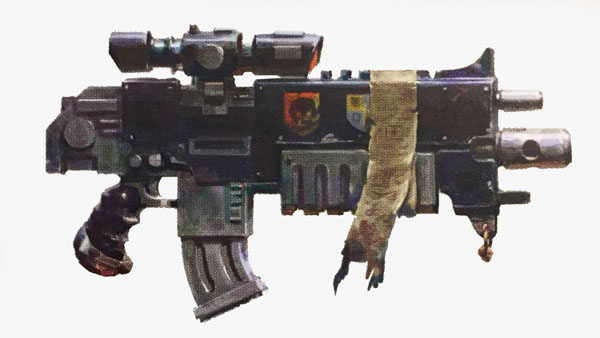 Overall there isn't a ton of stuff to talk about as while it is different then the index book – it still feels the same.  Just with more layers of Stratagems and other options.  I wish the wounding stratagems were not 2 CP as they seem helpful but the cost feels a bit too high.  This army will love to use Command Points, so I think some discounts on some abilities here and there could have helped out a lot.  I do like how they get a Teleport Stratagem – which before the Beta Rules – could have had a serious unit coming down, throw out a ton of dakka, and then be a pain to remove from the table top.  Still, it feels really fluffy overall and seems to showcase how the army should play – very differently than how normal Marines play.  It feels kind of annoying that only one Warlord trait is worth it.  The one that gets you some more Command Points when you roll a 5+ is obviously the best one.  I am not a fan of most of the relics – beyond the one that lets you swap Mission Protocols during a game.  I don't expect the Deathwatch to be the main stars of an army as you can get a better Warlord/Relic by moving in a different direction – like say the Command Point Battery AM option.  Part of me wants to fit them with some Golden Biker boys, but I don't expect to have enough points beyond some minimum Bikes or Minimum captains on Bikes.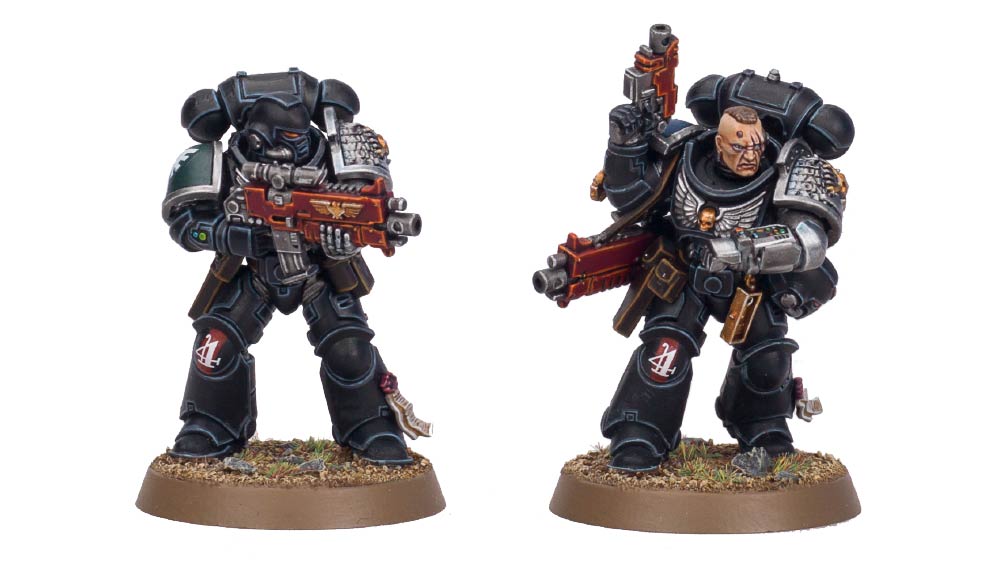 Let's look at the basic set up of a unit.  Intercessors are an excellent glue unit as they have a decent gun, extra wounds, and can heavily utilize the special ammunition to be a pain in the butt.  I think some apparent mixing in of the other Primaris option will help push this unit up a good deal.  As GW has shown, the Aggressors give the ability for the unit to move and fire heavy weapons – which is pretty neat for some of those Helblaster options you could throw out.  I am like the idea of using 5 T5 Primaris options to get you a discounted T5 unit that can throw out a decent amount of firepower.  Get the 5 Intercessors, add in 1-2 Aggresors, and finish off with some Interceptors and you got a pretty mean 18″ firing unit of doom.  I like how this is all kind of set up around utilizing the Dark Vengeance box beyond just learning how to cut off the shoulder pad, grabbing a ball of green stuff, and creating a new shoulder to hold your more fancy shoulder pad.
Army List Time – Goatboy Style!
Let's look at the initial load out and see how many points we have to work with.  If we do a Battalion (Which we will most likely due) – then we need 2 HQ's too.  The Watch Masters are pretty dang snazzy with their Aura and rules but lack a lot of customization.  Sure they stole a cool spear from a Custodes guy who got too drunk it still feels kinda of sad we can't go hog wild with some options.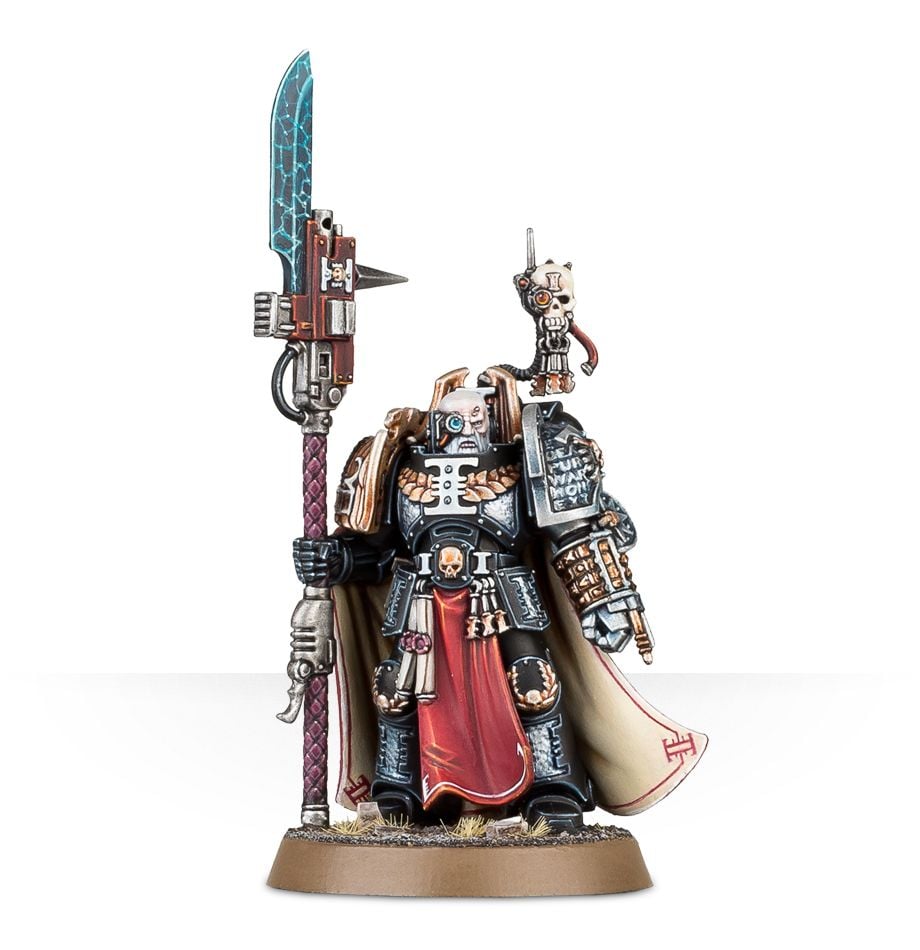 Watch Master – 130pts
Watch Master – 130pts
Intercessor Kill Team – 5 Bros, 1 Aggressor with Bullet Stuff, 4 Inceptors with Assault Bolter – 272pts
Intercessor Kill Team – 5 Bros, 1 Aggressor with Bullet Stuff, 4 Inceptors with Assault Bolter – 272pts
Intercessor Kill Team – 5 Bros, 1 Aggressor with Bullet Stuff, Hellblaster X 4 with Assault Plasma Incinerator – 272pts
Subscribe to our newsletter!
Get Tabletop, RPG & Pop Culture news delivered directly to your inbox.
Total – 1076pts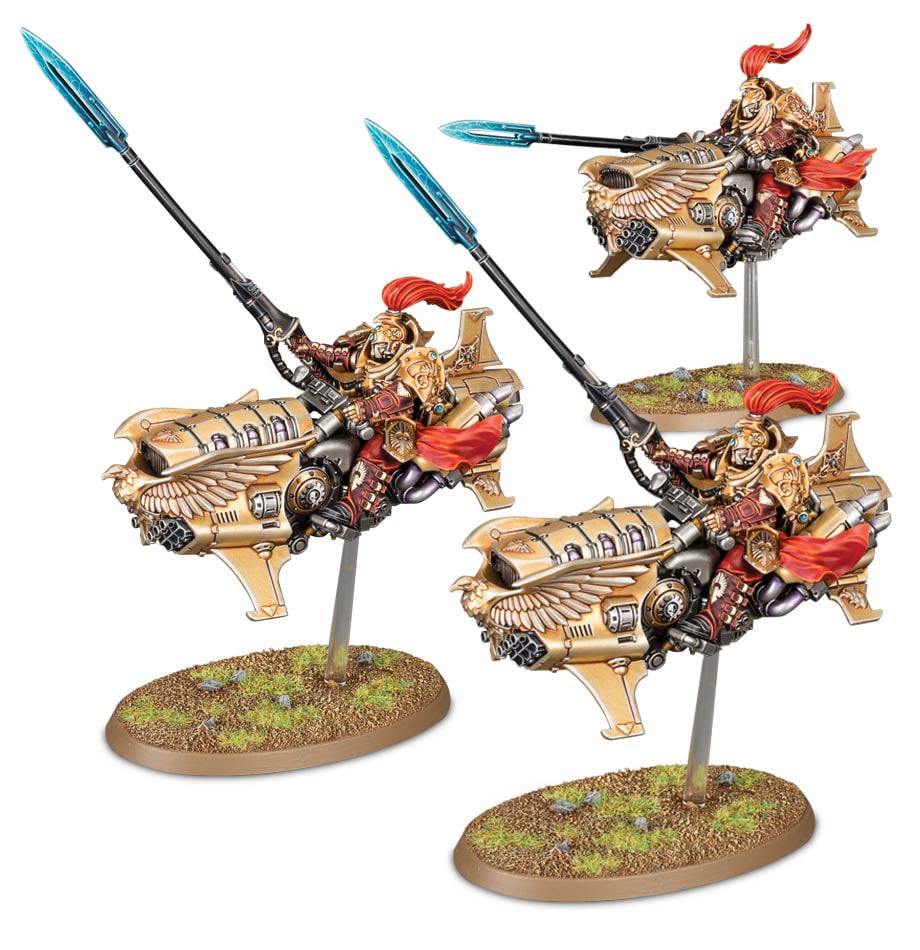 Seems pretty dang Expensive but it is a ton of bullets that can roll out, reroll misses, and maybe do some damage.  Of course, you need some Bullies to help keep you alive – which usually means some Golden Bros to ensure you do ok.  We are sitting at too many points to go with squads, so I am looking at throwing out 3 Dawn Eagle Biker Captains.  It lets you have some assault punch and gives you some movement.
Dawn Eagle Biker El Capitan – 160pts
Dawn Eagle Biker El Capitan – 160pts
Dawn Eagle Biker El Capitan – 160pts
Total – 1556pts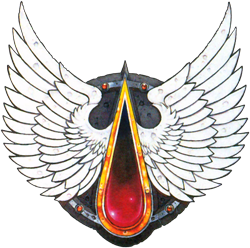 This still leaves some points left – which of course you let you go in a few directions.  If you wanted to go with some AM you could go with the command point battery we all know and loathe.  It won't do a ton other than get you some command points as needed.  This could let you deep strike in some Deathwatch units if you wanted to.  You could also look at the other assault options in some Yolo Blood Angel Captains. Make him Death Watch, and then you could pull him into the sky and use his 3d6 charge option.  Throw in the Angel Wings to remove Overwatch, and he could be a thrown in the side of the enemy.  Could I also look at doing some Assassins as well – as they can be a great unit to sow discord and are not too expensive?
Let's look at Blood Angels as some Yolo Captains seem alright.  Maybe even have some Scouts to allow for some protection and cause some issues as well.  Let's add in another Battalion full of command point goodness.
Captain, Jump Pack, Storm Shield, Thunder Hammer – Warlord – Veritas Vitae- 129pts
Captain, Jump Pack, Storm Shield, Thunder Hammer – Angels Wings – 129pts (Make Death Company)
Scouts X 5 – 55 pts
Scouts X 5 – 55 pts
Scouts X 5 – 55 pts
Total – 1979pts
It might be ok if a bit all over the place.  It is still very Elite – but has some punch to get stuff if needed.  Plus – it isn't a crap ton of models to paint, and you can easily go hog wild making them look cool if you wanted.  Price wise – it probably isn't too bad if you go into it based on boxes you need.
3 Boxes of Scouts
1 Box of real Aggressors
1 Box of Dawn Eagle Bikers
3 Units of DV Intercessors
3 Units of DV Interceptors
1 Box of Hellblasters
Find two cool looking jump pack dudes for your Yolo Captains.
Death Watch Shoulder pads which come in sets of 10 – so you need 3.
So overall with some careful eBay purchases, finding some Death Watch shoulder pads, and some glue you could have a neat and weird looking army that lets you play all sorts of interesting tricks throughout the game.  Plus you can Yolo some captains into those dirty Xenos jerks who came in, brought cool stuff, and took your guy/girl.
~Until next time – Death to the False Emperah and other stuff!