Renegade is back, showcasing Knight on Knight action with a Chaos Knight taking on a Questoris Mechanicus unit in proper giant robot fashion. Come get in on the action.
Renegade was a fantastic way in to Imperial Knights when it first enjoyed its release back in 2016. Now it's back with an 8th Edition update that pits Knight against Knight, brother against brother–well maybe more like Knight-Scion against Knight-Scion, but that relationship is more important than brotherhood. After all even a peasant can have a brother. Presumably. I don't know, never bother to notice them myself.
Here's what's inside–you'll get the same Chaos vs. Imperium fight you know and love–a Knight Warden and a Knight Gallant (depending on how you build them), but then this new edition of Renegade advances the lore as well.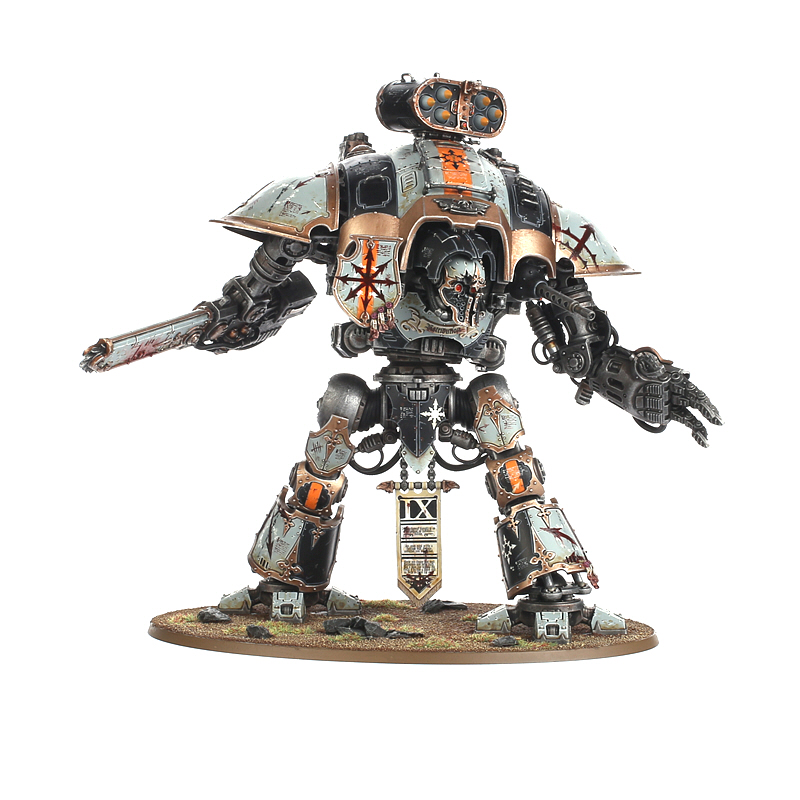 Apparently Chaos won the last bout of Renegade. Litany of Destruction, the possibly insane freeblade knight, nearly annihilated the Knight Paladin it once fought and now must face off against a Questor Mechanicus heavy hitter–Red Might. So come see all the different ways in which two knights can duel, and of course break the game by supplementing in Armigers or other models that add up to the cost of a Knight where a Knight should be.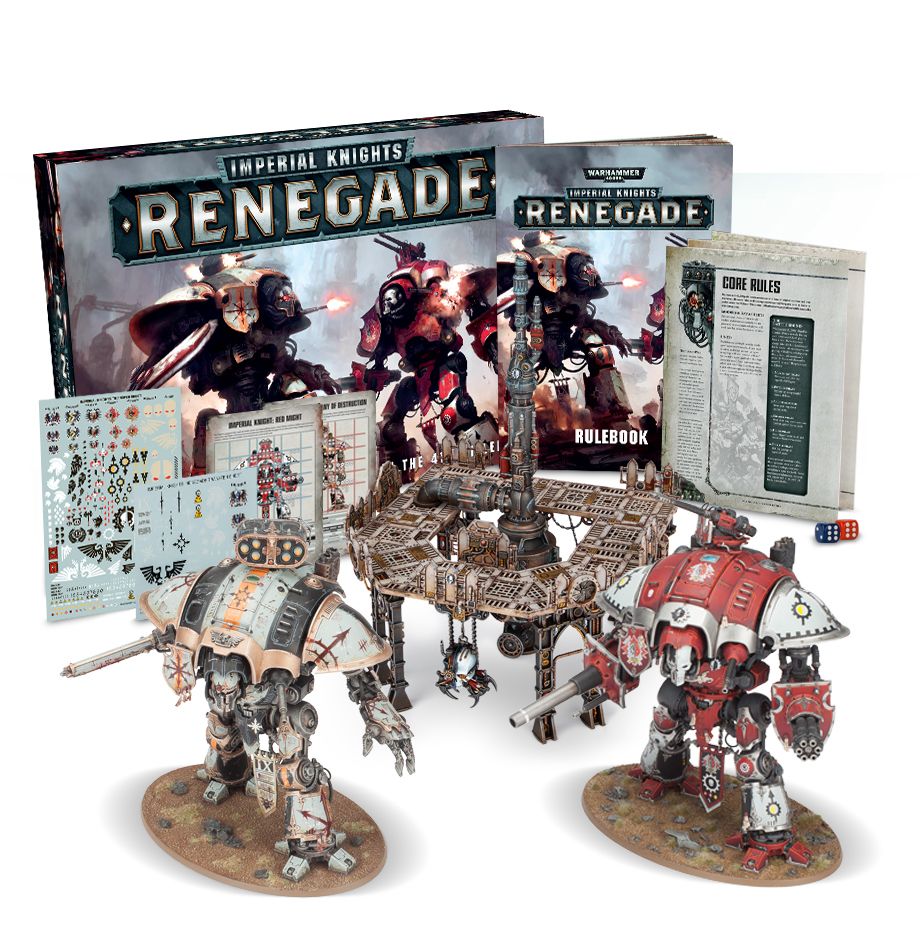 Dominating the battlefield with their size and firepower, Imperial Knights are towering bipedal weapons platforms that hold no quarter in eliminating their targets – but like anything else, they are vulnerable to the dark clutches of Chaos. The Freeblade Knight once known as the Living Litany is an unfortunate example; nobody knows what truly happened to this once-valiant hero, only that it has renamed itself Litany of Destruction, and has been leaving a brutal trail of devastation in its wake – including the near-annihilation of the legendary Knight Paladin Ever-Stalwart on Tellerax Prime. The Imperial Knight Red Might heads for the Nachmund system with a single goal in mind – hunt down his fallen brother and silence the lunatic dirge of the Litany of Destruction, or die trying!

Put yourself at the controls of a rampaging Renegade Knight – or the valiant Imperial avenger – in this boxed game containing everything you need to pit 2 towering Imperial Knights against each other in single combat. Included in the box:

– 2 Imperial Knight kits, with 1 Knight Warden upgrade frame: with these you can build the Red Might and the Litany of Destruction, with weapon options including gatling cannon, heavy flamer, heavy stubber, reaper chainsword, battle cannon, thunderstrike gauntlet thermal cannon, and ion shield, along with plenty of options for customising the faceplates and armour;
– A Sector Mechanicus Galvanic Magnavent: a scenery piece for the Knights to battle over, made up of 4 frames of plastic components – one featuring the central silo and chimneys, one filled with walkways, one filled with floors and details and one featuring the legs to hold the structure aloft;
– a 24-page softback book containing the tragic tale of the Living Litany and its fall to Chaos, the Imperium's attempts to stem the tide of carnage it embarked upon and their dispatching of the Red Might from House Taranis;
– Rules for playing Imperial Knights: Renegade, featuring 6 missions;
– Colour schemes for 4 Questor Imperialis houses, 3 Questor Mechanicus houses, and 4 Freeblades;
– Rules for using Knights in games of Warhammer 40,000, including datasheets for a Knight Paladin, Knight Errant, Knight Gallant, Knight Warden, Knight Crusader, and Knight Renegade;
– 2 reference sheets, 1 each for the Red Might and the Litany of Destruction, featuring weapon summaries, damage tables and a reference grid for tracking damage taken;
– 2 6-sided dice and a transfer sheet for each Knight.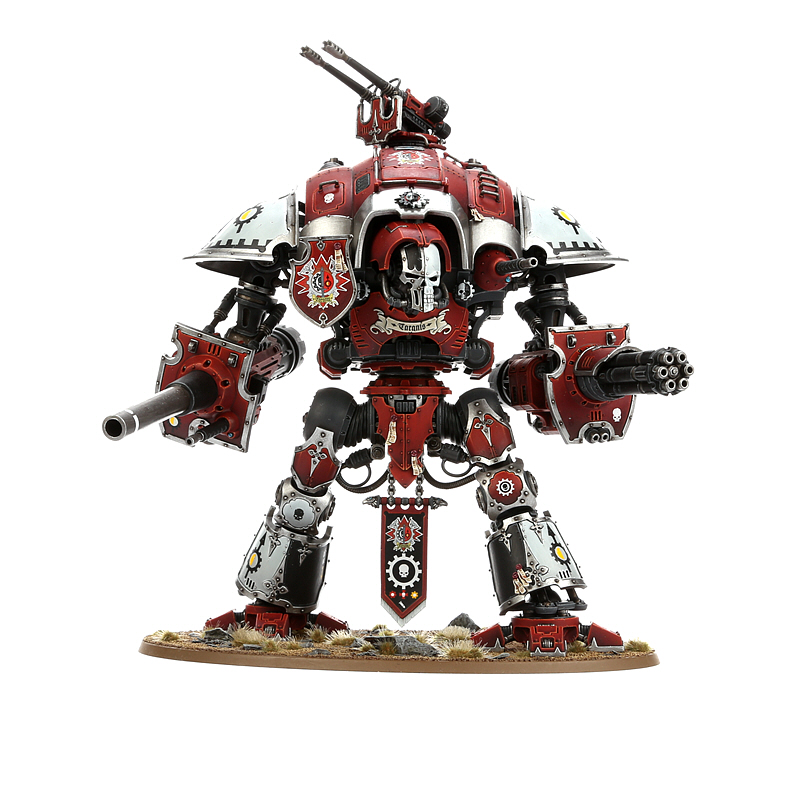 And you get all this for a stupidly good price. Buying two knights would cost you more than $300 otherwise–so by buying Renegade (and getting two) you're also practically on your way to having enough for a third. And more knights is the correct way to field them.
Either way, enjoy Renegade, and let us know who wins more often for you, Red Might or Litany of Destruction (not a symphony though, even in the Grim darkness of the far future, intellectual property laws are serious business).