Do you like knights but hate the Imperium? Maybe you just want to watch the world burn under the weight of your shiny new Thermal Cannon? Well good news for all you Chaos Players – Renegade Knights are getting an update and it's FREE!
You asked and Games Workshop delivered. Chaos players were peppering GW with requests about getting some Renegade Knight love to bring to the tabletop and, wouldn't you know it, they gave the fans what they wanted. Renegade Knights are out now and the rules download is 100% FREE – Points included!
You'll find rules for both of these in a free mini-update to Renegade Knights that includes rules for Questoris-, Armiger- and Dominus-class Knights as well as a Warlord Trait, new Stratagem, command benefits and an appropriately evil Relic. Basically, it's an index, but for free!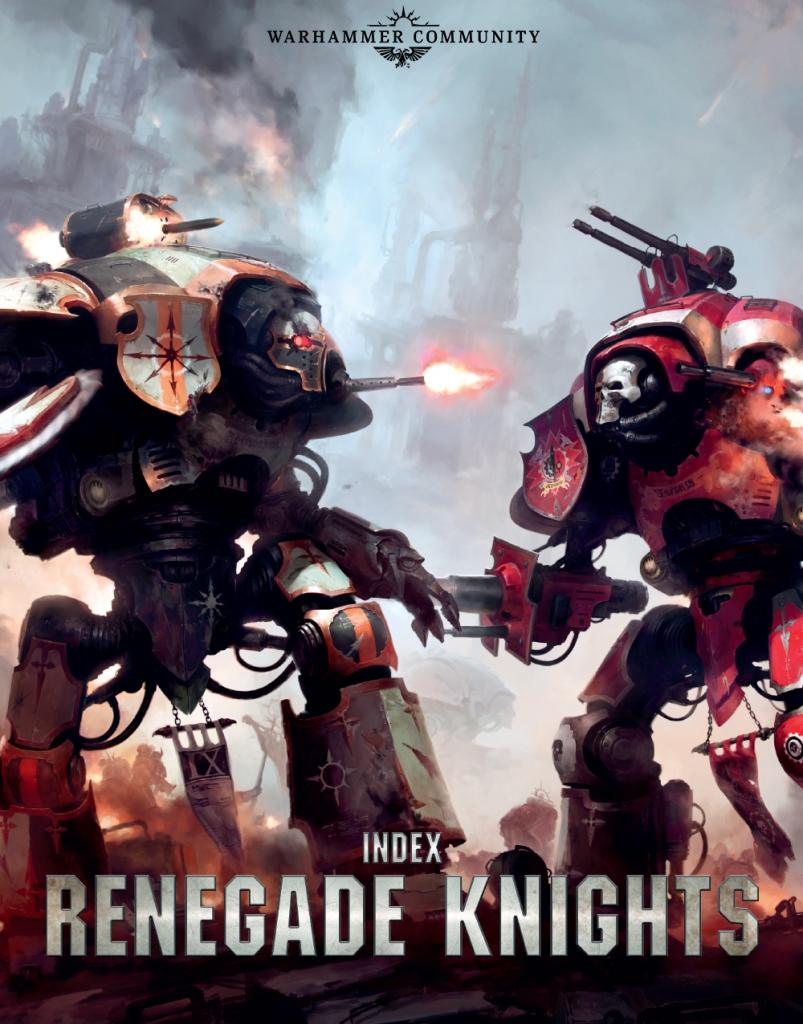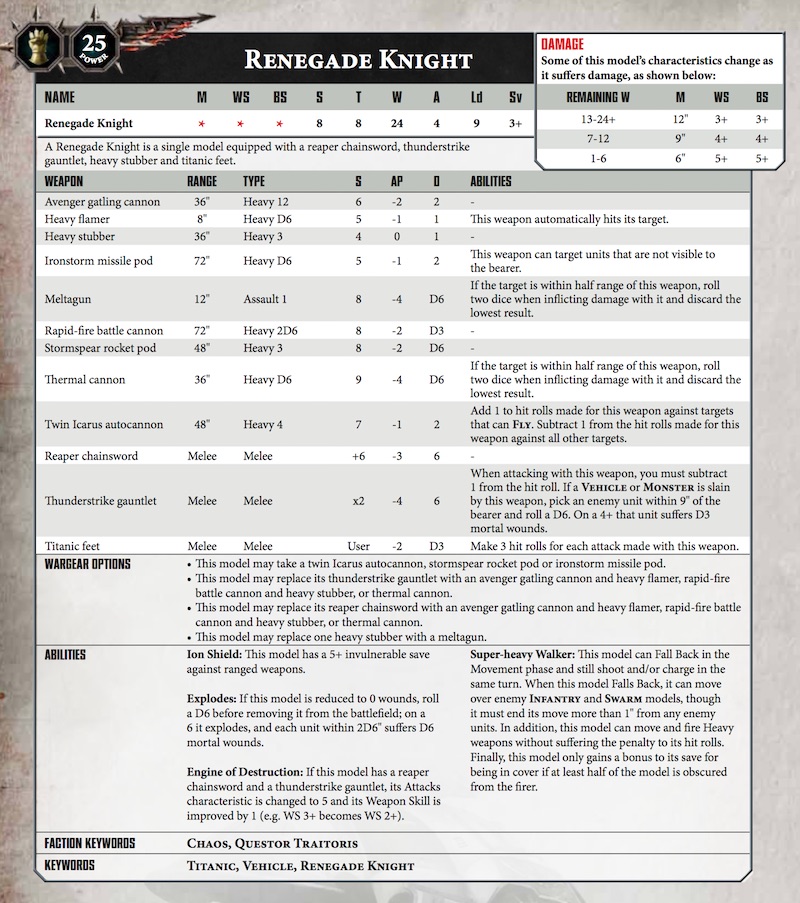 Oh and it's not JUST the "regular" Knight – you're getting access to the Dominus AND the Armigers as well! So bring on the big boys or the tiny knights and get to Robot-Smashing things into oblivion.
Also, this download is more than just a few datasheets – You'll find Stratagems, a warlord trait, a relic and rules on adding them into your existing chaos forces.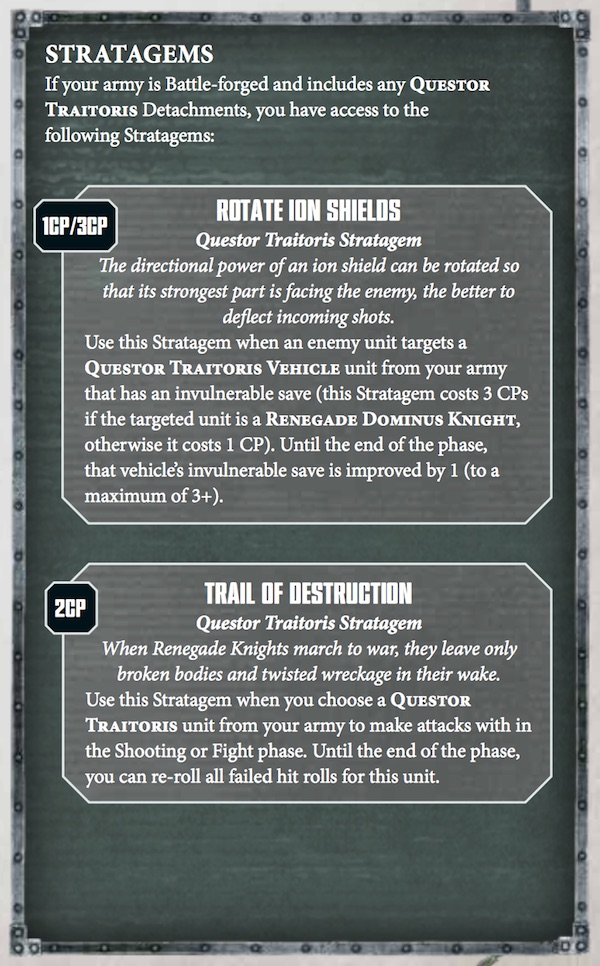 You'll also note a bump in your Command Points, too.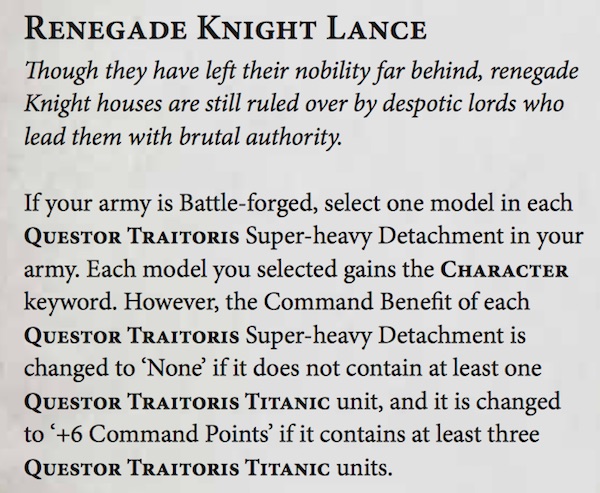 Now if you're an Imperial Knight owner, you're probably thinking "Man, that Command Point bonus is pretty nice. Sure wish I got that!" Good news – you are getting that as part of the Imperial Knight FAQ: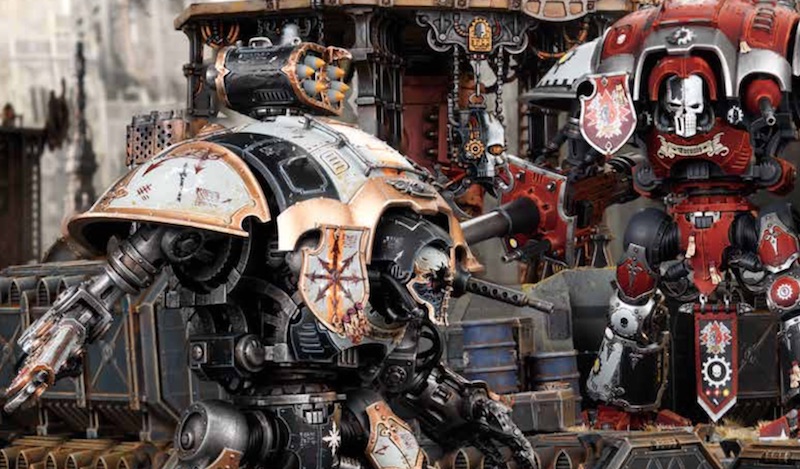 There are a handful of changes in the Knight FAQ so go check those out. I'm pretty sure Knight Commanders are really going to appreciate those bonus CP especially with ALL those Stratagems. GW had a pretty good explanation of why the boost:
"Why the change to command points? Well, Codex: Imperial Knights was printed before the Big FAQ, which gave every army more command points to play with. Imperial Knights were looking a bit light, especially with the new codex bringing so many new Stratagems to try, and so the new FAQ should bring you up to par with other armies in Warhammer 40,000."
Well there you have it! More CP = More Stratagems to burn. Renegades and Loyalists alike, it's time to bring the Knights out and throw down.
Are you ready for a Rock'em-Sock'em good time with Renegade Knights?