Today we have the final faction preview before Age of Sigmar 2.0 comes out (unless they ninja announce another faction), as well as a look at the Suffocating Gravetide Endless Spell. Come take a look at the monsters and magic of the Age of Sigmar.
That's right folks. Today we have the Idoneth Deepkin, who have the distinction of being the last faction of the Age of Sigmar as we knew it. Then Nagash's magic had…Unforeseen Consequences…and threw all of the Mortal Realms into disarray, plaguing them with undeath and Endless magic. Spells given strange new life when their lifespan doesn't end like a natural spell's might. Even Magic is affected by this curse of Undeath.
But we'll get to that in a minute. For now: Fish Aelves.
via Warhammer Community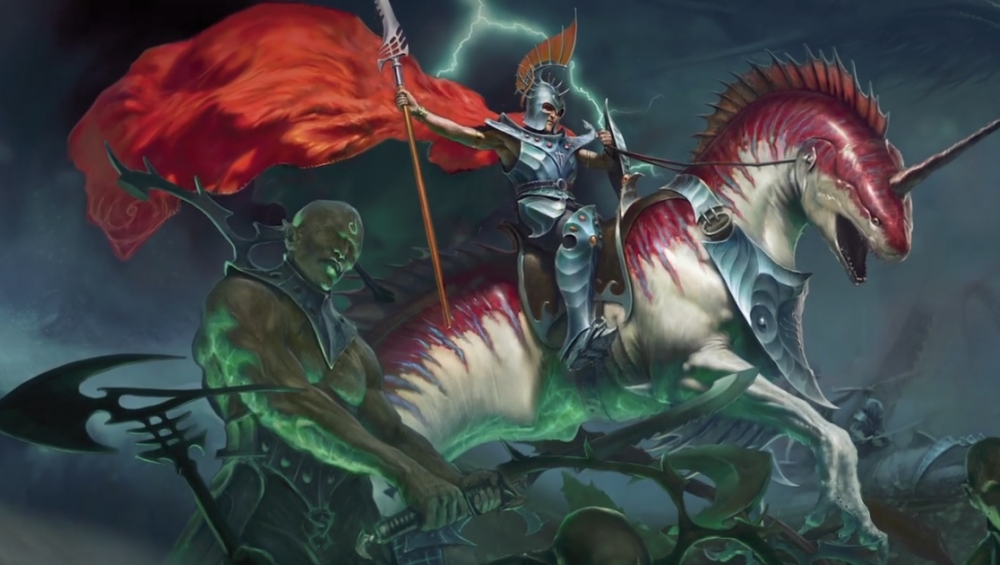 From the blackest depths of the oceans come the Idoneth Deepkin – a terrifying, soul-stealing race of aelves whose origins are mired in tragedy. Created from the spirits of those aelves consumed by Slaanesh, the Idoneth Deepkin are twisted, cold beings that fled to the seas in the Age of Myth. Harnessing sea creatures and strange, tidal magics, they raid the Mortal Realms in search of souls, needing them to extend their lives and reproduce.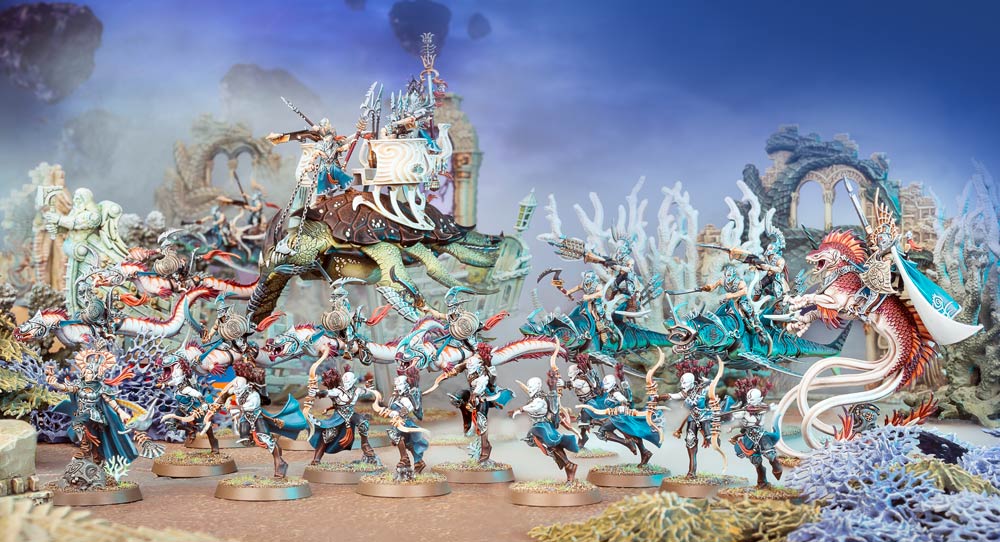 These marauding raiders have sided with Order (along with the rest of the Aelves) and so can benefit from Order's Allegiance Abilities. But they have another advantage–designed as they were at the end of Age of Sigmar 1.0, they are built from the ground up to play with the new rules as well.
The new command abilities work really effectively with the Idoneth Deepkin's style of play. While Volturnos and the Akhelian King can only use their unique command abilities if they're the general of your army, and then only during High Tide (in a cunning bit of pre-new-edition game balancing by the rules team), At the Double and Forward, To Victory offer a great alternative. You could, for example, bring a unit on with the Isharann Soulscryer, use his Seeker Of Souls ability to increase your charge rolls, then give yourself a re-roll with Forward, to Victory for good measure. Alternatively, At the Double – which lets you treat a run roll as a 6″ – is great when used in the second turn of the game, during Flood Tide, where all Idoneth Deepkin units can run and charge. This can set you up for a great turn 3, when High Tide comes around.
So get yourself set up for that crucial Turn 3 change over (or use Forward to Victory and At the Double to make sure you get stuck in where you need to for that Turn 2 unexpected High Tide if you're playing with the chart in reverse thanks to Fish Elf trickery. Speaking of generals though, with all of these command abilities, characters have a harder time, becoming more and more valuable cogs of an army's plan means they are more likely to be targeted and taken out, but no fear, if your general dies, you can pick another one and generate a command trait for them.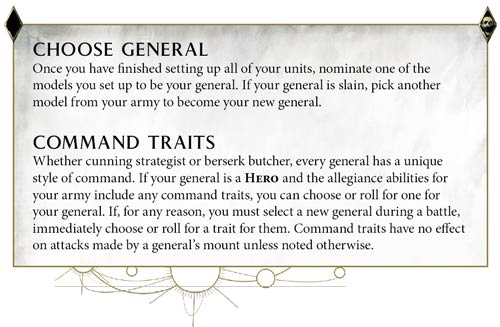 So if you bring High King Volturnos and an Akhelian King, if you make one your general and get them killed, you can have access to the other's command ability for some extra sneaky trickery.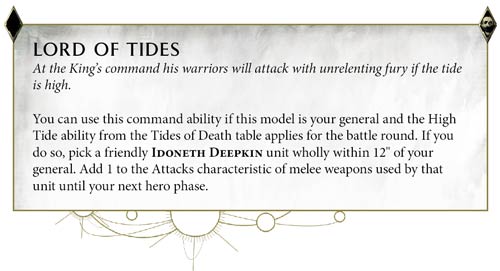 Though for maximum benefit you'd want some way to reverse the tides  and have High Tide a time or two again.
But enough Fishes, you came here for Endless Spells: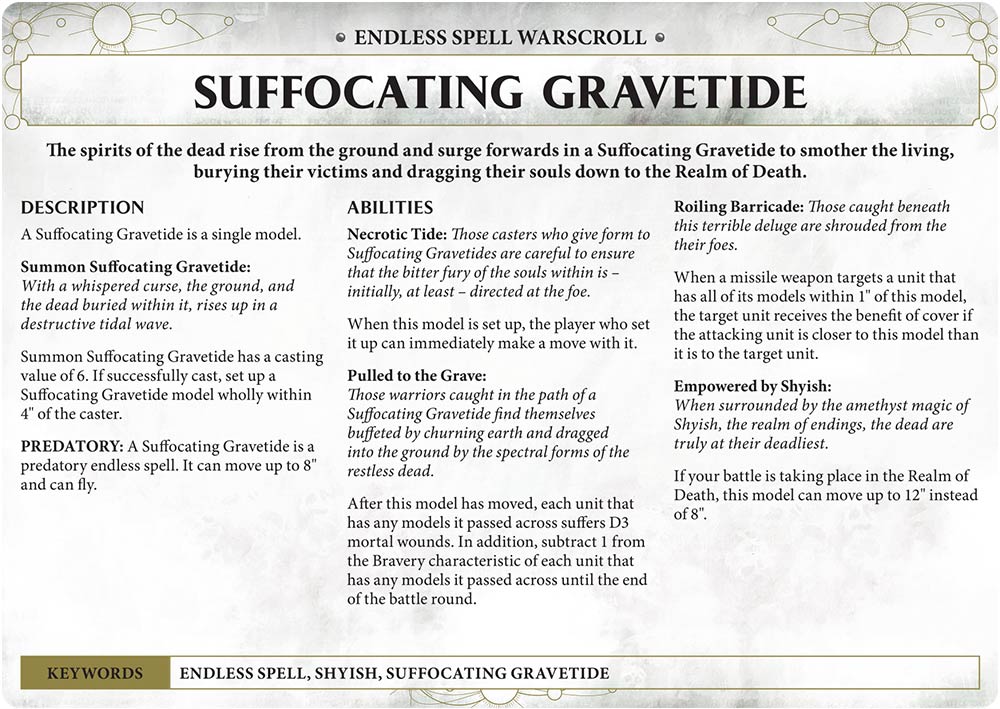 This spell is pretty brutal. You can deal out mortal wounds and weaken the Bravery of models (which is great if you have some kind of fear mechanic) but more than that, it's portable cover. Though portable cover that, on your opponent's turn can be a liability…
At any rate, NewAoS is due out soon and the BoLS office is buzzing, so be sure and stay tuned for more news and previews as they develop.
The only Endless Spell I can think of is Bananananananananananananananana…