Legion of Everblight is getting lots of new releases for their Primal Terrors theme force. Let's check out the new Blighted Ogrun Theme Force box and see what kind of terror we can unleash on the table!

Theme force boxes come with models to help you round out a particular theme for your faction. In this case, the Blighted Ogrun Theme Force Box is designed to get you going with the Primal Terrors theme. Theme force boxes don't come with casters or warbeasts, but new players can combine this with the Legion of Everblight battle box to have a complete 35pt army! Not a bad way for a new player to get into the game quickly.
This is going to be a 3 part article series where we first review the models in the box, then we'll try to combine this with other new releases to make a competitive 75pt army list.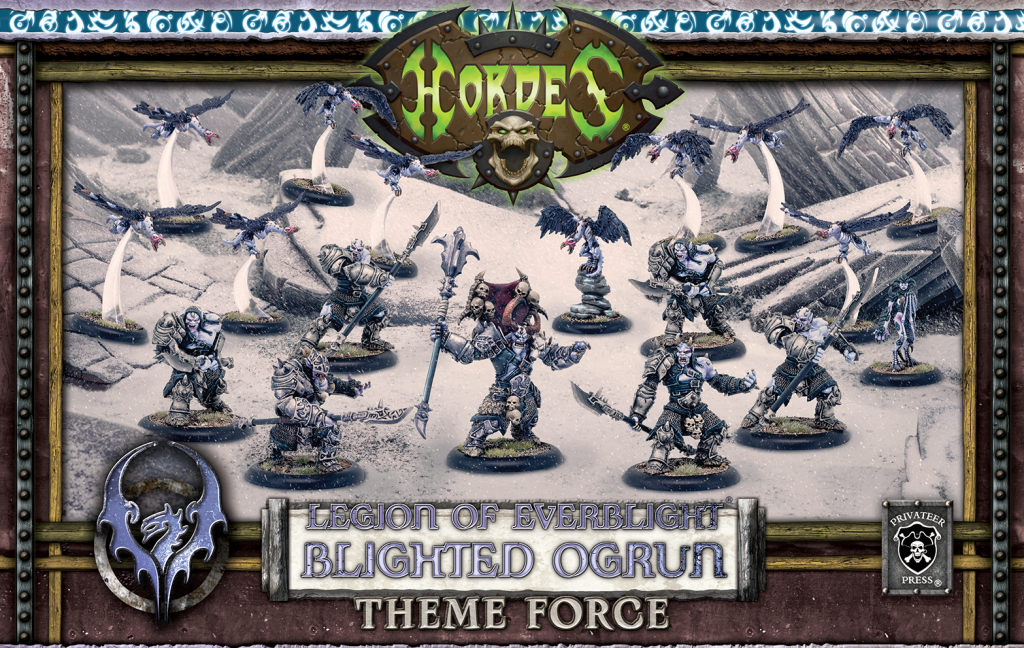 What's in the box?
Inside this theme force box you'll find:
Forsaken – Legion Solo (metal)

Warmonger War Chief – Legion Blighted Ogrun Solo (resin/metal)

Blighted Ogrun Warmongers – Legion Unit (5) (resin/metal)

Blighted Rotwings – Legion Unit (10) (resin/metal)

Gorag Rotteneye – Legion Character Solo (resin/metal)
Even seasoned Legion players are likely to want this box if they don't already own Warmongers, which is quite possible given Warmongers haven't been a preferred unit choice in quite some time.
Blighted Ogrun Warmongers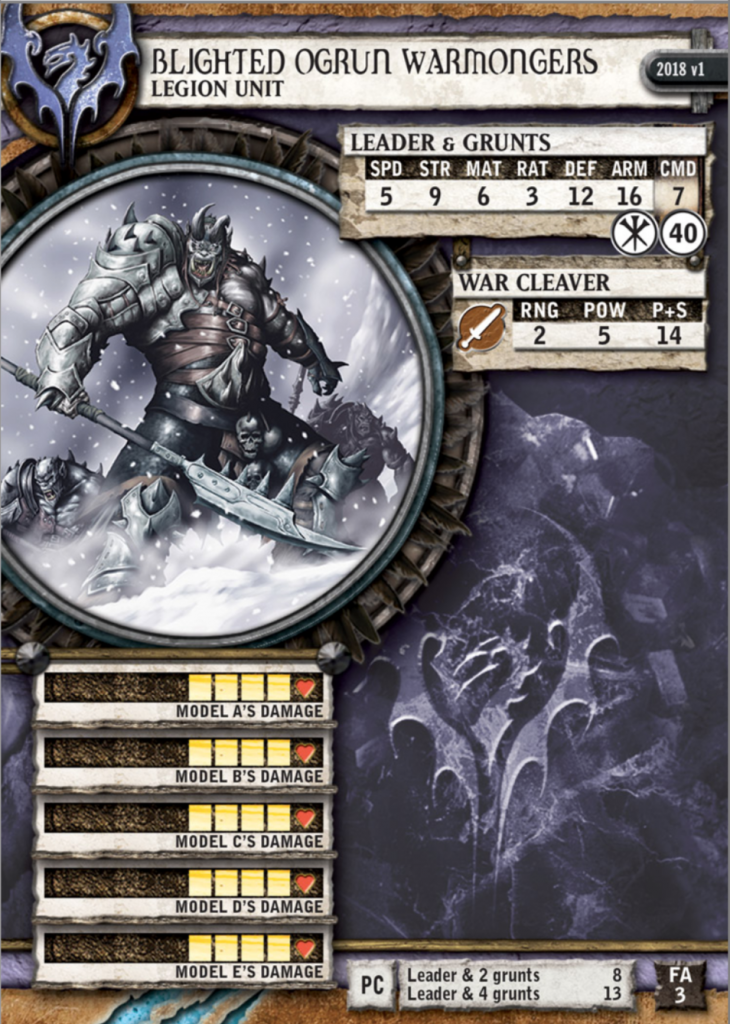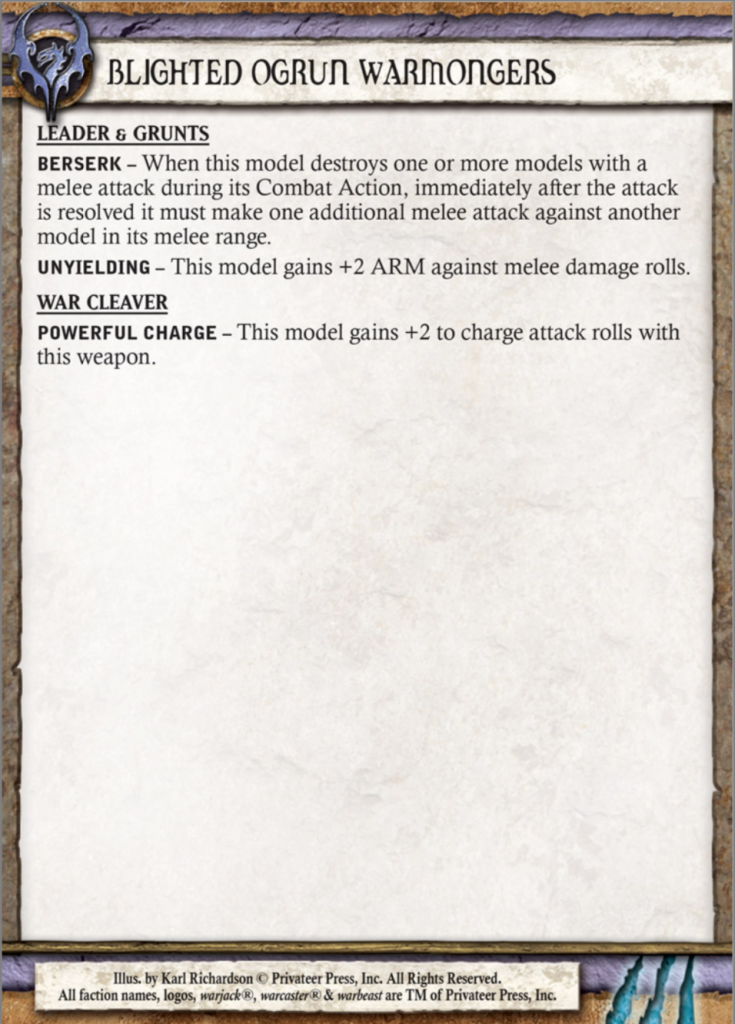 Take a look at some of these updates!
The Warmongers have picked up some pretty substantial updates. They dropped in points to 8/13, gained Unyielding and a new Command Attachment, Gorag Rotteneye! With these changes, the Warmongers have become a compelling choice, especially with any caster or ability to increase their armor. POW 14 on a charge is no joke and it only gets crazier if you start adding STR buffs! Thagrosh, Fyanna, Kallus and even Kryssa can all potentially put these Ogrun to good use.
Did someone order a Blight Bringer? With it's recent reduction in points to 32, the Blight Bringer is an incredibly appealing option for it's Dragon's Breath attack type. This attack leaves behind a 5 inch AOE that gives friendly warriors +2 STR and +2 ARM! With the Blight Bringer alone you get the Warmongers hitting at an effective POW 16 and then being ARM 20 against melee retaliation. Pretty terrifying considering that it only gets higher when you add in the right Warlocks.
Edit: Originally stated that Powerful Charge gave +2 on damage rolls which was incorrect. Thanks for pointing out the mistake!
Gorag Rotteneye
Gorag is a new Command Attachment for the Warmongers. Take a quick look at his rules.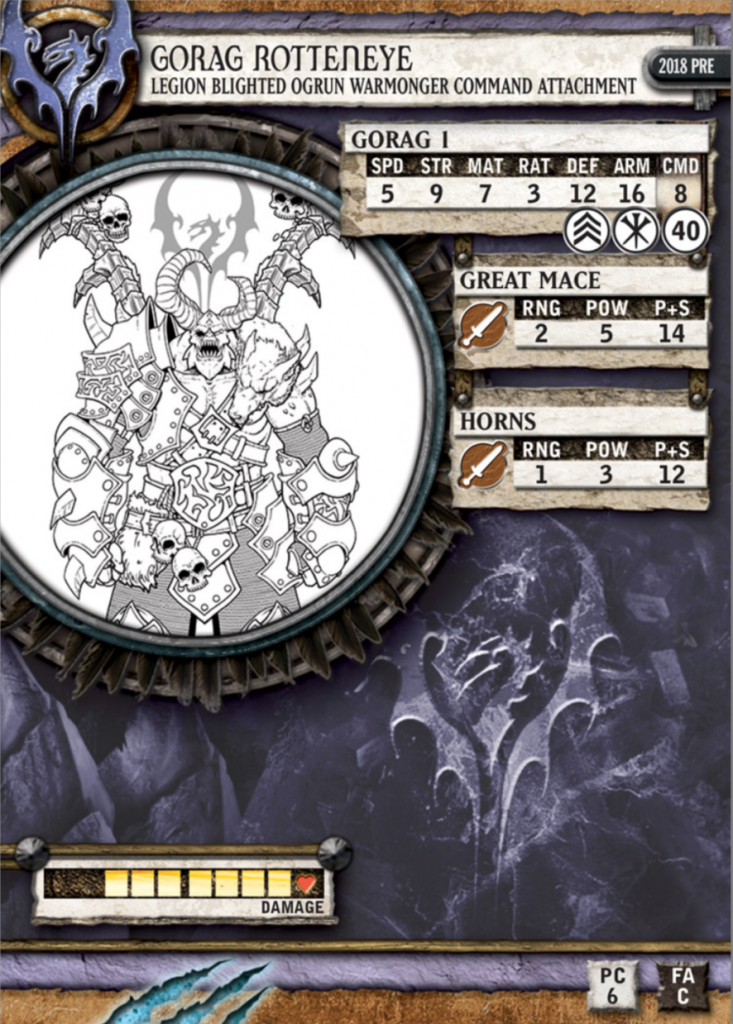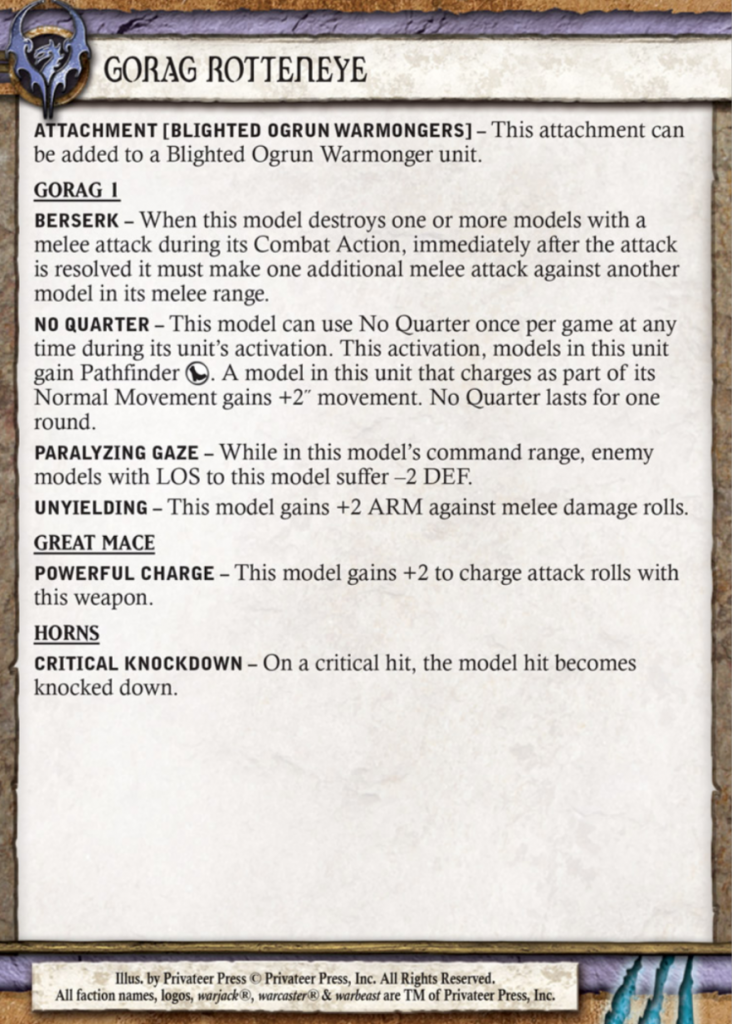 Prerelease cards shown, but these rules remained the same upon release.
Gorag really pumps up the power of the Warmongers. No Quarter is an excellent mini-feat, granting extra an extra 2″ movement and pathfinder for an activation! Gorag helps the Warmongers do exactly what they should do, get up the board fast and charge. In addition, pathfinder means they can stand behind a wall or in a forest without sacrificing mobility the following turn.
We can't forget about Rotteneye's Paralyzing Gaze! This is an amazing ability lowers the defense of any enemy within 8 inches that can see Gorag. Not only does this effectively make his own unit MAT 8 or MAT 10 on the charge, but your entire army will benefit from Gorag hanging around the enemy. The higher defense Cryx Warjacks and Circle Warpwolves hate this and lowering the DEF on casters by 2 can set up a lot of assassinations your opponent may not have seen coming.
6pts might seem like a hefty price to pay for Gorag, but his abilities can have a hefty impact on the game. Also in the Primal Terrors theme he is likely to be one of your free models so expect to see this guy on the battlefield.

Tune In Next Week
In Part 2 of this review, we'll take a look at the Blighted Rotwings, Warmonger War Chief Solo and the Forsaken. Then after that, we'll make a 75pt list with the new Legion Warlock, Anamag the Doom Feaster!
What do you think about this theme force box? Will you be adding it to your collection?

Join us for a weekend of wargaming –
and put your Warmachine tactics to the test in the Iron Gauntlet Qualifier and more!
Registration for Wargames Con X is open now!