What happens when you combine the brutality of the Grimdark and all consuming capitialism? Why Monopoly: Warhammer 40k style!
Warhammer Community officially announced the partnership of GW and USAopoly to bring a new product straight from the Eye of Terror. That's right folks, it's Monopoly and Warhammer 40k.
Monopoly is, of course, the no-holds-barred game of property ownership – a game filled with ruthless ambition, conquest and treachery – what could be more Warhammer 40,000 than that? It just needed a few tweaks: set it in space, add a generous helping of skulls and you're good to pass go.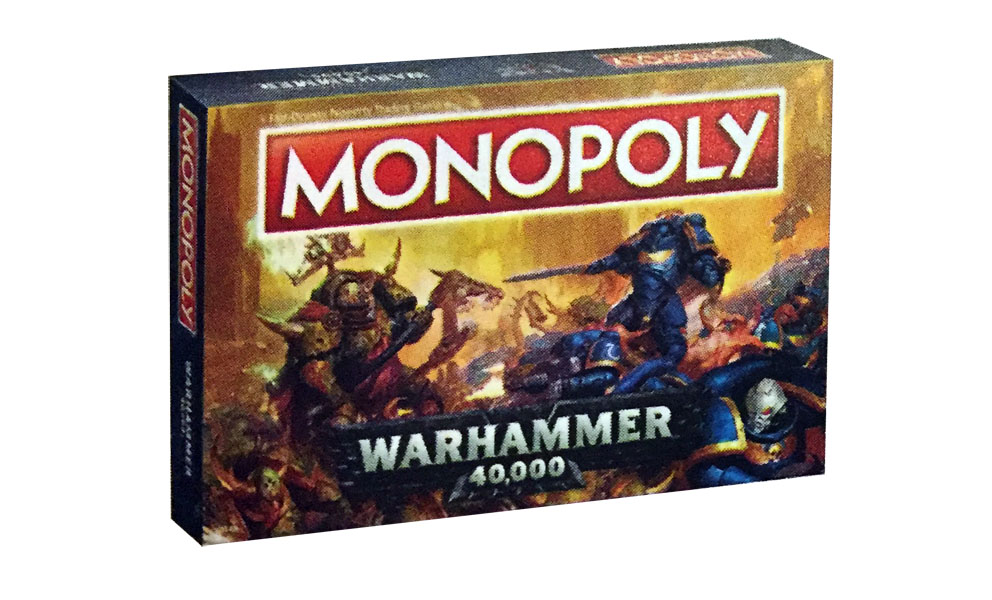 Yeah – it's coming. In fact if you're a Game Store you can order this from distributors. We did some more digging and found out the following:
Take the infinite war to new levels in Monopoly Warhammer 40,000

Play as one of six iconic metal tokens representing key factions

Make your way around the board buying, selling and trading properties from the 41st Millennium

Includes custom tokens featuring Eldar Rune, Ork, Choppa, Chaos Star, Space Marine Helmet, Necron Monolith, and Tyranid Ripper

2-6 Players | Ages 13+ | 60+ Min Play Time
The current release date is listed as August 2018 – so that's right around the corner. I've got lots of memories playing Monopoly. It usually ended with a bad roll and a table flip. You know I could also use that sentence to describe playing some poor sports at 40k, too. Now that I think about it, Monopoly should fit perfectly with the 40k setting! I got dibs on the Tyranid Ripper.
Monopoly Meets 40k – will there be "Get Out of Heresy" cards?