Or maybe that should be it takes a village to raise a Flip Mat. Look, the point is, there's a village map, and it's bigger than it used to be. You should check it out, and also flip it over for different-but-related terrain.
If there's one thing I've learned over the course of being a GM, it's that players need a place to call home. Otherwise, what are you going to threaten with a rampaging army of hobgoblins? People without a village have no place to call their own–no NPCs that they're used to that can suddenly be thrust into very real danger. Villages without People won't have many chart toppers, but that's a different matter entirely because we're here to talk about Pathfinder.

Now whether this is a village, or represents a thorp or a little hamlet out there somehwere, this is a great piece of urban terrain for any kind of in-city attacks you want. Whether marauding orcs or the big bad of the campaign finally tracking the heroes to their hometown–or I guess if you just want an easy map of the town you're adventuring in, this mat has got you covered.
via Paizo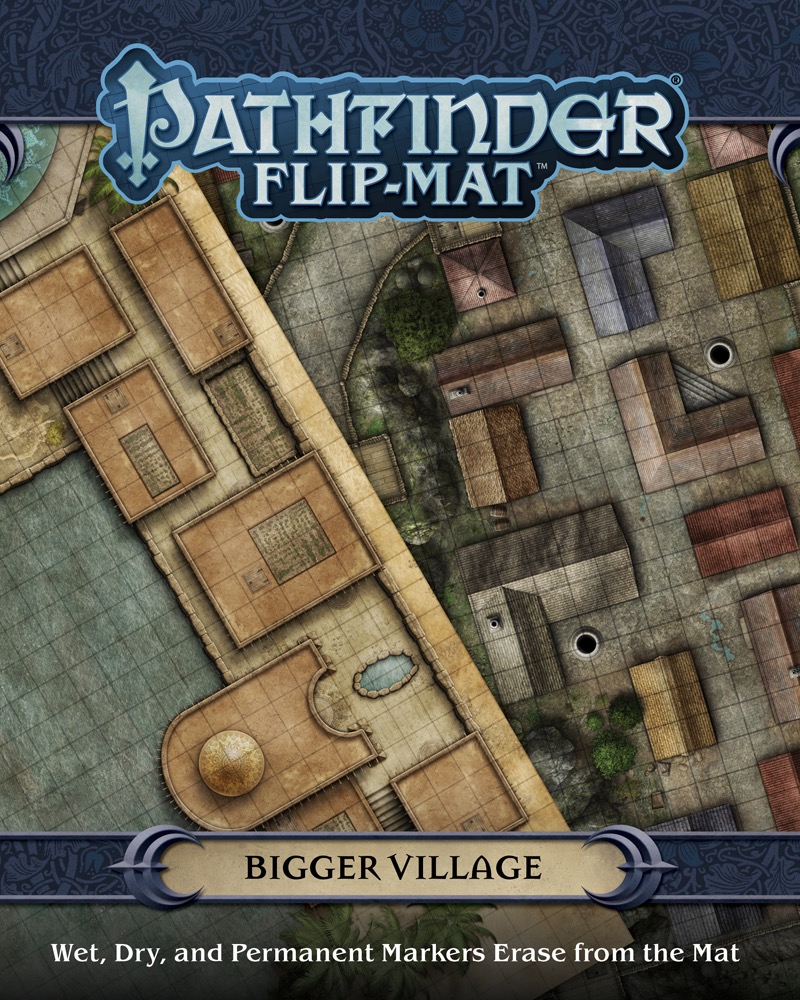 It Takes a Village

Whether your players are exploring some far-flung desert market or defending a village nestled within the hill country from a horde of rampaging orcs, Pathfinder Flip-Mat: Bigger Village has you covered. With an area that's 45% larger than normal Pathfinder Flip-Mats at their disposal, Game Masters can now dream even bigger! This massive gaming accessory provides a pair of large villages ready for discovery, defense, exploration, and maybe a bit of shenanigans and larceny. It's all up to you and your players.

Don't waste your time drawing every hovel, path, and wall. With Pathfinder Flip-Mat: Bigger Village, you'll be ready next time your players want to seek out danger, excitement, or profit in a sizable village!
Of course there's also the possibility that this map can just show your players all the buildings they're about to burn down, but when have PCs ever sone something unexpected like that? Happy Adventuring!