When the streets are crawling with guards watching every darkened alleyway, the only way to safely roam the wealthy and sleeping city is by digging your own Prowler's Passage.
Prowler's Passage is a path building game about digging tunnels and earning control and loot with a tug-of-war scoring mechanic.
On each player's turn, they will place one of their tunnel markers on the randomly generated city, earning control of both districts that tunnel is adjacent to. They show this by moving the correspondingly colored building token 1 space towards them.
The game continues in this tug-of-war type fashion of attempting to wrest control of each of the districts from your opponent which translate to victory points at the end of the game.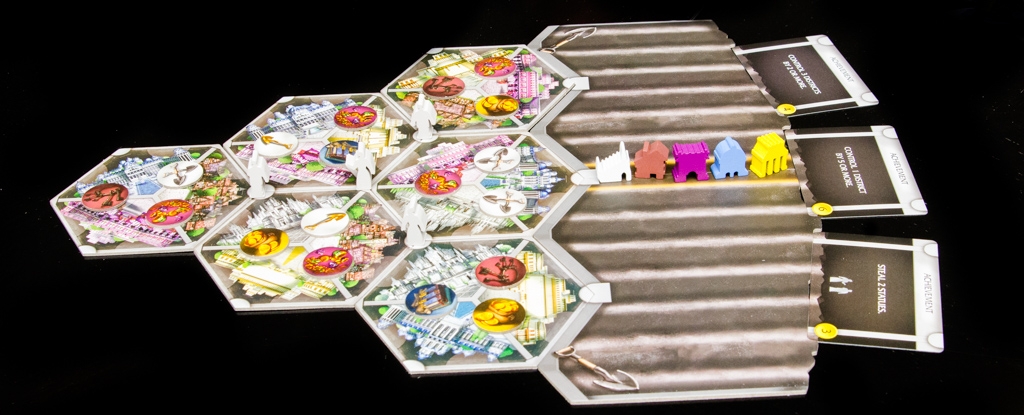 Prowler's Passage is supremely simple to learn but that doesn't mean it lacks in depth of strategy. Players are also fighting over acquiring special loot tokens and completing special objectives which grant special actions and bonus victory points.
via Renegade Game Studios

In the heart of the sleeping city lies incredible wealth. While the gates to the city are well guarded, no one is watching what's under their feet. The dead of night provides just enough cover for you to tunnel towards untold riches to plunder the city from within. Act quickly, as a rival thief has the same plan.

In Prowler's Passage, you and a competing thief will burrow into the city through a network of underground passages to grab valuable items while attempting to gain control of key districts. Steal the best items, create the longest tunnels, and control districts to become the premier prowler!

Contains:

 1 Control Track
 10 Board Hexes
 27 Object Tiles
 5 control Markers
4 Statues
15 Achievement Cards
 26 Passage Sections
 2 Score Reference Cards
 1 Scorepad (and pencil)
1 Rulebook
2 Players
25 Minutes
Ages 12+
Thanks for digging! …I mean, watching!