Star Wars: X-Wing is making the jump to second edition and to help veterans ease into the transition, Fantasy Flight Games has conversion packs for your old collection. We're going through the Rebel Alliance Kit and showing all the goodies you can expect inside!
X-Wing Second Edition is a massive undertaking. We showed off the Core Set yesterday. Now we're diving into the Rebel Conversion Kit in all it's glory. It's pretty impressive when you think about the amount of work it take to redesign virtually every card – from pilots to ship mods, astromechs to upgrades – the entire Rebel Alliance has been redone for 2.0:
This kit is designed for veterans who already have a collection of ships. You don't need to re-buy your ships (unless you want the new version with new sculpts). Your old plastic is still valid on the tabletop. All of the cardboard, however, has changed – the cards for each ship/pilot, and every ship has new bases to slot into your old flight stands.  And let's not forget the dials – every ship has new dials too!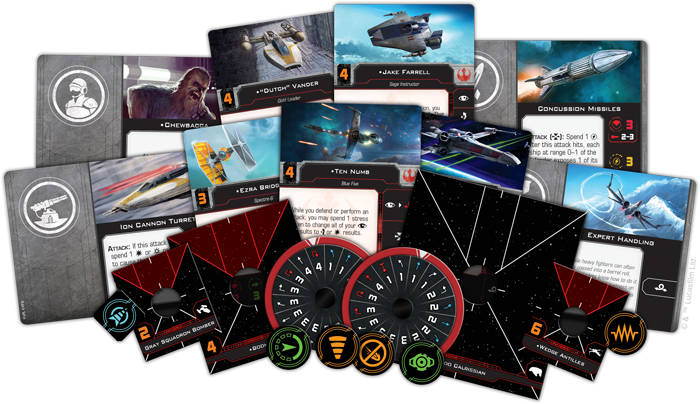 Another big change is that some ships are also getting the new medium sized ship base. This is quite literally a half-step between the small and large base. In the conversion pack you'll get 4 of the new stands as well as cardboard bases for the appropriate ships.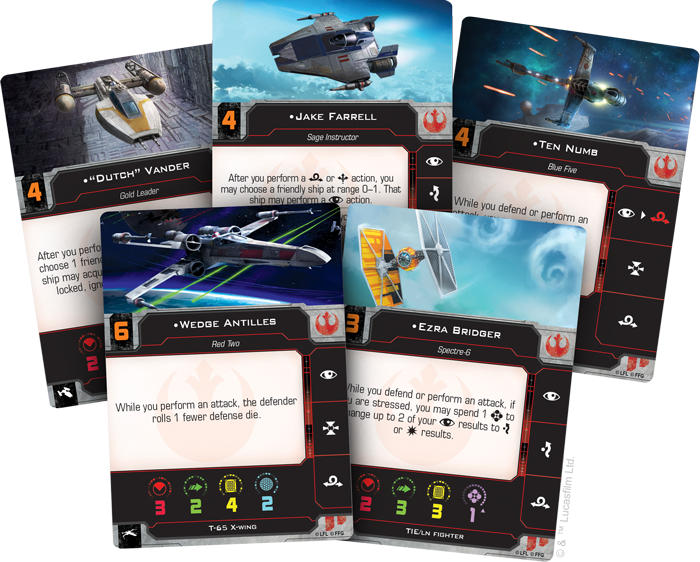 All of your favorite pilots got a look at and a refresh for 2.0 and their new cards are great. All of the upgrade cards are now larger, too. It's pretty much a must-buy if you're planning on continuing to play X-Wing 2.0 with your current collection of Rebel Ships.
One thing to note is that the Resistance ships have been removed from the Rebellion – Sorry X-Wing T-70s, you're in your own faction now! They don't have a conversion pack yet…but it's coming soon.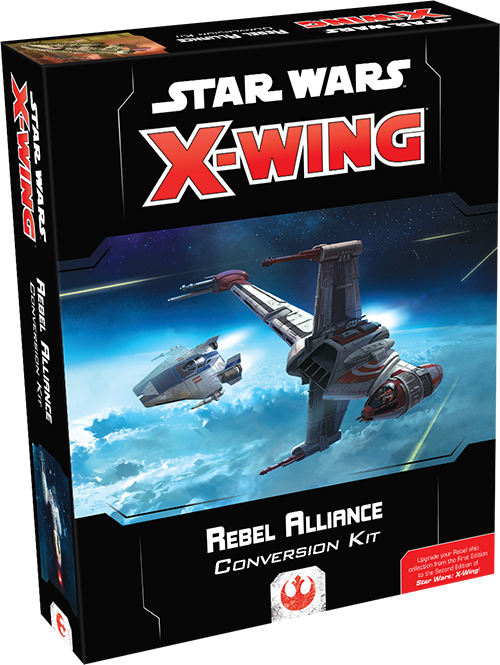 From the blazingly fast A-wing to the iconic Millennium Falcon, the Rebel Alliance fielded a great number of starships during the interstellar battles of the Galactic Civil War. Between the Rebel Alliance Conversion Kit and the extensive catalog of first edition expansions, these ships are available to join your squadron from day one.

Within this conversion kit, veteran players will find all of the components necessary to upgrade their existing Rebel ship collection from the first edition of X-Wing to the second edition. The conversion kit contains a vast array of new ship cards and tokens, including iconic pilots such as Han Solo, alongside more than one-hundred upgrade cards that give you the power to customize your squad to fit your playstyle. Finally, the conversion kit also includes the second edition maneuver dials for each ship, which makes planning your actions easier than ever before.
Get your Pre-orders now for your new Rebel Alliance Codex Conversion Kit!