It's time to take a look at one of the best parts of Kill Team: The Random Name Generators.
Sure there's your rules and your unit breakdowns but the real hero of Kill Team–aside from the Terrain–is the random name and demeanor generators. Let's all just sit back, relax, and take some time to appreciate what's in a name. A rose by any other name, after all, would be misnamed. I mean now that you've gone and built your little plastic soldiers and painted them, you wouldn't want to somehow accidentally end up giving them the wrong name. Like a Space Wolf named Bill. I mean it's just madness–that one little detail utterly destroys the verisimilitude of the game, bringing disbelief crashing down where before it had been suspended (by a razor-thin thread apparently).
But these charts not only give you the tools to avoid this incredibly gauche faux pas, they also carry with them an insight into the worlds of 40K. For instance, one thing I learned when flipping through the book is that you only get two names if you're at least as cool as a Space Marine.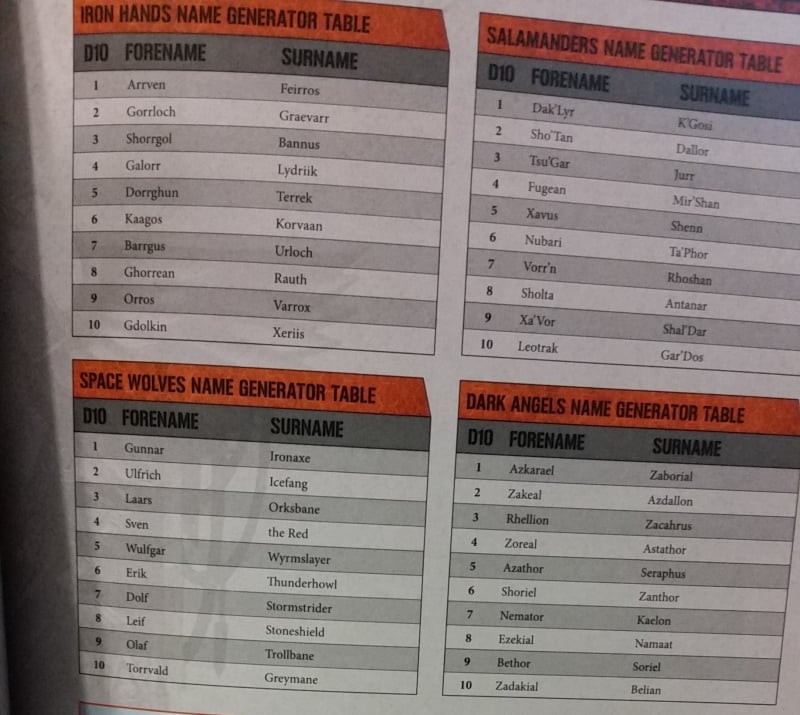 And as you can see, there's no Bill anywhere in sight. You've got combos like Azathor Astathor, Zakeal Zacahrus (or Zak-Zac to his friend), or Baargus Bannus, all of whom are clearly comic book characters, ready to strut out onto the page full of alliterative names and a tragic backstory that left them without one or both parents.
As with everything though, the Space Wolves steal everyone's thunder just a little with names like Dolf "Lundgren" Thunderhowl or Erik the Red. Or Erik Stormstrider. Or Erik Icefang. Look the only reason not to name a Space Wolf Erik is because you've named them Sven. It's a real David Ryder situation.
Speaking of Bolt McLargehuge though, the real gem of gems here is the Astra Militarum Name table. As we mentioned, you only get two names if you're at least as cool as a Space Marine, so they only get a single name.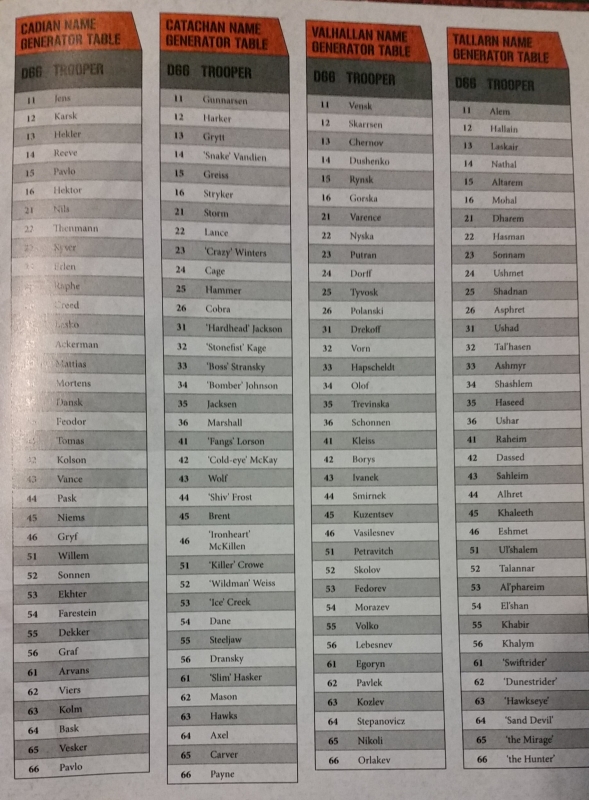 As you can see the only people who come even close to being remotely as cool as a space Marine are from Tallarn and Catachan. With names like Ice Creek, Shiv Frost, Cold-eye McKay, Crazy Winters, or Brent you can get a very specific themed Kill Team. Of course if you're fielding Tempestus Scions, I suppose you could probably roll twice on each table, but that might give you names like Cobra Wolf or Dane Payne and I don't remember why I was cautioning against this. I'm off to start my own Tempestus Kill Team now, apparently, but before I go, let me leave you all with a look at one of the Specialist Demeanor tables.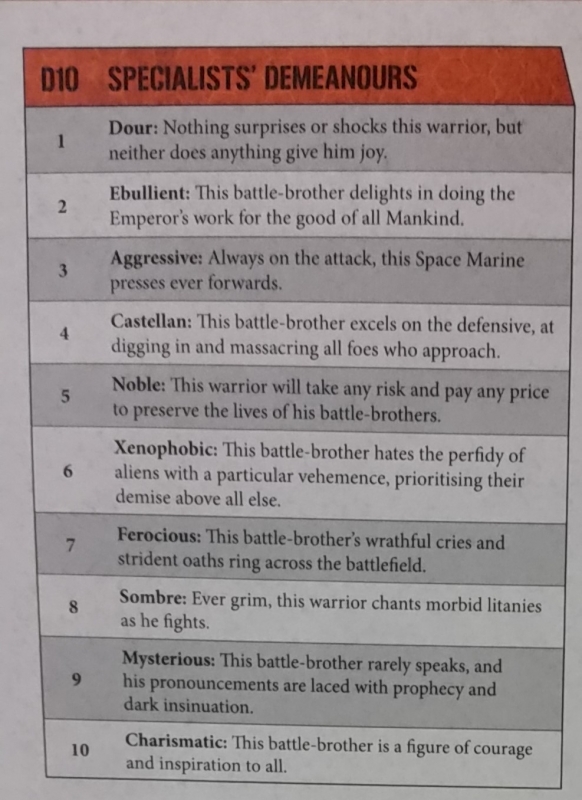 Taken from the Astartes section, you can have one specialist who's xenophobic, while another who is incredibly ebullient provides you with a constant source of prime-time drama from mismatched characters.
What name will your Kill Team bear? Will their deeds be legend, or fade into obscurity?