Another major 40K event has been marred by cheating and drama – and it's time to do something about it once and for all.
The ATC tournament went down this weekend.  We've already talked about the winners, but the event had its fair share of drama.
A team was caught cheating, and then it went south fast.

What Went Down
Here is the rundown of what happened from multiple eye-witnesses.
A team was solidly in the running for a possible win on the first day of the event.
The team was caught cheating in multiple manners.
One player's was using combi-weapons that were not on his list.
The combi-weapons being uses were also being used in an illegal manner (in addition to not being on the list)
A second player was using an illegal combination of sub-faction rules for his Astra Militarum list to take advantage of multiple special rules.
The team was DQed.
What is Going On?
For those keeping count, this is the third major 40K event in a row this year that has been marred by cheating. Many 40K tourney players tell me that this behavior is not that rare, but clearly, the competitive scene in the US has a real problem.

What to Do?
It is a problem that needs to be dealt with quickly and harshly by the Tourmanent Organizers (TOs) before a stigma takes hold and puts a black mark on the entire competitive scene.  Here are some suggestions to get the ball rolling.  As a parent of two teenagers, I'm well aquainted with how to deal with unruly and shady behavior.
The TOs Need to Protect Themselves
TOs spend a lot of time and money to put on big events, and they want as many players of all skill levels to attend and grow both the competitive scene and their audience. These events take years to grow but can quickly fold if they get a bad reputation and players abandon them. The number of TOs of large 40K events can be counted on your fingers. It would be simple to have them set up a single set of prohibited actions and repercussions that applied to all of their events. I would suggest something like is seen in other organized play systems along the lines of:
Minor Infractions – 6 Month Suspension
Infractions – 1 Year Suspension
Major Infractions – Lifetime Suspension
I hate to say it, but there are now known "bad actors" within the competitive community who have been caught cheating at multiple events. With no unified set of penalties, people can just drive their cheating roadshow out of town and do the same thing at the next big event.
By putting down rules AND enforcing them as a group, TOs show that cheating will not be tolerated and that they care about all their attendees. Fool me once, blame the cheater. Fool me twice, three, or more times and blame starts to shift onto the TOs.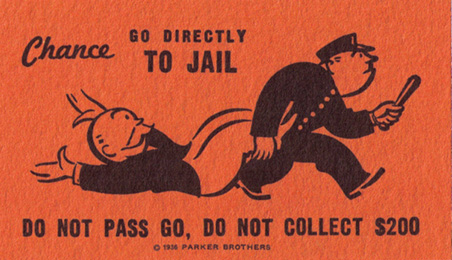 Throw the Bums Out
The bigger issue here is that the community needs to set an example and cut these folks loose. When you have an honest mistake, they you can let judges deal with it, but with repeated bad behavior there is really only one choice.
DITCH EM – For Good.
The community will thrive and be just fine without these people.
People who need to cheat to win at games of toy soldiers have some deep seated issues – and the community is not here to be their therapist. They can work out their self-esteem issues on their own dime.
In a year, no one will even remember them, and they can bother some other community with their unscrupulous ways.
~What do you think is causing this repeated behavior and how should it be stopped?
UPDATE: We have updated the description of the incident with further information from the official ATC TOs.