The Sector Imperialis Terrain kits are out in stores this weekend and they are fantastic. That said, GW has put together some tips and tricks about building them. On top of that, they also have secrets about the kits waiting to be discovered.
Of all the terrain I've build over the years, the Sector Imperialis kits are my new favorite kits from Games Workshop. They look amazing and are an excellent marriage of form and function. They have a lot of what I call "playability" – meaning this terrain is usable for actually, you know, playing on. The walls are tall and can block LoS if you build them o. The floors are sturdy and can hold the weight of models, plus they are wider so you can fit models on them. And the stuff can stack (with or without glue) and you can have some amazingly tall buildings.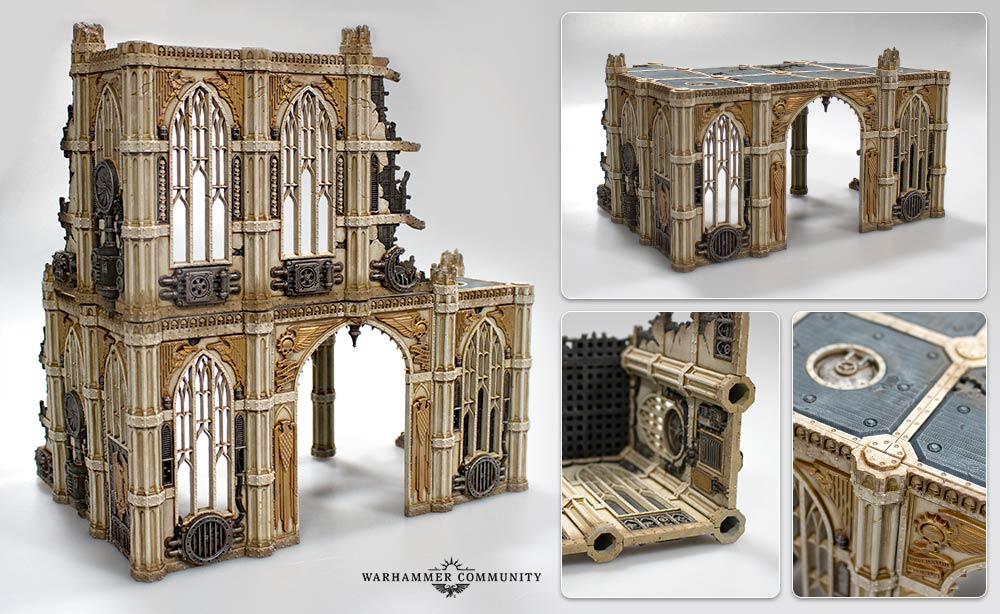 If you build the terrain correctly, those columns actually have openings where they line-up with the floors for a snug and secure fit. It's such a simple change but it makes a lot of difference in construction.
What About Those Secrets?
If you thought that the Sector Imperialis Terrain didn't tell a story you were so very wrong. There are hints and clues all over this terrain and GW has dropped a few bread crumbs so folks can start to track down that narrative.
First Secret: They are at the Heart of the Imperium
The Sector Imperialis buildings are designed to represent a very specific slice of Imperial society – the central districts of each city. These aren't hab blocks, but sanctums, courts and other key municipal buildings – hence the terrifying, deliberately imposing architecture.
Interesting…If these buildings are supposed to be sanctums then why are they so damaged? I mean, yes they need openings so players can play on them so I get that – but if these buildings ARE at the heart of the Imperium, that means something has rolled in and started destroying (or at least damaging) these structures.
Second Secret: Hidden Meanings in Every Piece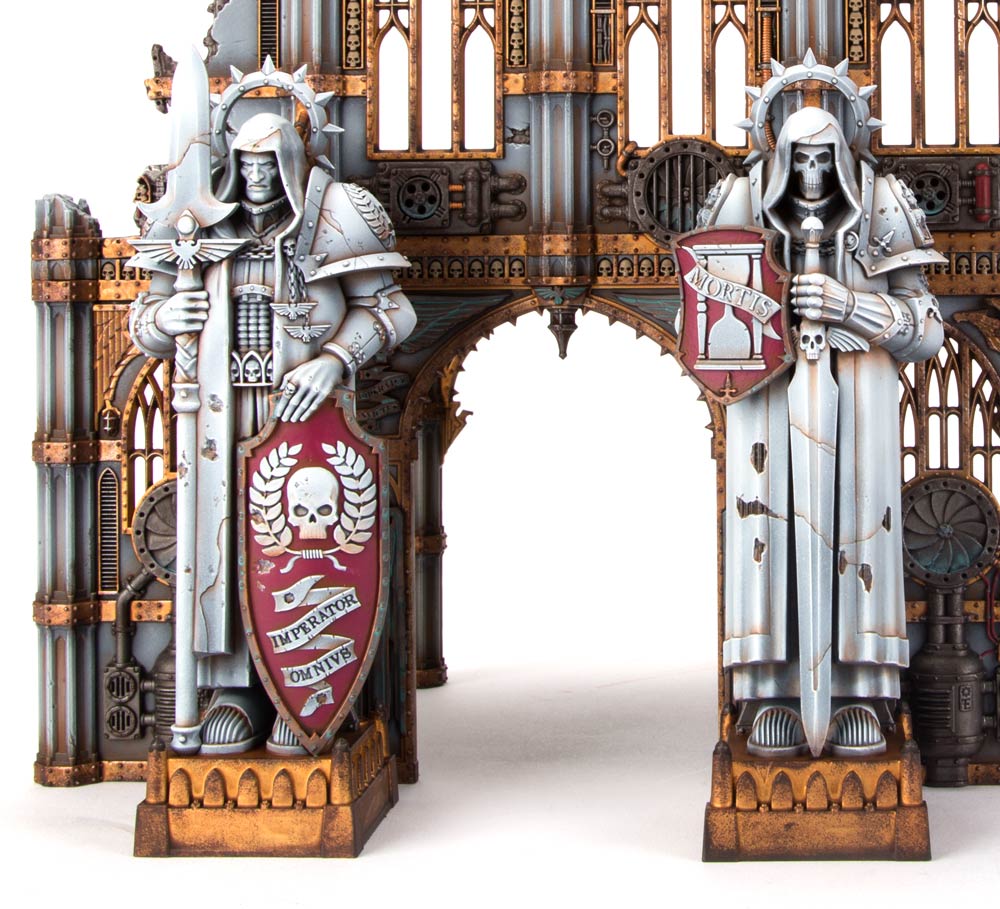 Every statue on the Sector Imperialis set is designed to tell a story. For example, the hobby team designed the two larger figures in the Basilicanum as symbolic representations of the two key pillars of the Imperium – a warrior and a priest.
Naturally, it's a little hard to tell who's who – that's because the Priest is about as well armed as the Warrior. Seems fitting in a place dubbed the 'Grimdark' right?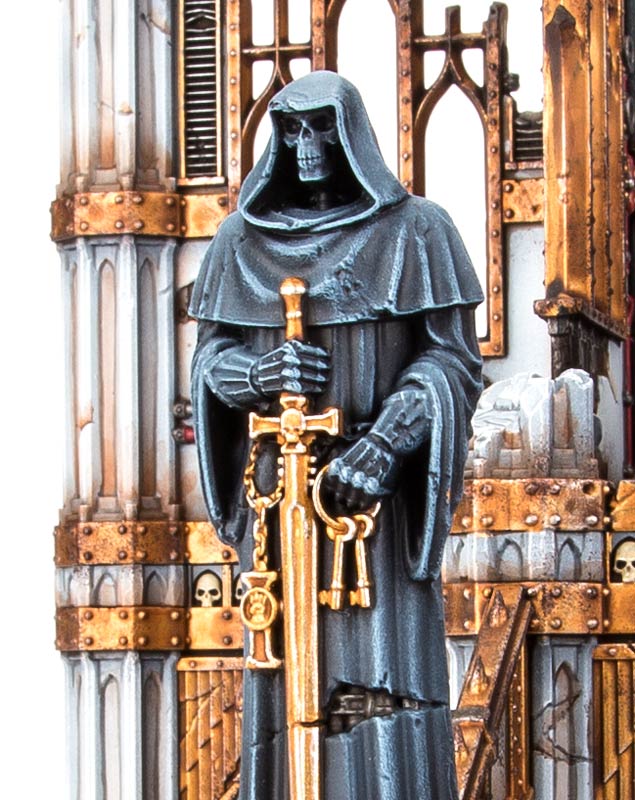 The smaller statues in the Sanctum also have a lot of hidden clues as well. This one for instance has 3 different symbols of the Imperium on it – the Adeptus Arbites, the Inquisition and the Officio Assassinorm.
In fact, each one of these statues has those types of things all over them – can you spot them all?
Third Secret: Hobbyists are going to have a field day with these kits
Okay – that's not so much a secret as an obvious truth, but it's HOW they are going to be able to use these kits that's the "secret sauce" if you will. If you get creative, you can build "bridges, balconies and other, more unusual structures." The only limit to these kits is really your imagination. And I personally cannot wait to see what people end up construction with these kits!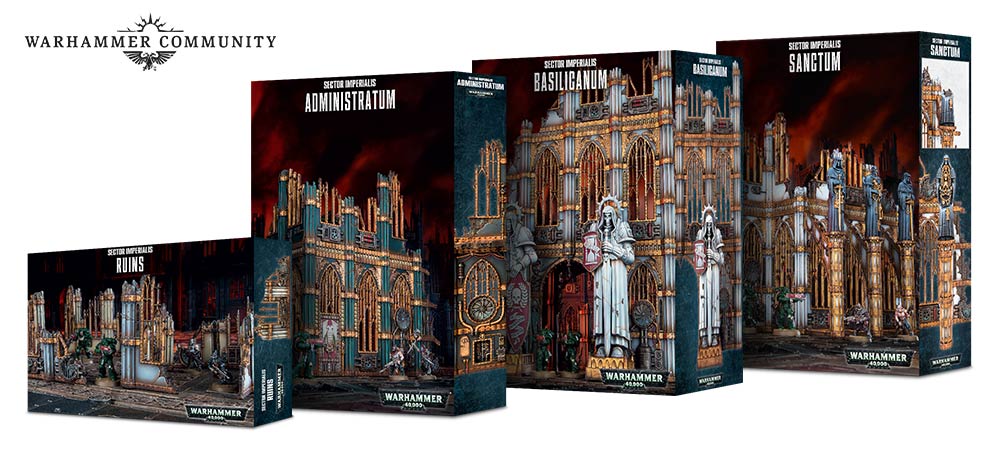 The Sector Imperialis Terrain kits are in stores this weekend – have fun building the castle!