Gear up for Titan vs Titan (a 'clash' if you will) fight in the August White Dwarf. Games Workshop is showing off some of the rules and we're taking a closer look at what to expect in Adeptus Titanicus!
The next issue of White Dwarf has some key info about what we're all waiting for from Games Workshop – Adeptus Titanicus. Not only are they going to have a pretty indepth dive into the rules, they are also going to have a battle report. We're pretty excited as this is a game we've been waiting for from GW for years at this point. Let's see if we can take a closer look at some of things they are teasing today.
This month, the team have been getting stuck into Adeptus Titanicus – the new game of titanic battles in the Horus Heresy. This is our most detailed preview of the rules so far, featuring interviews with the designers and a Battle Report…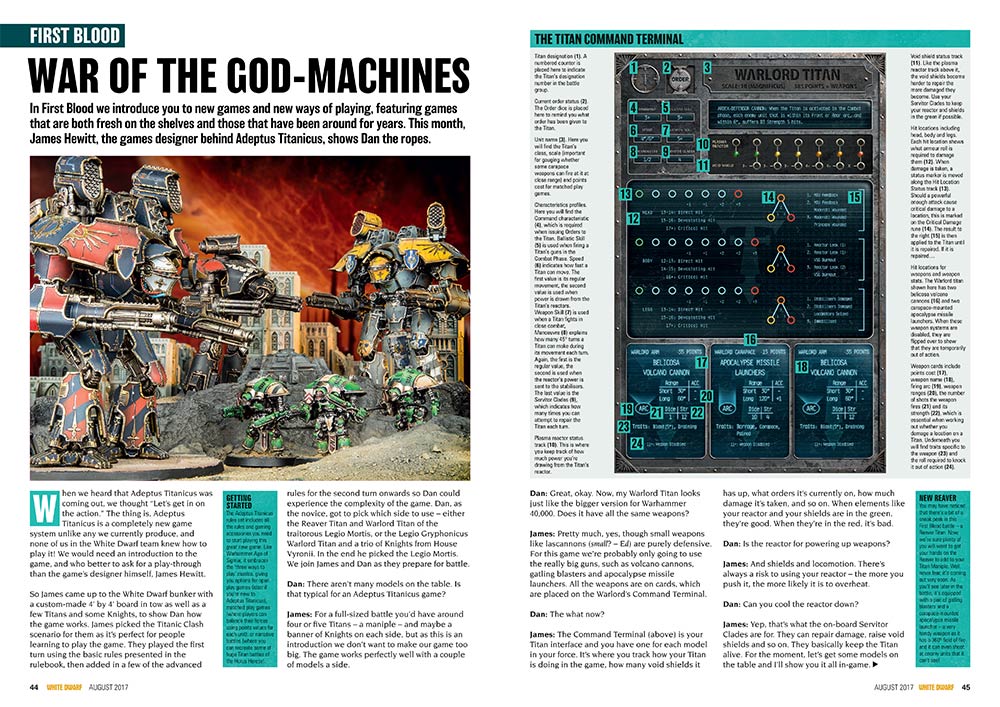 Horus Heresy Titan Legions…For Now
First off, we know the setting is going to be during the Horus Heresy. This is an interesting choice for the setting vs a more "modern" 40k setting as it allows GW to really focus on the Titans of the Imperium. With Loyalists vs Traitors, you really only need a handful of kits that can perform double-duty – we don't even need "chaos bits" for the Titans.
That said, this is probably a safer bet to start. Think about it – this is a more limited release with a smaller set of kits to produce. If the game takes off then GW can ramp-up production and expand the setting even further. Maybe one day we'll see a 2.0 edition that advances the timeline. GW could then introduce other factions – like Orks, Eldar, and perhaps Tyranids. But starting at the Horus Heresy lets them establish a solid base line to build from. Conversely, if this game tanks (which we highly doubt) they are "only" out a handful of kits vs an entirely new line with multiple factions and kits that all have to be squashed.
Manage Your Titan Like A Pro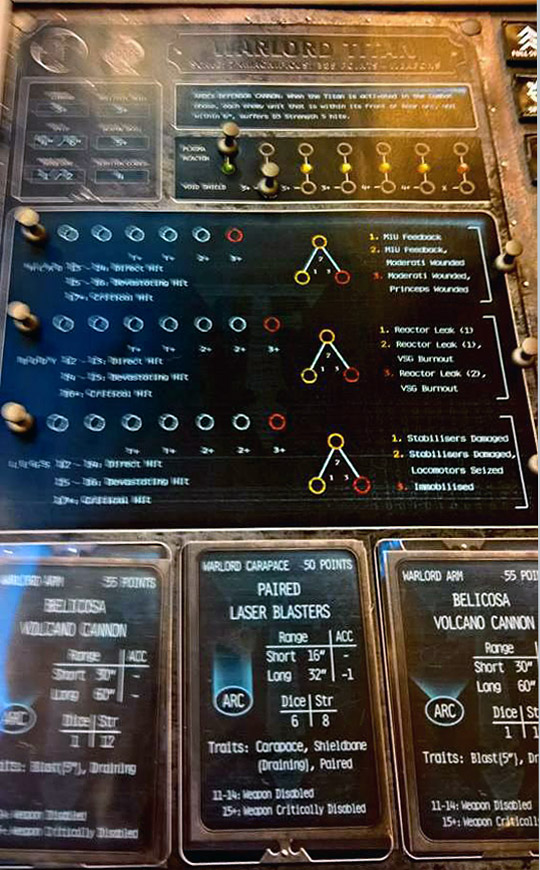 Waaaay back in February of 2017, we got a look at the Titan Card. This is the "console" where you're going to be tracking your Titan's stats, damage, weapons, and resources. From the teaser page GW posted, we can tell that you're going to have to manage your power between shields, weapons, and locomotion. You can tap into your reactor but if you do it too much there is a chance that it will overheat (which sounds bad). Fortunately, there are some "on-board Servitor Clades" who can help repair damage and keep your systems running.
Also, the weapons on your Titain will have cards that you can track the at the bottom of the console. You can see in the pictures that the weapons are the same ones we've all come to know and love – Volcano Cannons, Apoc Missiles, and more will be at your finger tips!
Game Sizes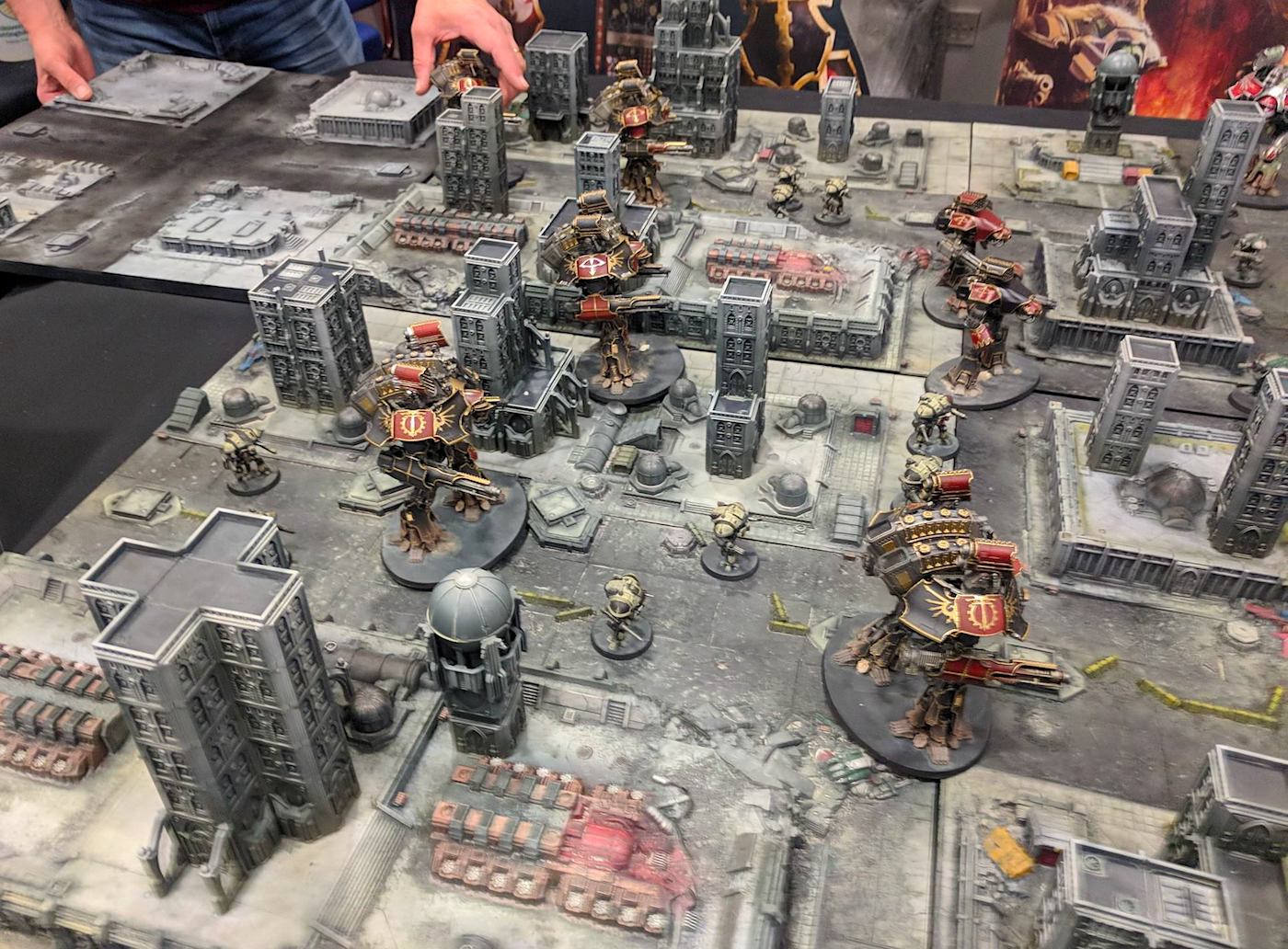 The game in the White Dwarf is apparently on a 4×4 table and had a handful of models. It had a pair of Titans vs a Titan and a trio of Knights. According to the page, most games will have games with 4 or 5 Titans (a Maniple) "and maybe a banner of Knights" per side. Good to know!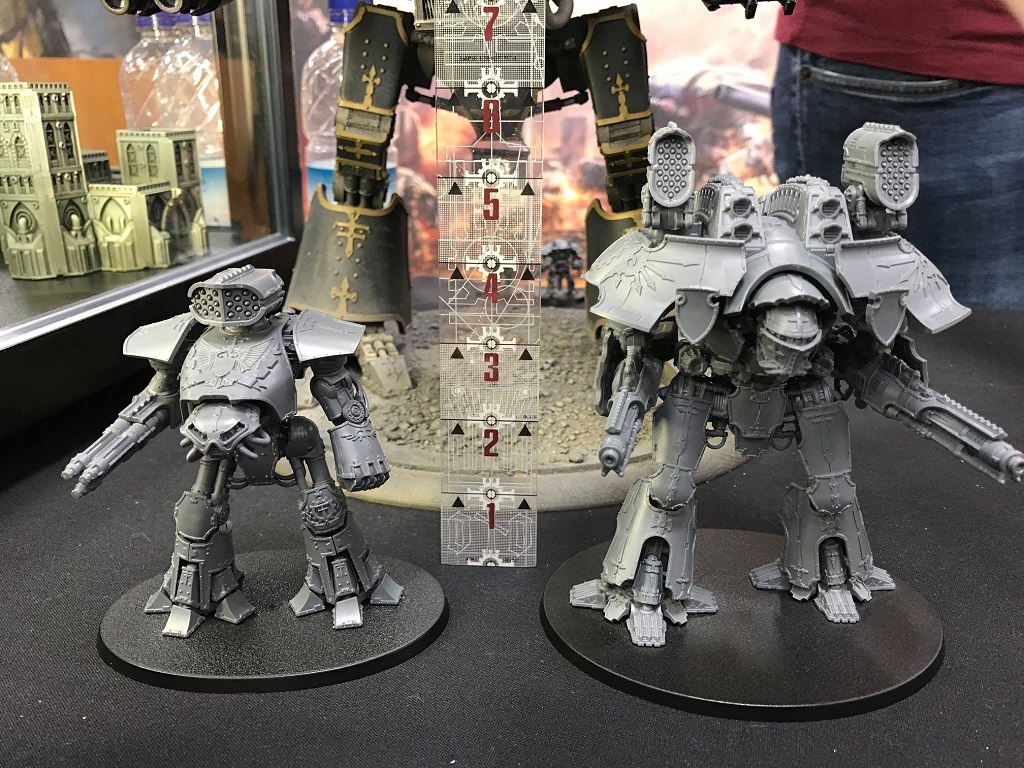 From what we saw in the unboxing that means once you get your hands on the box, you'll be well on your way to having your own Titan Legion! I can't wait to get my hands on this game and get started.
Adeptus Titanicus is going to have an EPIC feel with only a handful of models per side and I'm really looking forward to it. While the setting is going to be somewhat limited in scope at the start, future expansions can easily bring the game forward in the timeline and add more factions – something I hope GW plans on doing later. If you want to learn more your best bet is to pick up a copy of the upcoming White Dwarf!
Do you have a Titan Legion picked out yet? Traitor or Loyalist? Let us know what you think in the comments below!