Kill Team is heading to Pre-Order this weekend but how does the game actually play? We got our hands on the rules and have a break down of how a typical turn works.
If you've been wanting to play 40k but on a smaller scale and with alternating activations you're in luck because Kill Team is coming and it's got all those things and more:
We've been wondering for weeks now how similar full scale 40k and Kill Team are and we've finally got our answer. They share a lot of the same core rules, but have some key differences that make them diverge quite a bit. The core game play has the same turn structure but forgoes the "I-Go, You-Go" system for a hybrid of alternating activation and the traditional game play.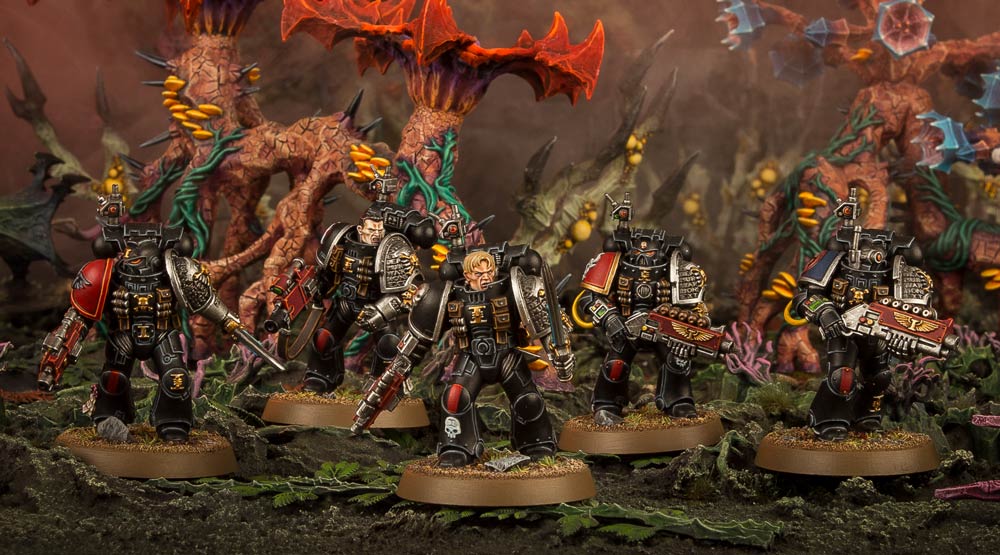 A "Turn" still follows the same turn structure as 40k (Move, Shoot, Close Combat, etc.) but with some notable exceptions. But if you play 8th edition 40k, you'll be able to pick-up on these changes and play pretty quickly.
Movement
Moving your models functions pretty much the same. The player who has the initiative for the round (you roll off at the start of every turn to determine who goes first) moves all of their models and then the next player moves and so on. This is important because it shows that Kill Team was designed with multiplayer in mind. But during the movement phase there are two other choices you have besides your standard move/advance options:
Ready – a model can opt to Ready instead of moving. This grants benefits that are akin to "charge" but for the shooting phase. Any models who readied in the movement phase get to shoot first in the shooting phase.
Charge – Charging happens in the Movement phase. If you're within 12″ of an enemy model you can declare a charge. Roll 2d6 and that's the distance the model can move. Now, the charge target(s) do get overwatch fire – it pretty much works exactly like 40k. If a model charges they get to strike first in the combat phase.
Shooting
Shooting has had some pretty big overhauls in Kill Team. It has an alternating activation structure that is basically the same as how close combat works in 40k. Readied models get all get to act first with the players choosing to activate models in initiative order. Then all remaining models who are eligible to shoot get to fire. Again, every thing is done on a per model basis. I get to activate a model, then you do, and so on until all models have acted.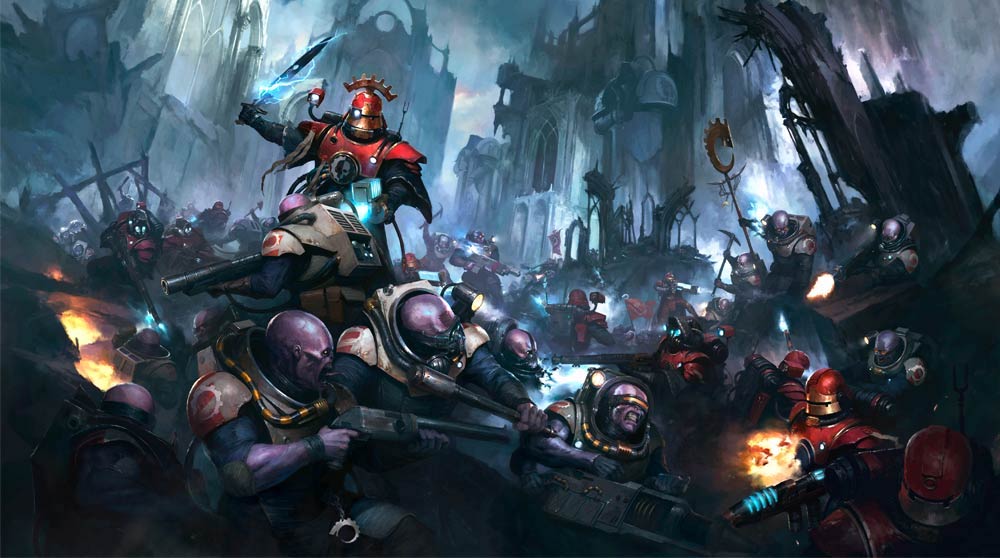 Modifiers are back and they are a BIG deal. Not only are negative modifiers cumulative, but they are actually pretty "easy" to get:
Long Range – any shots that are over 1/2 the range of the weapon are long range. Are you shooting a bolter at a model that is over 12″ away? That's a -1.
Obscured – if any part of the model is blocked from the shooter then that is another -1. If the target isn't 100% in the open, then it's considered obscured.
Flesh Wounds – We'll get into how you get Flesh Wounds later, but they also cause you to have a -1 to hit rolls.
All of these stack. But the good news is that a natural 6 always hits – for both shooting and close combat.
Wounding
Okay, since we are talking about Flesh Wounds, let's go ahead and cover getting wounded. If you're using a multi-wound model this doesn't really matter until you lose you last wound. Once a model does suffer that last wound you roll a D6. On a 1, 2, or 3, the model suffers a Flesh Wound. On a 4, 5, or 6, the model is knocked out of action. If a model has taken a Previous Flesh Wound, then for each one they have suffered, they get a +1 to the roll. However, if the attack was Obscured, they get a -1 to the roll.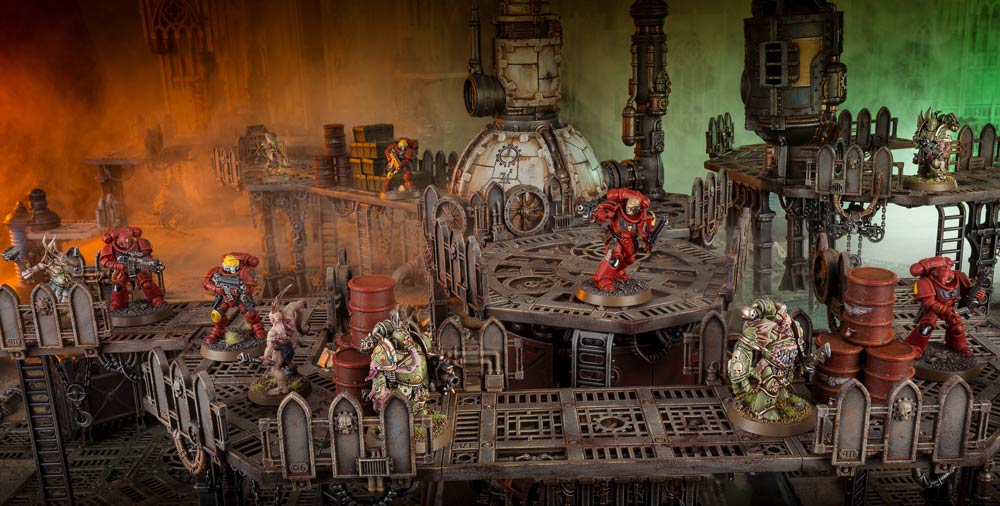 Basically, if you're already Flesh Wounded the odds of you surviving the next shot go down. If you're Obscured, the odds increase.
Damage and Attacks
Another thing that gets a little funky is how Multiple Attacks and Damage work. Let's start with multi-damage attacks because that's simple.
When you are hit by an attack that has multiple damage that removes your final wound, for each damage you roll a D6 and pick the highest result on the Flesh Wound/Out of Action test. That means if you get hit with a 3 Damage attack and it removes your final wound, you roll 3 dice and pick the highest result.
Now, Multi-attacks are weird. If I have multiple attacks that only do 1 Damage each, Only the first wound that cause a model to lose their last wound matters. If I hit 3 times and cause three wounds and the defending model fails three armor saves then you roll 1 die to see what happens. If you just get a flesh wound that is it. If you take them out of action, well they are done. But the remaining results are discarded. It's a little counter intuitive, but remember that a model can only cause another model to take 1 of those tests with their attacks per phase.
Close Combat
When things get up close and personal, they work exactly how they do in 40k. In fact, even the alternating activations are the same. Chargers get to act first, followed by anyone who didn't charge. And since the wound chart is the same and you now know how attacks and damage work…you've got it covered.
Psychic Phase
I skipped the Psychic Phase because as of launch, only 2 factions even have Psykers – Grey Knights and Thousand Sons. And really they only have Psybolt to use, which is like Smite. It has a Warp Charge of 5 and players can try to deny it like in 40k. Really the only difference between the Psychic Phase in Kill Team and 40k is that all players get to use their powers in initiative order. You can still only use a power once per turn and you're limited on your Deny tests like normal.
Morale
This is one part of the game that can cause things to snowball quickly. I won't go into all the details here – we cover it in the video, starting 29:26, but it's a little more complex than in 40k. The Morale Phase is the biggest change in Kill Team vs 40k so you're going to want to read-up on that when you get the rules in your hand.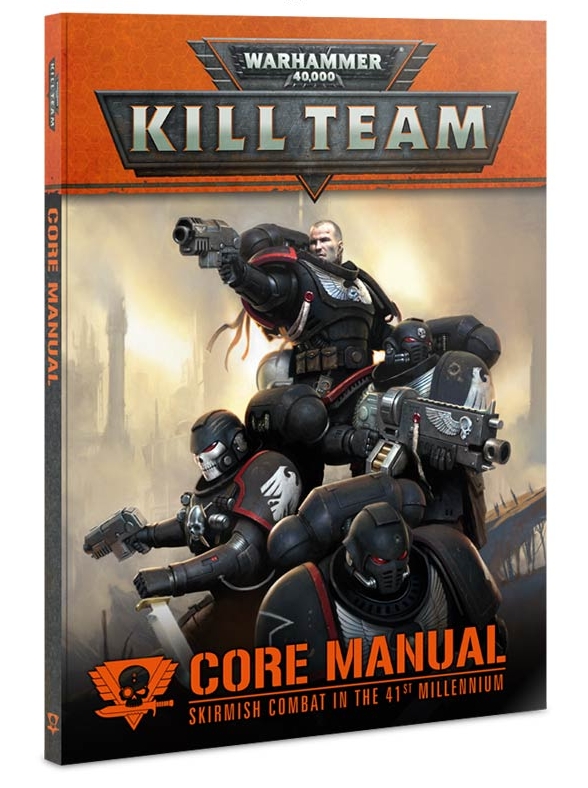 Kill Team is going to feel very familiar to 40k players. It's a fast, fun squad-based version of 40k. The Core Mechanics are close enough that vets will pick it up no problem and it's also "light" enough that new players can learn it in no time. I can see this being a perfect game for lunch leagues or for fast pick-up games. We just covered the core mechanics but the game supports campaign play very well.
If you're just looking to play 40k on a smaller scale then Kill Team is a game you should check-out. It's got enough changes to make it play differently but enough familiarity that no one who plays 40k will feel out of place. It's up for Pre-Order this weekend and has a ton of awesome terrain – I think fans are going to get a kick out of Kill Team!
I wonder if those Alternating Activation ideas might migrate over to 40k…