Clandestine missions behind enemy lines to sow disorganization and despair in the enemy ranks? Sounds like another Tuesday afternoon for a Champion of Chaos. These veterans of the Long War having been fighting dirty for 10,000 years and now they can bring that to Kill Team!
We all know the followers of Chaos are Bad Dudes. So it shouldn't be a shock to anyone that a Chaos Kill Team can really thrive in a skirmish scale environment. You can run them as a small, elite group of Chaos Champions. You could run them as a mob of unruly cultists. Or you could mix-and-match to fit whatever play style you want. Combine the awesomeness of Power Armor with the unrelenting horde of cultists and crush your enemies before you!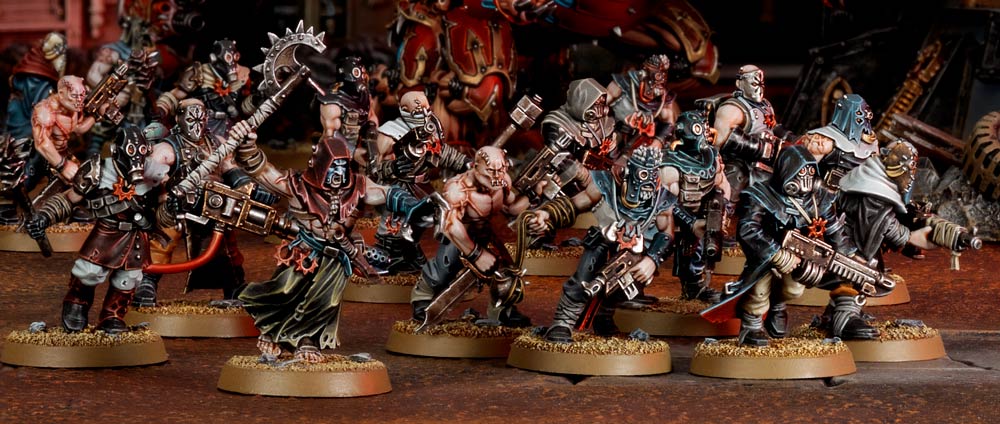 via Warhammer Community
In Kill Team, the renegade warbands of the Heretic Astartes combine elite Chaos Space Marines and hordes of eager Cultists to conquer their foes – with a generous share of insidious warp-magics. We're taking a closer look at just how it all works in our latest Kill Team Focus…
The Units
First up, Heretic Astartes do have a slight limitation in unit options – Chaos Space Marines and Cultists are their "only" choices. However, with those to unit options is a plethora of choices to pick from. Heavy Weapons, Special Weapons, brutal close combat options, and of course your trusty/heretical bolters. Even cultists have access to special weapons (like Flamers) to spice things up.
Also, don't forget that these forces of Chaos are going to get access to all their other tricks – that means Marks and Icons to get you some additional sinister powers on the tabletop.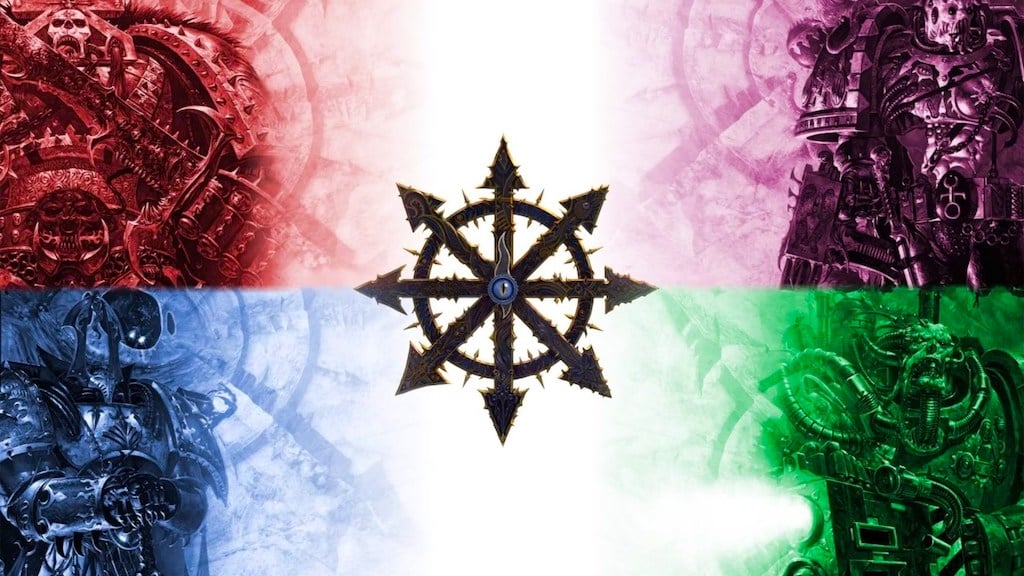 The Tactics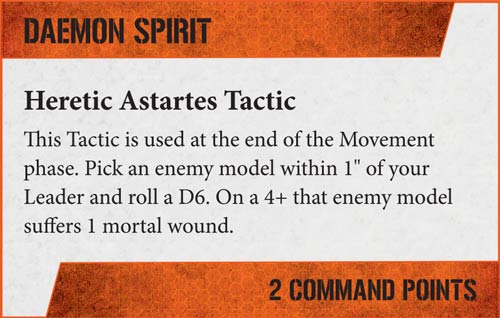 Daemon Spirit costs 2 Command Points and has a pretty big range limitation – 1″ to be exact. But it's a 4+ to cause a Mortal Wound to an enemy model. It also happens in the movement phase which can free up your leader in the following shooting and close combat phase.
Now, I do have a question on what happens if a model loses their final wound while they are within 1″ of an enemy model – do they still have to roll to find out if they are KO'd or are they automatically taken out of action because they are too close to an enemy? Because if you still roll, I'd be kind of disappointing to spend 2 CP, roll a 4+ and NOT take out an enemy model.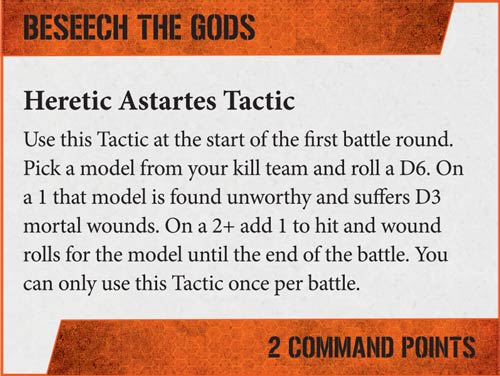 Beseech The Gods is another Tactic Heretics have access to – and it seems pretty good! On a 2+ a model gets +1 to hit and wound for the rest of the battle! However, you have to use this at the start of the first battle round – which means you're going to need to have 2 Command Points at the start of the match. Keep that in mind when you're list building… However, can you imagine putting this on a model with a heavy or special weapon? A CSM hitting on 2s with a Heavy Bolter that also (probably) now wounds on 2s vs most things? Ouch. Just be aware that there is a chance you roll that 1 and suffer D3 mortal wounds. Worth it? I dunno – do you feel lucky?
It's Tuesday somewhere in the Grimdark universe.
Heretic Astartes – What do you think of your Kill Team's odds? Are you going to run power armor, cultists, or a mix of both?