Games Workshop takes a good look at the rules for Kill Team, the upcoming skirmish scale game set in the 40k universe. Will we finally get some answers about how the game plays? I sure hope so!
The past week we've seen a whole lot of faction articles from Warhammer Community. Those teasers have raised some questions about the core mechanics of the game of Kill Team and have made me wonder how much DNA from Warhammer 40,000 has been injected into the skirmish scale. Was this game really designed from the ground up or have the rules from 40k  been tweaked and modified for a skirmish game? Well Today we can hopefully get some answers!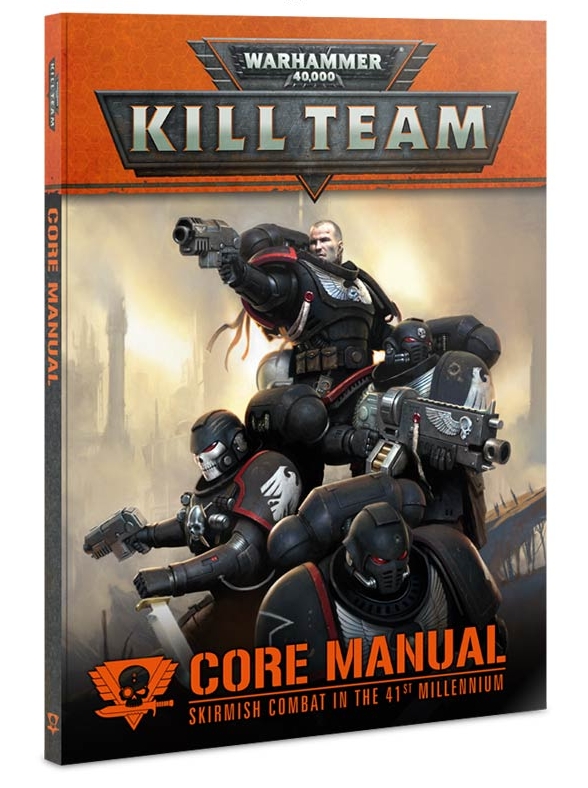 The Kill Team rules set shares a lot of DNA with its big brother Warhammer 40,000. Both are looking at combat in the 41st Millennium and share a lot of core systems and general principles, with differences emerging in scale. Warhammer 40,000 is about grand plans, sweeping manoeuvres and the clash of massive armies, while Kill Team is about moment-to-moment action.

Put simply, in Warhammer 40,000, you're a general commanding your army from on-high, while in Kill Team, you're a sergeant, issuing orders to each member of your squad and trying to outmanoeuvre your rival.
Okay – so we know the game DOES share a lot of the same core systems now. That's not a bad thing! But what else is going on under the hood? What about those alternating activations?
In Kill Team, alternating activations for shooting and combat mean that you'll have to be on-the-ball in every moment of the game – and you won't have long to wait until it's your turn, either.
Interesting! Alternating activations for shooting and combat – but not movement? Nope – Movement is still based off the I-go-you-go basis. This apparently is done for the sake of speed. Players roll off at the top of the turn to move ALL of their models. But there is more to it:
…in the movement phase, you'll also get to charge! Even if you fail, you'll get to move the full charge distance you roll, as long as you move towards the model you were charging in the first place. This adds an element of risk and reward – while you won't get to move and charge, you will get to lock the foe in combat before they've had the chance to shoot at you.
There are some benefits to winning the roll-off and moving first as you can see. But again, if they fail those charges or position themselves poorly, you can counter-move when you go second. Also during the movement phase you can "ready" a unit so they can fire first in the shooting phase. Charging gives you the chance to strike first in the following combat phase. These options really make the decisions in the movement phase matter – that's cool.
If They Bleed…
So how will shooting work in Kill Team. Modifiers are back for one thing:
 Shots taken from 'long range' – that's more than half a weapon's maximum range – take a -1 penalty to hit, as do shots against targets that are obscured. A model is obscured if any part of it is blocked by cover.
A long range shot at an obscured target will get you a -2 penalty to hit. Brutal. The idea of running a Melee Kill Team doesn't sound so daunting all of a sudden. And if you're a terrible shot anyways don't worry:
…an unmodified hit roll of a 6 is always a hit, regardless of cover, stealth fields, camo cloaks or what have you – so you'll be able to solve any deficiencies in accuracy with maximum dakka. Or just Burnas.
A 6 on the die is good to go. Throw more bullets at them!!! Or hit them in the face if it's close combat with 6s on the die. Whatever works.
Unit Stats
Let's take a quick detour and look at the unit stats. How similar are they with their 40k counter parts? Very similar: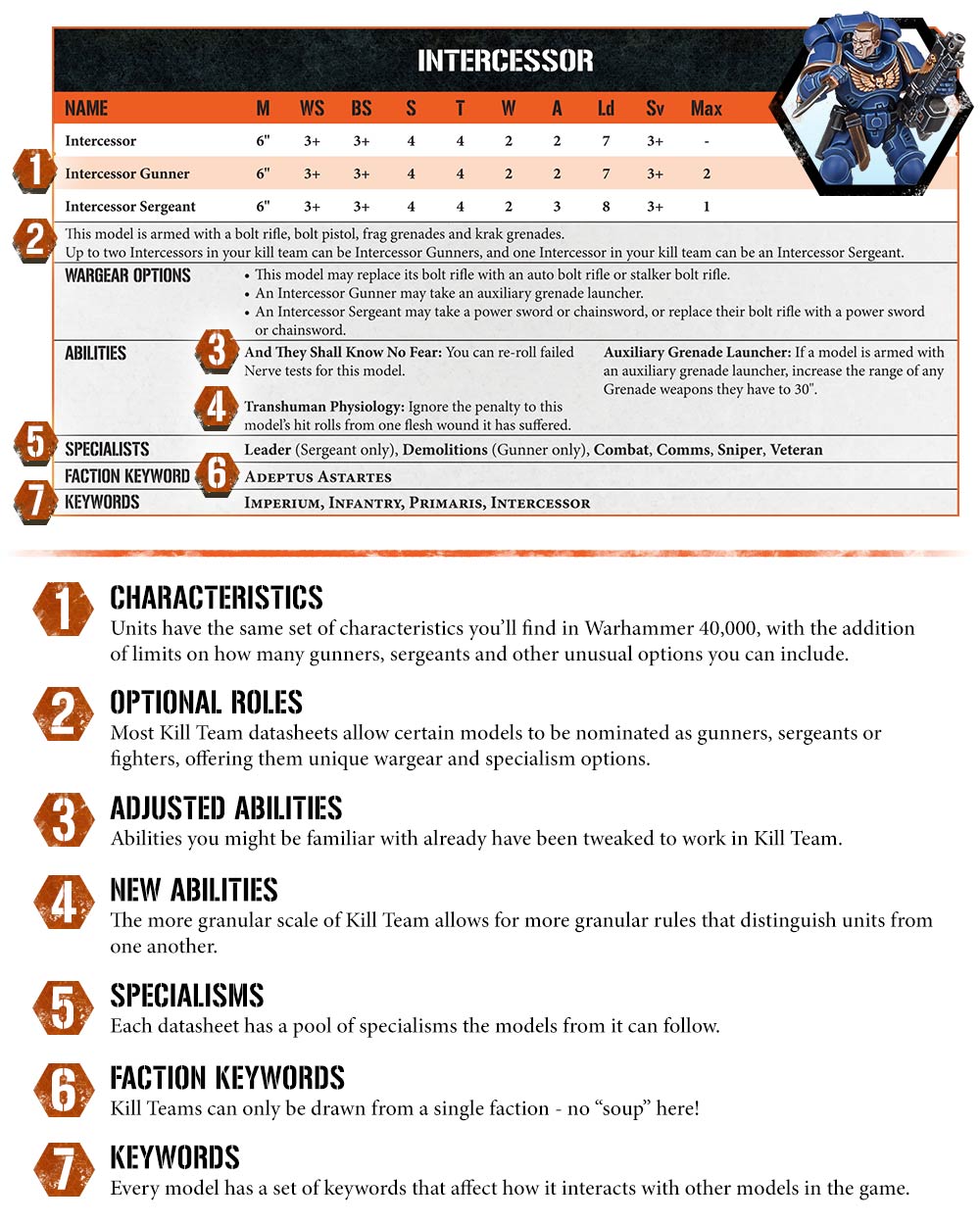 The Datasheets stats are basically the same. However, they do have some modifications. Check out the new Specialists section – that lists the different types of roles the unit can fill.
So how will wounds work in Kill Team? It's similar but because we're playing a skirmish level game Kill Team can get more granular with the type of wounds you're taking. We're still going to be rolling to hit, wound and save like we do in 40k. But when you lose that last wound things get different.
Rather than removing the model, the controlling player makes an injury roll. On a 3 or less, you've suffered a Flesh Wound and can keep fighting. On a 4+, you're out of action!
And those wounds add-up. Each Flesh Wound makes the next wound hurt more by adding 1 to the roll. Flesh Wounds also reduce your hit rolls. You might still be in the fight but you're not going to like it. Fortunately if you're in cover (now called obscured) you do get to subtract 1 from the roll. Flesh Wounds also mess with your morale checks.
Leadership Counts
The Morale of your Kill Team matters – if your Morale gets to low your forces might scurry off the table in a hurry. There are two components to Morale, your overall Kill Team Morale and the individual's bravery. If more than half your squad is gone your Kill team can become broken – this applies a penalty to your remaining model's hit rolls and models with Flesh Wounds can become Shaken which can prevent them from acting for the turn.
A model with high Leadership will be very useful but keep in mind there are other specialists like Medics and Comms to help keep your Kill Team fighting. A well rounded Kill Team should be able to complete the mission where a very "Killy" Kill Team might become too panicked to do much of anything.
Kill Team Designer Chat
If you've wondered about how Kill Team came to be check out the video above. It's Wade Price from the Design Team and he's got some great insights into the game.
There is a LOT more to Kill Team on the way. Mark your calendars for July 21st for Pre-orders!
So what do you think of the rules preview? Did this answer some questions you had or create even more?