Greetings Loremasters, today we address an important misconception. The Skitarii are provably human and to suggest otherwise is to commit tech-heresy.
Indeed Loremasters, today we attack a difficult to dislodge rumor–the forces of the Adeptus Mechanicus are indeed still human. They employ no thinking machines–such creatures are abominations, outlawed, and heretical. The Skitarii might have capabilities far surpassing those of frail, mortal flesh–but they are at their heart, well, at the suite of cybernetic machines that have replaced the heart–human.
"Skitarii" are armies of specially augmented cybernetic warriors sworn to a specific Forge World and serve alongside the Collegia Titanica and Taghmata Omnissiah as the military forces of the Mechanicum. It is a term equivalent to the Imperial Guard as it generally includes almost all combat personnel and armour that the Mechanicus possesses. Skitarii are also known as Tech-Guard (or Tech Guard) to outsiders, and the singular form of Skitarii is "Skitarius." The term "Skitarii", however is often used to reference only the augmented infantry.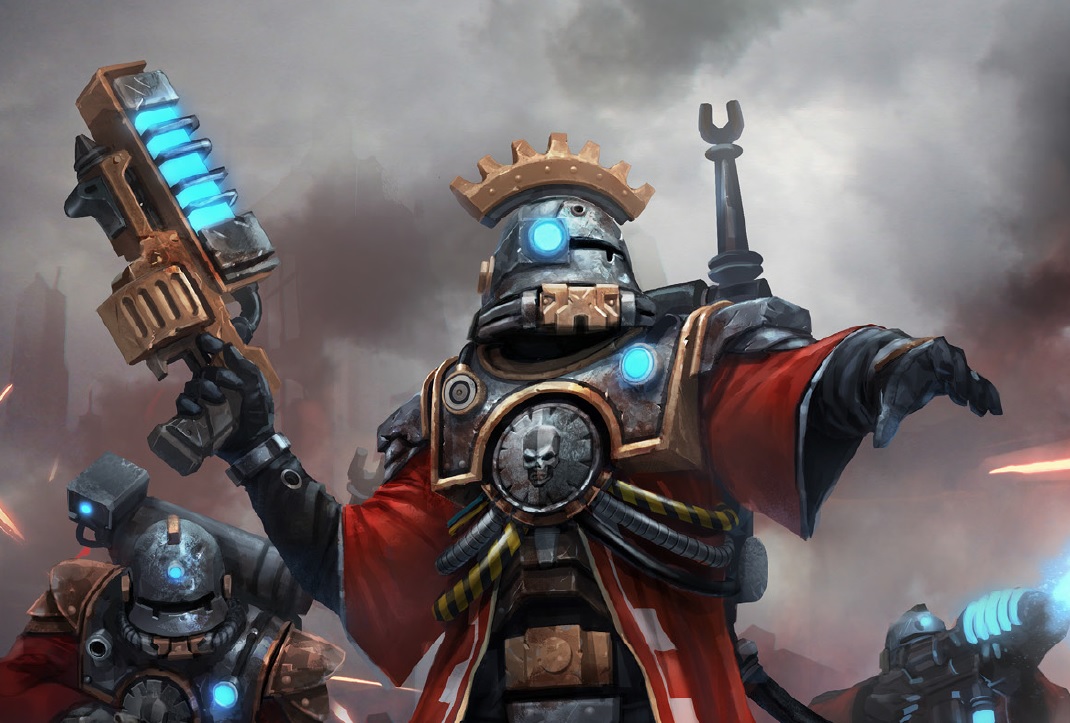 Skitarii creation is a closely kept secret of the Adeptus Mechanicus, but what is clear is that involves heavy cybernetic augmentation to those with a fanatical faith in the Omnissiah. While their bodies are more machine than flesh, they are not true Servitors and still retain independent thought. Those with the highest level of augmentation are known as Skitarii Alphas, a high honor in Skitarii culture. Due to their extensive modification Skitarii can excel and survive in almost any atmosphere.
As you can see, the Adeptus Mechanicus might closely guard the secret process by which humans are transformed into Skitarii rangers. And certainly, they are able to excel in places that humanity never dares to step–but you can clearly see the human nature inherent in these warriors.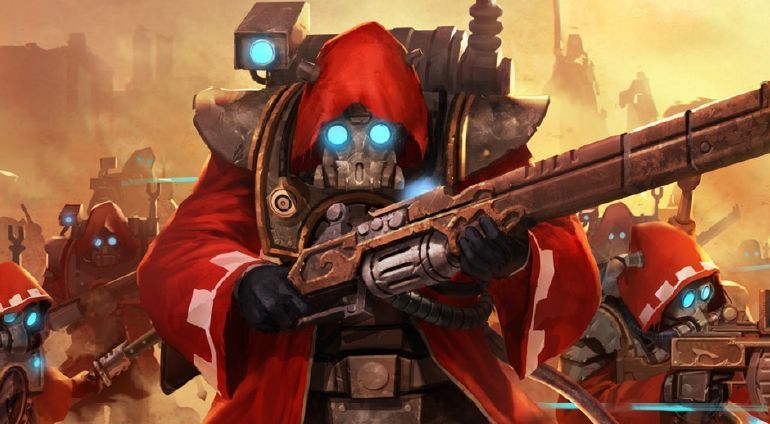 Consider the Rangers–relentless hunter-killer infantry, who will hunt their prey across the galaxy for decades if need be. Mindful of the harsh terrain of Mars, their legs have been removed from the knees down, replaced by cybernetic augmentations. This has made their stamina legendary, and they are known to hunt a foe until it exhausts itself.
Or there are the Sicarian Infiltrators, a hideous, frightening strike force – the height of Adeptus Mechanicus posthuman engineering. When hunting, they emit a white noise from their domed helmets–and they decidedly are helmets, Loremaster-initiate Crenshaw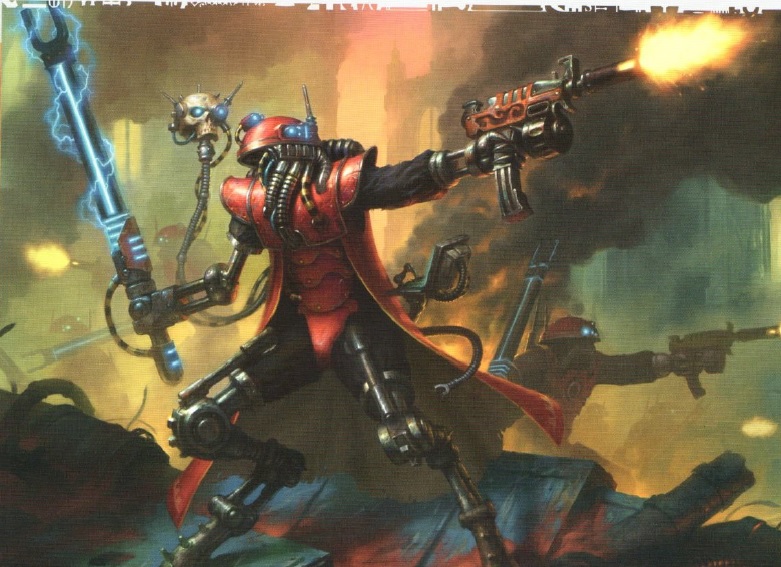 –from these helmets they emit a white noise that fills all sensory spectrum's with static, leaving their foe disorientated and helpless. Enemies fall, deafened and blinded by the scree of a brutally disruptive audiovisual assault; battles are often decided before even a single kill is confirmed. Infiltrator squads can bypass enemy defenses with ease, though not because of their stealth but rather their disruptive wavelengths they broadcast when on the move.
Similarly the Sicarian Ruststalkers–again, completely and utterly human at their core, proved so effective at the art of killing that they were repurposed as front-line, physics-manipulating commandos. Their Transonic Weapons hum and resonate with sickening efficiency, passing through the strongest armour as if it simply didn't exist, though the effect of the damage often takes several seconds to manifest. These highly trained and augmented squads known as Killclades are led by Princeps.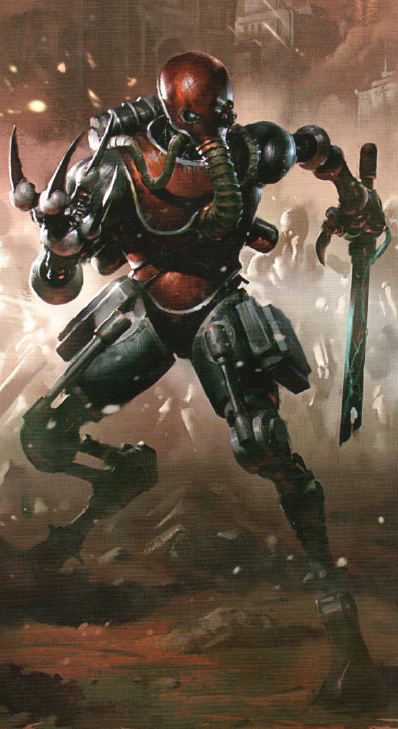 As you can see, the Skitarii are utterly human. To suggest that the Adeptus Mechanicus have been secretly disguising some sort of thinking robots that they drape in humanoid form to avoid detection is absurd. The Adeptus Mechanicus would never dream of secretly bypassing the restrictions placed upon them by Terra–nor do they feel any resentment at having to submit to Imperial authority. They certainly don't yearn for an opportunity to replace all flesh with the machine in some sort of bizarre devotion to their Omnissiah. Nor do they imprint initiates, tech-priests, or even Knight Scions with any sort of subliminal mental programming ensuring their loyalty no matter what–so we'll have no more of these dark whispers, Loremasters.
Incidentally, any wishing to learn more about Skitarii or any Mechanicus enhancements have an opportunity to research the Skitarii augmentation process up close and personal thanks to our cooperation with the visiting Magos.