From the depths of the Underhive to the seemingly endless Warzones of the 41st Milennium, there's a skirmish game that has your name on it. Which should you try?
Skirmish games are enjoying a heyday right now. And it's not too hard to see why–they have very low barriers to entry with a relatively small model count, quick and easy gameplay, and games that you can actually finish in 20-60 minutes. After all, who has time for anything longer in today's crazy digital world. Things are fast on the information superhighway, and your attention is a premium commodity. There are scads of people who watch YouTube videos at 1.5-3x speeds because they don't have that kind of time.
So fitting in a game between power naps, agile meetings, scrums, face-to-faces, grammin' your brand so you can live that influencer life, and carefully editing your own version of Steamed Hams can seem mighty appealing.
You're welcome.
But with so many things vying for your time, how's a person to choose between Necromunda and Kill Team? It's interesting to look at the two side by side. Especially since Kill Team isn't actually out yet–but for a game that's not out yet, we know a surprising amount. For instance, we know that Kill Team is being designed from the ground up to be a competitive game that you'll see at tournaments, and Necromunda…isn't. That doesn't make it a bad game, nor does it really mean that Kill Team will be that much better, it's just a different sort of purpose that each of these serves. It all comes down to the way you play them out.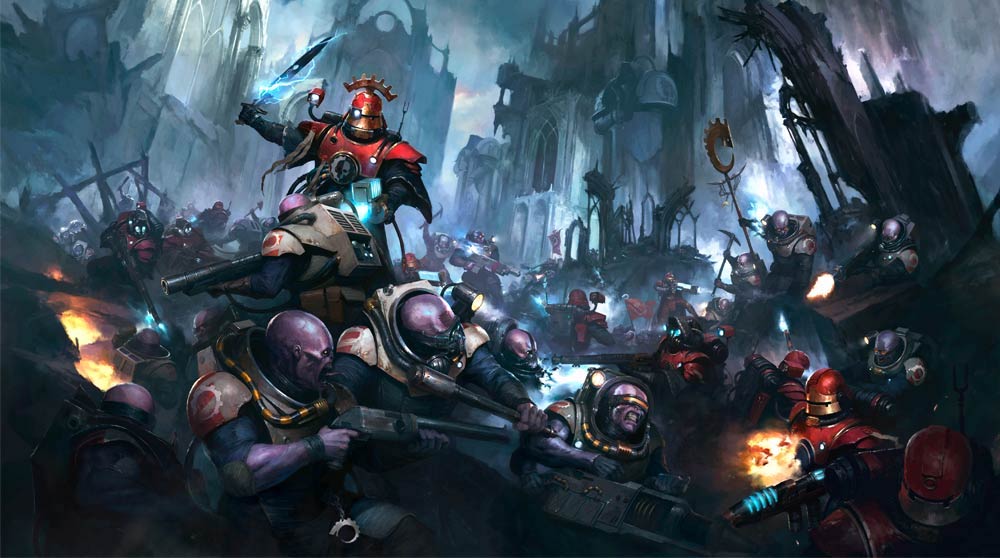 Necromunda is, at its core, a game that's meant to be played with narrative in mind. Sure, you can just pick up and play a quick game here and there–but the real joy of Necromunda is in finding the story of your gang and watching their trials and tribulations as different members skill up and out. It's about the bracing last-ditch struggles that happen before your crew bottles out and books it. Or about claiming enough territory that you loom inexorably towards an apotheosis of sorts.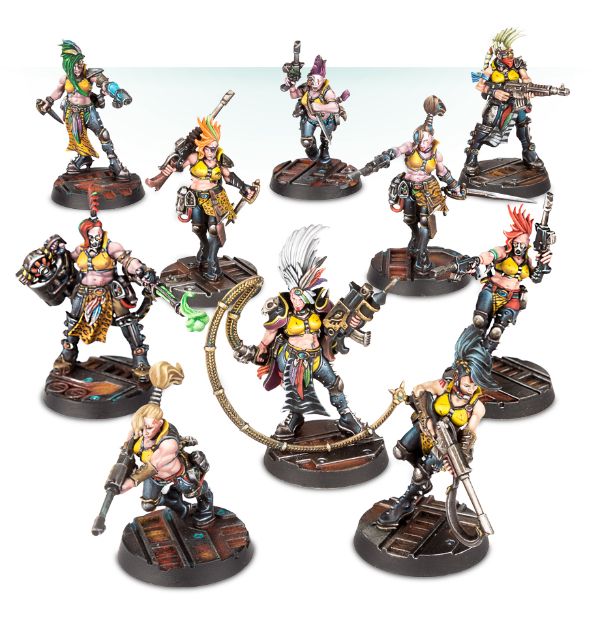 Necromunda presents life as it is in the Underhive. Tiered and full of strife–it gives you the opportunity to fight for a slightly better future. Or at the very least to not be eaten in the depths of the cast-off refuse of Hive Primus. It's the game that's full of special characters–bounty hunters, hired guns, the sort of folks you'd want to see team up in the buddy cop series of the year.

But if Necromunda is the story of the gang, Kill Team is the story of the team. Those two might sound similar, so let me break it down. Where Necromunda is the story of your gang as this nebulous shifting entity of juves and leaders and everyone in between as they fluctuate, being injured, out of action, needing surgery and so on–Kill Team is all about the individual members of your team.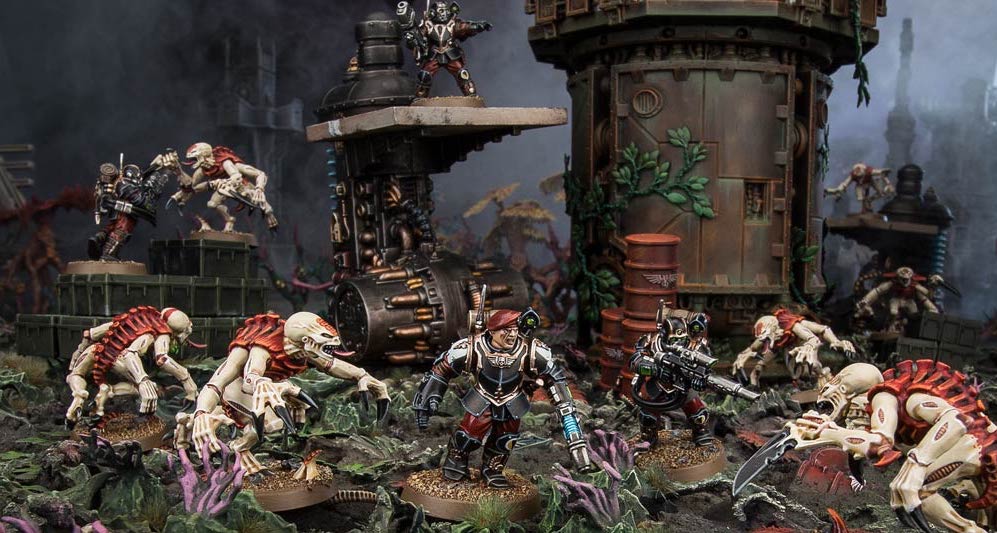 It's the squad, not necessarily of misfits (though that is going to be the theme of my Kill Team), but it's the squad of character, each with their own personality and backstory. The game purports o have a method for generating all of this. But the narrative you get in Kill Team–and the system of rewards–is how the Team develops. How you level up your specialists and customize your team going forward.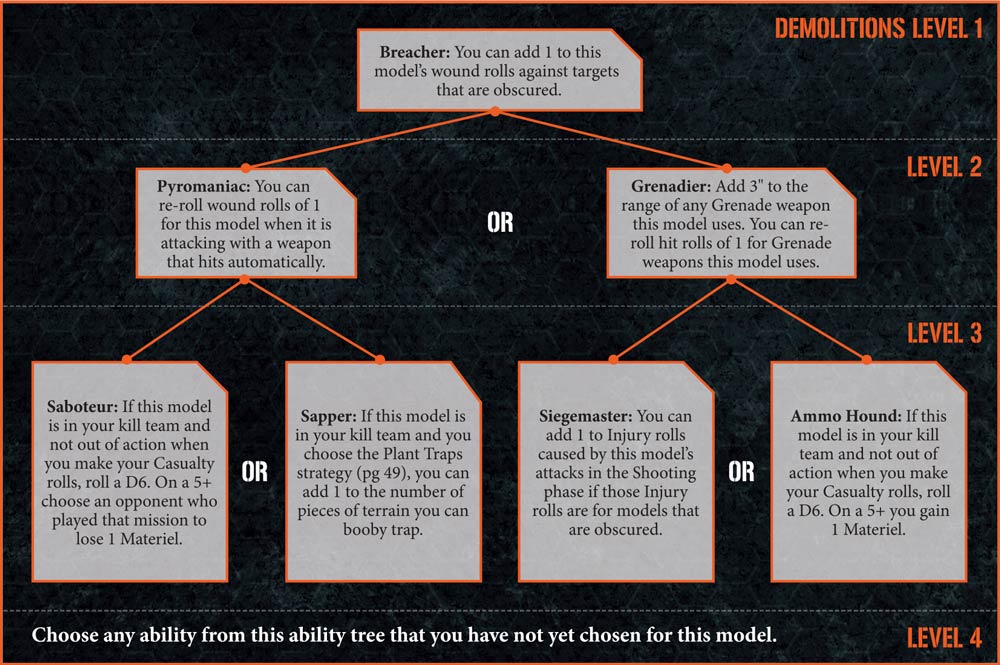 Again it's more about the crazy things you can get your squad to do:
Your kill team is a squad of elite warriors, hand-picked by you, consisting of about 5-10 individuals. You construct your kill team model by model – a squad of Space Marines could consist of two Reivers, a missile launcher-wielding Tactical Marine Gunner, a Scout with a sniper rifle and a Primaris Sergeant with a power sword, for instance.

Once you've assembled your kill team, you can customise them even further with a deep system of specialisms and advancements. These allow you to really distinguish your key troops – creating sharp-shooting Snipers, fearless combat Medics or vox-hacking Comms specialists.
Even on a one-off game kind of level, the two games present a very different picture. You've got the elite warriors, and you've got the guy wielding a rivet gun and wearing boiler plates. Both have their own appeal.
Which will you play? How will you build *your* Kill Team? What will their story be?