Do you love Titans? Then come along as we check out the upcoming Titanicus video game from Membraine Studios. 
Titan's are an iconic part of the Warhammer 40,000 setting. These massive warmachines stride about the battlefield dealing death to all who oppose them. Ever since they've first been mentioned people have wanted to play with them and control their massive power. Luckily they've had that chance. For years 40K smaller cousin, Epic has allowed players to control miniature Titans on the tabletop. Though normal 40K scale Titans do exist, they are a pretty rare sight. In addition to the tabletop you can also control Titans in some classic video games, and now you can do it in the upcoming Adeptus Titanicus: Dominus. Membraine Studios was kind enough to send us a review copy of the Early Access game to check out and here are our thoughts.
***Massive Caveat: The version of Adeptus Titanicus: Dominus I played is an early access version and the game is by no means complete, I can only speak about the game in the state I played it, and not what it will be when finished. 
The Basics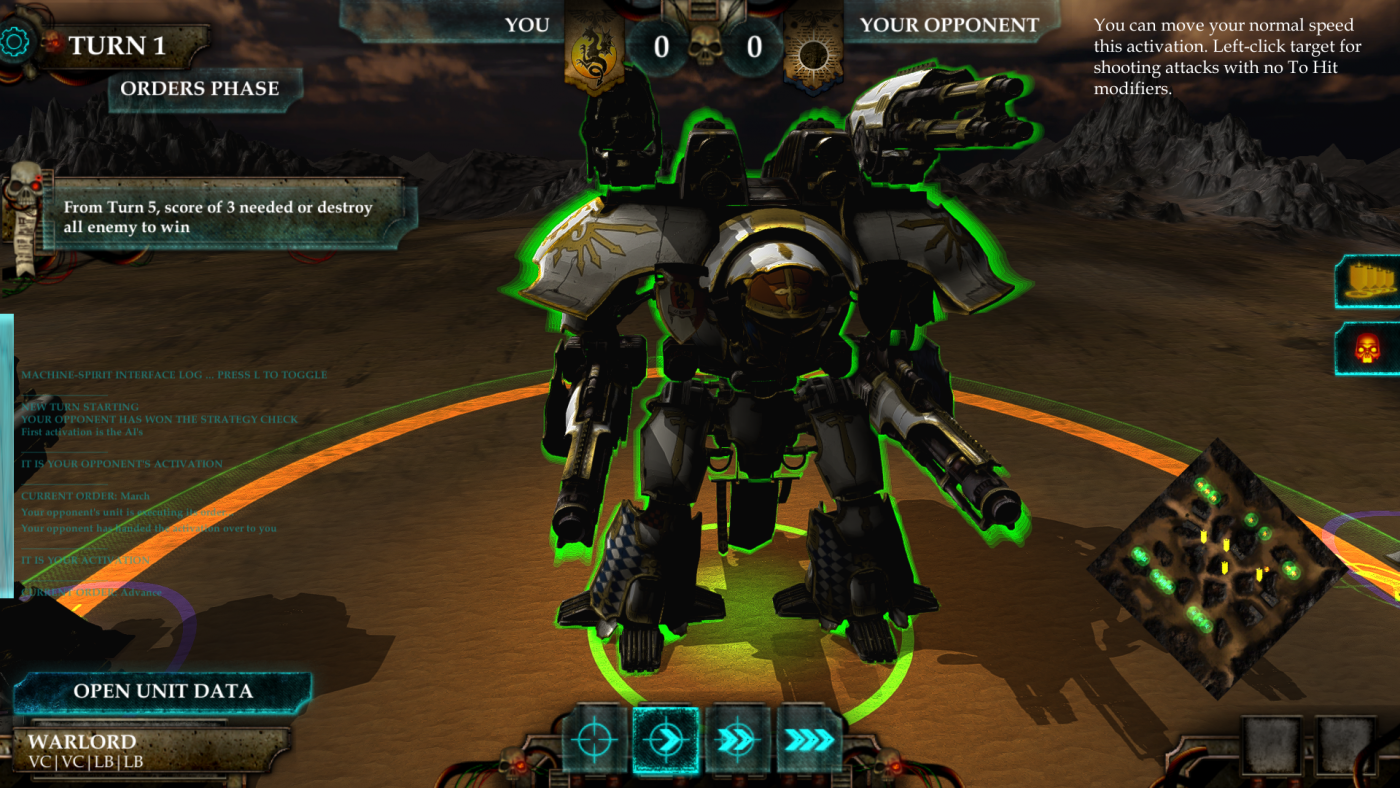 Adeptus Titanicus: Dominus is an adaptation of the 4th Editon Epic rules. It is a turn based strategy game in which players take command of a force of mighty Titans. Players can chose from a verity of Titans to command, and even pick from a number of Legions to play as. Teams are between 1-9 Titans. The game is turn based with players taking turns to activate a Titan, plan its path and target out and then watch as it plays it out. Currently the game can be played as a multiplayer skirmish game, in single player skirmish and in a number of preset scenarios. A campaign of some sort and some other game modes are coming down the road.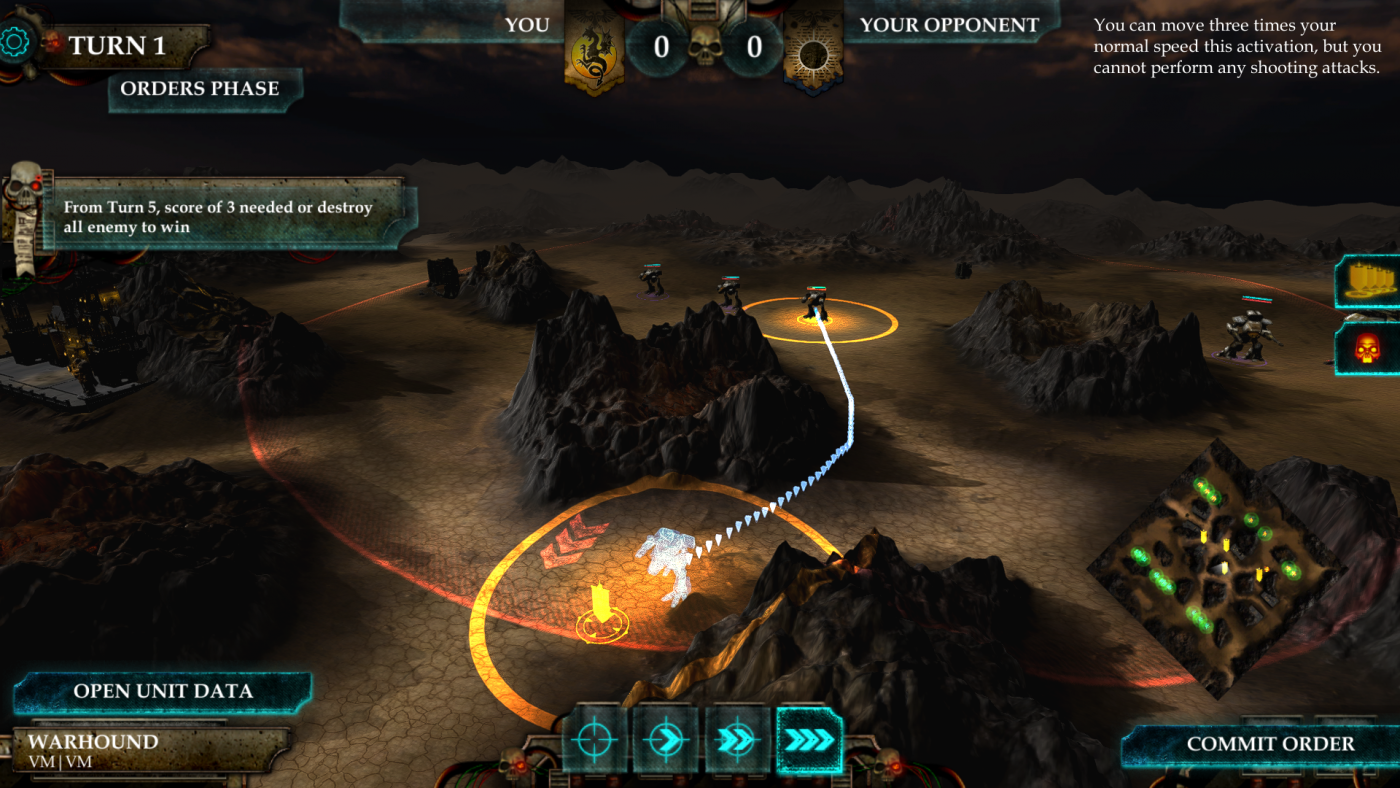 Movement is pretty easy and simple.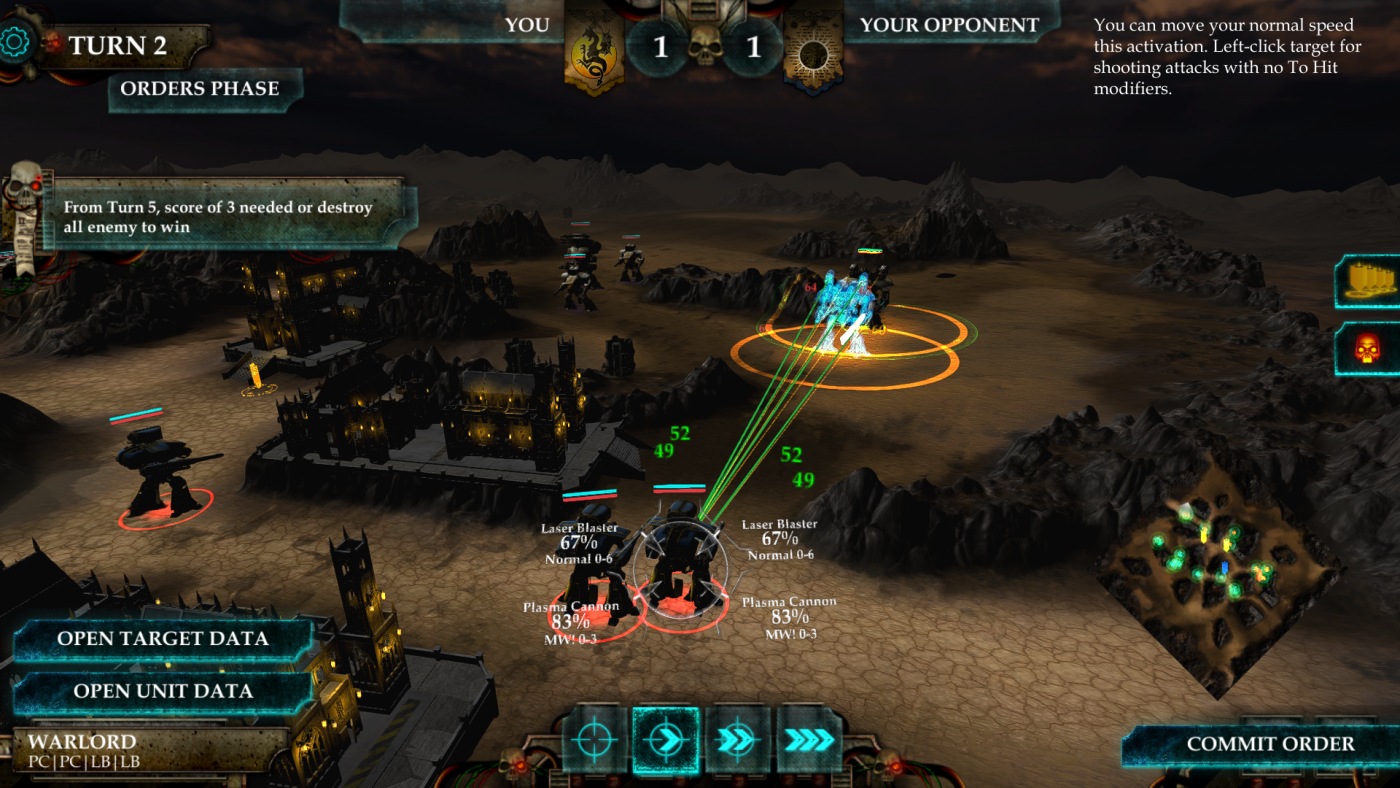 Lots of good information to help you plan out your shots.
What I liked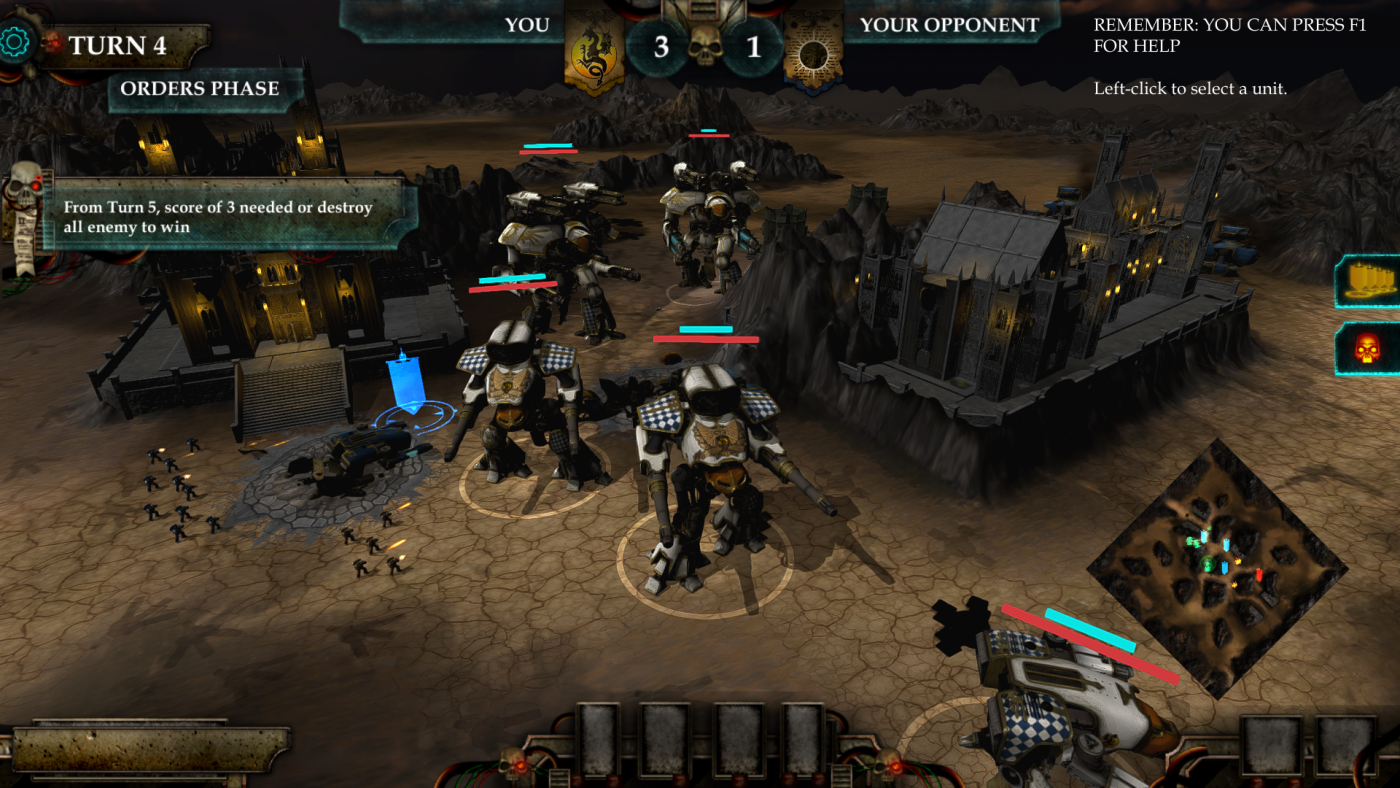 The game was quick to pick up and understand but seems to have some depth to it. I enjoyed the it's a free form movement game, where you have a move radius, rather than a hex or square based game. This made it feel a lot more like a 40K tabletop game to me. The game looks decent, but if you play a ton of AAA titles it won't blow you away. It is from a small Indy studio after all, but everything was pretty solid.  It all looks and feel very Grim Dark.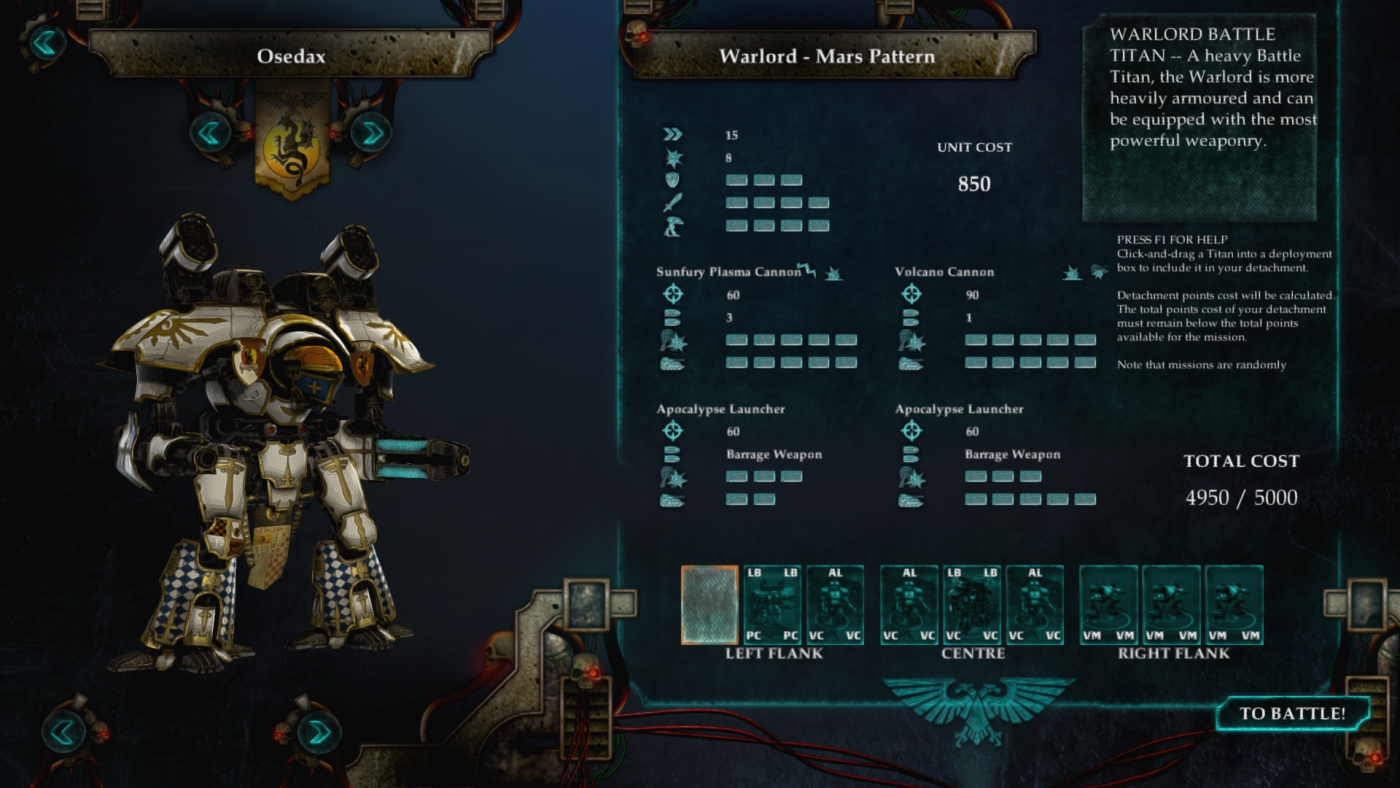 One of my favorite parts was the army selection area, this part looked very polished and really reminded me of flipping through an army book or Codex to build a great list (but with the math taken care of for you!). The first time I built a list I was kind of surprised that I could free form swap out weapons (ala Battletech) but having played a bit more the current systems seems to better represent the old tabletop cards.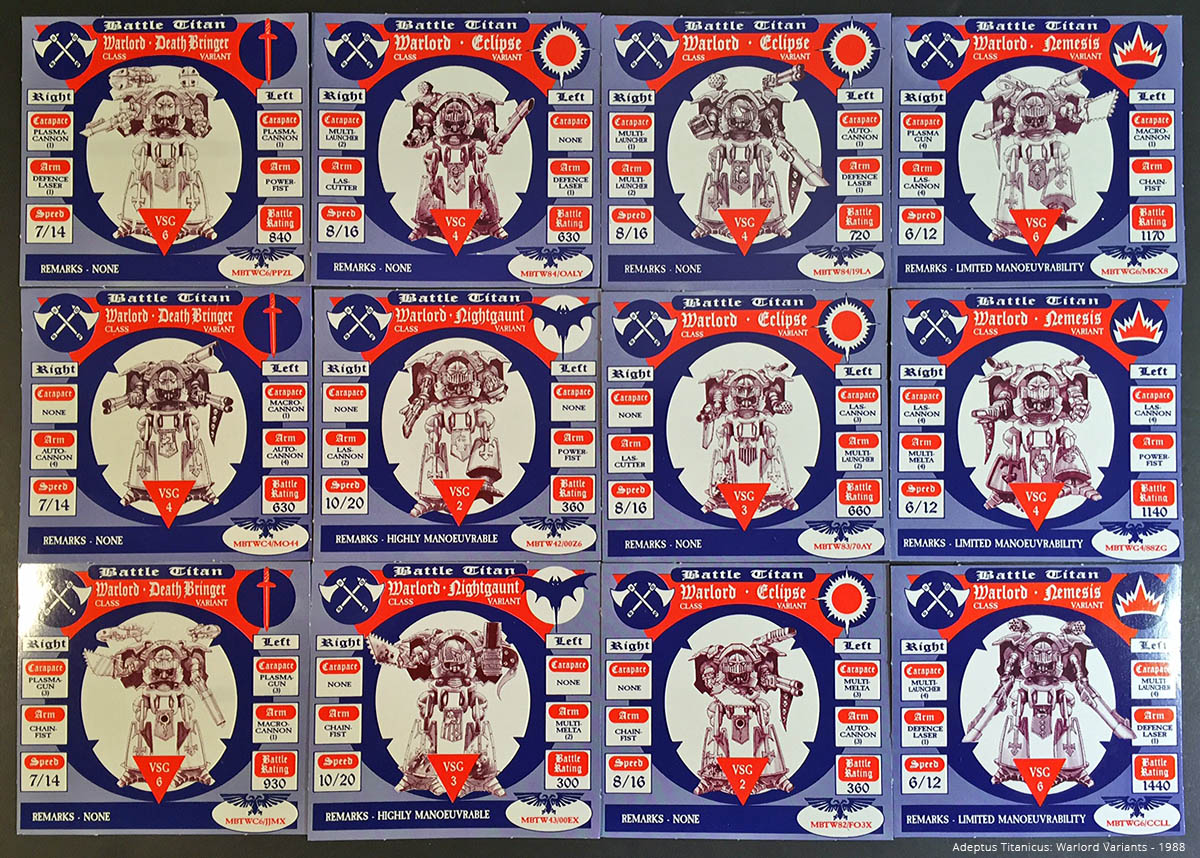 In my play through the game has also been really stable. I haven't noticed any real bugs or issues with the game, and didn't have any crashes. This is always a risk with early access or newly released games. Getting to shoot Titans with Titans is always fun.
Good Scale

One of the important things to me about anything involving Titans is getting the scale right.  These are massive, titanic even, weapons and need to feel big. Currently the game is only Titans vs Titans and I was a little worried with only Titans on the field the scale would feel off. Luckily the game has a really cool fix for that. As your Titans battle around the field little groups of Space Marines come out and start fighting around them. You can see this in the above pictures, with groups from both sides shooting at things. While these models don't have any game effect they serve to bring the battlefield to life and add a good sense of scale. I have to really give mad props for this move.
Early Issues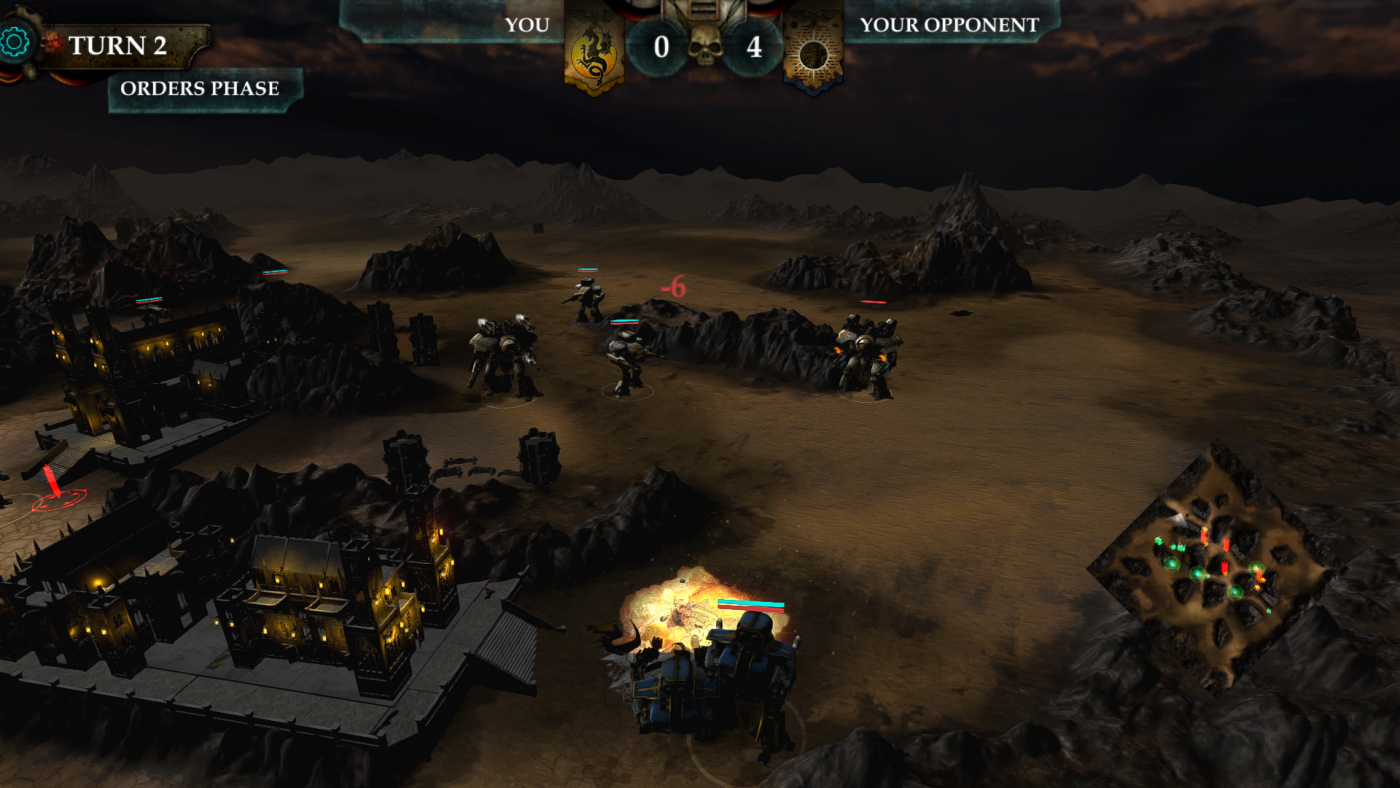 With a game so obviously in Early Access as Dominus its rather hard for me to say much bad about it. The game worked and I could play it, thats about what I want from an Early Access title. Now there are a TON of things I want to see in this game, and that it needs, but I hope a lot of them are coming and I can't fairly knock it for not having them yet. A couple minor complaints I did have were:
In a smart move the game has an option to speed up turns if the unit is just running and not doing anything else. This is great, but I do wish it had an option to just speed up the turns in general. Sometimes when my Titan was just sitting and shooting at something it felt like it was going on for too long.
Some of the mission wording could be clearer, one of the missions I played said "From Turn 5 score of 3 needed or destroy all enemies to win." I took this to mean that at the end of turn 5 (or after) I needed to control 3 objectives to win. What it actually meant was at the start of Turn 5 (or later) I needed to control 3 objectives to win. Not a huge issue, but it was confusing. Some wordsmithing would clean that right up.
I couldn't find a way to turn off some or all of the UI, there were times I just wanted to see the turn play out. Hopefully this is coming.
All in all these are really minor issues though which didn't take much away from my enjoyment of the game.
Final Thoughts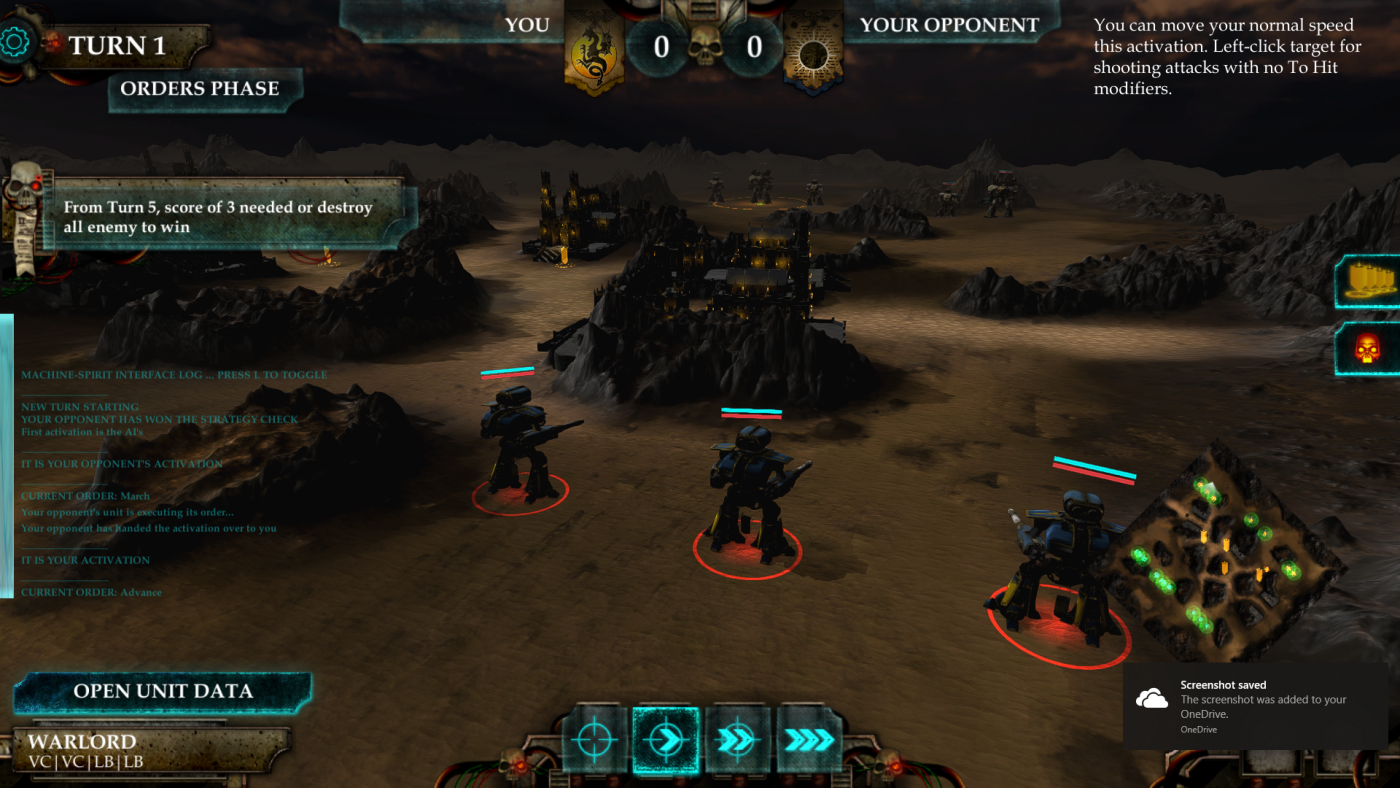 Overall I had a good amount of fun playing Dominus. I've not had a chance to play in Epic in about 15 years, so I can't really say how well it represents those rules, but it does feel very 40K. Getting to see Titans run around is always cool, and I look forward to the future of the game.
Is it something I would recommend? Well, the game is still in Early Access, and there is a lot of work still to be done.  While fun it's still a pretty slim game, but it's also going for pretty cheap right now. If you REALLY love Titans or Epic 40K this would be worth picking up now and getting some fun out of. If you are a more casual fan this is a game to keep an eye on. It looks like it could grow be something really great.
As this is an early Access Title I am going to hold off giving it a rating until its actually released. 
You can pick Dominus up on Steam right now.